Batanes: Heaven's Beloved
Mystery blankets this northernmost Philippine province as it detaches itself from the modern world, as if the many storms that have shaped it were sent by the heavens to protect its beloved land. While the rest of the world constantly changes, Batanes is left unbothered, moving slowly at its own pace—steered by its keepers who have high regard for nature and heritage.
The province is composed of eleven islands, only three of which are inhabited. Its unparalleled beauty and well-preserved culture is awe-inspiring, making it one of the country's fifteen biogeographic zones, protected to preserve the land and marine life.
Batanes reveals to be more than just a tourist spot, with lighthouses, fishing villages, stone houses, and panoramic pasturelands and seascapes kindling a clear sense of appreciation not just for nature but for its community. The Ivatan community, who is resilient by their very nature, places great value on their Creator, their neighbors, and the many harvests they receive through farming and fishing.
Spending time with the locals gives you a good taste of the simple life. They are some of the most humble people to ever greet you, either with a shy smile or a wave upon passing by. One would be compelled to reciprocate their utmost respect for local culture by being mindful of the environment and being sensitive to local customs.
The simplicity of life and nature is best witnessed while strolling on National Road, along  Chanarian Beach. Riding a rented push-bike or a motorbike, you can find the island's genuine soul under the grace of the stunning sunset. 
Upon reaching the town and its surrounding areas, you'll find homestays and cafes serving nothing but heart-warming Ivatan dishes that, although may come as simple to the eye, boast fresh and organic goodness. 
Batanes radiates beauty beyond what is visible to the eye—there is an endless journey across luscious greens and blues, and one will surely produce countless stories to tell and photographs to show.
Travel Tips
Best time to go: April to June
✈ NAIA → Basco Airport: 1 hr 20 mins via Skyjet Airlines
🚗 BSO → Batan proper: 3-5 mins
⛵Ivana Port (South Batan) → Sabtang Island Port: 20-30 mins
The most practical way to tour around Batanes is by availing a tour service. Also, in the future, the local government will require visitors to have a tour provider.
List of usual fees in Batanes:
To be paid at the Provincial Capitol upon arrival: 
   Ecotourism Fee – P350
   DENR/PAMB Fee – P50
Mahatao Registration Fee – P50

Sabtang Island Tour Fees: 
   Registration – P200
   Ivana Port Fee – P5
   Boat Fare – P200 (roundtrip)
3-Day Cogon Tricycle Tour c/o Batanes Travel & Tours – P6,500 for solo; P5,500/pax for 2 persons; P5,000/pax for 3 persons *inclusive of lunch, municipal fees & boat fees
Recommended airline:
SkyJetAirlines.com | 8-SKYJET (8-759538)
Recommended tour provider: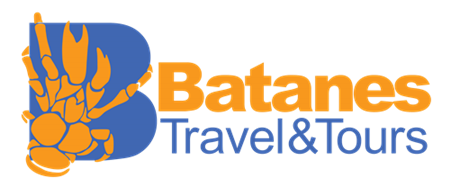 batanestravelandtours.com | Manila line: 02-633-0859 / 0998-568-2637 | Batanes line: 0998-531-1908 / 0917-343-2420
Map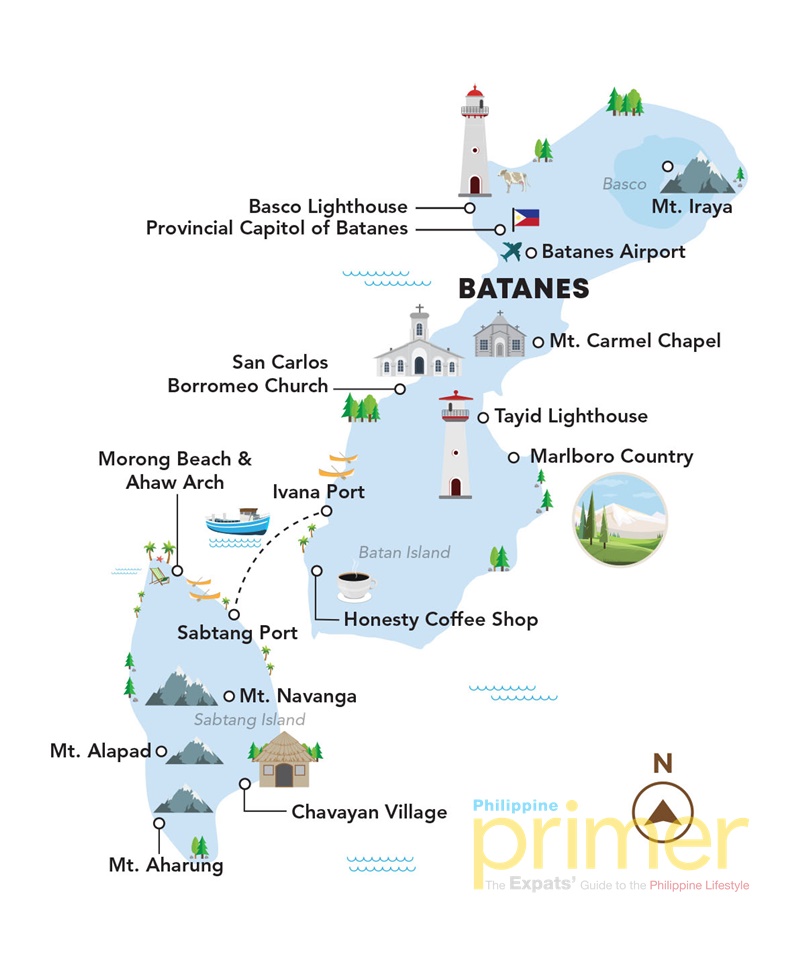 Map images owned by Philippine Primer may not be used and/or modified without permission.
Where to Go in Batanes
Where to Eat in Batanes
Where to Stay in Batanes