The New Boracay: Freshness of a Reawakened Tropical Paradise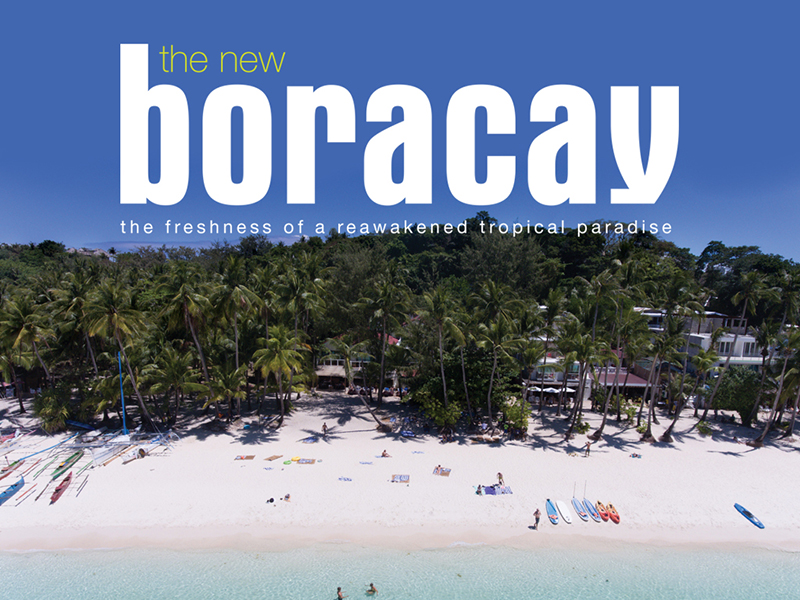 Boracay Island is one of the Philippines' own jewels, located in Western Visayas. Shaped like a sand shovel, its form is a fitting image to the island's pristine, fine White Sand Beach.
While Boracay is yet to be fully reawakened from its recent restoration, remnants of new constructions may still be seen. Nevertheless, the island is quickly being brought back to life with young restaurants that serve the freshest and the most sumptuous food, resorts that face the most beautiful sunset, activities that awaken the adventurous soul in you, and a nightlife slowly rising into being one of the best in the country.

Join Philippine Primer as we take you to the new Boracay we have all been waiting for.
Getting to Boracay
There are two ports of entry for visitors of Boracay:
Manila (MNL) to Caticlan Airport (MPH)
Caticlan Airport is usually more preferred than Kalibo Airport because it is closer to Caticlan Jetty Port. However, airfares are usually higher.
Manila (MNL) to Kalibo Airport (KLO)
From KLO, you have to take a two to three-hour van ride to Caticlan Jetty Port, which costs P200/head.
Once at Caticlan Jetty Port, have the following ready:
Hotel booking confirmation

Confirmation voucher from the hotel

Aklan Terminal Fee: P100/head

Environmental & Admission Fee: P75/head

Boat Fee: P25/head 
You will land on Cagban Jetty Port in Boracay Island. It is best to arrange your transfers with your hotel. Otherwise, there are e-tricycles and vans outside the port that can bring you to your hotel.
Getting around the Island
E-tricycle fare rates:




1. From Brgy. Manoc Manoc (near Cagban Jetty Port) to Station 2 or 3: P150




2. From Brgy. Manoc Manoc (near Cagban Jetty Port) to Station 1: P300




3. Special or exclusive ride from station to station: P100




4. Shared ride (with other commuters) from station to station: P10 to P20





• Walking is also an option if you are staying in a hotel within any of the stations.

Some hotels offer free shuttle rides to D'Mall in Station 2.
Boracay Map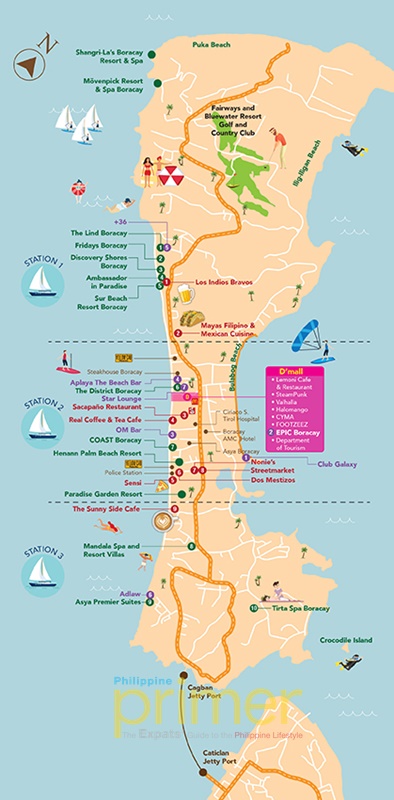 Map images owned by Philippine Primer may not be used and/or modified without permission.
Where to Go in Boracay
Where to Eat in Boracay
Where to Stay in Boracay