Little Tokyo in Makati: Dining In and Around
Japanese communities outside of Japan are commonly called Japantown, serving as a piece of refuge for the Japanese yearning for home. Some of them are also named J-Town, Little Tokyo, and Nihonmachi. In the Philippines, there are six known Japanese communities, which are in Manila, Makati, Iloilo, Cebu, Davao, and Mandaue; and the one in Makati is called Little Tokyo.
Little Tokyo in Makati lit its lanterns in 1999 and has since been welcoming both Japanese expats and Japanese food lovers alike. Welcoming visitors are two iconic torii gates, one on Fernando Street and the other on Chino Roces Avenue. Strictly speaking, Little Tokyo refers to the compound that you reach by entering one of the torii gates. However, through time, the community of Japanese restaurants have grown and sprouted up in the surrounding establishments such as Makati Central Square, Creekside, and Beacon Tower. 
Trivia
The first Japanese immigration in the Philippines was recorded as early as the 12th century. 

The Japanese are the third largest majority of foreign citizens in the Philippines, following the US and China (as of 2010 census) and also one of the country's biggest tourism markets.
Tips
Many of the restaurants in and around Little Tokyo have their own smoking areas. There is a small area inside Little Tokyo itself for smoking; but outside, it is prohibited.

It is best to bring cash as not all restaurants accept credit cards.

The best time to go to Little Tokyo is in the evening to enjoy the ambiance made dramatic by Japanese lanterns. It is also the time when the area fully comes to life.

You can walk from Greenbelt or Legaspi Park area to Little Tokyo in less than 15 minutes.

Nearby parking areas are in Makati Central Square, Creekside, and Legaspi Car Park.
Little Tokyo Map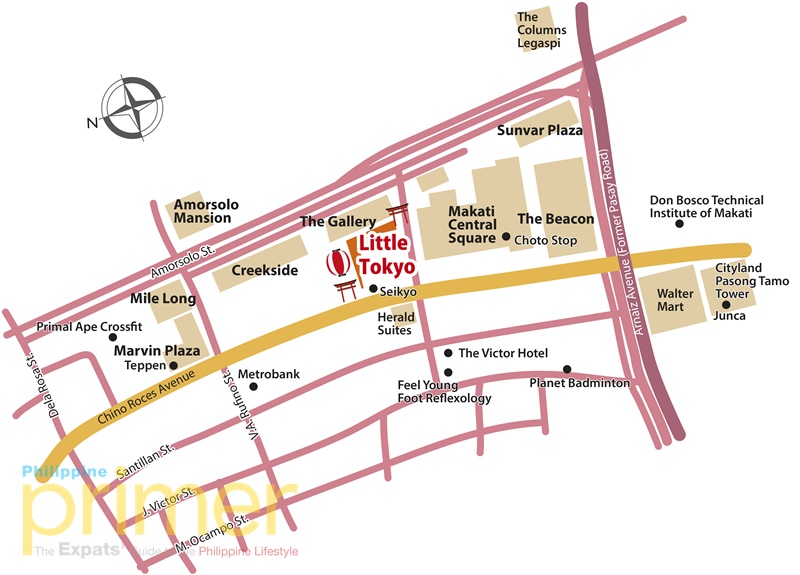 Map images owned by Philippine Primer may not be used and/or modified without permission.
Where to Go in Little Tokyo
Where to Eat