SteamPunk Boracay Dares You to Take on the Triple X Burger
What started out as Bite Club along Katipunan in Quezon City turned out to be one of Boracay Island's well-loved burger joints.
Renamed to SteamPunk after transferring to the island, the burger joint offers freshly-made burgers and sandwiches to both locals and tourists.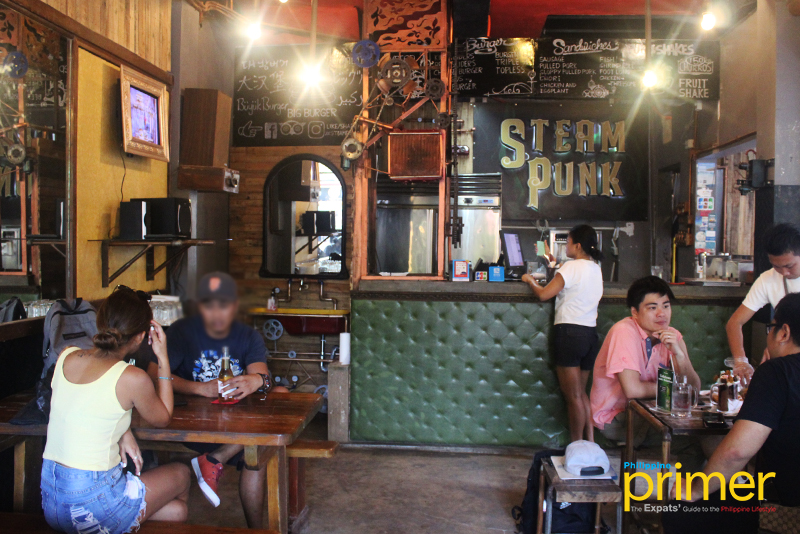 Located at the heart of Boracay's shopping district D'Mall, SteamPunk is pretty hard to miss. Even more so with its industrial and rustic vibe which stays true to its name.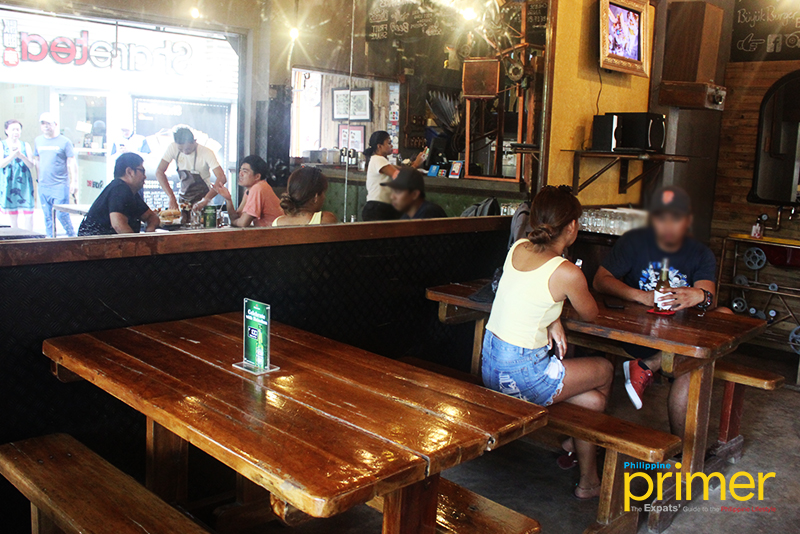 When the restaurant was brought to the island, it was joined with some of Bite Club's signature dishes, including the iconic Triple X Burger (Php 695).  
The burger is so iconic to the point that a whole challenge was created for it in the name of The Triple X Burger Challenge.
All you have to do is finish a whole Triple X Burger by yourself before the five-minute mark is reached. Sounds simple enough, until you realize how hefty the half-kilo of pure Brazilian beef patty actually is.
Triple X Burger (Php 695)
But SteamPunk does offer regular-sized burgers that are as incredibly tasting as the Triple X. Take their Chori Burger (Php 255), for example.
Chori Burger or chorizo burger is something that is widely popular on the island, but SteamPunk's is made with garlic BBQ glazed chorizo, whipped cream cheese, crispy fried onions, and served with a side of cabbage slaw.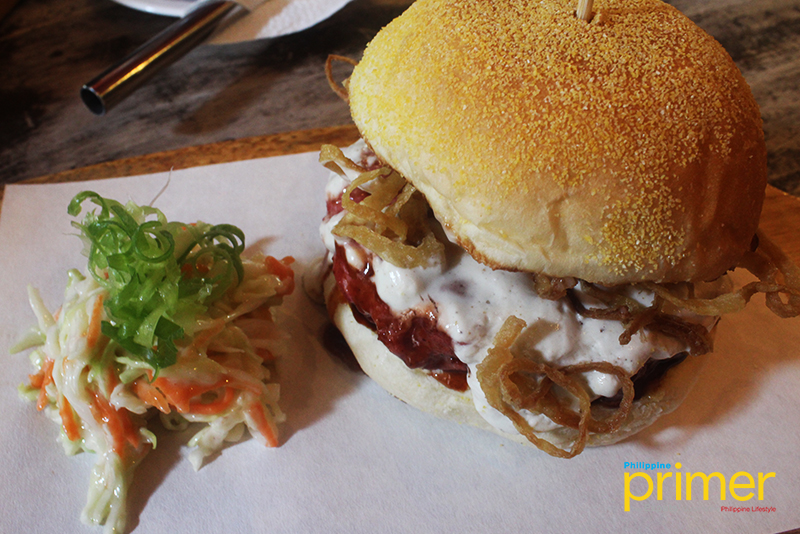 Chori Burger (Php 255)
One of the owners Chef Mike Catindig proudly shared that everything—from their bread to their patties and sauces—is made in-house ensuring not only freshness but also impeccable taste you won't find anywhere else on the island.
When they were starting out, SteamPunk was only planning to serve burgers and sandwiches but they then began offering chicken wings and rice meals to accommodate the demands of the crowd and tourists of the island.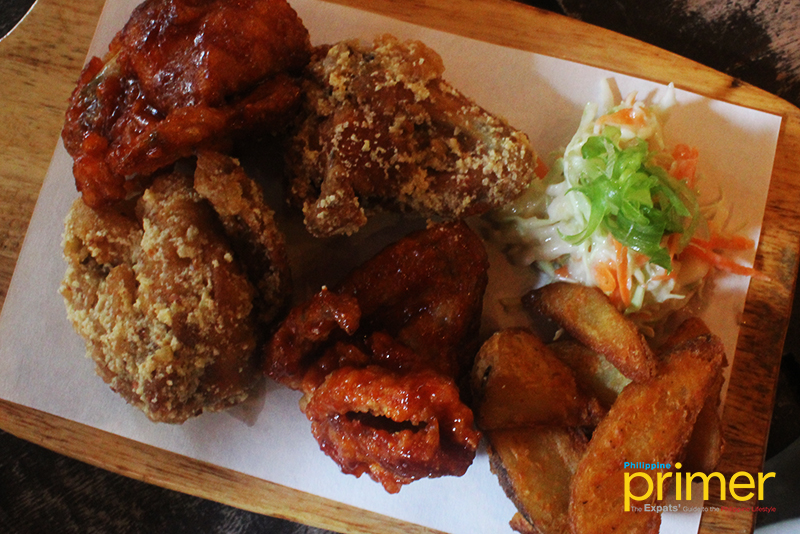 Chicken Wings (Php 340)
They also began crafting sinfully delicious milkshakes that literally go over the top. Just like their Ultimate Chocolate Fudge Punk Shake (Php 190 regular, Php 270 jumbo) that takes the word ultimate to the next level.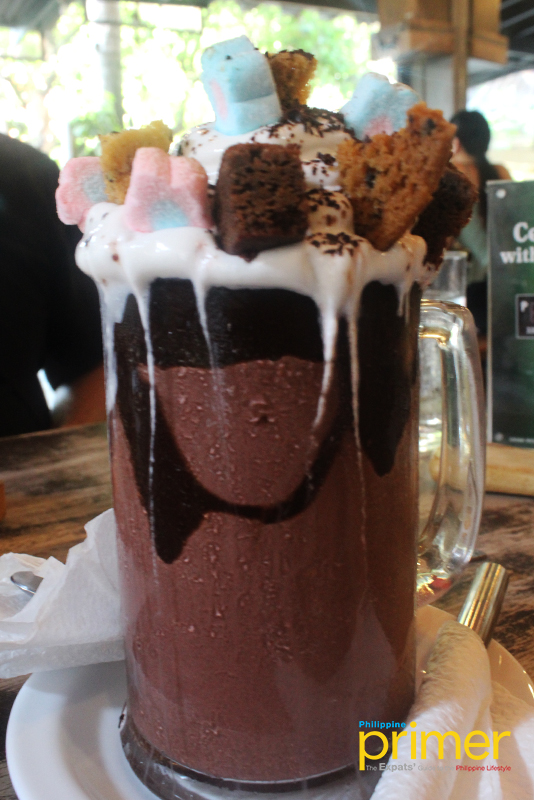 Ultimate Chocolate Fudge Punk Shake (Php 190 regular, Php 270 jumbo)
The chocolate shake is made with fudge brownies, dark chocolate ganache, chocolate chip cookies, and toasted marshmallows. Chocolate overload, indeed.
SteamPunk continues to thrive on the island despite being surrounded by many fast food chains that offer the same menu as them, as they have established a reputation of offering nothing but fresh and good quality of food.
Chef Mike also emphasized how apart from sticking to the classic and signature dishes people have come to love, it is important that they continue to adapt to the times and continue to upgrade the quality of their dishes without increasing their prices too much.
Which perhaps works like a charm for SteamPunk as both locals and tourists could not help but drop by the burger joint no matter what time of the day.
So if you're visiting Boracay, don't miss out on the chance to try SteamPunk's Triple X Burger. Who knows, maybe you're the next Triple X Burger Champion they're looking for.  
How to get here:
SteamPunk is located at D'Mall in Station 2.

Ride a tricycle and get off at the Budget Mart in D'Mall. Walk along D'Mall until you find the Rudy Project.

Turn left and walk straight until you find SteamPunk which is situated near Lemoni Cafe and Restaurant and Bistro Valhalla.
---
A version of this appeared on Philippine Primer Japanese Magazine's May 2019 issue. 
Store Information
D'Mall, Station 2, Boracay Island, Malay, Aklan
036-288-5947
0977-830-0313
11 am to 11 pm
Restaurant Menu
You can scroll the image left and right.