Mt. Carmel Chapel in Basco, Batanes: A Stone-Made Church Sitting on Top of a Hill
Anyone would immediately think of vast greeneries and stone houses when we speak of Batanes, but did you know that there's also a stone-made chapel that sits on top of a hill?
Mt. Carmel Chapel, also known as Tukon Church, was first established on May 3, 2008, at Sitio Tukon, Barangay Chanarian, Batanes. It adopted the design of a traditional Ivatan house made of stone walls, making it the only chapel embodying such design.
Also read: Batanes 4-Day Itinerary: Experiencing Heaven's Beloved Island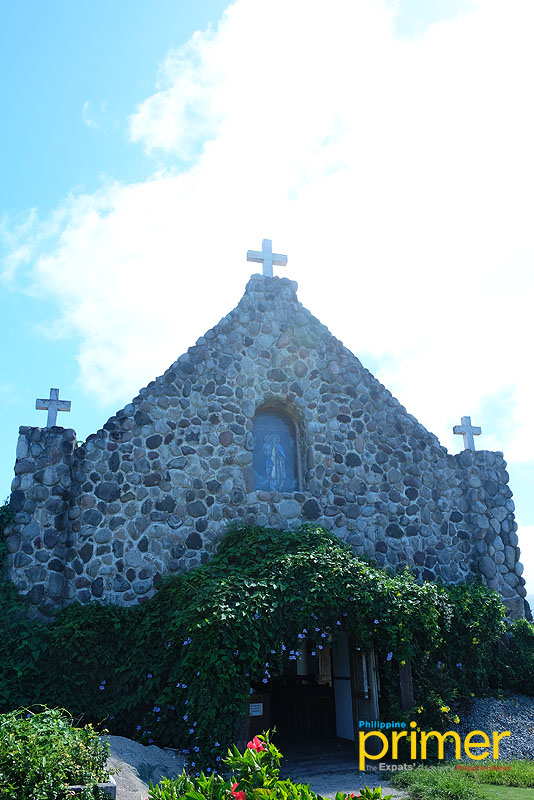 The chapel adopted the design of a traditional Ivatan house made of stone
Mt. Carmel Chapel also manifests solemnity and tranquility as it perfectly sits on top of a hill, overlooking the lush greenery of Batanes, as well as the Pacific Ocean and the West Philippine Sea. 
The ceilings of the chapel were once covered with paintings of the patron saints of their six municipalities. Unfortunately, a strong typhoon hit Batanes in 2016, and Mt. Carmel Chapel was one of the churches destroyed. The inside ceiling collapsed, including the image of their Patron Saint, San Jose de Obrero or St. Joseph the Worker. 
Also read: North Batan Island, Batanes: The Center of Local Livelihood and Breathtaking Landscapes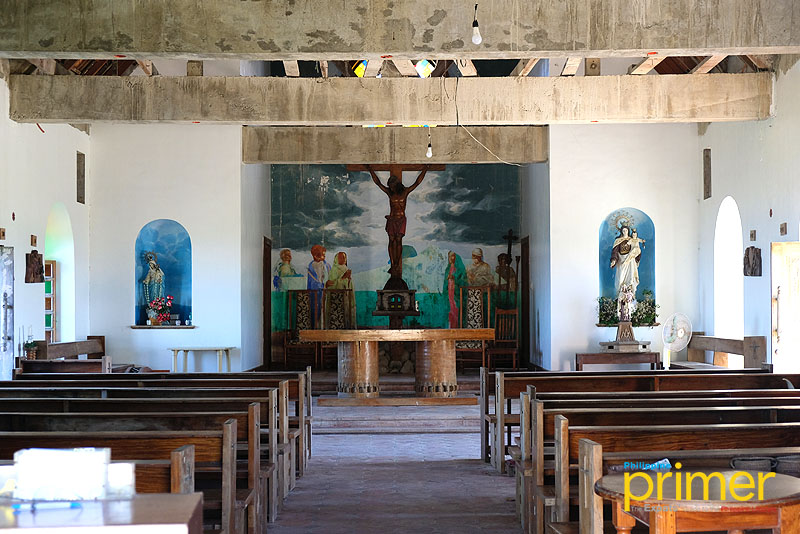 The inside of the chapel
Today, the image is kept on the sidelines and the ceilings are not fully restored.
As the community continues to move forward and bring back the beauty of Mt. Carmel Chapel, they still hold Sunday masses for the community at 4 p.m. 
Tip: There is a donation box just by the arch before entering the chapel for those who would want to help rebuild the chapel.
Also read: South Batan Island, Batanes: A Rustic Harbor of Pasturelands and Fishing Communities
How to get here
From the Basco Municipal Hall, take the National Road till you reach the Mt. Carmel Chapel on top of the hill.
The easiest way to get to Mt. Carmel Chapel is via tour provider or a tricycle. You may call the Basco Tricycle Operators and Drivers Association (BATODA) at 0929-703-8404 and ask them to take you to Mt. Carmel Chapel. This will cost you Php 60 per ride. Meanwhile, if you're looking for a tour provider, Batanes Travel and Tours provides an all-in-one complete package with accommodation, eco-tours, and full meals guaranteed to make your stay hassle-free.
Also read: Sabtang Island, Batanes: Home of Heritage Villages With Centuries' Worth of History
---
This first appeared in Philippine Primer's Japanese and English Magazine August 2019 issue.