North Batan Island, Batanes: The Center of Local Livelihood and Breathtaking Landscapes
North Batan brims with very natural energy coming from its people, the capital's trading activities, and the airport that serves as the first nod of welcome for the island's visitors. 
Also read: Batanes Travel Guide: Preparing for Your Trip This 2019
Home to the provincial capital and center of commerce that is Basco, North Batan is the place where local livelihoods are cultivated and showcased in public markets, convenience stores, and souvenir shops.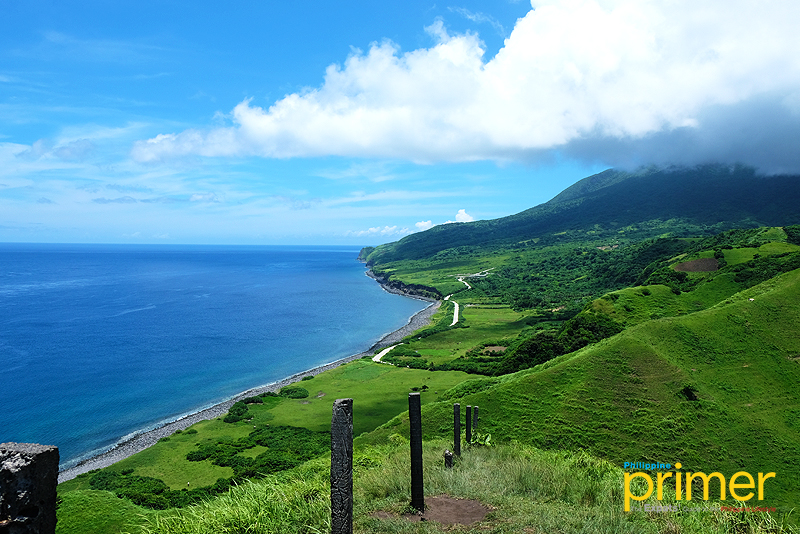 Although marked by vigor and modernity, the region still embodies the solemnity of Batanes as you drive away from the center and closer to the coast, as in Chanarian Beach where the shore is lovingly kissed by the tides.
Also read: South Batan Island, Batanes: A Rustic Harbor of Pasturelands and Fishing Communities
Join Philippine Primer as we take you to a trip up north as we explore Batanes' North Batan Island!
Provincial Capitol
Basco, Batanes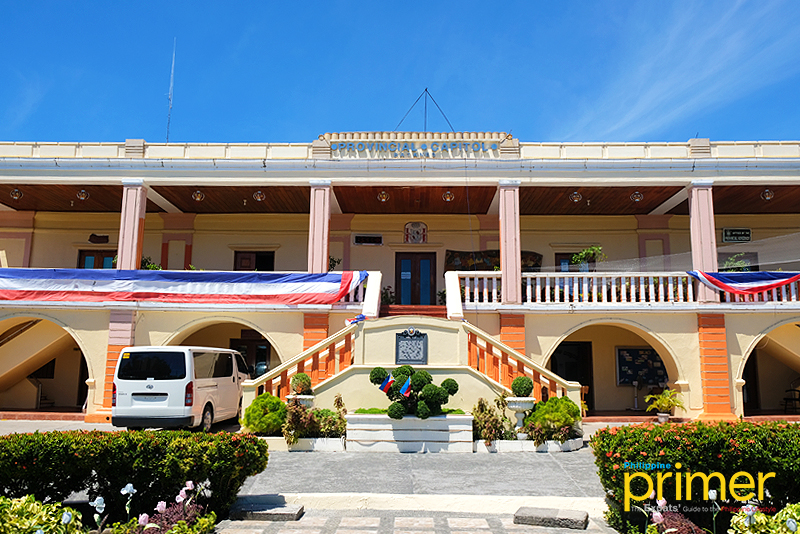 The usual first stop upon arrival in Basco is the Provincial Capitol, a 3-minute drive from Basco Airport, where tourists need to settle the eco-tourism fee of Php 350/pax and the DENR/PAMB fee of Php 50/pax.
Adjacent to the building is the statue of Aman Dangat, a significant historical figure who fought for the rights and freedom of his people in Batanes.
Naidi Hills and Basco Lighthouse
Basco, Batanes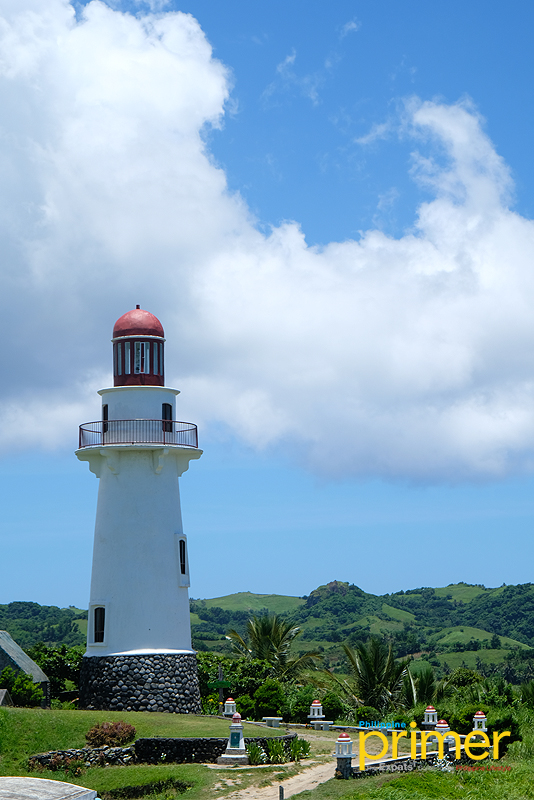 Among the most stunning and famous spots in North Batan is the Naidi Hill and Basco Lighthouse. Just a 15-minute walk northwest of the Provincial Capitol, Naidi Hill is the seat of the famed Basco Lighthouse, built in 2002.
This six-story conical beacon of light serves not only as a seafarer's aid but also a visitor's platform to get unobstructed views of Basco town, Mount Iraya, and the surrounding rolling landscapes. One such landscape is Vayang Rolling Hills.
Vayang Rolling Hills
Basco, Batanes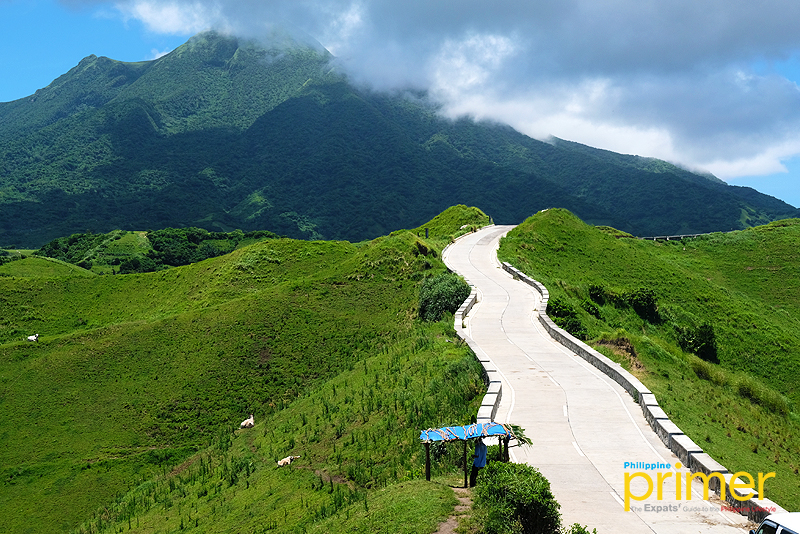 About a 10-minute drive from Naidi Hills, Vayang is home to cows and goats grazing as freely as your eyes can wander the scenery. The rolling hills face the West Philippine Sea and offer a glimpse of the nearby Itbayat and Sabtang islands.
If you stand on the highest peak of the hills, you will easily catch a picturesque view of Mt. Iraya to the east and Chadpidan Boulder Beach to the north.
Tip: Going up the peak requires a careful trek as the path is close to the slopes and a little narrow.
Valugan Boulder Beach
Basco, Batanes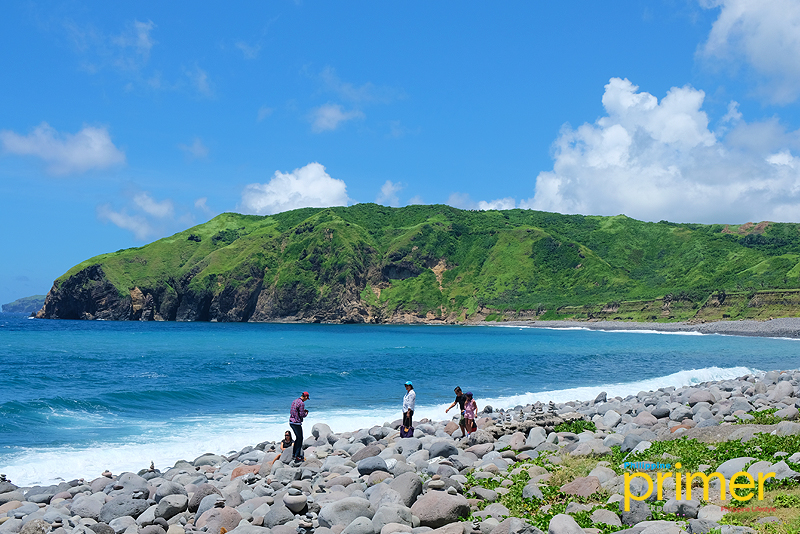 Moving 15 minutes south from Vayang, you'll find a tropical paradise that is unlike any other.
Setting foot on Valugan Boulder Beach, you will immediately notice smooth boulders with different sizes along the shore—a beautiful collaborative work of Mount Iraya through its past eruptions and the West Philippine Sea through its tides.
Tip: This beach scenery is said to be a famous subject for photographers. Around, you'll find piled-up rocks made by tourists, which you can try yourself, but be very careful as the waves can get very rough.
Didawud Idjang
Basco, Batanes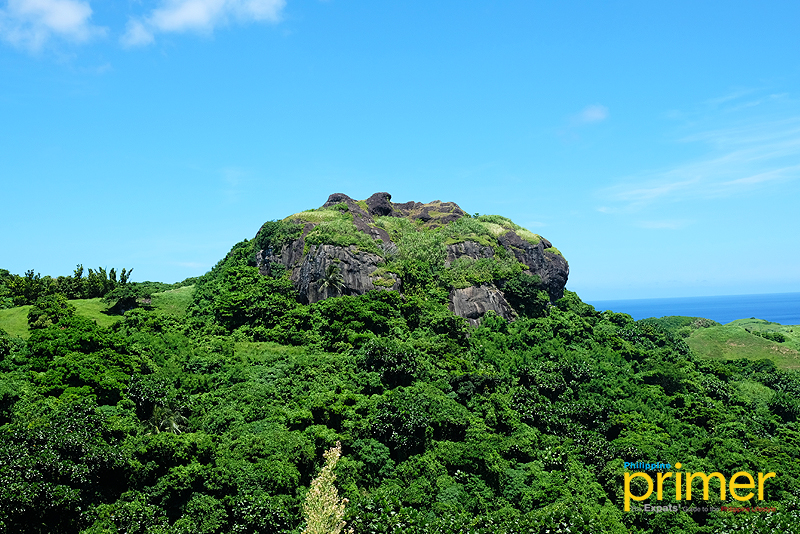 If you're familiar with Mount Gusuku in Okinawa, you'll find a similar one to the west of Valugan Boulder Beach, called Didawud Idjang.
This famous geological formation, elevated approximately 100 meters above sea level, is made from molten volcanic magma and once served as a citadel and shelter for the locals during the war.
Idjang Viewing is a nice viewing spot across Didawud Idjang to have a good view of the rock formation.
Tip: From the drop-off point on National Road, you'll need to trek on steep slopes to reach the viewing point.
Dipnaysuhuan Japanese Tunnel
Basco, Batanes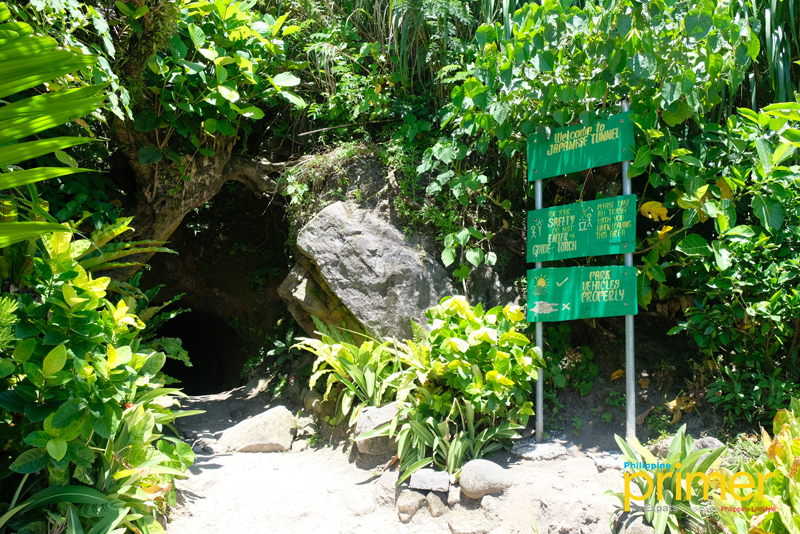 Moving forward, a piece of history tucked underneath the lush greenery of Batanes tells a story of World War II and the Japanese occupation in the country. Dipnaysupuan Japanese Tunnel, made of volcanic rocks and cement, served as a shelter for Japanese soldiers when they arrived in Batanes in 1941. 
Inside, you'll find nothing but rocks, small holes, and shattered tunnel walls. Some entrance points have cement above to protect the tunnel from the bombings during the war.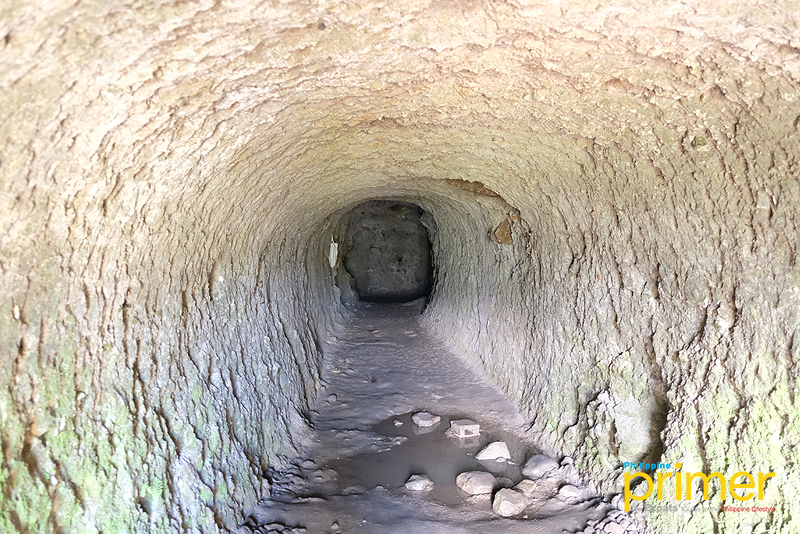 Tip: For safety, tourists are encouraged not to enter the tunnel without a tour guide and a torch or flashlight. 
Mount Carmel Chapel (Tukon Church)
Basco, Batanes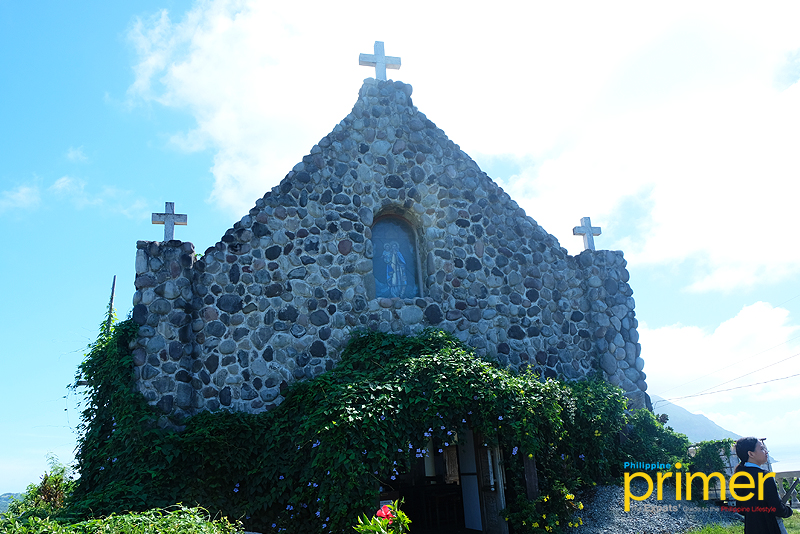 Mt. Carmel Chapel, also known as Tukon Chapel adopted the design of a traditional Ivatan house made of stone walls, making it the only chapel embodying such design. The church also manifests solemnity and tranquility as it perfectly sits on top of a hill, overlooking the lush greenery of Batanes, as well as the Pacific Ocean and the West Philippine Sea. 
The ceilings of the chapel were once covered with paintings of the patron saints of their six municipalities until it collapsed after Batanes was hit with a strong storm. Today, the image is kept on the sidelines and the ceilings are not fully restored.
Tip: There is a donation box just by the arch before entering the chapel for those who would want to help rebuild the chapel.
PAGASA Tukon Radar Station
Basco, Batanes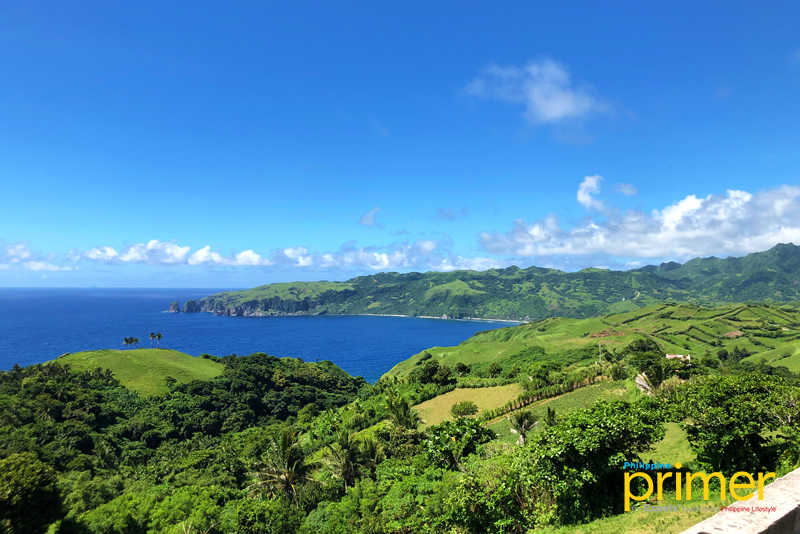 Go further up at PAGASA (Philippine Atmospheric Geophysical and Astronomical Services Administration) Tukon Radar Station and get a magnificent 360-degree view of Batan Island.
The radar station is sitting on top of a hill giving you a beautiful landscape of Mahatao's hedgerows (liveng), Basco town proper, the Pacific Ocean, and the West Philippine Sea. It is the northernmost station of PAGASA serving as the reference point for weather forecasts. 
Also read: Sabtang Island, Batanes: Home of Heritage Villages With Centuries' Worth of History
How to get here
The North Batan tour is a part of the 4 days, 3 nights tour with Batanes Travel and Tours, Inc.
Batanes Travel and Tours provides an all-in-one complete package with accommodation, eco-tours, and full meals guaranteed to make your stay hassle-free. They also offer private eco-tours or budget packages for solo or group travelers. All packages provide you with a local tour guide, driver, and a tour coordinator to help you get the most out of your stay.
Details
Manila Address: Unit B One Sapphire Condominium, 858 Fabella St., Mandaluyong City
Contact: 02-633-0859 / 0998-568-2637 / 0977-806-3040

Batanes Address: Amboy St., Kayhuvokan, Basco, Batanes
Batanes Office: 0998-531-1908 / 0917-343-2420
Website: batanestravelandtours.com
Email: info@batanestravelandtours.com
Facebook: facebook.com/batanestours
Instagram: instagram.com/batanestours
---
This first appeared in Philippine Primer's Japanese and English Magazine August 2019 issue.
Written by Denisse Tenorio
Photos by JR Padlan
You might also like...