Silang, Cavite: Tagaytay's Underrated Neighbor
Many beautiful places in Silang have often been mistakenly associated with Tagaytay. Perhaps the confusion is due to the fact that these two close neighbors have very similar features. Silang has a cool, comfortable climate. The town sits on high terrains—which keeps it safe from floods. And it is covered by a lot of greenery—forests, farms, gardens.
Despite these similarities to Tagaytay, Silang has its own charm, a beauty that has long been kept below the radar. Although in recent years Silang has opened up to more industrial and commercial developments, its true characteristics remain embedded on the local businesses.
Silang is home to many garden restaurants, farms, and off-the-beaten-track galleries that showcase local talent, making it a perfect destination to reconnect with nature and meet passionate people. These components are what's pushing its beauty slowly to the surface.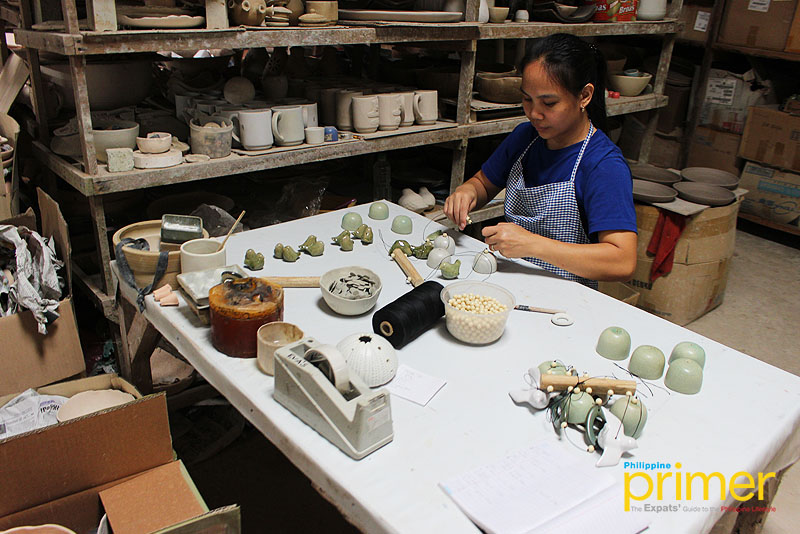 This time, we finally draw a line that distinguishes Silang from the rest of Cavite.
To get to know a town to its core, you must visit its local market. Silang Public Market, just a five-minute walk from the town plaza, is a one-stop destination to get the best of Cavite's primary produce like pineapple, coconut, coffee, and vinegar. 
The market is open every day, but you can find it in full buzz on Tuesdays, Thursdays, and Sundays, when various products are brought fresh to the market. Helpful locals will also gladly help you in case you are in need of directions and information around the place.
If you go out to the highway from the market and drive or walk south, you will quickly find a beautiful, refreshing scenery of green canopies, and rows of plants and flowers that are up for sale. This section of Emilio Aguinaldo Highway is also called Bypass Road by locals and probably the most beautiful part of the drive of anyone headed to Silang or further south. 
There is a huge assortment of plants: garden plants, indoor plants, hanging plants, orchids, flowers, cacti, bonsai, fern, and a whole lot more. You can buy small plants and orchids for as low as Php 50. The shops also offer landscaping services and garden decoration. 
Meanwhile, if you drive on Sta. Rosa-Tagaytay Road on the eastern side of Silang, you will find another distinct string of shops that represent local industry—furniture and woodworking. Most of the furniture are made of wood, while others are made of local materials like rattan. If you find pieces that would suit your home, you can buy and get them delivered to your doorstep at reasonable prices. 
Getting to Silang
It takes about 1 to 2 hours from Manila to Silang, Cavite. 
By car
Take Emilio Aguinaldo Highway via Cavitex if you are going to downtown Silang, where most of the major establishments are located. 
If you are coming from Nuvali or Santa Rosa Laguna, you can take the Santa Rosa-Tagaytay Road and either go around Tagaytay or take Pooc Road in Barangay Lumil to reach the town proper. 
By public transport
Bus: Erjohn and Almark from Ayala Makati or Pasay / buses bound for Tagaytay, Mendez, or Nasugbu (get off on Emilio Aguinaldo Highway)
P2P: Trasierra St., Legaspi Village, Makati (near Corinthian Carpark) ⟷ Robinsons Place Dasmariñas (Php 150); take a jeepney or bus to Silang
Getting around Silang
Within downtown Silang and along Bypass Road, the main mode of public transport is tricycle. For establishments farther from the town proper, you can take the jeepney or bus.
Map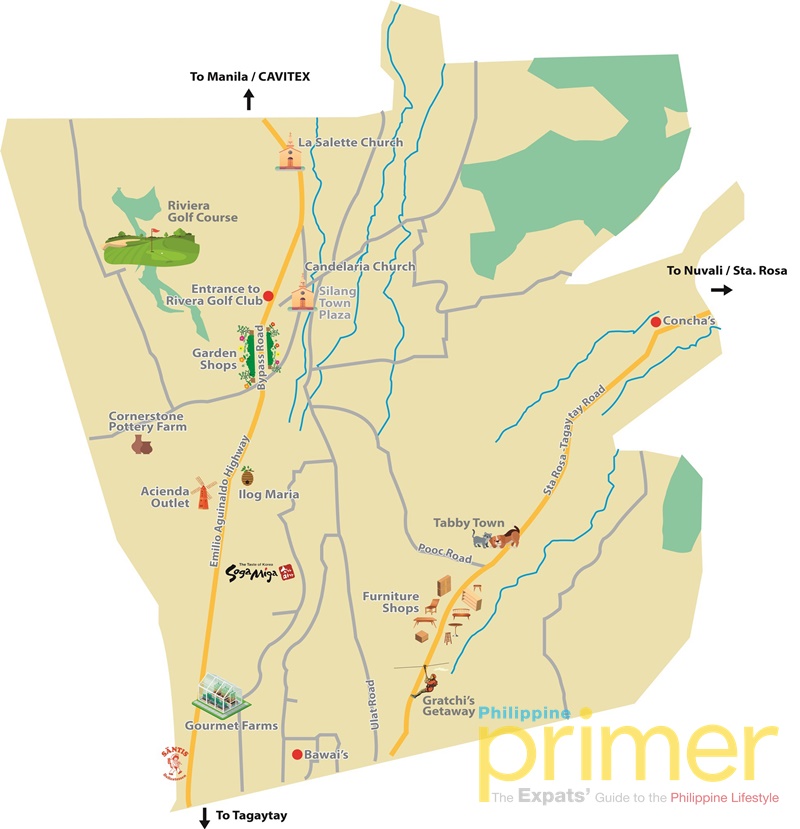 Map images owned by Philippine Primer may not be used and/or modified without permission.
Where to Go in Silang, Cavite
Where to Eat in Silang, Cavite
Where to Stay in Silang, Cavite