Genba Kappouryouri, is a traditional Japanese Restaurant that uses an open kitchen that allows the guests to appreciate the chef's cooking skills while the orders were cooked right before their eyes. Robatayaki – a new creative method of cooking, sashimi and sushi are the restaurant's specialty. Genba Kappouryouri only promotes freshness, nutritious and a high-end food culture. The restaurant offers fresh ingredients, chef's exceptional cutting and cooking skills, and an exquisite food arrangement. Genba imports high quality ingredients from japan which basically brings the essence of every dish from japan to the phillipines. One of chef Yamashita's signature and must try dish is his A5 wagyu beef with foie gras. You should also try the hokkaido king crab, which is even rare in most Japanese restaurants in the Phillipines
Chef Comment

Genba Kappouryouri has been adhering to the "Put people and quality first", business philosophy to provide high-quality food, excellent service, a comfortable environment and an elegant Japanese ambiance to create a memorable experience for all the food lovers.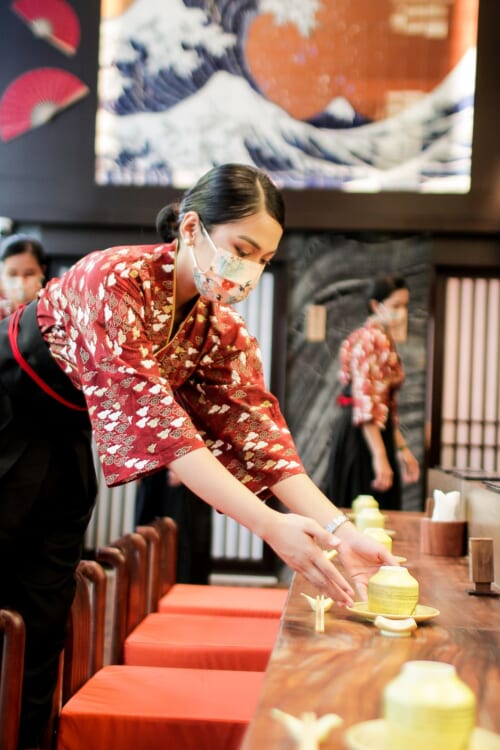 Primer Comment
Parañaque has countless restaurants to check out—from those located right in malls to the hidden ones along its many roads and sidewalks. So if you're not sure where to head to, check out Genba Kappouryori in Aseana City. This is a traditional Japanese restaurant specializing in Kappo Cuisine, a kind of Japanese culinary experience in which a meal is left entirely up to the chef. It's a case of whatever they want to whip up that day is what you're going to get. Aside from their amazing food served on a well-kept counter, diners at Genba Kappouryouri will also experience and enjoy the warm hospitality the Japanese are known for. It's perfect for those who are looking for some yummy ala carte or multi-course Japanese favorites.