Bay City: The City of Beautiful of Sunsets
Encompassing the stretch of Manila Bay where the most prominent establishments stand tall, such as Okada Manila, SM Mall of Asia, and Cultural Center of the Philippines, Bay City is teeming with people and traffic whatever time of the day. And because of this, without stopping, buildings after buildings are perched on the city's soil.
The vertical cityscape might strike others with a feeling of being enclosed, but the Bay City sees to it that there is sufficient space for breathing by offering a series of temporary halt to the rush—hideouts if you may. From a big patch of nature where life thrives and spaces where art and culture are celebrated to peculiar restaurants, bars, and entertainment facilities where having a good time is certain, Bay City has it all. 
But most importantly—it has the bayside. One thing that makes it a city like no other is its gift of Manila Bay, where the sun beautifully bows its thanks every day. The way it slowly bathes the boundless sky with its presence before completely going out of sight just naturally makes people stop in their tracks—a reason to slow down and admire the beautiful things in life.
And so just like the sun that rises and sets without missing a single day, let the Bay City be your reminder not to let the day pass without setting your heart in quiet gratefulness, be it through enjoying good food or by simply taking in the beauty of nature in the very city that continuously provides an array of life's luxuries.
Getting to and around Bay City
The most common mode of public transport to get to Bay City is bus. From the north, SM MOA-bound buses run along EDSA; from the south, there are buses bound for LRT Buendia, where you can take a multicab to the SM MOA complex. 
To get to the CCP area, from where you can access attractions like Star City and Upside Down Museum, take the LRT Line 1 to Vito Cruz Station and ride an orange multicab or jeepney bound for CCP. There are also e-tricycles that can take you around SM Mall of Asia and CCP Complex with fares starting at P20.
Prominent casino resorts offer free shuttle service from SM MOA:
Okada Manila
Pick-up point: In front of Pet Express on Pacific Drive
Bus operations: 24/7, with 15 to 30-min. intervals
Solaire Resort and Casino
Pick-up point: Across Pet Express on Pacific Drive
Bus operations: 12:30 pm to 1:30 am daily, with 1-hr. intervals
City of Dreams Manila
Pick-up point: In front of Starbucks on Pacific Drive
Bus operations: 11:30 am to 1 am, with 30-min. intervals
Map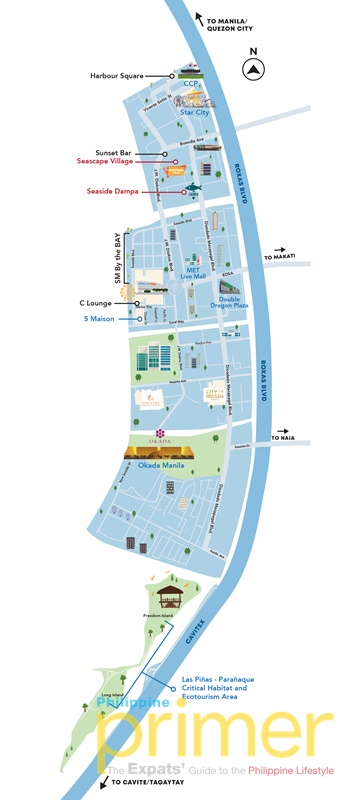 Map images owned by Philippine Primer may not be used and/or modified without permission.
Where to Go in Bay City
Where to Eat in Bay City