The Garage at City of Dreams Manila: The Newest VR Zone and Food Park in the PH
Updated as of October 1, 2019
The Garage at City of Dreams is the newest groundbreaking attraction in Manila.
The Garage
Venturing into a new landscape of entertainment and dining, City of Dreams Manila presents The Garage—a VR Zone and a food park that will exceed everyone's expectations when it comes to food and entertainment.
This new attraction guarantees guests an entrancing experience of virtual reality entertainment and a luxurious treat with a wide array of food selections.
Also read:  City of Dreams
BANDAI NAMCO Amusement Inc. Manager Yukiharu Tamiya, City of Dreams Manila's Chief Operating Officer Kevin Benning, BANDAI NAMCO Amusement Inc. Manager Ryuichi Osada during The Garage's media preview
"The Garage is City of Dreams Manila's latest attraction featuring unique entertainment activities in partnership with BANDAI NAMCO Amusement Inc. With their creativity and cutting-edge technology, we are honored and delighted to partner with them, and together blaze a trail in delivering extraordinary entertainment experiences that go beyond gaming and recreation in the Philippines," City of Dreams Manila's Chief Operating Officer Kevin Benning said.
VR Zone
Brought by the Japanese video game development company and publisher, the virtual reality experience is unveiled with a food park—featuring quality food and drinks choices from the up-to-the-minute food and beverage partners.
This concept is what makes The Garage a first of its kind in the country, setting it apart from others.
The food park
"BANDAI NAMCO Amusement is honored to partner with luxury integrated resort City of Dreams Manila and bring to this exciting destination our first VR Zone entertainment facility in Southeast Asia. We hope to bring outside of Japan an immersive, multi-sensory and fun activities to Filipinos and foreign guests with our unique VR activities at The Garage," Bandai Namco's General Manager Kunihisa Yagisita said.
Located at the upper ground floor of City of Dreams Manila, The Garage occupies a 2,714 square meter cozy space with a 563-seating capacity.
Its modern industrial interiors are designed by award-winning Paris-based creative design agency Malherbe Design in collaboration with Westar Architectural Interior Design.
More than that, graffiti works of two prominent names in the street art scene—Kookoo Ramos and DeeJae Paeste—are also flaunted in the facility.
Dining area
The ambiance is openly homey
The VR Zone 
Featuring a new entertainment facility, The Garage's VR Zone provides a thrilling experience with premier virtual reality technology.
VR Zone's gaming space
What players will most likely be excited about is the popular Mario Kart Arcade GP VR, where they can choose to play as either Mario, Luigi, Princess Peach, or Yoshi. It's the perfect game to reminisce childhood days of playing Nintendo games!
This three-minute game lets you enter the action-packed world of Mario Kart universe while passing through Thwomps or large stone creatures.
Developed by Bandai Namco Amusement under license from Nintendo, the surely in-demand game can be played by up to four persons and is open to 13 years old and above.
The Mario Kart Arcade GP VR
For an interactive horror experience, a horror room game called Hospital Escape Terror will scare the sleeping nerves out of players struggling to escape and survive.
The game is set in a dark, cursed, and abandoned hospital, in which players—restrained in a wheelchair—must survive and escape within nine minutes.
The Hospital Escape Terror
Ski Rodeo is a two-minute game that lets a player ski on a vast snowy mountain course with sharp slopes and steep drops at a fast speed.
On a steep downhill ski simulator, players must finish the challenge at the fastest time possible or within the allotted time. The game can be played in pairs and is open to individuals with a height of 140 cm and above.
Ski simulator
Meanwhile, the VR Swarm Shooting Galaga Fever beams with action as it takes inspiration from the classic Japanese arcade game called Galaga.
It is basically a shooting game where the player situated in a spacecraft should defeat the enemies to move onto the next stage.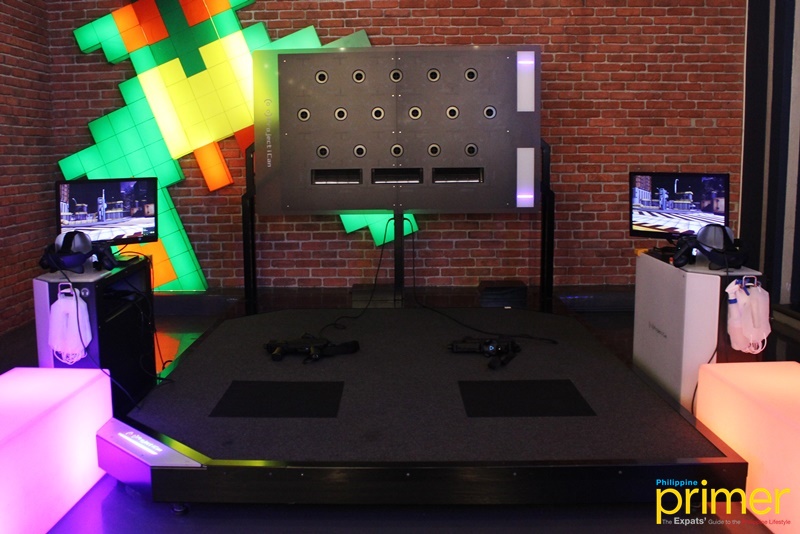 The VR Swarm Shooting Galaga Fever
And finally completing the 5 VR activities is the Winged Bicycle. Bask in the thrill brought about by flying in the air through its pedal-powered winged bicycles!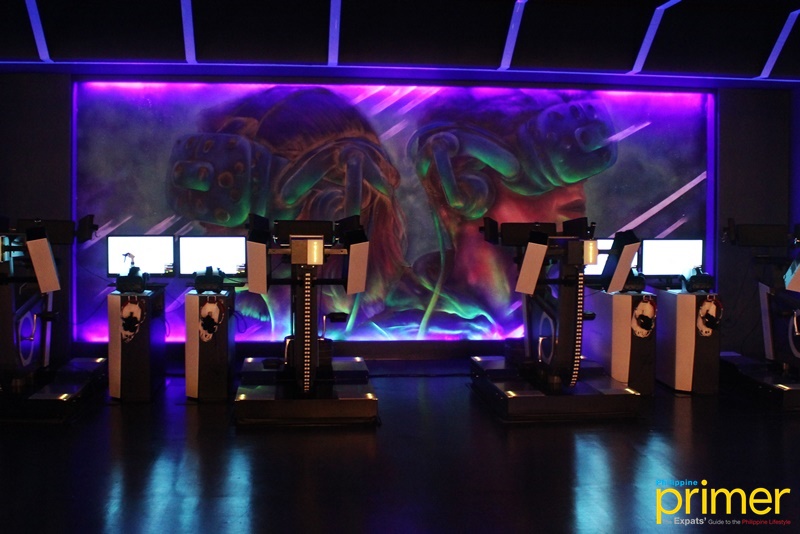 The Winged Bicycle
The Food Park
After hitting the vigorous spot of the VR Zone, guests can now head into the food park for gastronomic galore, indulging in well-curated food selections offered by 12 food and beverage trucks and trailers.
These include Chocol8, Chic Shoppe, Juiced, The Bar, and The Roaster, which are all operated by City of Dreams.
It also houses Little Flour, Pink's Hot Dogs, Hokkaido Ramen Santouka, Katsu Sora, El Chupacabra, Pizza Grigliata, and Farmacy Ice Cream.
The food park exudes a spacious, fashion-forward mood that will escalate the casual dining experience.
One of the food park's pride is the Chic Shoppe, which offers a motley of British classics.
It chiefly serves a variety of fish and chips that are deliciously partnered with different dips, as well as desserts like Banana Fritters and Sticky Toffee that are both topped by ice cream.
What's more is that it has a signature Corned Dog that will definitely make you ask for more!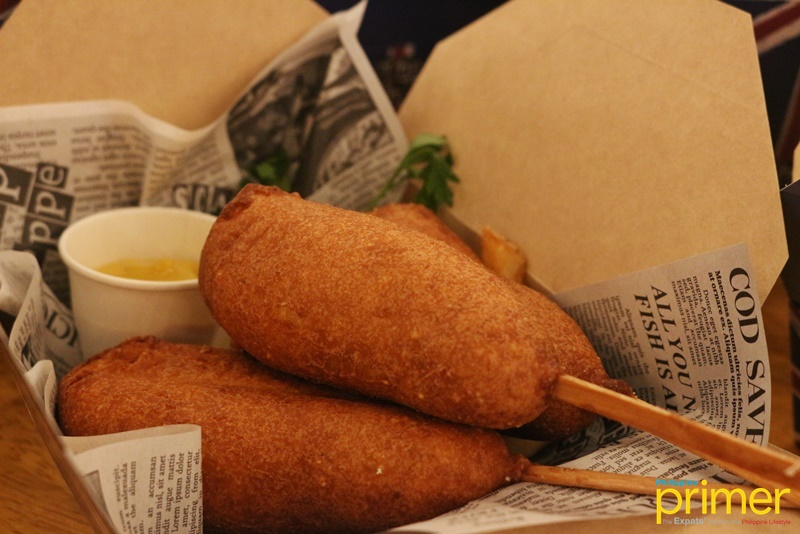 Chic Shoppe's Signature Corned Dog
Also read:  Wildflour in Makati: A cozy yet casual cafe and bakery
Wild Flour's younger sister, Little Flour's food truck offers classic Filipino rice bowls like sisig, beef tapa, and pork adobo. It also serves Wild Flour's bestselling breakfast dishes and pastries.
Meanwhile, Pink's Hot Dogs Manila, brought by the Wild Flour group in the Philippines in 2016, is the most sought-after hot dog stands in Los Angeles, serving a wide host of signature hotdogs and burger creations.
Also read: Little Flour Cafe in BGC: The Lovable Little Sister of Wildflour
Little Flour's Sisig
Pink's Tokyo Dog
Also read: Pink's Hotdogs in BGC: A Hollywood Experience in the City
Specializing in Japanese cuisine, Hokkaido Ramen Santouka and Katsu Sora boast of its well-loved ramen and flavorful tonkatsu respectively.
Hokkaido Ramen Santouka ramen is characterized by its mild, pearl-colored Tonkotsu soup, while Katsu Sora's tonkatsu is naturally tender, marbled, and made with only premium pork meat.
Also read:  Katsu Sora in San Juan: Home of heavenly tonkatsu
Hokkaido Ramen Santouka's ramen
Tonkatsu
The first in the country to present the Mexican street taco concept, El Chupacabra comes in freshly made soft corn tortillas with choice of filling.
Topped with minced onions and fresh cilantro, El Chupacabra's street taco gives a simple yet tangy, satisfying taste.
Also read:  El Chupacabra
El Chupacabra's food truck
For a total pizza experience, Pizza Grigliata has got you covered. Its perfectly grilled, artisanal pizzas are known for the thin crust dough topped with fresh ingredients.
Pizza Grigliata's artisanal pizzas and pasta
Farmacy Ice Cream takes us back to the time of classic ice cream parlors. It serves fresh homemade ice cream and other comforting treats like milkshakes, sodas, coffee, and pastries.
To completely satisfy the guests' sweet cravings, Chocol8 presents the handcrafted chocolates in a number of shapes and forms, and are enhanced with special ingredients such as fruits, nuts, and spices.
Farmacy Ice Cream
Chocol8 handcrafted "Ant" chocolate
Moreover, a variety of fresh and healthy squeezed smoothies, slushies, and juices are offered at Juiced.
On the other hand, the pressing need for coffee will be fulfilled at The Roaster, a go-to outlet for an array of gourmet coffee creations.
Juiced's variety of fresh and healthy squeezed smoothies, slushies, and juices 
Spanish Latte-Espresso
Guests can pair their choice of food from the food trucks and trailers with a wide selection of signature cocktails, iced teas, and mocktails from The Garage's bar.
The Bar
For more information, you may call 02-800-8080, email guestservices@cod-manila.com, or visit www.cityofdreamsmanila.com.
DETAILS
Address: Upper G/F, City of Dreams Manila, Aseana Avenue cor. Roxas Boulevard, Entertainment City Manila, Parañaque City
Operating hours:
VR Zone – 12 p.m. to 11 p.m. (Sun. to Thurs.); 12 p.m. to 12 a.m. (Fri. to Sat.)
Food Park – 11 a.m. to 11 p.m. (Sun. to Thurs.); 10 a.m. to 12 a.m. (Fri. to Sat.)
Contact: 02-800-8080
Website: www.cityofdreamsmanila.com
Email: guestservices@cod-manila.com
Entrance fee: Free
VR Zone ticket prices:
One activity: Php 350
Three activities: Php 990
Five activities: Php 1,625