Red Lobster Is the Ideal Place for An Ultimate Seafood Dining Experience
There really comes a point in life when you suddenly feel awash with an insurmountable craving for seafood. Thankfully, a number of restaurants today specialize in offering such—one of which is Red Lobster.
Also read: 10 Fintastic Seafood Restaurants to Give a Go Around the Metro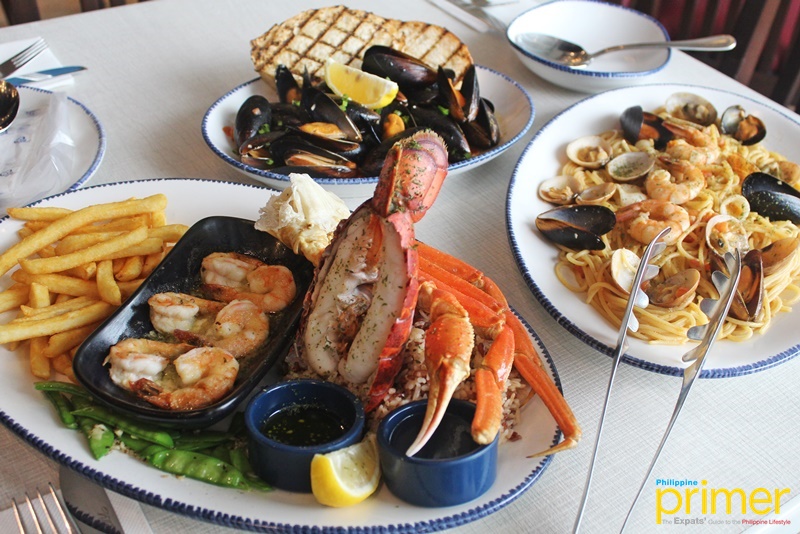 Known as the number one seafood restaurant in America, Red Lobster offers what they deem as an ultimate seafood experience, with dishes ranging from soup and pasta to big feast platters—good for both solo and group.
Also read: Isla Sugbu: The Pioneer of Seafood "Paluto" Buffet in the PH
Red Lobster takes pride in their famed Ultimate Feast (Php 2,950), which is undeniably an indulgence especially as it's graced by the presence of snow crab legs and maine lobster tails.
It also includes wild rice, shrimp scampi, and vegetables that balance the overall flavor.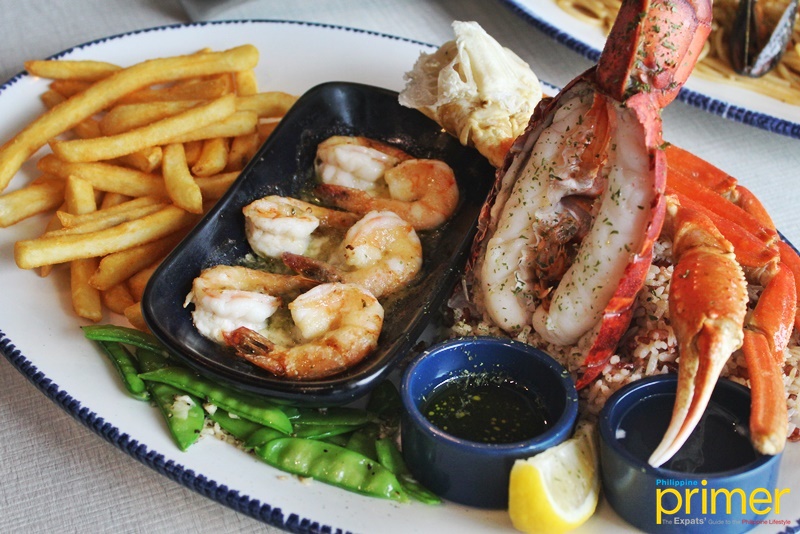 Ultimate Feast (Php 2,950)
Another variant of Red Lobster's feast is the Seafarer's Feast (Php 1,450). This one is a platter of swordfish, wild rice, shrimp scampi, snow peas, and cocktail sauce for a slightly lighter but still flavorful meal.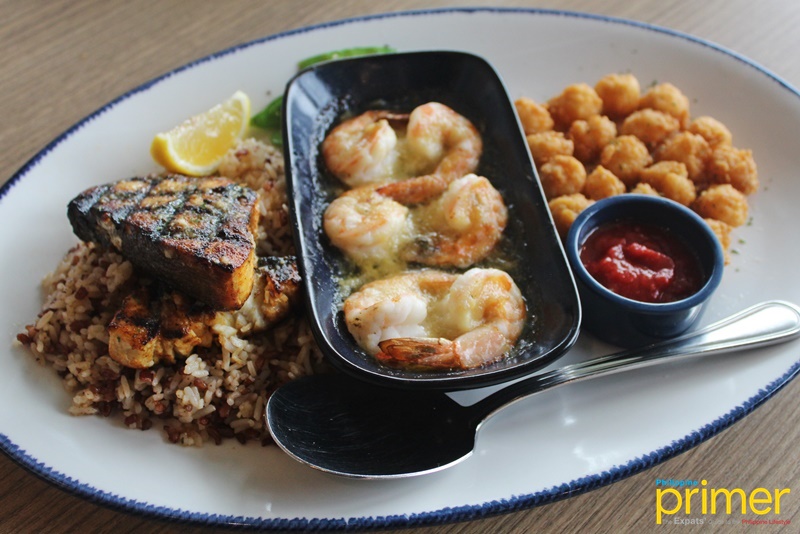 Seafarer's Feast (Php 1,450)
Meanwhile, one of Red Lobster's starters is the White Wine and Roasted Garlic Mussels (Php 595). It's made with a handful of Chilean mussels, roasted tomatoes, and green onions, paired with grilled artisan bread.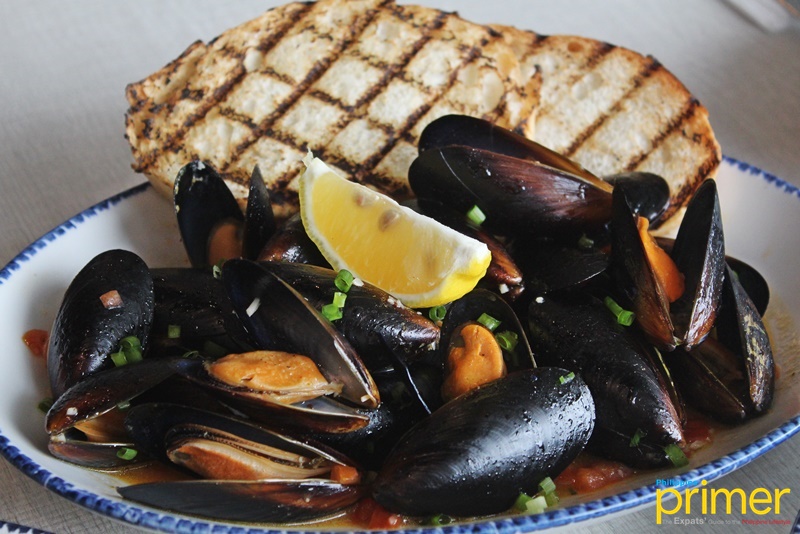 White Wine and Roasted Garlic Mussels (Php 595) 
One of Red Lobster's forefront pasta dishes, the Bar Harbor Seafood Bake (Php 695) is a garlic butter spaghetti topped with mussels, scallops, shrimps, and squid.
This pasta dish will surely linger in your mouth as its flavor alternates being creamy and tasting fresh from the sea.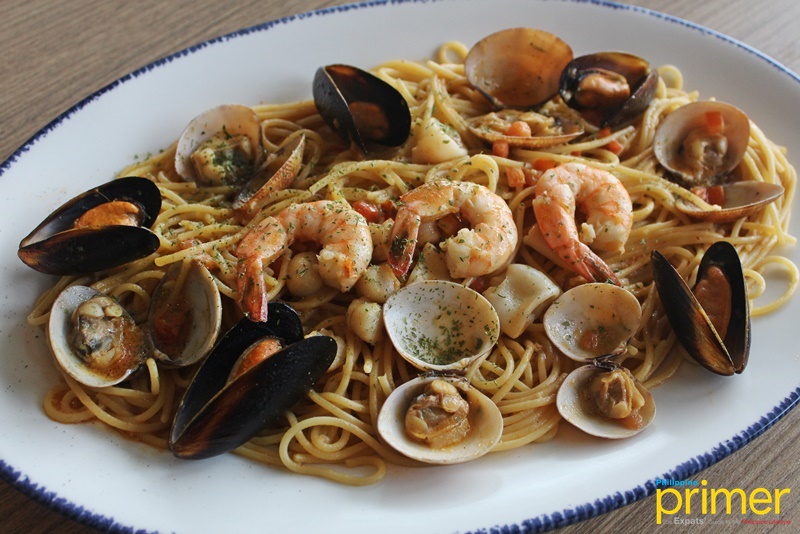 Bar Harbor Seafood Bake (Php 695)
But of course, the highlight falls on the one-pound Live Lobster (P3,500), which you can personally see as it is displayed in a tank.
Also read: 6 Paluto Restaurants to Satisfy Your Seafood Cravings
Red Lobster also gives complementary Cheddar Bay Biscuit, which is a soft bread accented by its slightly crunchy, cheddar-flavored crust.
Red Lobster is painted with welcoming elegance through the combination of red and blue colors, together with its painting-clad walls.
When you enter, you'll see the quaint bar on the right where various bottles of wine are lined up. The bar is situated just across the restaurant's half-open kitchen bustling with chefs doing their magic.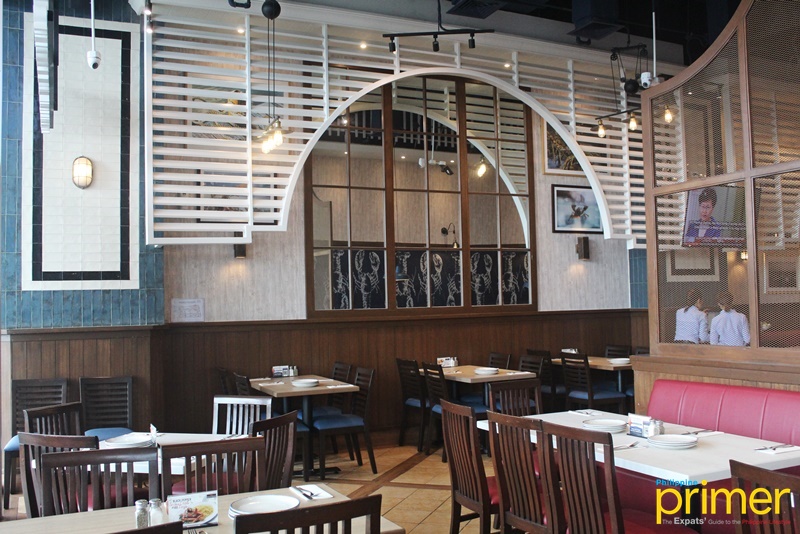 Red Lobster also caters to private occasions in case you want to celebrate a special moment with overflowing seafood experience!
How to get here:
From SMX Convention Center, go straight to the direction of the Archdiocesan Shrine of Jesus the Way, the Truth, and the Life and then turn right—S Maison would be at the right and the far end of the road.
Red Lobster, whereas, is located on the ground floor of S Maison near one of the escalators.
---
This first appeared in Philippine Primer's Japanese and English Magazine October 2019 issue.
Store Information
Level 1, S Maison, Conrad Manila, Mall of Asia Complex, Pasay City
02-255-4199
10 a.m. to 10 p.m.
Holidays
Evia Lifetsyle Center, Almanza, Las Pinas City