The Good Chop Guide: Pork Dishes in Metro Manila
And on today's menu: a multitude of pork dishes that will not only excite your taste buds but also take you around the world. Get a glimpse of the world's cuisines, from east to west, and how each country cooks up one of the best-loved meats in the world.
Western Cuisine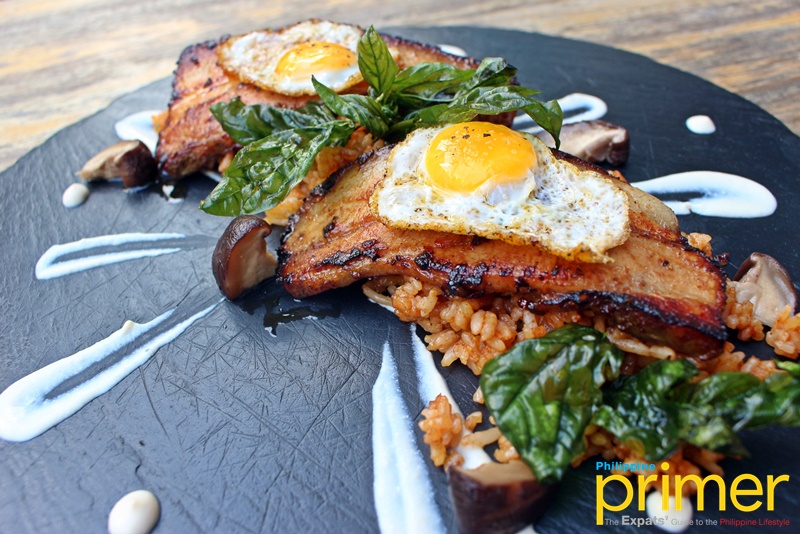 Western cuisine is the perfect place to develop a good appreciation of pork in all its pure, flavorful glory. Rarely would you find pork in soups and stews—those kinds of dishes are mainly reserved for chicken and vegetables. Instead, you'll find a lot of grilling, roasting, frying, serving pork with simple relishes like gravy or barbecue sauce. When cooking pork, precision is the key in Western cuisine, and there are various, even ingenious, ways to achieve the ideal texture and flavor of pork, varying in time and techniques.
The Smokeyard follows the classic Southern technique of smoking meats using a combination of 100% fruit and hardwoods such as apple, hickory, and oak—giving pork that extra delightful flavor and aroma. Savage looks back on primitive ways, when the early humans cooked their prized hunts on an open-pit fire. Their King Edward Porkchop is grilled in an open pit using charcoal and oak sourced from Ukraine. Meanwhile, Common Table uses the curious sous-vide method of cooking, wherein the meat is stored in a vacuum-sealed bag and cooked in a water bath with controlled temperature for hours, producing juicy and evenly-cooked meat as in their 36-Hour Pork Belly.
A popular one-stop European dining destination in Makati, I'm Angus Steakhouse perfectly grills their US-Duroc Pork Chop, known as "The Black Angus of Pork." Their grilling method produces luscious, savory meat, which is best paired with a glass of wine. Its sister restaurant, Chesa Bianca gives you a taste of Swiss tradition with their Emmentaler Röschti, starring grilled pork tenderloin on crisp Swiss röschti, with a creamy mushroom sauce, overbaked with Emmental cheese. You can enjoy this dish in the restaurant's Swiss holiday cabin-inspired interior, which perfectly emulates a dining experience in a quaint Swiss village.
For lovers of pork chops, other good dining destinations in the metro are Epilogue, with their Braciola (herb pork chop with miso demi-glaze, Gratin Dauphinoise, and onion jam), and Tipple and Slaw with their Parmesan Pork Chop. If the thought of pork belly makes your mouth water, sister restaurants The Black Pig and Pig Pen can give a satisfying end to your cravings.
If you want to enjoy your pork with fine wine, Dr. Wine offers Provencal Grilled Pork Tenderloin À L'échalote, made by immersing the pork in a marinade of mustard for 48 hours before it is grilled. Txanton also dishes up finely hand-cut Iberian hams to enjoy with their selection of wines and cocktails. If you want pork with coffee instead, Caravan Black offers Naked Chorizo, which is especially enjoyable on a crisp, dewy morning.
For a glimpse of festive Spanish cuisine, Cirkulo offers Cochinillo Asado, made with Spanish-style oven-roasted suckling pig, ideal for groups of 10-15. They also have Huevos Rotos, a dish with a Filipino twist, comprised of rosemary shoestring potatoes, spicy suckling pig sisig, and 65-degree egg.
La Mere Poulard heightens the metro's fondness for a lavish French dining. While they are known for dishes that highlight the use of eggs, they also have pork offerings like the Pork Filet Mignon, drenched in plenty of soy and honey sauce.
For a rare and precious taste of Argentinian cooking, a visit to La Cabrera, with branches in Makati and EDSA Shangri-La, will get you a meaty and savory treat of their Costillas de Cerdo con Barbacoa (barbecue baby pork ribs).
Filipino Cuisine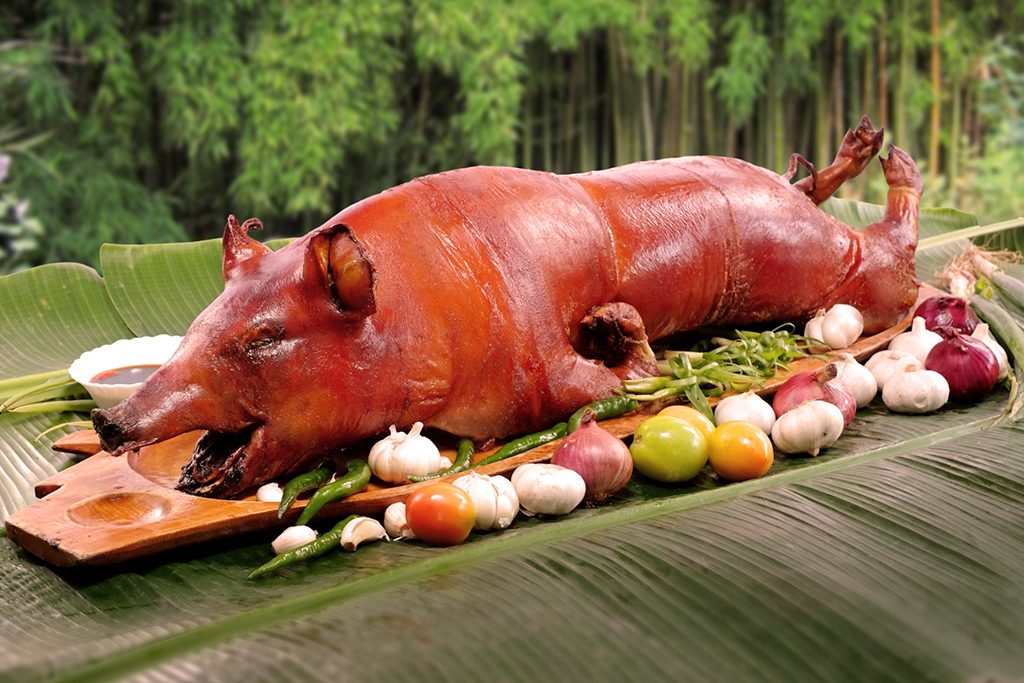 In the Philippines, pork has long been a part of the colorful Filipino culture. A Filipino fiesta, where a town commemorates its patron saint through banquets and festivities, is not complete without the crisp and flavorful lechon or whole roasted pig. Skewered with bamboo and roasted on a pit, the pork develops a savory aroma and perfectly crispy skin, which is the favorite part of most Filipinos. Aside from fiestas, lechon and other pork dishes are also commonly served during special occasions such as birthdays and anniversaries.
The first lechon was made in Cebu in the 1920s, and the first-ever "lechoneros" (lechon makers) came from Talisay, Cebu. You can say that this is the reason why a mere mention of the word lechon always directs to Cebu—because it is the home of the best lechon. Even the late Anthony Bourdain described Cebuano lechon as the "the best pig ever."
Thankfully, people of the metro don't need to travel all the way to Cebu. Rico's Lechon, one of the established lechon places in Cebu, has brought with them the Cebuano way of serving lechon in Manila. A unique offering of this restaurant is its spicy version of the roasted pig.
Elar's Lechon, on the other hand, sources its pigs from Rizal. With a cooking time of 3 to 5 hours depending on the size of the pig, Elar's Lechon ensures tasty chopped roasted pigs served on your table. Zubuchon also joins the lechon craze as it combines the classic Filipino nutty dish, kare-kare, with the luscious Cebuano lechon in their Lechon Kare-Kare with rice!
If you want to celebrate the Filipino way, there are a number of places in the metro for you to get a good lechon. Other than Rico's and Elar's, other well-established lechon providers are Lydia's Lechon and Crisostomo, both with branches around Metro Manila. Other must-try lechon shops are General's Lechon, located at Petron Station, Arnaiz Ave., Makati; Ping Ping's Native Lechon in La Loma, Quezon City; and The Lechon Shop by Leonardo's Lechon on Sct. Tobias St., Quezon City.
With almost every dish loaded with pork, it's easy to think that this meat might be the next best Filipino staple alongside rice. Every region and every home in the Philippines just has its own unique variety of pork dishes that can suit the taste of people from around the world. Even restaurants give classic pork dishes a nice reinterpretation, just like what Lampara did with the popular Filipino appetizer, tokwa't baboy. Typically, it is comprised of pork belly and deep-fried tofu in a mixture of soy sauce and vinegar. Lampara's version, on the other hand, is a beautiful presentation of tofu—chilled instead of fried—topped with bacon, onions, and pork floss, drizzled with black vinegar.
Meanwhile, BENCH Cafe puts a healthier twist to otherwise sinful dishes such as sisig, chopped parts of pork head and belly. In BENCH Cafe's Sisig Lettuce Cup, they mix this delicious crispy minced pork with egg, home-made chicharon, calamansi foam, and Ajo aioli, and serve the ensemble with lettuce on the side for that healthy twist.
With locations in Makati CBD and in Power Plant Mall, Rockwell, MilkyWay Cafe is also at the top of their game with their luscious Lechong Kawali, with liver sauce, as well as their tender BBQ Pork Spareribs, served with java rice and atchara, a pickled side dish, great with pork dishes.
Another common sight in fiesta celebrations is crispy pata, deep-fried pig trotters, which is well-loved by many because of its combination of crunchiness and tenderness.
Kuya J Restaurant satisfies the craving for a bite of crispy and meaty pork with their Crispy Pata, a big serving of pork with perfectly crunchy skin and savory meat. While this best-seller is good for sharing with your family, you can also order their regular-sized Crispy Pata should you want the whole treat for yourself. It's not difficult to find Kuya J as they have about 40 branches in Metro Manila alone.
Another well-known Filipino restaurant with satisfying servings of crispy pata is Hukad, which currently has over 10 branches around the metro. If you want your crispy pata in a different recipe, Romulo Café has something good to offer with their Boneless Crispy Pata Binagoongan, made with eggplant-tomato bagoong sauce.
Sentro 1771 also makes crispy pata more enjoyable with their Boneless Crispy Trotter or deboned crispy pata, usually in bite-size, making it easier to munch on.
Another popular crispy pork delicacy is bagnet, an Ilocano specialty that turns pork belly into an irresistible chunk of crispiness, distinctly more firm and brittle than crispy pata. One of the best places to get a taste of this pork dish in the metro is Arroz Ecija, a Filipino restaurant specializing in rice dishes. One of their signature dishes is the 72-Hour Bagnet that has undergone the process of boiling, marinating, and frying for 72 hours.
Restaurants like XO 46 Heritage Bistro also incorporate bagnet in various dishes like the Pinakbet ng Laoag, comprised of bagnet and fresh vegetables cooked in fermented shrimp paste (bagoong). Complemented with their unique Filipino way of greeting guests, the overall experience is captivating in XO 46.
For an equally sinful bagnet dish, Bagnet 8065 also incorporates their signature bagnet to the classic dinuguan or pork blood stew. You can even add spice to their Bagnet Dinuguan by crushing some chili on top.
East Asian Cuisine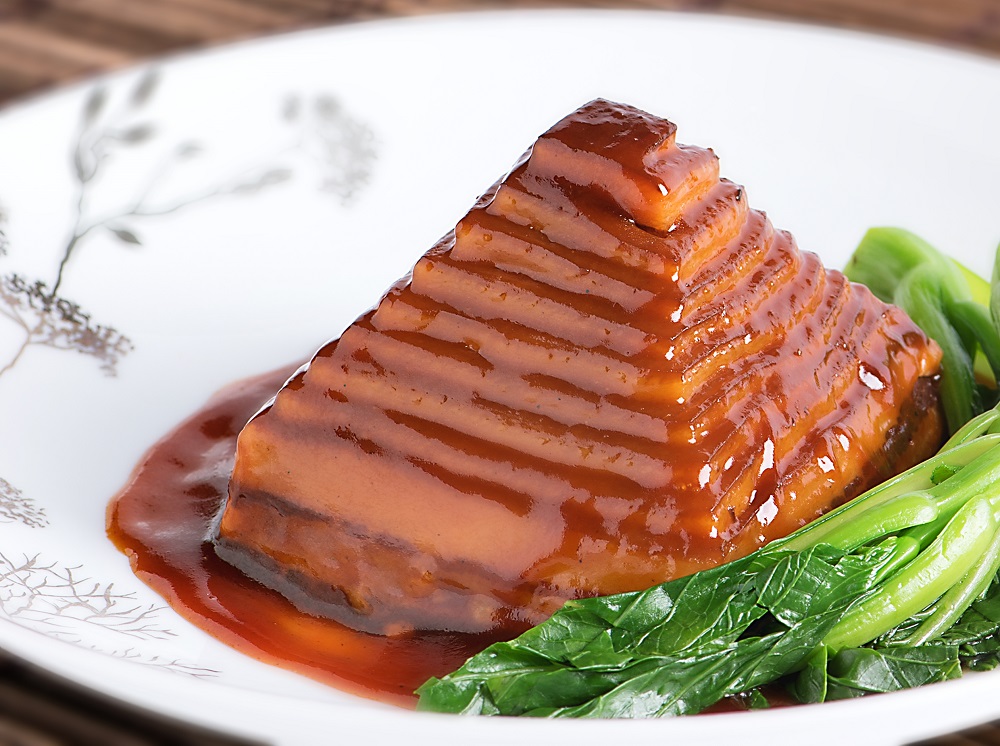 East Asia is known as a colorful region, composed of nations with colorful histories and cultures that have blossomed uniquely from their shared roots. This radiant diversity is best reflected in the rich and diverse cuisines that highlight various ingredients unique to each country.
East Asian countries have a variety of food staples, from rice and noodles to vegetables and root crops, and you'll find that most of their best delicacies are made with pork. In local restaurants, bars, and even street food markets in these countries, you'll find pork cooked in the most unique of methods—stir-fried, simmered, roasted, braised, grilled among others.
In a fine-dining Cantonese restaurant in Metro Manila like Jasmine, found inside New World Makati, you can find a good selection of pork dishes on the menu—pork dim sum, braised pork, sweet and sour pork, and even noodles with pork. One of the restaurant's specialties, Roasted Pork Belly, is tender and flavorful to the bite. These dishes are created by Chinese executive chef Wong Kam On, a native of Hong Kong.
Red Lantern in Solaire also raises the pork game with mouthwatering dishes that use ingredients freshly delivered from Hong Kong, Singapore, and Malaysia. One of their best sellers is the Pork Pyramid, a unique presentation of pork belly, with layers stacked to resemble a pyramid, and then drizzled with a rich and savory sauce.
A famous pork dish in East Asia, especially in Cantonese cuisine, is char siu (variably spelled char siew), which is made by roasting slices of marinated pork. The marinade is typically made with soy sauce, hoisin sauce, and spices, which give the meat its characteristic dark red color. One of the best places to enjoy a char siu dish at a reasonable cost is Hawker Chan, known as the world's cheapest Michelin-starred restaurant originally based in Singapore. The restaurant brings its special Chef's Combination of 3 Meat Platter dish, comprised of char siu, roasted pork, and beef. You can even pair this with noodles, made even more palatable with sambal that adds spice to the dish.
Another restaurant that specializes in char siu is Tai Koo HK Roast. Aside from serving authentic Hong Kong roasts, this restaurant offers char siu as a rice topping as in the perfectly done Char Siu Pork Rice, with jasmine rice and their savory bok choy (Chinese cabbage). Char Dining also brings its own rendition of char siu to the table with the must-try Special Char Siew made with glazed tender pork perfectly cooked with a kick of sweetness to tickle your taste buds.
For the more health-conscious diners, a Vietnamese restaurant like Chi Em Gai is a good choice. Many of their dishes are made with various kinds of vegetables, typical of Vietnamese cuisine. You can get light pork flavors in dishes like Goi Cuon Thit Heo (pork spring rolls) and Banh Mi Thit Lon Nuong (barbecue pork sandwich). If you want something more flavorful, go for Com Thit Lon Nuong Saigon, made with slightly spicy caramelized pork served with egg and a side of steamy rice.
Meanwhile, in Metro Manila where Korean restaurants have long started to prevail, perhaps the most resounding Korean dish is samgyeopsal or grilled pork belly. Korean barbecue restaurants are usually equipped with grill tables, where groups can cut and grill meat on their own. Samgyeopsal, as well as other barbecue meats, is eaten by wrapping them together with other side dishes and sauces in a lettuce leaf.
A-Won in Commercenter, Alabang serves samgyeopsal with an assortment of sides, which usually include ssamjang (Korean spicy dipping sauce), gochujang (red chili paste), pajeori (spicy green onion salad), kimchi, garlic, and green chili pepper. By using coconut charcoal from Davao instead of the usual electronic grill, A-Won utilizes the traditional way of cooking Korean barbecue, making your dining experience even more special.
An approximate six-minute drive from Commercenter, you'll find another Korean restaurant situated in Festival Mall Expansion. Soga Miga takes pride in serving premium wagyu beef cuts, but their tender and flavorful samgyeopsal and marinated pork steak (dwaeji galbi) are also a true hit. Enjoy the best of their offerings with their unlimited pork and beef BBQ and Korean food promo for only P799 per head.
For people on the other side of the metro, the closest place to enjoy a good samgyeopsal is at Sariwon Korean Barbecue in Bonifacio High Street Central. While samgyeopsal is the most popular cut of pork, there are other delicious cuts to try such as Sariwon's Dwaeji Moksal or thick-cut pork collar.
Japanese Cuisine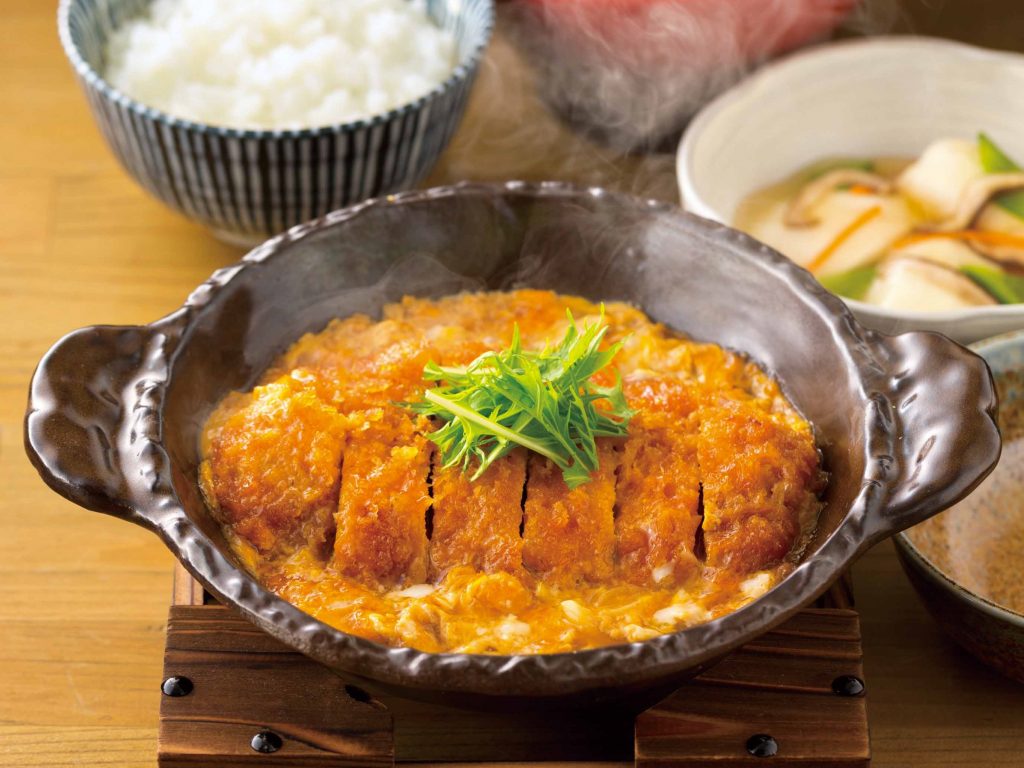 Pork, locally known in Japan as buta, is also a prominent part of Japanese cuisine. You can find it as toppings for ramen and rice bowls, and noodle and soup dishes made with pork broth are some of the most delicious. Pork is also present in izakayas (Japanese pubs) and street food carts usually in the form of skewers or dumpling fillings.
However, when thinking of a Japanese pork dish, tonkatsu would usually be the first to come to mind for most people. It is perhaps one of the representative dishes of Japan, a dish well-loved around the world not only for the crisp and meaty breaded cutlets but also for the unique sauce that goes with it. Tonkatsu sauce is a wonder in and of itself—a thick, sweet, and tangy sauce, similar to Worcestershire sauce, made from a mixture of various vegetables and fruit extracts.
A good start to acquaint yourself with the pure goodness of a tonkatsu would be in Tsukiji Japanese Restaurant in Makati. Led by a Tokyo native, Chef Toshiro Okajima, the restaurant is popular for its fresh sushi offerings, hence the restaurant's name, which was derived from the historic fish market in Tokyo of the same name. But aside from seafood, Tsukiji is also people's go-to for a serving of their Regular Tonkatsu. Their Katsu Curry Set Meal is also popular during lunchtime.
Among the restaurants in the recently opened Japan Town in Glorietta 2, Washoku Musashi-Maru specializes in tonkatsu among many other Japanese specialties. Their Ton-Katsu, made with 110-150g of pork loin, is visibly appetizing with its crispy, flaky outer layer. You can enjoy tonkatsu along with another equally tasty deep-fried dish, ebi fry (fried shrimp), in one of their best-selling menu items, the Ebi-Fry and Rosu Ton-Katsu.
Tonkatsu Maisen is known for serving lean and tender cutlets of Kurobuta pork, produced from black Berkshire pigs. The restaurant uses four unique sauces—akamuchi (sweet), karakuchi (Worcestershire sauce), spicy mustard, and the special kurobuta spicy and sweet sauce mixed with freshly grated apples.
One of the most popular tonkatsu restaurant chains with branches all over the metro is Yabu, dubbed as the "house of katsu." They have won over the hearts of many, one meticulously-prepared tonkatsu at a time. Their best seller, Rosu Set, is made with deep-fried pork loin coated with freshly-made panko or Japanese breadcrumbs, served with a side of miso soup, rice, and fruits. Meanwhile, Tonkatsuya is an affordable alternative for people in Makati, with most of their meals, including the Tonkatsu Set, priced below P300. The set comes with steaming Japanese rice, miso soup, and a plateful of vegetables.
Tonkatsu is not just pork cutlet served with rice, cabbage, and tonkatsu sauce. Restaurants also offer various renditions that make a tonkatsu meal more enjoyable and stimulating—suiting the more complex palates looking for bigger flavor concoctions.
Presenting a luscious serving of tonkatsu, Yayoi offers the Katsu Toji Teishoku where the pork cutlet is simmered in sauce and cage-free eggs. It is served with rice, miso soup, vegetables, and pickles, characteristic of a teishoku restaurant. Moreover, orders are done through a tablet on each table—a first of its kind in the Philippines.
Washoku Musashi-Tei, just like its sister restaurant Musashi-Maru, serves tonkatsu in a lot of creative ways such as the Teppan Miso Katsu Fillet. The pork tenderloin in unique circular cuts, drenched in miso sauce, is served sizzling on an iron plate.
Tonkatsu is also often incorporated in other Japanese household staples like the curry rice. With the two components perfectly complementing each other, katsu curry is a delightful combination of the meatiness of the cutlet and the sweet, savory flavor of Japanese curry. You can try this at Izakaya Manmaru, with their big serving of Manmaru Katsu Curry. Their menu is also quite extensive, so you can choose from other Japanese specialties like sushi, noodles, and fried and grilled meats to share with your group.
Bébé Rouge, a place known mainly for its vast selection of cakes and pastries, also offers delicious meals like Katsu Curry. The best part is, since you're dining in a patisserie, you can easily have coffee or tea and some cakes to beautifully conclude your pork blowout.
A well-established tonkatsu restaurant known not only in Japan but also in other parts of the world, Saboten is also one of the best places to get an honest-to-goodness serving of Japanese pork cutlet. Their original tonkatsu, a decades-old recipe, is among the classics you can never go wrong with. However, for tonkatsu with a twist, their Grated Radish Tenderloin is a good choice for those who prefer light flavors. This dish uses ponzu, a Japanese citrus-based soy sauce, which has a refreshing zesty taste and aroma.
Katsu Sora also stands out with its offerings of different types of high-quality pork, namely, Iberico, Kurobuta, and Sakura. These porks have unique qualities of their own, including muscle fibers, juiciness, and fat content. If you want to get a grand showcase of all these types of pork, you can get it in the Menchi Katsu Set, made with ground Iberico, Kurobuta, and Sakura pork. With each tonkatsu set, you can get unlimited refills at the restaurant's salad buffet bar.
Also hailing from Japan is Kimukatsu, famous for their mille feuille-style katsu dishes, made with 25 layers of thinly-sliced pork in one cutlet. Due to this preparation of pork, the smooth, layered cutlet surrenders to diners in just one bite. One of their most popular dishes is the Cheese Kimukatsu, with savory cheddar cheese oozing out of the cutlet.
Tonkatsu restaurants, more often than not, offer katsudon, also made with tonkatsu but with a different way of cooking and presentation. Katsudon literally means pork cutlet rice bowl—tonkatsu is placed with egg on top of rice. The cutlet is now more succulent than crispy due to the soupy consistency of the egg cooked with dashi broth.
Besides the ever-popular pork cutlet dishes, Japanese restaurants in the metro also offer many other ways to enjoy pork—just like Izakaya Kenshin, a popular stomping ground for people in Makati to enjoy a round of Japanese drinks like sake, shochu, umeshu (plum wine), beer, and whisky. The izakaya-style restaurant offers the Kenshin Buta Shogayaki, made with grilled pork that's been marinated in ginger sauce and served with plenty of vegetables.
Another izakaya in the metro is Hoshimatsuri, a popular spot at Creekside in Makati among yakitori lovers. You can get a taste of pork as a Japanese street food with their Butabara, tender and flavorful pork belly on a stick. Try adding shichimi togarashi or seven-flavor chili pepper for that extra kick.
Also within the area is Sekitori, a restaurant with rustic wooden interiors that will make you feel like you are in a local pub deep in the hidden alleys of Tokyo. A pork dish perfect to enjoy in this ambiance is the Stir-Fried Pork and Tofu Miso, made with spicy miso and various vegetables. With a menu inspired by the best of Nagoya's street food, Ikomai also offers Kakunidon or braised pork belly rice bowl, made with tender and flavorful pork that can easily melt your heart. Fittingly, the restaurant itself is a place that can soothe your mind with good jazz music as you enjoy their offerings of gourmet Japanese comfort food.
A steak restaurant like Manpuku Steak House doesn't just grill mouthwatering beef steaks because their pork steaks can also easily own the spotlight. One you shouldn't miss is their Pork Loin Steak, which is made with healthy organic pork. The pork is sourced from Manpuku's own pig farm, where the swine are fed only with organic feeds made with fish and vegetables. The meat produced is tender and for those with sensitive noses, without the repulsive pork smell.
Another Japanese restaurant that goes beyond what it is known for is Fukudaya, which is originally famous for its top-quality sushi and seafood offerings. For pork lovers, a highly recommended dish is the Pork Belly, simmered for five hours to bring out the most luscious flavor and texture. It is served with radish, tomato, and ponzu sauce.
Meanwhile, Tokyo Tonteki gives you another interesting pork delicacy to learn about called tonteki. Tonteki is a tasty thick-cut pork loin steak popular in Yokkaichi City in Mie, Japan. Compared to the usual pork steak or cutlet, tonteki has a distinct garlic-flavored sauce and the meat is soft and juicy despite the thick cuts.
Where to Eat