Kimukatsu: A Modern Japanese Restaurant Serving Mille-Feuille-Style Katsu
Tonkatsu—the term referring to fried pork slivers deliciously covered with golden breadcrumbs—has undoubtedly set a trend in everyone's list of favorite Japanese food.
But with the growing competition among Japanese food shops that offer the same breaded porkchop-like dish, restaurants find it difficult to stand out and craft a distinctive taste of their own. Good thing though, Kimukatsu, tagged as the most famous pork cutlet restaurant in Japan, has found a way to be unique among the rest.
Located at Century City Mall in Makati, Kimukatsu serves Tokyo's famous mille-feuille-style katsu recipes, giving locals 25 layers of thinly-sliced pork in just one cutlet.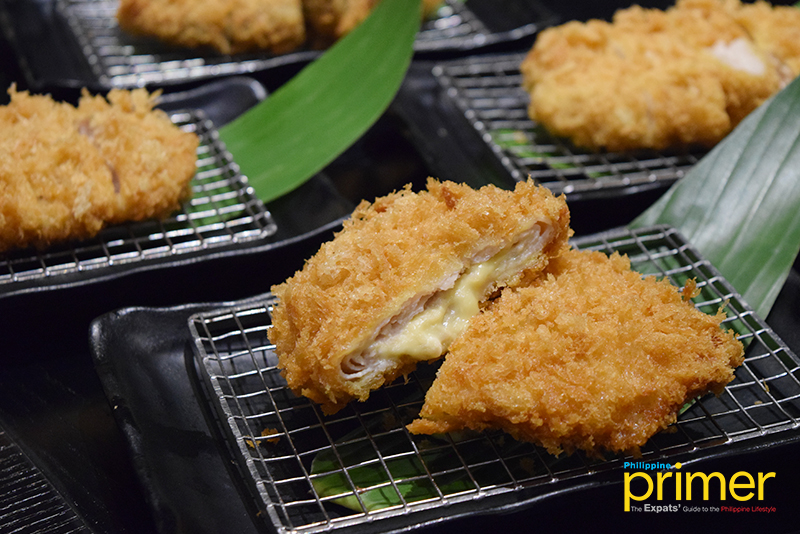 Due to the mille-feuille preparation of pork, the layered smooth cutlet surrenders to customers in just one bite.
As evident in their meal preparation, Kimukatsu truly takes great care in making exquisite cutlets to make their shop one of the go-to Japanese restaurants to dine at.
For the pork, the real thrill lies in the texture of their Japan-imported panko breading crisps and the juiciness of the meat. Only the most delicious portion and the highest quality of pork loin is selected and sliced into one millimeter sheets of pork, creating the secret to their popularity.
The restaurant then uses high-grade canola oil to fry every katsu slowly at a low temperature for eight minutes. After that, the katsu will be left to steam vertically for two minutes, allowing the heat to spread evenly inside.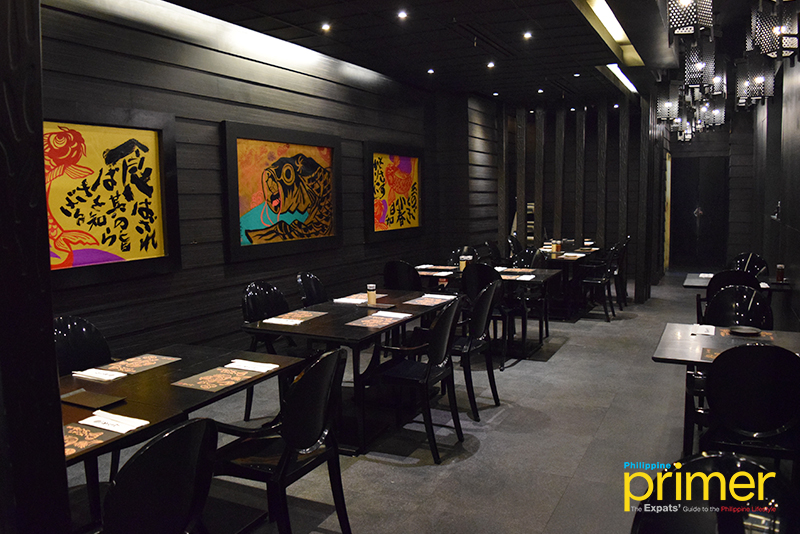 Kimukatsu at Century City Mall in Makati flaunts a modern and elegant atmosphere
As for the rice, Kimukatsu selects the finest Koshihikari rice to serve their customers. They first put the rice into a special immersion process before cooking.
In fact, to better serve the customers, Kimukatsu perfectly times the cooking of the rice and the kimukatsu, ensuring that every meal will be served at its freshest.
For Kimukatsu, these preparations are all part of their original recipe and process—something that enable them to bring forth the maximum taste of katsu.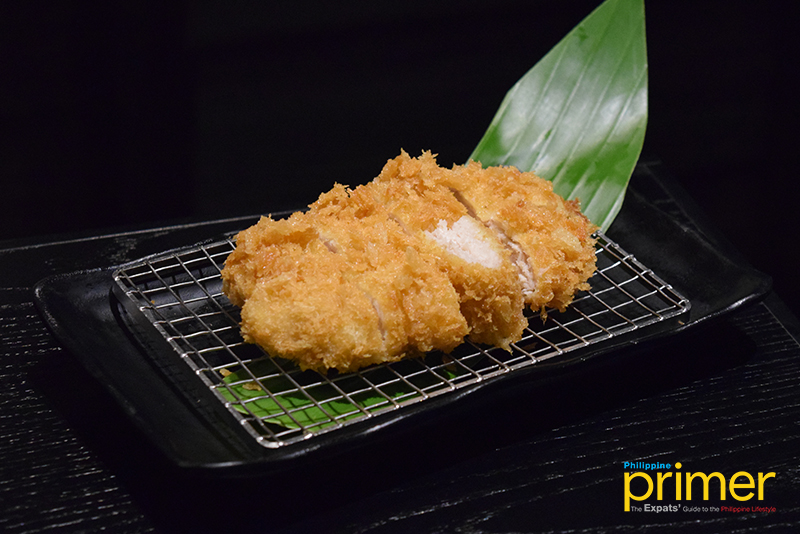 Aside from the 25-layer pork slices, Kimukatsu also thrives among others for its variety of flavors.
Currently, the eatery offers four flavors such as Plain, Garlic, Black Pepper, and Cheese.
The Plain Kimukatsu (Php 330) relives the standard Kimukatsu experience, allowing foodies to savor the natural taste of the thinly-sliced, high-grade pork in mille-feuille style.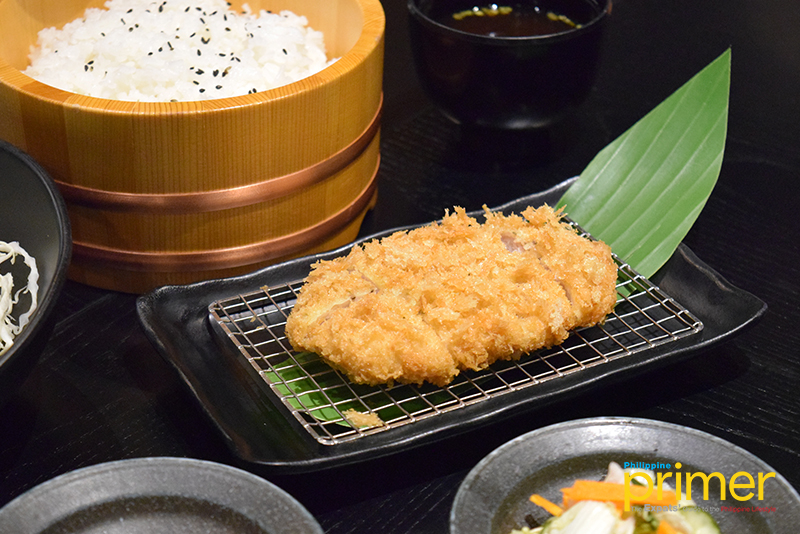 Plain Kimukatsu (Php 330)
On the other hand, the Garlic Kimukatsu (Php 380), despite its strong characteristic, soothes well with the 25-layer pork cutlets. This flavor is made for all the garlic lovers in the world, giving them freshly minced garlic in between the layers.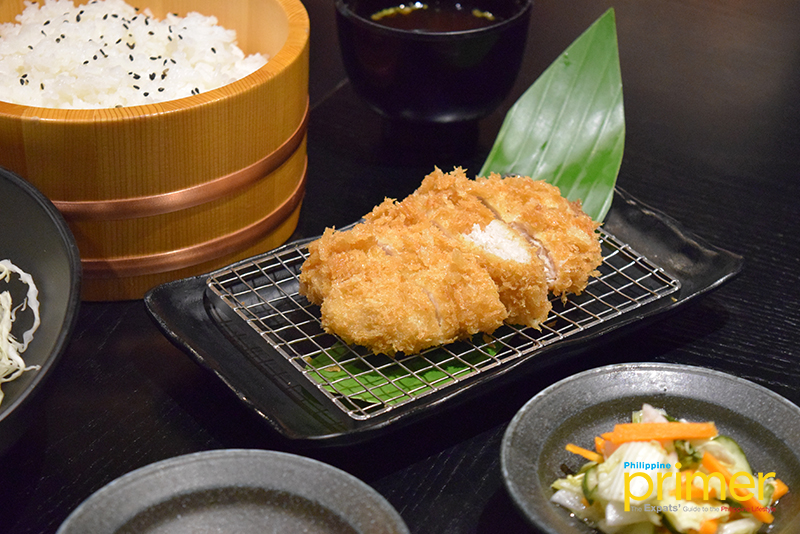 Garlic Kimukatsu (Php 380)
Meanwhile, the Black Pepper Kimukatsu (Php 380), with its sharp aroma and taste, truly hit the tastebuds of those who dare to take a bite of this black pepper coated katsu.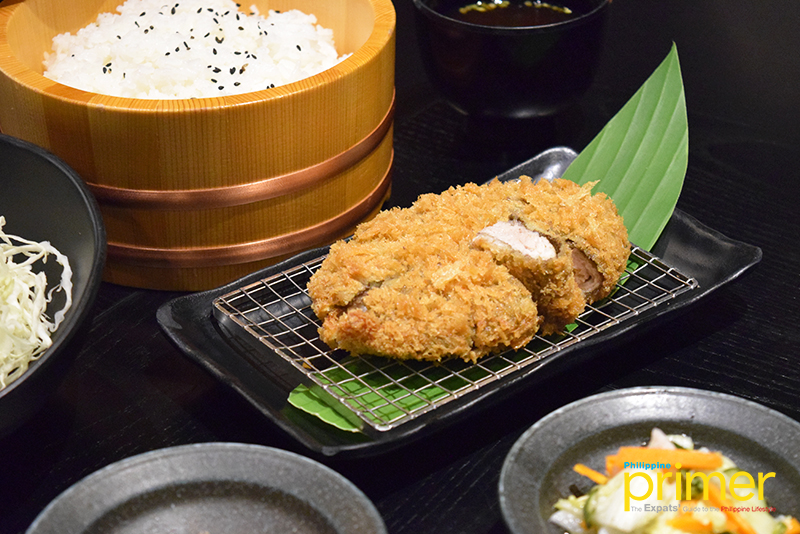 Black Pepper Kimukatsu (Php 380)
Lastly, no one goes to Kimukatsu without trying their best seller katsu to date: the Cheese Kimukatsu (Php 380).
With savory cheddar cheese oozing from the middle, the cheese-flavored katsu has been acclaimed as the best selling flavor both in Japan and Manila.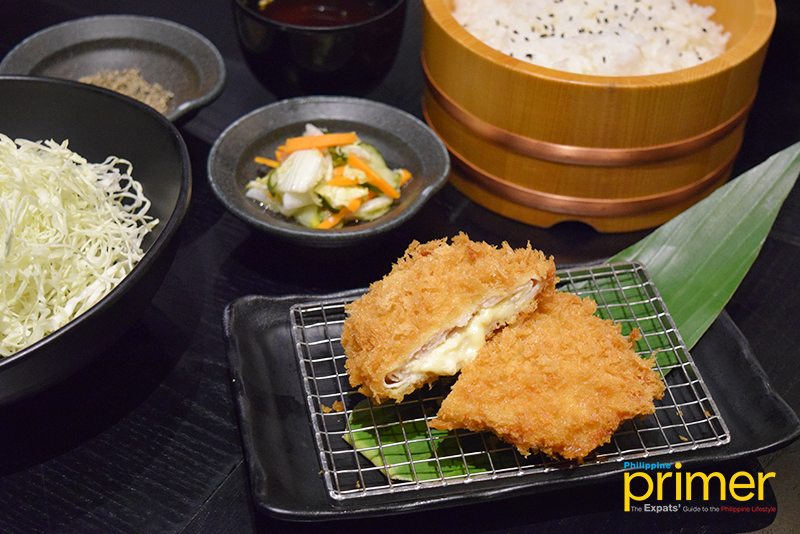 Cheese Kimukatsu (Php 380)
A set of kimukatsu dish includes unlimited high-quality rice, miso soup (a choice of white milky one and a regular strong-flavored red one), sliced cabbage, Japanese pickles, and katsu dips.
The Makati branch flaunts an elegant appeal with its Japanese murals and fixtures adorning its modern dark interior. Meanwhile, the other branch is located at Shangri-la Plaza in Mandaluyong.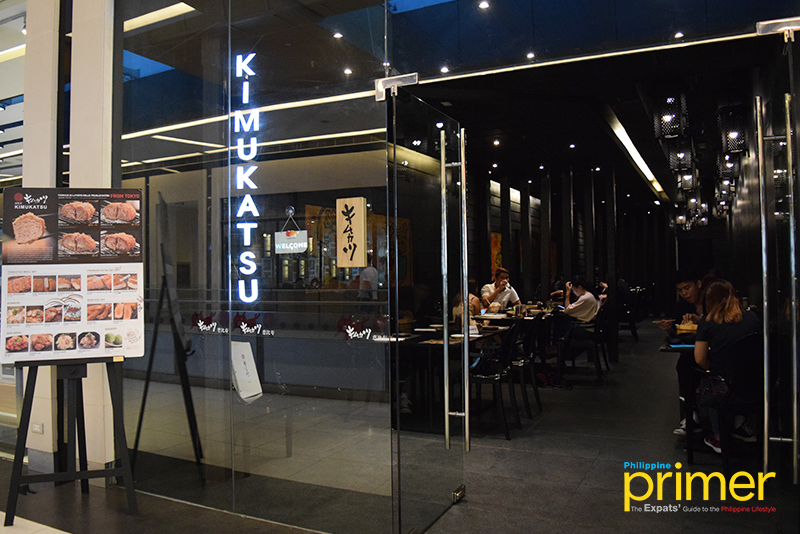 Kimukatsu at Century City Mall in Makati
Certainly, Kimukatsu will satisfy the bellies of even big eaters, making you come back for more.
Visit Kimukatsu at Level 3, Century City Mall Century City, Kalayaan Avenue, Brgy. Poblacion, Makati City. For more information, you may call 02-812-0333 or follow them on Facebook and Instagram.
---
Written by JR Padlan

Level 3, Century City Mall Century City, Kalayaan Avenue, Brgy. Poblacion, Makati City

Lunch from 11 a.m. to 3:30 p.m. (Mon. to Sun) / Dinner from 5 p.m. to 9 p.m. (Mon. to Thurs.) 5 p.m. to 10 p.m. (Fri. to Sat.) 5 p.m. to 9 p.m. (Sun.)