9 Restaurants in and out of Manila That Serve Multi-Course Degustation Menu
Degustation is known to be associated with fine dining. It is the thorough appreciation of food and its flavors through a multi-course meal served in small sampling portions prepared by the chef. This food tasting activity is mainly focused on stimulating one's gustatory senses.
If you are planning a special date night with a loved one, a simple lunch date with friends or perhaps you just want to refresh your palate with an array of flavors, here are some of the restaurants you might want to check out for their fine dining degustation menu:
Helm
BGC, Taguig City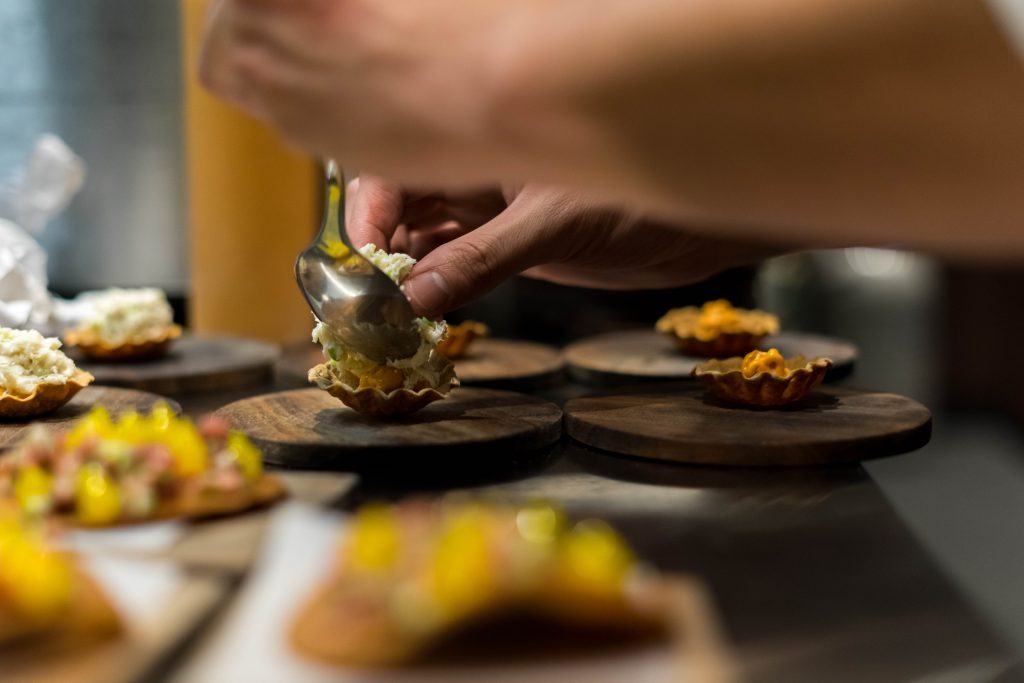 IMAGE Helm
With fruitful experience in the kitchen, Chef Josh Boutwood created a minimalist 10-seater restaurant called Helm to showcase his fine culinary expertise in an eight-course degustation menu.
Helm's key feature is the live dining theater experience wherein guests can witness how Chef Boutwood creates every dish right in front of their eyes and interact with the chef himself while delighting on the sumptuous degustation dishes he prepared for diners.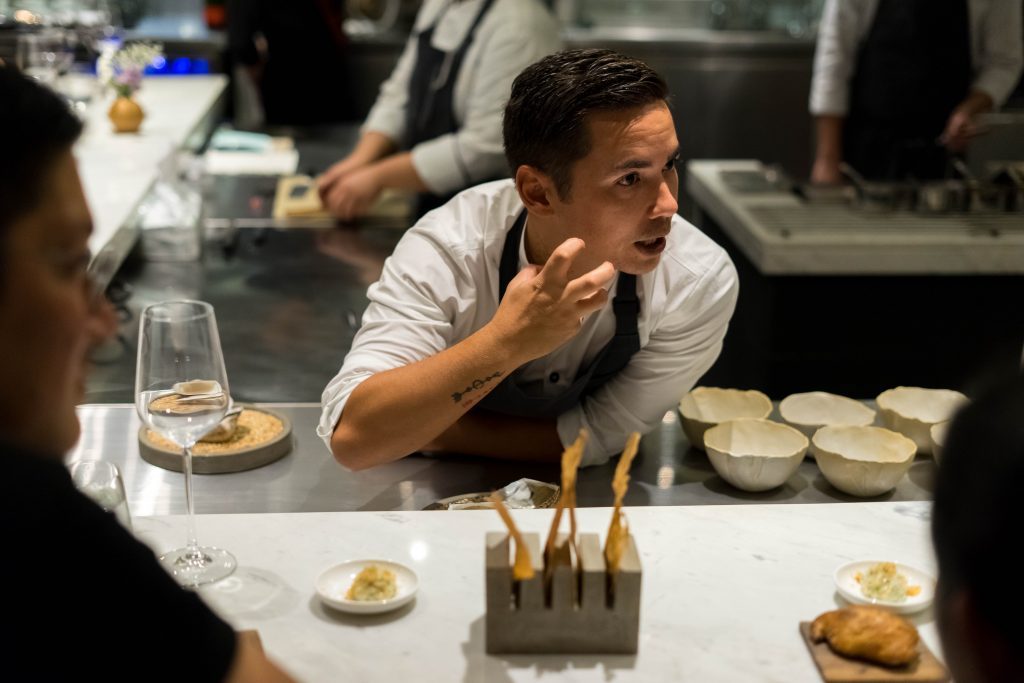 IMAGE Helm
The catch here is their menu changes every four months so there's a lot to expect from Chef Boutwood's culinary expertise.
Price: Php 3,500 per person
Dining hours: 6:30 pm and 8:30 pm
Contact: 0906-234-1900
Also read: Helm in BGC Offers an Evolution of Fine Dining with Its Degustation Menu
Gallery by Chele
BGC, Taguig City
Gallery by Chele is a modern degustation restaurant situated in BGC that offers creative dishes made from the country's own local produce. They live by the philosophy of exploring the gastronomic culture of the country and creates dishes out of local ingredients using modern techniques.
This restaurant has three available course meals for diners: the three-course meal, five-course meal, and nine-course meal. Gallery by Chele is also a perfect place to hang out after work as they offer exquisitely handcrafted alcoholic and non-alcoholic drinks.
Price: Php 1,750 – Php 2,950 per person
Dining hours: Cocktails & bites – 5 p.m. to 1 a.m. (Tuesday to Saturday); Dinner – 6 p.m. to 10:30 p.m. (Tuesday to Saturday); After-hour drinks & bites – 10:30 p.m. to 1 a.m. (Tuesday to Saturday)
Contact: 02-218-3895
Also read: Gallery by Chele in BGC: A Modern Twist to Local Ingredients
Lemuria
BGC, Taguig City
If you are looking for a fancy European degustation experience, drop by Lemuria in BGC and they will not disappoint you with their fancy French dinner and exquisite wine collection.
Lemuria started as a winery that houses some of the best wine collections. Later on, they became one of the best food tasting restaurants in the metro offering delicate French cuisines. Its well-lit vibrant setting also adds more appeal to the restaurant aside from their delightful dishes and wines.
They offer six-course and nine-course degustation of French cuisines and if it's too much, ala carte dishes are also available.
Price: Php 1,540 – Php 2,800 per person
Dining hours: 11:30 am to 2:30 pm, and 6 pm to 10 pm (Mon to Sat)
Contact: 0921-373-5741 / 0977-728-2153 / 02-541-1723 / 02-404-8704
Also read: Lemuria in BGC: A Taste of France
Toyo Eatery
Karrivin Plaza, Makati City
Named after the Tagalog word for soy sauce, Toyo Eatery is not the typical Filipino restaurant you may know as they take Filipino dishes into a unique twist you've never tried before.
Most of the dishes they serve are Filipino cuisines inspired by the traditional flavors and cooking techniques. Their menu consists of the Eatery or a la carte menu and the Tasting menu which changes daily and is usually made up of their best dishes.
In addition to why Toyo Eatery must be included in your restaurant list is that they are recognized as one of the 50 Best Restaurants in Asia, placing 43rd in the list!
Price: Php 1,000 – Php 2,900 per person
Dining hours: 6 p.m. to 11:30 p.m.
Contact: 0917-720-8630
Also read: Toyo Eatery Makes It to Asia's 50 Best Restaurants in 2019
Restaurant 101
Enderun Colleges, Mckinley Hill, Taguig City
Ever heard of Enderun Colleges' own application restaurant called Restaurant 101? Located at Mckinley Hill, Restaurant 101 is home to Alain Ducasse Institute Philippines, the leading culinary center in Southeast Asia.
This French-inspired restaurant emanates fine European dining as they follow the French cooking techniques taught by Ducasse himself to Enderun's culinary students. Its elegant Parisian setting completes the school's modish European architecture.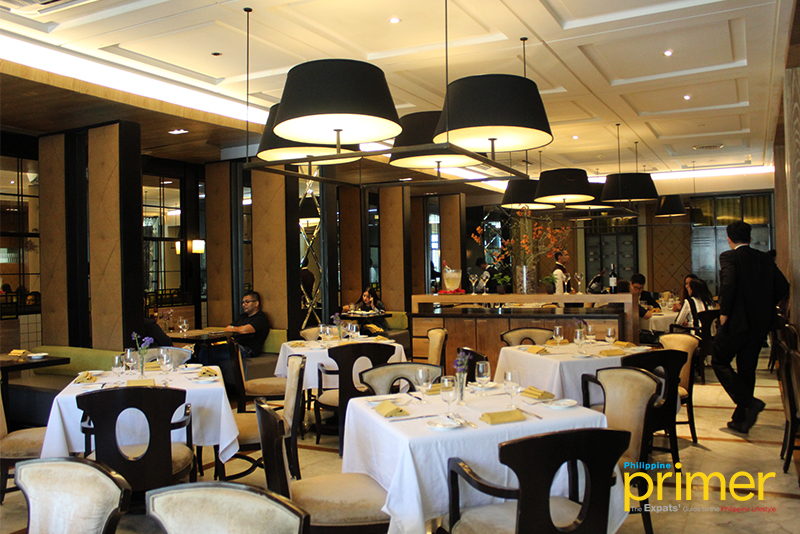 As for the food, they have an array of traditional and modern French dishes from their a la carte menu and special Market menu. If you would like a much simpler meal for lunch or dinner, they offer two and three-course Prix Fixe menu that changes every day as per the head chef's menu of the day.
Price: Php 320 – Php 400 per person
Dining hours: Lunch – 11:30 a.m. to 2 p.m.; Dinner – 6 p.m. to 9 p.m. (Mon to Sat)
Contact: 0917-874-3751

Also read: Restaurant 101 at Enderun Colleges in Taguig Serves Ducasse-Approved Fine European Dishes
Caviar Restaurant and Champagne Bar
Westgate Center, Alabang, Muntinlupa City
Caviar Restaurant and Champagne Bar is the place to be if you are looking for a high-end French-Mediterranean restaurant serving meat and seafood choices.
This restaurant is handled by Dutchmen Bastiaan and Frank van der Walle. For the perfect dinner date, try their five-course dinner that includes some of their featured dishes such as the Creamy Mushroom Soup, House Smoked Duck Breast, and Char-Grilled Pork Iberico Presa.
Caviar's Creamy Mushroom Soup
Diners may pair their meals with one of Caviar's prime wines to complete the night's meal.
Price: Php 2,200 (exclusive of 10% service charge) per person
Dining hours: 5:30 p.m. to 10 p.m., daily; 10 a.m. to 2 p.m., Sunday Brunch; Bar/Lounge open until midnight
Contact: 0917-868-3080
Also read: Caviar Restaurant and Champagne Bar in Alabang
Going out of the metro radar, we also found a few restaurants outside Manila that serve local degustation menu:
Tapas and Wine Bar by Titania
Vigan City, Ilocos Sur
Exploring a historical place wouldn't be complete without tasting the distinct local flavors of Ilocos. Located in an old ancestral house in Vigan, Tapas and Wine Bar by Titania is where you can experience a one of a kind Ilocano degustation and see a large collection of fine wines.
They serve a 12-course Ilocano degustation along with some of their Spanish cuisines, Tapas, and best-selling wines. However, it needs a one-week reservation before you can have their tasting menu.
Price: Php 1,800 per head
Dining hours: 11 a.m. to 11 p.m. (Mon to Sun)
Contact: 0917-713-1694
Also read: Tapas and Wine Bar by Titania: Bringing the Spanish Taste in Vigan
Bale Datung
Angeles, Pampanga
This private dining spot in Pampanga is one of the famous restaurants in the province serving homemade Filipino comfort food. Bale Datung usually caters to big groups of diners who want to taste the Kapampangan cuisine.
Aside from the a la carte dishes they have, they also serve a 10-course meal of Kapampangan degustation, plus a full course lechon meal.
Dining hours: Strictly by reservations
Contact: 045-625-0169
Also read: Bale Dutung In Angeles Pampanga: A Private Dining Space Serving Filipino Comfort Food
Kitchen Lab
Laoag
Brought by an intense passion for cooking, Kitchen Lab in Laoag is the only fancy fine dining restaurant that serves modernized cuisines in the whole Ilocos region. They are famous for their steaks, pasta, and heavenly pastries and desserts.
Kitchen Lab serves eight, twelve, and sixteen-course degustations that change every three months.
Price: Php 1,200 – Php 1,800 per person
Dining hours: 5:30 p.m. to 12:00 a.m.
Contact: 0999 884 1701
Also read: Kitchen Lab in Laoag: A Multi-Cuisine Fine Dining of Modernized Plates
Have you ever tried degustation dining? Share it with us on the comments below!