Restaurant 101 at Enderun Colleges in Taguig Serves Ducasse-Approved Fine European Dishes
Update: As of August 2019, the Roasted Lamb Loin and the Squid Ink Fettucine (in the video) are no longer available. The Cream of Mushroom and Delice are still available.
If you are quite familiar with Enderun Colleges, a private college in Taguig, you might also have probably heard of their Restaurant 101.
Located at Fort Bonifacio, the restaurant offers seasonal dishes that will make you think of enrolling at the college soon enough to get the advantage. Restaurant 101 is, in fact, the application restaurant of Enderun—home to Alain Ducasse Institute Philippines, the leading culinary center in Southeast Asia.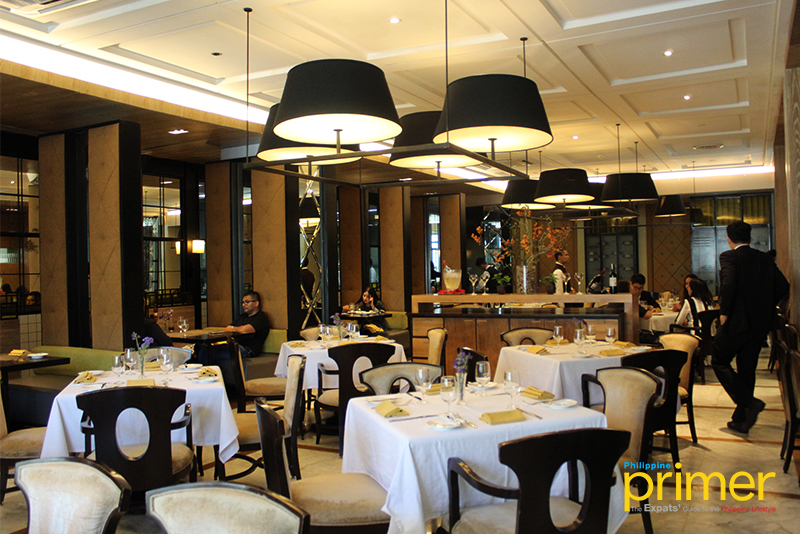 Since the restaurant is affiliated to the school, its name came from how some college classes are named, hence the "101". A uniqueness of this restaurant is that the waiting staff consists mostly of students enrolled in degrees in Cooking and Hospitality, working under the college's food and beverage faculty.
As you may expect, the restaurant has this modish interior with the elegance of a contemporary Parisian bistro with a touch of Filipino designs. From the table coordination, expensive glasses to its sumptuous foods, all are enough for you to dine in at the restaurant.
Restaurant 101's interior will give you Parisian vibes
In line with their French-inspired concept, Restaurant 101 emanates European fine dining and follows French techniques using local ingredients. However, the menu frequently changes depending on the chef heading the kitchen at a given time and the availability of seasonal ingredients as they are given the freedom to create their own menus, which makes each visit a different experience.
Some of the dishes offered here are now rarely seen in other restaurants, which is why Chef Justin Baradas—the current and youngest head chef of the restaurant, made it to a point to focus on Ducasse's cooking techniques and offer traditional French cuisine where most of the modern dishes nowadays are based of.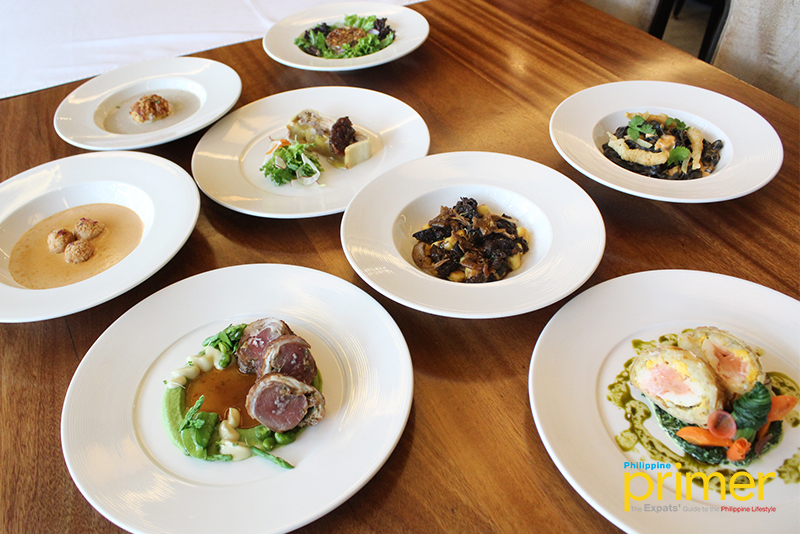 The new a la carte menu
Diners can choose either from the A la carte menu, which changes every quarter or their special course menus such as the Market menu that changes every 2 months, and the every day three-course Prix Fixe menu. 
Restaurant 101's new A la carte menu has an array of tasty appetizers, creamy soups, sumptuous main course dishes, and desserts. One of their famous soup dish is the Cream of Mushroom (Php 360). This recurring dish in their menu is made with mushroom-stuffed steamed bun baked with panchetta or Italian bacon.
Cream of Mushroom (Php 360)
You must simply try their Pan-seared foie gras (Php 580) that's made with sumptuous Black pepper brioche, lychee and pine nut chutney, pickled green mangoes, pili butter.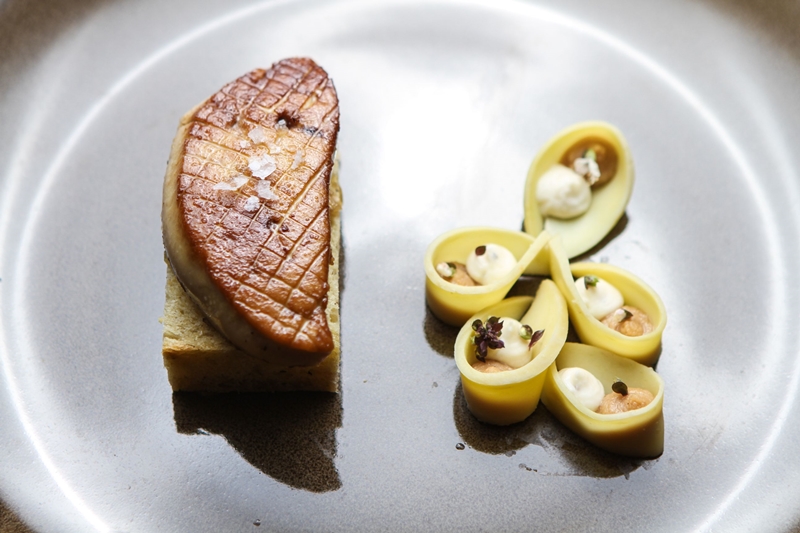 Pan-seared foie gras
Their Crab and Fennel Quiche (Php 480) composed of Roasted romaine, crème Fraiche, charred tomato vinaigrette is also a must-try.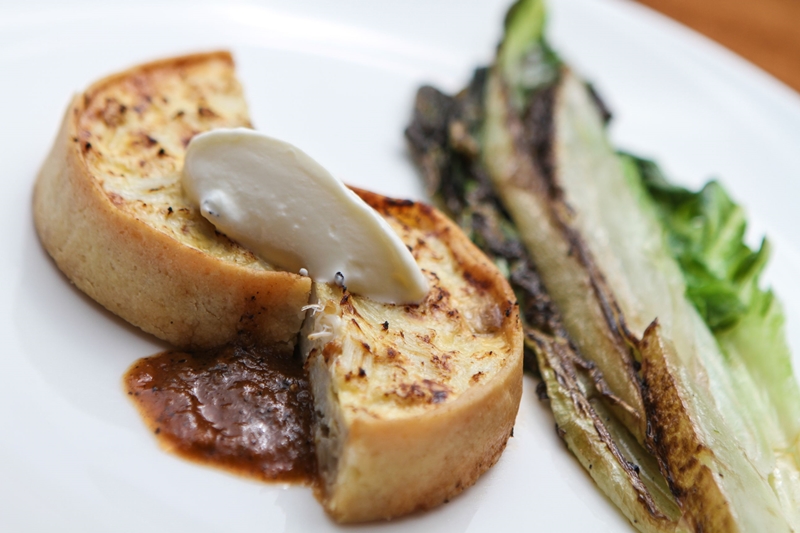 Crab and Fennel Quiche
If you're up for it, you must also give their Vegetable Tarte (Php 320), made with Beetroot mustard, cucumber-yogurt sauce a try.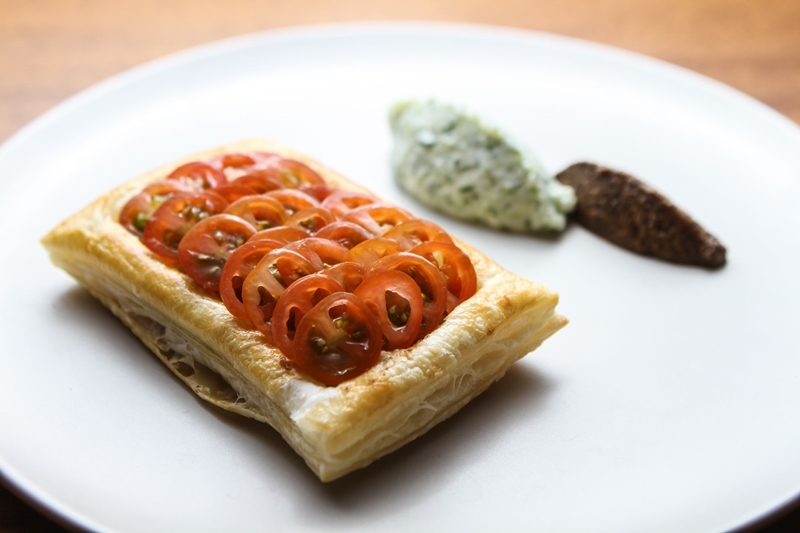 Vegetable Tarte (Php 320)
Also a part of their A la carte menu is the Prawn bisque (Php 380) which is fried seafood, crispy basil. Diners might also enjoy the Secreto Iberico (Php 980) which is Beer and apple chutney, potato and lentil croquette, roasted garlic purée, natural jus.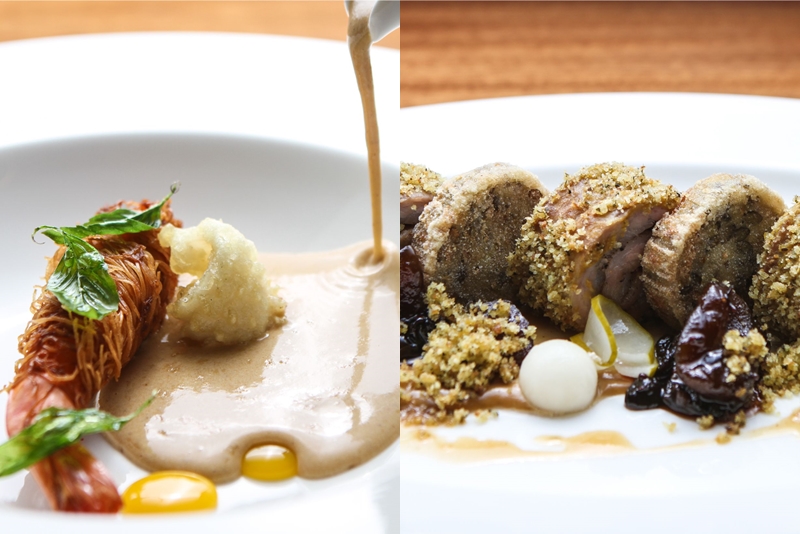 Prawn bisque (Php 380) and Secreto Iberico (Php 980)
Consider trying the French Quail (Php 980) that's served with mushroom and pancetta risotto, confit vegetables, romesco sauce. Their Barramundi (Php 880) with sweet potato crust, cashew cream, celeriac puree, and herbed couscous natural jus is also worth the try.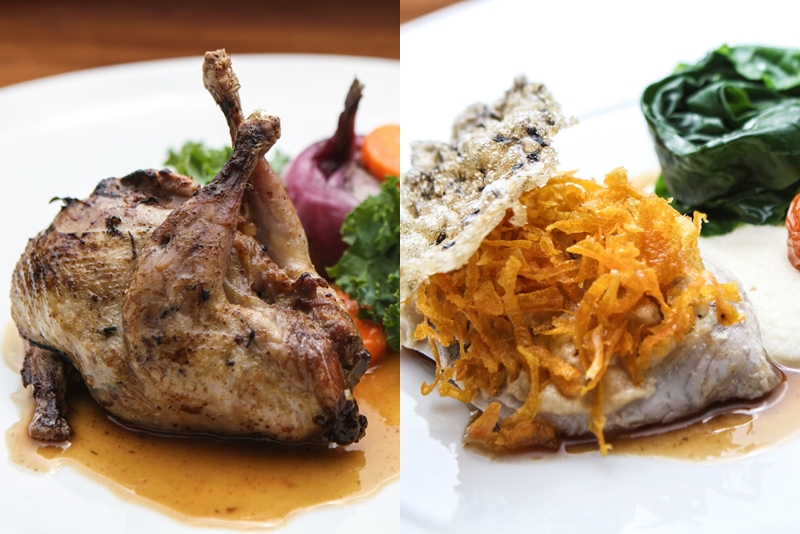 French Quail (Php 980) and Barramundi (Php 880)
Their Lamb shank (Php 960) with Curry purée, roasted vegetables, pilaf rice is also worth the mention. This is a dish that diners will surely enjoy.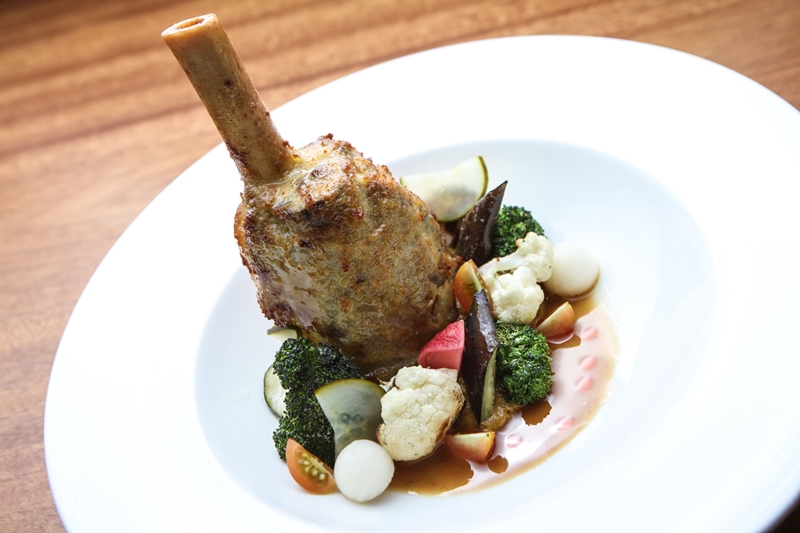 Lamb shank (Php 960)
You can then treat yourself with their satisfying desserts such as the Delice (Php 380), a layer of hazelnut dacquoise, almond and hazelnut praline, and dark chocolate mousse, glazed with chocolate ganache. This one of a kind dessert is based on Alain Ducasse's original and signature dessert item–the Louis XV, and is only available in two places in the word: Monaco and Restaurant 101, of course.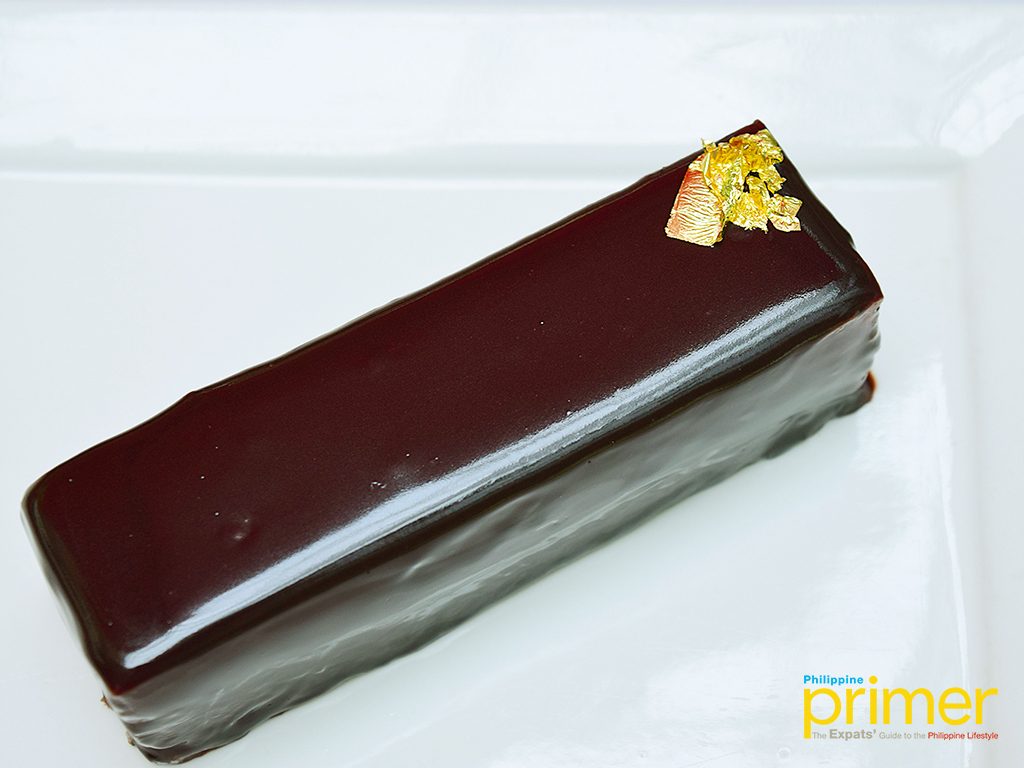 Chef Alain Ducasse's signature dessert Delice (Php 380)
Aside from the Delice, you must also try the Peanut Butter and Passionfruit Tart (Php 360) composed of Cocoa biscuit, layered chocolate, peanut butter, and passionfruit ganache and the Basil Calamansi Entremets (Php 340) with Lime shortbread and pistachio frangipane.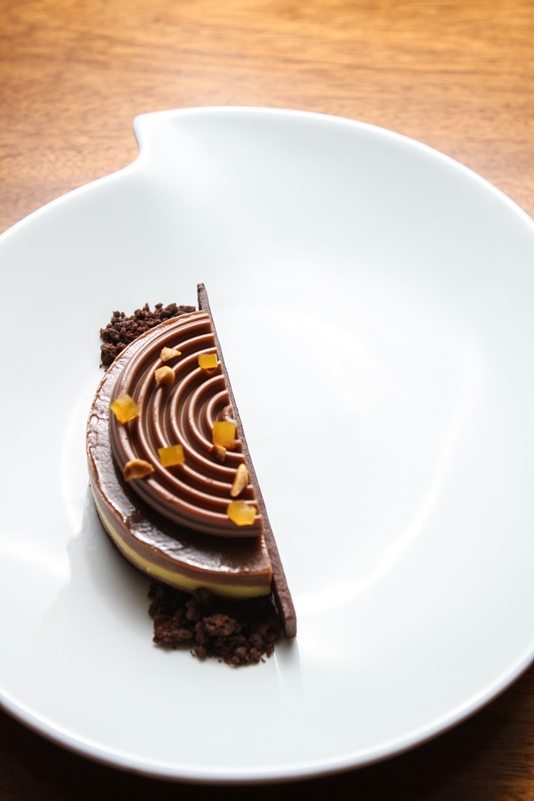 Peanut Butter and Passionfruit Tart (Php 360)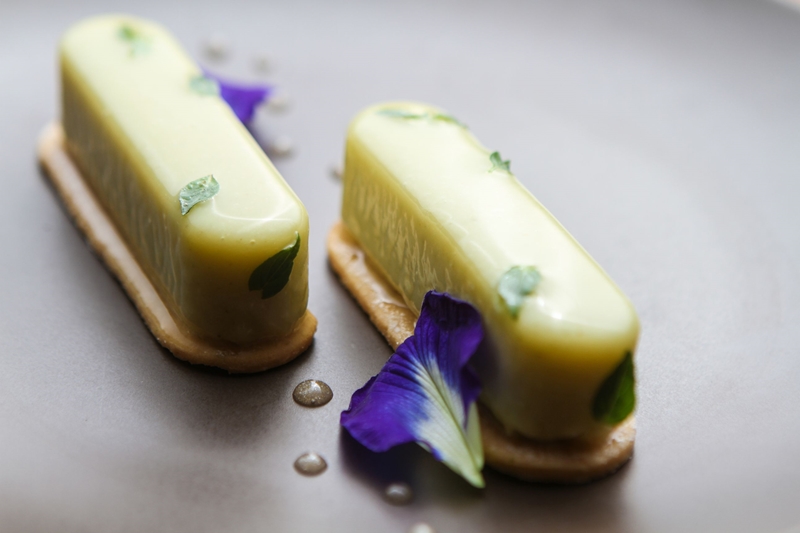 Basil Calamansi Entremets (Php 340) 
Dessert lovers might also enjoy their Strawberries and Cream (Php 320) which is a yoghurt parfait with guava cream, pink peppercorn cookie.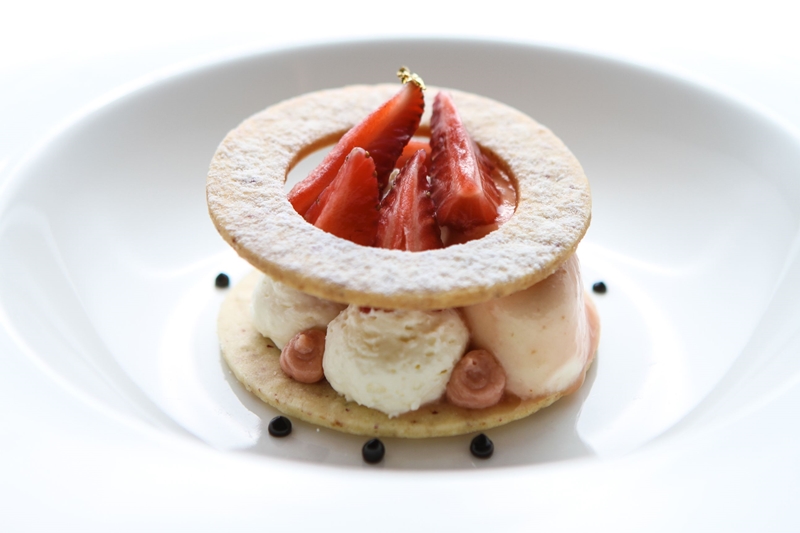 Strawberries and Cream (Php 320)
For an unforgettable culinary dining experience, you better come in with your partner, family or friends and enjoy the delectably unique European treats just for you.
Visit Restaurant 101 at Enderun Colleges, 1100 Campus Ave., McKinley Hill, Fort Bonifacio, Taguig City. For reservations, you may call 856-5000 local 101 or 0917-874-3751.
---
This first appeared in Philippine Primer English Magazine Vol. 29 and Japanese Magazine's April 2019 issue.
Updated as of August 9, 2019
General Information
1100 Campus Ave., McKinley Hill, Fort Bonifacio, Taguig City
856-5000 local 10
0917-874-3751
Lunch - 11:30 am to 2 pm; Dinner - 6 pm to 9 pm (Mon to Sat)
Sunday
101@enderuncolleges.com