Lemuria in BGC: A Taste of France
French cuisine, wine, fine dining and candlelit dinners accompanied by clean and minimalist backdrops are all the epitome of a romantic night.
With the growing number of Asian fine dining restaurants in Metro Manila, it might seem that finding a European fine dining restaurant is a fool's errand. Don't let your doubt eat you. Be the fool if you have too because there are a couple of European fine dining places here, and Lemuria happens to be one of them.
Start with Lemuria's Signature Salad (Php 560) which has a deep-fried soft shell crab, homemade cured lardons, poached egg, walnuts, and feta cheese in a drizzle of balsamic sauce. Texture and freshness in your mouth as you take a bite into the deep-fried crab breaded with couscous.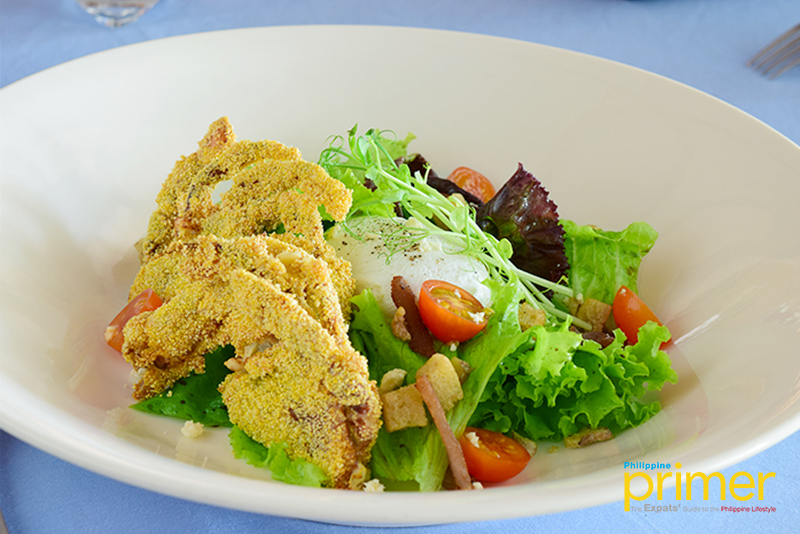 A play of soft and crunchy, Lemuria's Signature Salad (Php 560) is the perfect way to start your meal. Break the egg and mix that fresh yolk all over the greens to make it even more interesting!
The owners of Lemuria have probably thought of the best compromise when it comes to choosing a restaurant: location. You've probably heard (or read) about the one in Horseshoe village in Quezon City. Unfortunately, if you live in the south, traveling that far is just too grueling and impractical. Thankfully, the owners set up another branch in BGC.
Meat lovers will truly enjoy the Herb Crusted Rack of Lamb (Php 1,700) which has tender lamb chops, roasted and smoked vegetables, pea puree, almond puree with garlic and tomato confit to liven the taste. Every dot of sauce on the plate makes the lamb taste different making the dish seem like three different dishes. The lamb is super juicy and tender marinated in herbs for that special Lemuria flavor.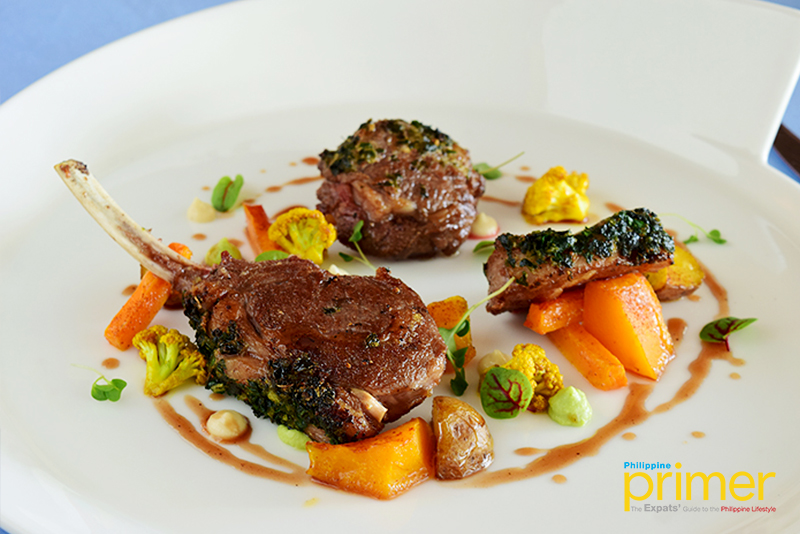 As if it was three different dishes, the  Herb Crusted Rack of Lamb (Php 1,700) is a dish that you must try. Sided with soft vegetables that melt in the mouth, the lamb flavor comes alive.
Unlike the one in Quezon City, the BGC branch looks more like a modern restaurant. It's bright and airy, and thanks to huge windows, there's a lot of natural light inside.
Modern European. The interiors of Lemuria is just so classy and simple that staying here for hours will be no problem.
For those who wish to experience true fine dining or just want to sample a bit of each, choose between the Degustation 6-course (Php 1,540/person) and the Degustation 9-course (Php 2,800/person) meal. However, if you find that overwhelming, you can just order a few dishes.
A tender, tangy meal such as the Chicken Roulade (Php 690) has a deboned leg quarter stuffed with ground pork and chorizo. Served with squash puree and soft roasted vegetables and a red wine balsamic sauce. If you think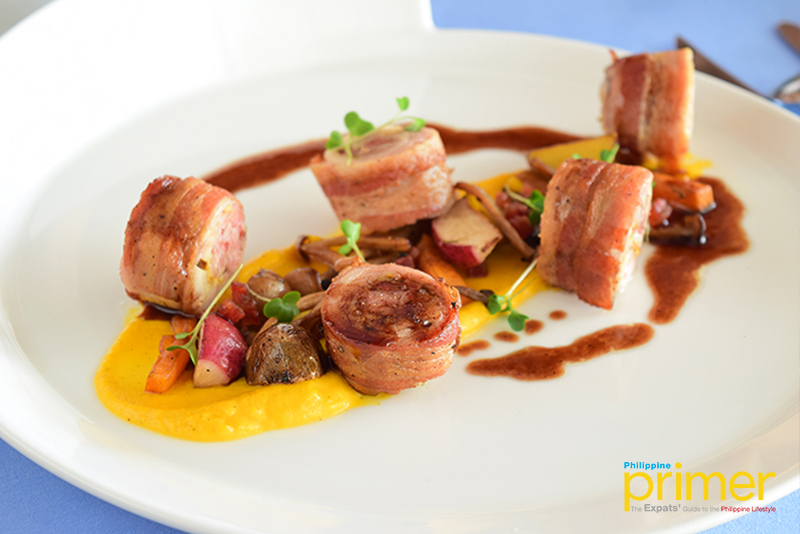 Chicken stuffed with pork? Who would think that Lemuria's Chicken Roulade (Php 690) would go so well together! Don't forget the puree and the sauce which makes it even better.
Although the restaurant has made waves for dishing out some of the best tasting food in Metro Manila, their best feature is probably their wine collection. Considering that the place started as a winery, it can be expected that their wines are top-notch.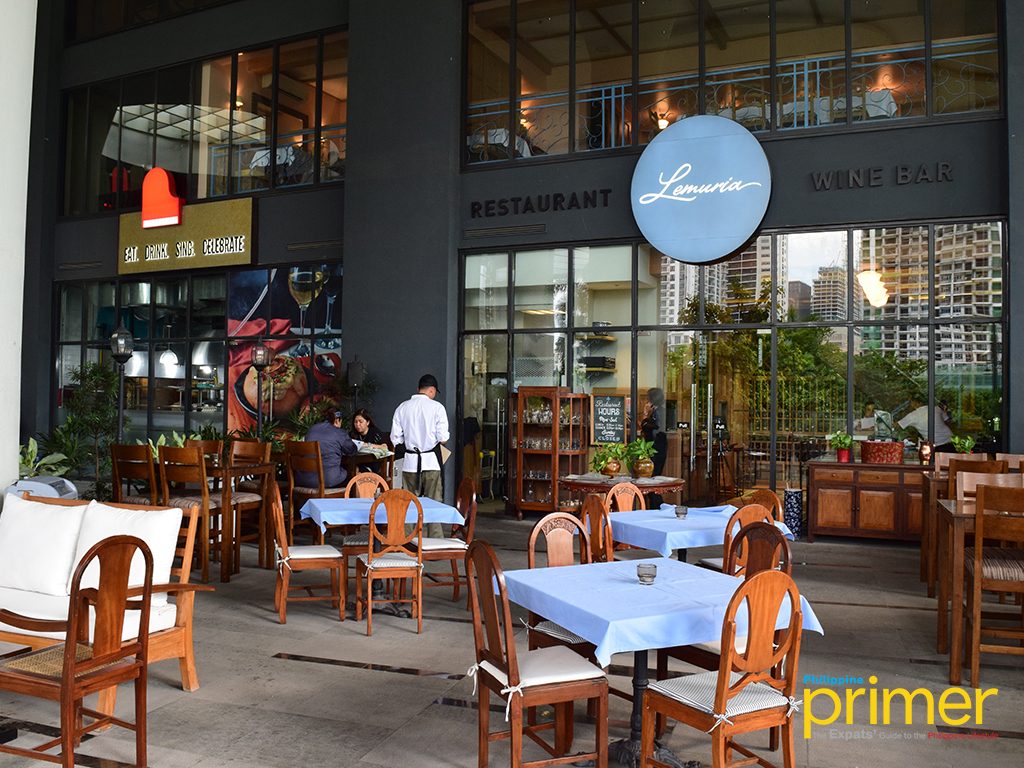 If you're looking to upgrade your romantic dinners or if you just want to tickle your taste buds with different cuisine, you can be sure that Lemuria will satisfy.
---
This also appears on Philippine Primer Japanese Magazine's December 2018 issue.

The Plaza at Arya Residences McKinley Parkway & Rizal Drive Bonifacio Global City, Taguig

02-541-1723 or 02-404-8704

0921-373-5741 (Smart) or 0977-728-2153 (Globe)

11:30 a.m. to 2:30 p.m., and 6 p.m. to 10 p.m. (Monday to Saturday )