Begin Banaue: Rice Terraces and Beyond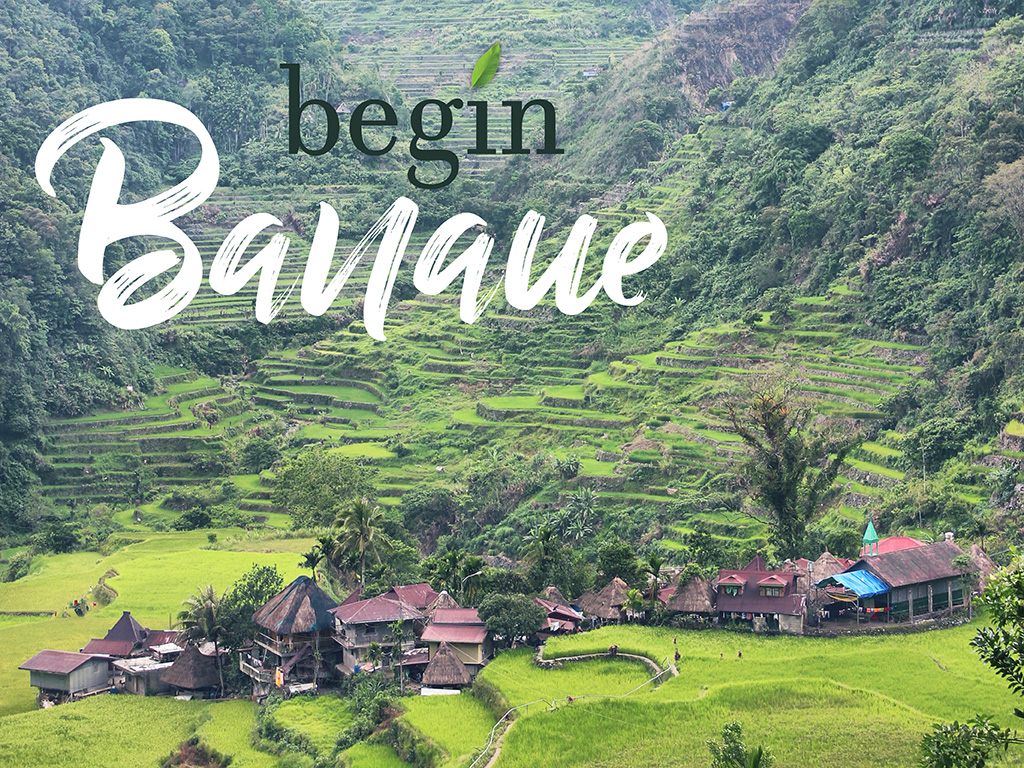 The rice terraces are the face of Banaue. These are the iconic landscapes that have earned not only Banaue but also the Cordillera region global recognition for its awe-inspiring beauty. There are five clusters of rice terraces in Ifugao province recognized as UNESCO World Heritage Sites since 1995. And Banaue proudly harbors two of them: Batad and Bangaan, each exhibiting a unique character and endowing every visitor with unforgettable experiences. 
The rice terraces in Banaue showcase the incalculable wonders that man is capable of. The terraces are man-made—labored by the Ifugaos for over 2,000 years, unaided by modern machinery. The amazing landscape is something that not any kind of modern architecture can compare with. These are the product of pure human labor, driven by basic human needs—the terraces have long been an exclusive source of rice for the local communities.
While the rice terraces are the primary reason for tourists to visit Banaue, it is the experience of the local gourmet, the local hospitality, and the unique lodging options that will make you want to stay. Banaue possesses a peaceful, delicate beauty that can only be appreciated if you totally immerse yourself in it. 
Getting from Manila to Banaue
By car:

10 hours via NLEX, SCTEX, TPLEX

By bus:

9-11 hours; take Ohayami Trans (Sampaloc, Manila), Coda Lines (HM Transport Terminal, Cubao), or Dangwa Transit (Florida Bus Terminal, Cubao)
Travel Tips
Banaue is a rural area, so it may be difficult to find ATMs. Be sure to withdraw enough money before reaching Banaue. Those traveling by car usually stop in Solano, Nueva Vizcaya or Lagawe, Ifugao to withdraw cash and grab travel essentials.

The main mode of transportation in Banaue is tricycle. Within the town proper, a ride costs P10 to P15. 

The town sleeps quite early than major cities. Most establishments close at 9 pm.
Banaue Map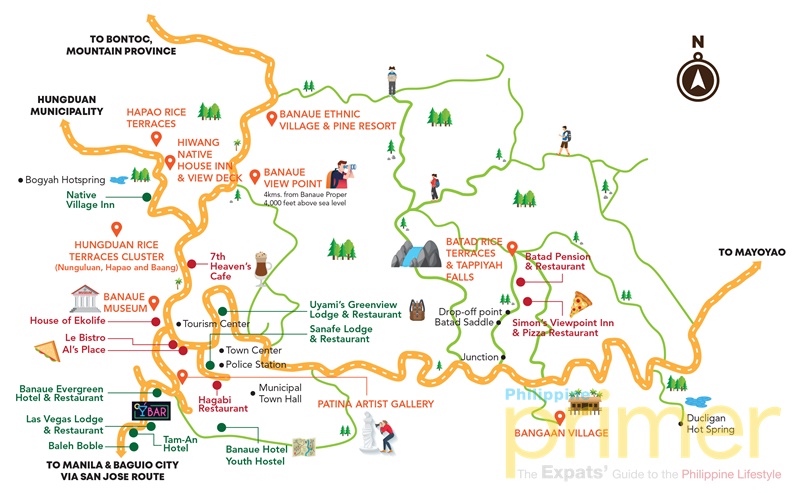 Map images owned by Philippine Primer may not be used and/or modified without permission.
Where to Go in Banaue
Where to Eat in Banaue
Where to Stay in Banaue