Banaue 3-Day Guide: Traversing the Beauty of Ifugao's Wonder
Each of Ifugao's rice terraces cluster comes with a different persona.
Batad Rice Terraces, for example, embodies a fierce beauty with its rough paths and slopes higher than most. Hungduan, on the other hand, has a more solemn demeanor, defined by its tame and serene landscapes.
Batad Rice Terraces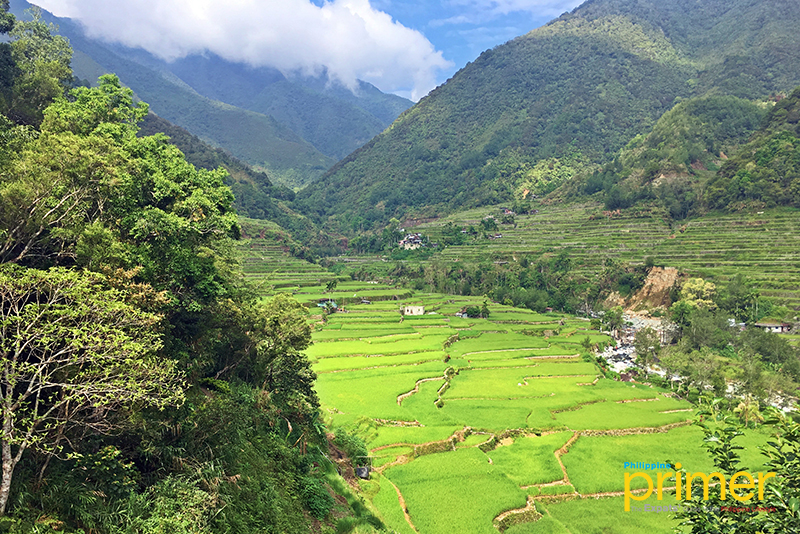 Hapao Rice Terraces
Therefore, traversing Banaue's terrains may come as a once-in-a-lifetime, blissful experience, but it is not an easy feat.
Yes, it requires good stamina, but more than this, each trek would be even more memorable when you have the right people to bring you safely and guide you towards more unique finds in Banaue!
Gratefully, Filipino Travel Center, the first travel agency to offer scheduled tours in Banaue, is made up of highly experienced tour professionals who are well acquainted with the Ifugao terrain. Join Philippine Primer as we Begin Banaue from Day 1 to Day 3!
The Day Before
For private tours, Filipino Travel Center can pick you up at any location you please. Therefore, do not forget to communicate with your tour guide for your exact pick-up time and address!
DAY 1
5 a.m. Meet Your Tour Guide!
Meet Mr. Edgar Hisoler, one of Filipino Travel Center's most-trusted and experienced tour professional.
Meet your tour guide from Filipino Travel Center at your pick-up point. Be sure to come on time! Filipino Travel Center has itineraries ready for your 3 days/2 nights stay. You may also customize your tours with them. Visit filipinotravel.com.ph for more information.
11 a.m. Stop over at Dalton Pass

Japanese Marker at Dalton Pass
A great view of the mountains from Dalton Pass
A trip to Banaue may also be a trip down memory lane. Discover more about World War II at Dalton Pass, where you can see several historical markers. You may also have some picnic here, with hut rental for only Php 150 / 40 minutes to 3 hours. 
2 p.m. Have some late lunch at Mountain Brew Cafe 
To satisfy your hunger the rest of the way to Banaue, fill your tummy with delicious local comfort food from the Mountain Brew Cafe & Restaurant. Their Pinunog, a type of Ifugao smoked sausage best paired with rice, is a must-try together with the local soup dish, Sinigang. 
Pinunog
Sinigang
Mountain Brew Cafe is also backdropped against the stunning views of Cordillera. It is located along the National Rd., at Ulu, Hucab, Kiangan, Ifugao.
Also Read: 5 Unfamiliar Filipino Dishes You Should Try
3 p.m. Reach Your Chosen Accommodation
Banaue Hotel's lobby
Banaue Hotel and Youth Hostel is one of the best choices for accommodation if you want to wake up to the overlooking views of Banaue Rice Terraces and the Cordillera mountains.
Emanating an old world charm and elegance like no other, Banaue Hotel will give you a feeling of indulgence in this otherwise bucolic town. It is also 5 minutes away from the town center.
Also Read: Banaue Hotel and Youth Hostel: An Old World Charm Offering Elegance In Every Stay
5 p.m. Explore the Town Center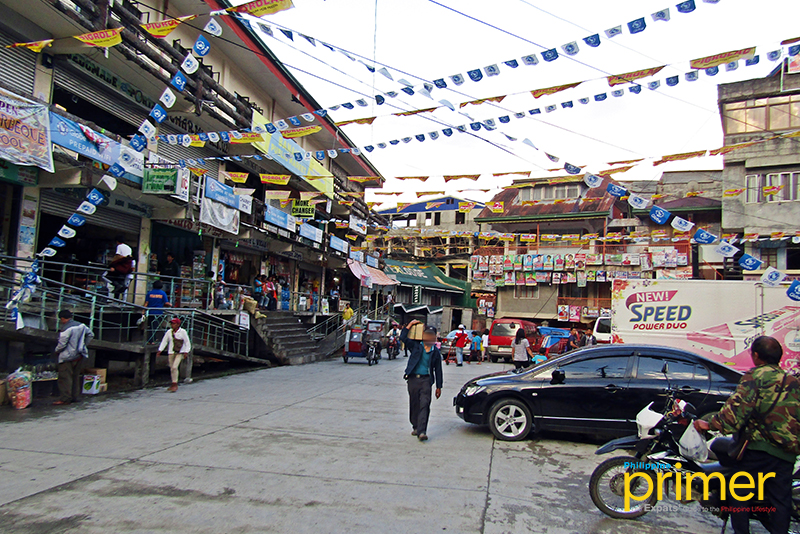 Banaue Town Center
Banaue may already be sleeping as early as 8 p.m., but there are still many simple activities to do while waiting for sundown. One of these is walking around the town center to spot different restaurants, small grocery stores, bakeshops, and some souvenir shops along the trade center.
6 p.m. Hagabi or Le Bistro for Dinner?
To celebrate your first day in Banaue, let there be two options for dinner!
OPTION 1. Hagabi Restaurant
Inside Hagabi Restaurant
If you want a more Ifugao approach to food, try Hagabi Restaurant's hearty and healthy meals, just like their Vegetable Curry made with green beans, carrots, and potatoes in coconut sauce.
Vegetable Curry (Php 90)
Pair this with a cup of hot ginger tea. Find Hagabi at the town center, right after Sanafe Lodge.
Hot ginger tea (Php 35)
Also Read: Hagabi Restaurant in Banaue Embodies the Healthy & Hearty Ifugao Lifestyle
OPTION 2. Le Bistro

Now, if it is a taste of delicious European cuisine you're craving for, Le Bistro serves pizza, pasta, cocktails, and wines to satisfy your palates. Try their Campione Pizza (Php 260) or Végétarien Spaghetti for a night of celebration.
Végétarien Spaghetti (Php 190)
Find Le Bistro in front of the Municipal Tourism Center at Brgy. Poblacion.
DAY 2
6 a.m. Have Your Breakfast at Banaue Hotel 
Buffet breakfast at Imbayah
Banaue Hotel serves buffet breakfast from 6 a.m. at their in-house restaurant, the Imbayah. From breads and spreads to rice and omelettes, these are all served for you to enjoy.
It is highly recommended to wake up early for a buffet breakfast and take a table by the window for breathtaking views of the crisp morning. 
They also have an ala-carte menu until 10 p.m. 
7 a.m. to 7:40 a.m. Proceed to Your Trekking Points!
OPTION 1. Bangaan-Batad-Tappiyah Trek (8 a.m. to 11 a.m.)
Get adventurous with Filipino Travel Center as you trek from Batad Junction to Bangaan Village, Batad Rice Terraces, and Tappiyah Falls! Batad Junction is a 40-minute jeepney ride from Banaue.
You will start the strenuous but fun-filled 3 to 4-hour trek to Bangaan-Batad-Tappiyah from this point. 
Preliminary trekking going to Batad
Batad Rice Terraces
Bangaan Village
You may also wear traditional Ifugao clothing at the Bangaan Village and end your tour with a cold dip at the rocky Tappiyah Falls.
Native Ifugao clothing
Tappiyah Falls
Bangaan-Batad-Tappiyah Trek Information
Batad Rice Terraces & Tappiyah Trek: 3 hrs. 
Batad Fees: Php 50 – Banaue Environmental Fee; Php 50 – Batad Heritage Fee
Bangaan Rice Terraces Trek: 1 hr.
Bangaan Fees: Donations only 
Lunch Options! (From 12 p.m. onwards)

Batad Pension & Restaurant
For sizzling plates to satisfy your hearty appetite, savor Batad Pension & Restaurant's Sizzling Chicken or Pork best paired with rice. Don't forget to save some room for their Caramelized Banana!
Sizzling Plate (Php 200)
Caramelized Banana (Php 80)
How to get here: Batad Pension and Restaurant is a 15-minute trek from Batad Junction.


Simon's Viewpoint Inn and Pizza Restaurant
The Tuna Vegetable Pizza at Simon's Inn is a rare and precious find. Try it together with the recommended native Ifugao exotic dish of Pinikpikan (Php 1,400).
Tuna Vegetable Pizza (Php 190)
Also Read: Simon's Viewpoint Inn and Pizza Restaurant in Banaue: A Quick Stop-Over Along The Trail
How to get here: Simon's Viewpoint Inn and Pizza Restaurant is located along the Batad Trail–a 15-minute trek from Batad Junction.
OPTION 2. Hungduan-Bogyah Hot Spring Tour (8 a.m. to 10 a.m.)
Nungulunan Rice Terraces
For an easier trek, another option is to go to the Municipality of Hungduan to see the UNESCO World Heritage Hungduan Rice Terraces cluster! Also a recommended side trip outside of Banaue, Hungduan allows for a rather leisurely trek on trails that are narrow yet mostly flat.
On your trek, you will first come across Nungulunan and then Hapao, before reaching Baang Rice Terraces. At the end of the Hapao Rice Terraces tour, take a dip in the Bogyah Hot Spring for a relaxing time.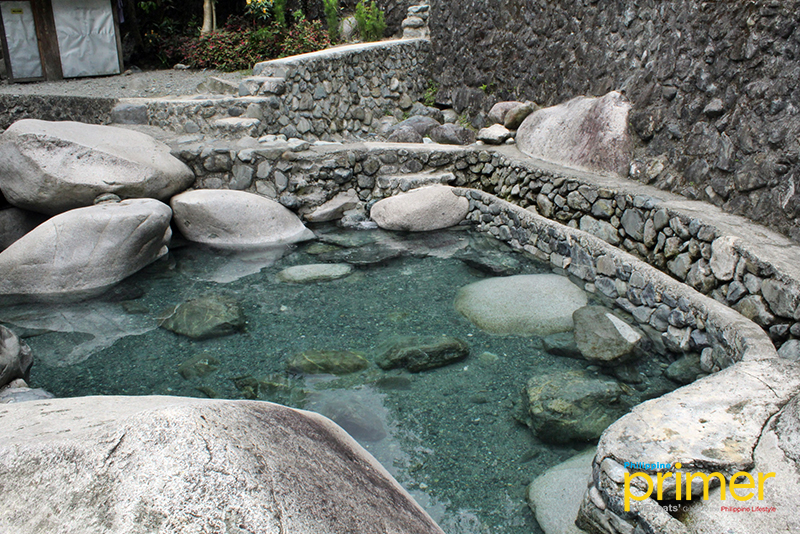 Bogyah Hot Spring
A tour of Hungduan takes about three hours, including the relaxing dip in the spring.
Lunch Option! (From 12 pm onwards)
Native Village Inn
After the 3-hour tour at Hungduan, it is best to visit the Native Village Inn for a hearty lunch! Here, you can sample their European and Filipino cuisine starting with their Chicken Curry, with vegetables in coconut sauce, served with rice. 
Chicken Curry (Php 320)
How to get here: Native Village Inn is located at Native Village Inn Approach Rd., Uhaj Village.
Also Read: Native Village Inn in Banaue Retains the Beauty of A Simple Life
Note: If you're staying at Banaue Hotel, you can still enjoy your afternoon by dipping at the pool, buying souvenirs to bring home, or preparing yourself for their Ifugao cultural presentation, which can be witnessed upon request!
Ifugao cultural gathering
Also Read: Begin Banaue: A Journey to Ifugao Hospitality, Local Gourmet, and Breathtaking Views
DAY 3
By this time, it is definitely difficult to say goodbye to Banaue and the people you've met along the way. So, make the most out of it by starting your day right!
7 a.m. Breakfast at House of Ekolife 
House of Ekolife is believed to be the first cafe in Banaue to offer espresso and frappe beverages, with Kabunyan as their coffee blend.
Here, you can also get a taste of their menu, ranging from all-day breakfast treats and Filipino favorites like Sisig (Php 200), Pork Kare-Kare, and other continental dishes.
Pork Kare-Kare (Php 230)
8 a.m. Visit Arts and Artifacts Houses in Banaue!
To end your Banaue trip, it is only right to visit galleries and museums that embody the Ifugao spirit.
Banaue Museum

The history of Banaue and the native Ifugao inhabitants can best be found in Banaue Museum, steps away from the Municipal Tourism Center. The museum owns a collection of artifacts that came from generations of Ifugaos who have lived in Banaue. Most of these belong to Henry Otley Beyer, the Father of Philippine Anthropology.
Patina Artist Gallery
Being in Banaue acquaints you to carved stone or wood sculptures with expressionless faces, either sitting down or standing up.
These are Bul-ol or rice god sculptures, and some of them can be found at Patina Artist Gallery, just 3 minutes away from Banaue
Hotel! 
Sport some of Patina Ifugao Artist, Delfin Campol's panel sculptures with some priced at Php 6,500 (Mother and Child) and
Php 8,500 (Panel).
Also Read: Patina Artist Gallery in Banaue: An Exhibit of Delfin Campol's Bul-ol Sculptures
2 p.m. Goodbye Banaue
Indeed at the end of your tour, you will realize how Banaue possesses a peaceful, delicate beauty that can only be appreciated if you totally immerse yourself in it.

---
Written by Chin Sanigan