Begin Banaue: A Journey to Ifugao Hospitality, Local Gourmet, and Breathtaking Views 
For most tourists, Banaue is simply a stopover, particularly for those who are visiting Baguio and Sagada. Little do they know that the quaint municipality holds a serene, old world charm as seen in Ifugao's culture and traditions.
Join Philippine Primer as we begin our Banaue journey.
Batad-Bangaan Rice Terraces Tour
Batad Rice Terraces
It is in April and July when the picture-postcard view of Banaue's lush green rice terraces can be fully witnessed. This is exactly why it is only fitting to schedule your tour of the two world heritage sites between these dates. 
Between Batad and Bangaan terrace cluster, the former is higher and steeper. The Batad terrace cluster is semi-circular in shape and cradles a little village at the base. 
The trek from the drop-off point to and across the terraces takes about an hour, consisting mostly of flat trail
Tappiyah Falls, shrouded by the terraces, is a usual part of the tour and takes only 15 minutes to reach from the northern end of the terraces. 
Tappiyah Falls
The Bangaan rice cluster, on the other hand, has a charm of its own. Often compared to a banga or clay jar, the Bangaan terraces are shallower than Batad.
Bangaan Rice Terraces
It harbors a beautiful village of well-preserved traditional Ifugao houses called bale and can be reached in about 20 minutes. In such a small village, you can easily interact with locals, wear native Ifugao attires, and try mumbayu or rice pounding.
The ikat pattern is so mesmerizing in this handwoven, native Ifugao attire
Batad-Bangaan Rice Terraces Tour Information:
Batad Rice Terraces & Tappiyah Trek: 3 hours

Batad Fees: Banaue Environmental Fee – Php 50; Batad Heritage Fee – Php 50

Bangaan Rice Terraces Trek: 1 hour

Bangaan Fees: Donations only
Hungduan Rice Terraces Tour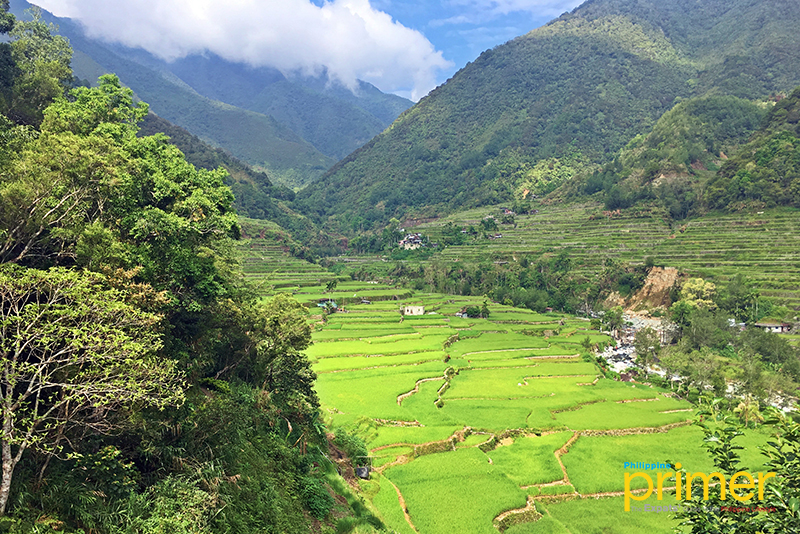 Hapao Rice Terraces
A recommended side trip outside of Banaue is the Hungduan rice terrace cluster. Another UNESCO World Heritage Site where tourists can see a soul-warming sight of children running around the terraces and hear the sound of gongs reverberating across the rice fields. 
In contrast to Banaue's fierce beauty, Hungduan exudes a solemn persona defined by tame and scenic landscapes. It allows for a rather leisurely trek on trails that are narrow yet mostly flat. 
The Hungduan rice cluster resembles a spider web, spanning three villages separated by rivers. During your trek, you will first come across Nungulunan which boasts tall rice terraces, and then Hapao which resembles a wide bed of rice plants. 
Nungulunan Rice Terraces
Before reaching Baang village, characterized by stone walls separating the terraces, you will first find yourself drawn to the Bogyah Hot Spring.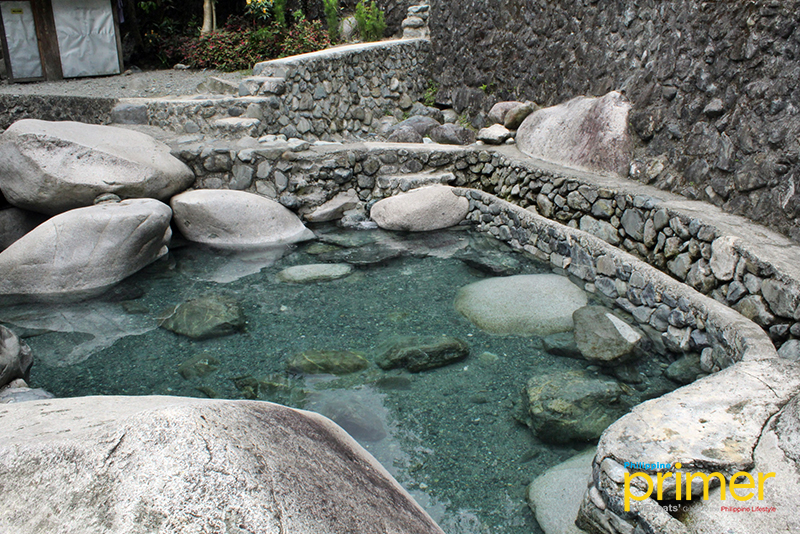 Bogyah Hot Spring
It has natural, clean waters that get warmer between 10 and 11 a.m. You may also take a dip in the cool Hungduan River right next to it. A tour of Hungduan takes about three hours, including a relaxing dip in the spring.
Hungduan Rice Terraces Tour Information:
Hungduan Rice Terraces Trek: 3 hours

Heritage and Environmental Fee: Php 50/tourist

Entrance Fee to Bogyah Cold and Hot Spring: Php 20/tourist
Patina Artist Gallery
Patina Artist Gallery is located just 3 minutes away from Banaue Hotel
At first glance, Patina Artist Gallery looks like a mystery waiting to unfold. While looming wooden figures guard the gates, the place still has the ability to draw you in.
You will see all sorts of panel boards and stone chairs upon stepping inside, all with one common feature—expressionless faces that are intricately carved by hand.
These are Delfin Campol's collection of Bul-ol figures carved into wood panels, pine tree wood, and stone. The Bul-ol is an Ifugao rice god or guardian typically associated with good harvests. 
Also Read: Patina Artist Gallery in Banaue: An Exhibit of Delfin Campol's Bul-ol Sculptures
Bul-ol sculpture
You may purchase these pieces on site or order through his Facebook account, Delfin Campol (Patina Ifugao Artist). The Patina Artist Gallery is open from 6 a.m. to 8 p.m. for all tourists to visit.
Patina Artist Gallery Information:
Address: Ilogue, Brgy. Tam-an, Banaue, Ifugao
Banaue Ethnic Village
Hidden like a paradise at Aparnga-o in Brgy. Viewpoint, Banaue Ethnic Village is surrounded by pine trees and a majestic view of the mountainside. It is the kind of place where dragonflies roaming freely will greet you early in the morning. 
A view of the mountainside seen in Banaue Ethnic Village
Abong Guina-ob (The third type of Ifugao Native House)
The village was established in the 1990s by the Department of Tourism to showcase the traditions of the North. It was later on accredited to be an eco-lodge—a village-lodging sanctuary where you can find the evolution of Ifugao dwellings from the simplest (Abong Tinodmok) to the most modern (Abong-Bali). 
Banaue Ethnic Village:
Address: Aparnga-o, Brgy. Viewpoint, Banaue, Ifugao
Contact: 0995-179-4254
Banaue Museum
Inside the museum are Ifugao native attire worn by women
If it is the history of Banaue and the native Ifugao inhabitants you'd like to know more about, then you shouldn't miss out on the Banaue Museum.
Located just steps away from the Municipal Tourism Center, it owns a collection of artifacts that came from generations of Ifugaos who have lived in Banaue, most of which belong to Henry Otley Beyer—the Father of Philippine Anthropology. 
The museum also has antiquated spears, shields, necklaces, and wood-carvings from the tribes of Northern Luzon.
Exhibited in the museum is a collection of shields used by the Ifugaos, Kalingas, and Bontocs
A portion of the museum is also dedicated to the capture of General Tomoyuki Yamashita, the Imperial Army general who led the Japanese troops in the Philippines during World War II.  
Banaue Museum Information:
Address: Brgy. Poblacion, Banaue, Ifugao
Entrance Fee: Php 50/pax
Banaue Town Center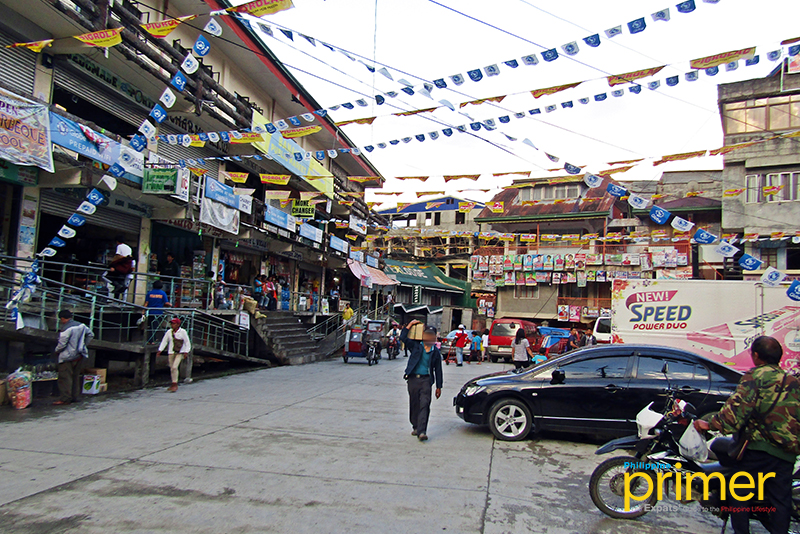 Banaue Town Center lies just 5 minutes away from Banaue Hotel
The municipal town center may not be a tourist destination per se, but the place may hold some interest for tourists. 
This is where visitors will find the public market, convenience stores, local cafes, and restaurants like Hagabi Restaurant near the Town Hall. Budget-friendly accommodations like Sanafe Lodge & Restaurant can also be found here.
Also Read: Hagabi Restaurant in Banaue Embodies the Healthy & Hearty Ifugao Lifestyle
Banaue Hotel 
Banaue Hotel's Lobby
For many tourists frequenting the breathtaking Banaue—and for first-timers alike—Banaue Hotel is not just a lodging place in town. In fact, with Banaue Hotel's old world charm and elegance, as well as its embodiment of the Ifugao culture, the hotel can be a destination itself. 
Souvenir shop inside Banaue Hotel
Upon entering the hotel lobby, a bevy of souvenir shops will immediately greet you. Here, you may browse through their collection of Ifugao Ikat products including handwoven and patterned bed covers, blankets, bags, and clothing. 
Native Ifugao cultural presentation held inside Banaue Hotel
It is also where you can witness the Ifugao cultural presentation during the peak season from October to May, but you may also watch the cultural presentation by request for Php 2,000. 
Banaue Hotel Information:
Address: Ilogue, Brgy. Tam-an, Banaue, Ifugao
Contact: 0927-570-2355 / 0908-400-7596
Experience Banaue with Filipino Travel Center
To experience a flawless travel journey to the rich mountains of Ifugao, begin your Banaue adventure with Filipino Travel Center, Inc. 
Initially started as a passion-project from a traveling dream, Filipino Travel Center began its first operations in Boracay in 1998. Now, they operate as a Specialty Travel Company, meeting adventurers' needs by customizing every tour. 
Meet Sir Edgar Hisoler (left) and Sir Alex Balandang, two of our tour guides from Filipino Travel Center who were extremely friendly and experienced! 
First to offer scheduled tours in Banaue, they lead the tourism industry together with their highly experienced tour guides who are well acquainted with the Ifugao terrain. They also customize other tours including Manila Day Tours, Vacation Packages, and Adventure Group Tours.
Our local tour guide Ms. Ivy and our Department of Tourism-accredited local tour guide Ms. Gloria are also among the trusted partners of the Filipino Travel Center
To book an awesome trip with Filipino Travel Center, you may contact them through their details below.
Address: Unit 118, G/F, Manila Residences Bocobo, 1160 J. Bocobo St., Ermita Manila
Office Hours: 9 a.m. to 6 p.m. (Mon to Fri); 9 a.m. to 5 p.m. (Sat)
Contact Information: 02-528-07 to 08 / 0917-886-4386 (office hours only) / 0915-199-3430 (tour coordinator)
Website: filipinotravel.com.ph
Facebook: facebook.com/filipinotravel
E-mail Address: info@filipinotravel.com.ph
---
A version of this appeared in Philippine Primer's Japanese (Vol. 135) and English (Vol. 40) magazines.
Written by Rei Leaño, Chin Sanigan, and Deneca Ordinanza
You might also like...