Le Bistro in Banaue: Where European Cuisine Meets Ifugao
While Banaue is slowly falling asleep as early as the sun sets, one restaurant in Banaue is still up—serving what may be one of the finest Western dishes in the municipality. This is Le Bistro, which overlooks the Municipal Tourism Center in Brgy. Poblacion just before you reach Banaue's town center.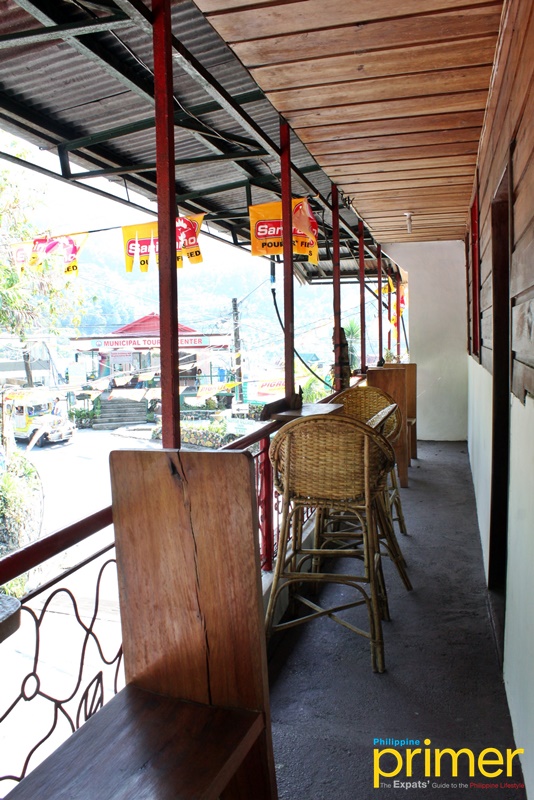 Le Bistro's balcony with a view of the Municipal Tourism Center below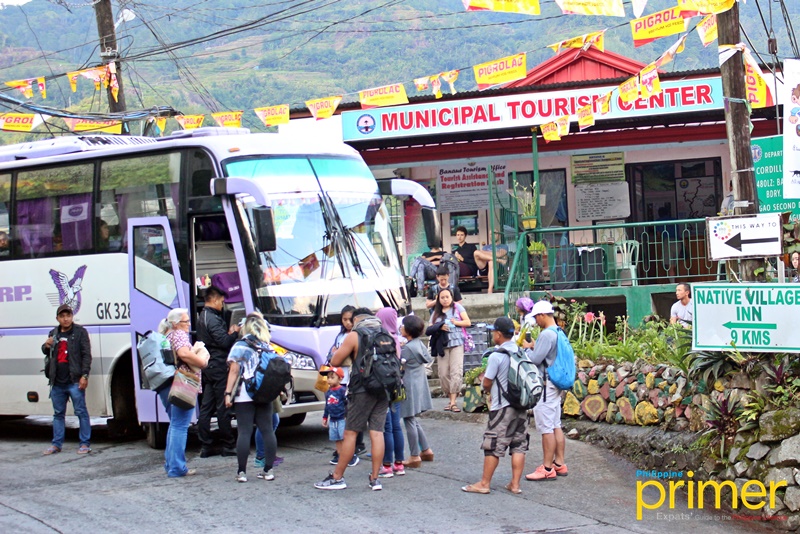 Municipal Tourism Center
Thanks to Zélie, the tourists of Banaue have been gifted with a taste of delicious European cuisine. Zélie is a talented French native who fell in love with the Ifugao community and now runs Le Bistro with her Ifugao husband, Samuel.
Le Bistro, which started its operations in 2016, is now the best place to cool down with your friends after a rigorous trek to the rice terraces. Tourists on their way down from Batad may make a quick stop-over at Le Bistro for a well-deserved hearty dinner.
Among their best-sellers is their Végétarien Spaghetti (Php 190) with rich tomato sauce, eggplant, pepper, and onions, making it a well-balanced pasta ensemble.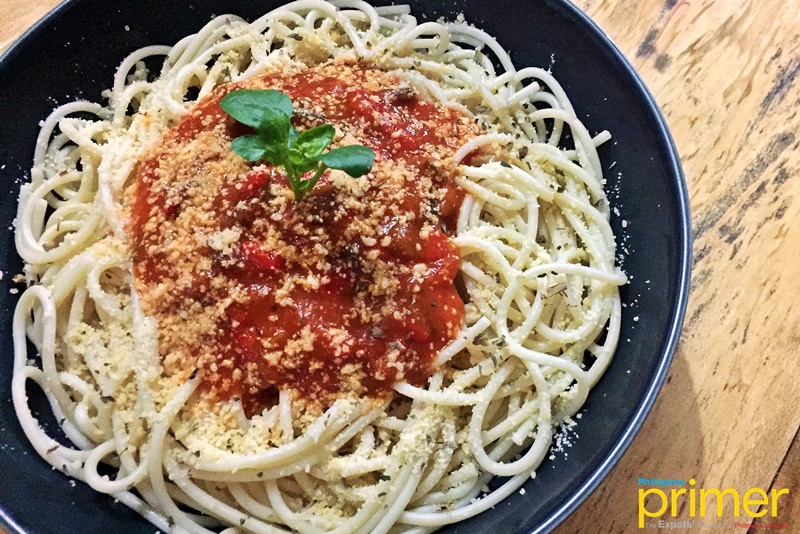 Végétarien Spaghetti (Php 190)
Le Bistro's Spaghetti with Shrimps (Php 280), on the other hand, can be another pasta choice you won't regret with its harmony of white creamy sauce, garlic, lemon, and paprika served with parmesan cheese.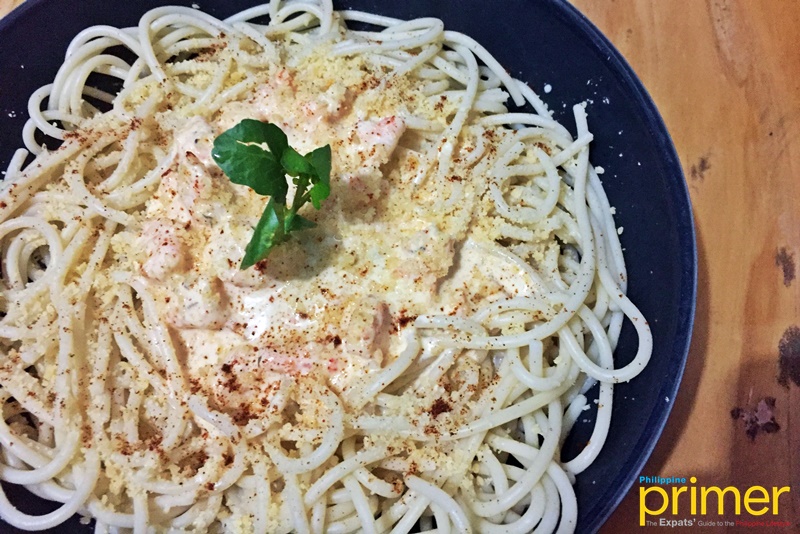 Spaghetti with Shrimps (Php 280)
These are best paired with their collection of pizzas, one of which is their thin-crust Campione Pizza (Php 260), with tomato sauce, ground beef, mushroom, and cheese. 
Contrary to what some may believe, pasta and pizzas are not the only must-tries on their menu. Tapas, tomato salad, Filipino sizzling dishes of chicken and shrimp, as well as desserts like Banana Flambee and crepes from sugar and chocolate to honey, can be found inside.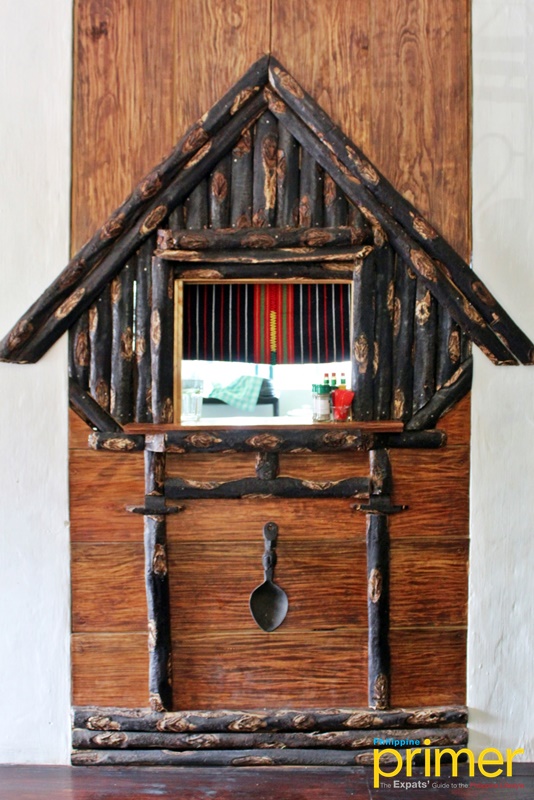 The kitchen
Zélie, who has been working hands-on in the kitchen with recipes passed on from her family, even provides her guests with her suggestions for the day.
Ingredients for every dish are also ensured to be of good and fresh quality as the products are sourced from Pangasinan and Banaue every week.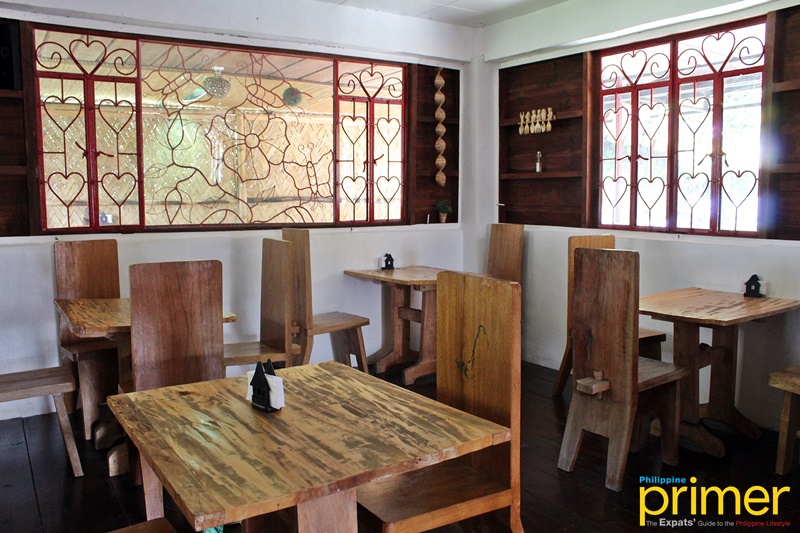 A peek inside Le Bistro
As if to leave their guests wanting for more, Le Bistro also has wines up their sleeves that you can order per glass (Php 160 to Php 290) or per bottle (Php 900 to Php 1600).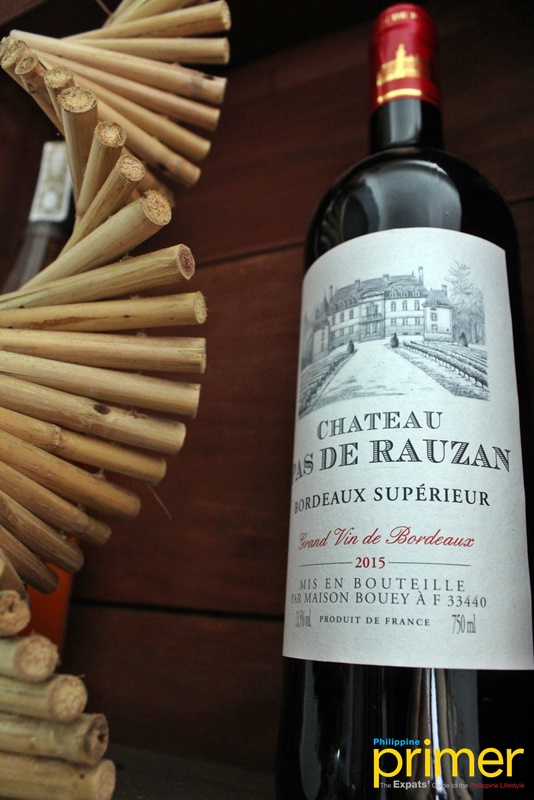 Bordeaux Supérieur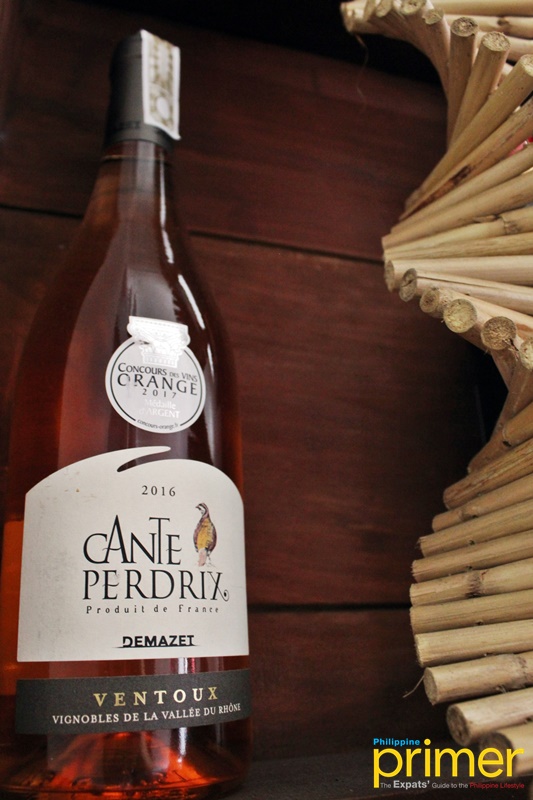 So to cap off your night in Banaue, head on to Le Bistro for European dishes that will suit your every taste!
How to get here
From Banaue Hotel, hail a tricycle going to the marketplace. Make a stop and get off in front of the Municipal Tourism Center of Banaue. You may also walk for around 8 to 10 minutes from Banaue Hotel to Le Bistro.
---
This first appeared in Philippine Primer Japanese magazine's June 2019 issue.
Written by Chin Sanigan
General Information
Brgy. Poblacion, Banaue, Ifugao
0935-469-5245
4 p.m. to 9 p.m.