9 Restaurants Where You Can Enjoy All-Day Breakfast Meals
Breakfast is often hailed as the "most important meal" because it's meant to give us the energy we need for the rest of the day. But  there are some breakfast treats that we can't help but want to feast on like pancakes and waffles at other times of the day.
Luckily, there are restaurants in the Metro that offer all-day breakfast menus to help satisfy those cravings!
Single Origin
While they are most known for their coffee, Single Origin also serves some of the best breakfast menus in town. Try their Choco Bacon Waffle (Php 395), a blend of sweet and savory that will surely give you a power boost at any time of the day. The best part is that, while it may look like a full meal, it won't make you feel too stuffed. It's best enjoyed with a cup of their delicious coffee, but they also carry a wide array of drinks you should try.
Choco Bacon Waffle (Php 395)
Also Read: Single Origin at Greenbelt: A Standout on Coffee and Comfort Food
The Paw Club
You're in for a treat at The Paw Club! Not only do they serve delectable and gratifying meals—they serve them with a side of cuteness at this all-in-one pet hub for your fur babies! While The Paw Club isn't technically open during breakfast, you can enjoy breakfast meals as soon as they open. Consider sampling their Good Morning Sandwich (Php 255), composed of a crispy croissant that's paired with cheese, eggs, and bacon served with chips on the side. You might also want to try their waffles and cakes.
Good Morning Sandwich (Php 255)
Also Read: The Paw Club at SM By The Bay: An All-In-One Pet Haven
Stacy's Home Café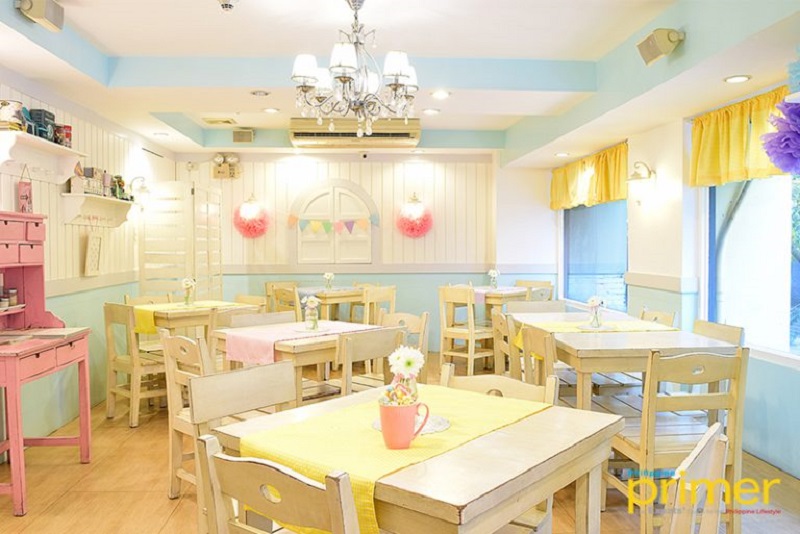 Stacy's Home Cafe offer a wide variety of desserts, as well as an all-day breakfast menu that's worth trying! Try their Big Breakfast Banger (Php 235), a full breakfast meal that's composed of french toast, fries, scrambled egg jumbled with sausages, veggies and a cup of fresh fruits. The cafe's ambiance is also as homey as their meals so it's definitely a place you would want to visit for your breakfast fix.
Big Breakfast Banger (Php 235)
Also Read: Stacy's Home Café BGC: Taking You Back to the Vintage 90s
Nono's
With comfort food in mind, Nono's serves hearty comfort food that you can feast on regardless of the time. You'll find that the restaurant itself is quite homey as it aspires to draw in patrons and remind them of home. Try their Eggs Benedict (Php 345), a poached egg with smoked ham served in soft bread. It's the perfect meal served with fruits, making for a healthy meal!
Eggs Benedict (Php 345)
Also Read: Nono's in Makati: A Haven of Comfort Food from Childhood Memories
Flossom Kitchen + Cafe
If you're up near the North, head on to the Flossom Kitchen + Cafe where you can enjoy great meals with a beautiful ambiance. It's also a great place if you're going on a casual lunch date or some time out with your family. Flossom Kitchen + Cafe serves dishes that are unique but not intimidating just like their Avocado Toast (Php 300), which can be shared by two to three people. Apart from their all-day breakfast items, you can also find mouthwatering pizza and burgers.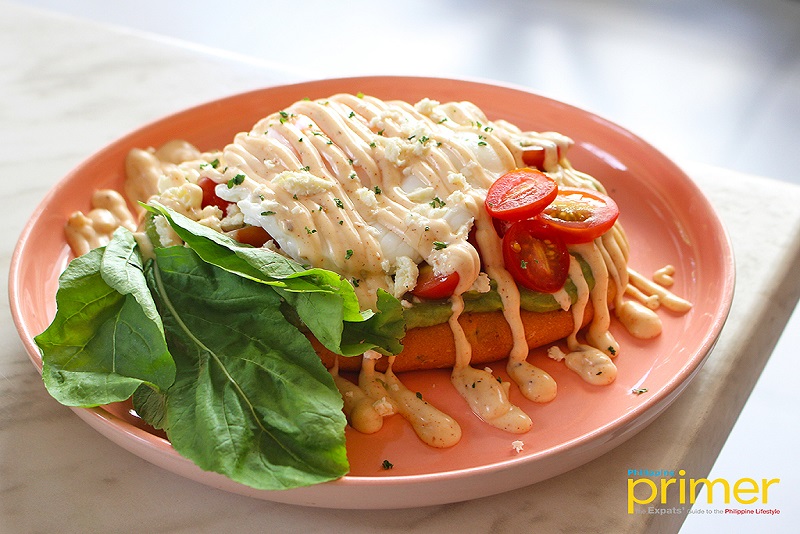 Avocado Toast (Php 300)
Also Read: Flossom Kitchen + Cafe in San Juan: Neighborhood's Comfort Place
Unit 27 Bar+Cafe
Unit 27 is the ideal place if you're looking for a place to enjoy heavenly food and coffee, paired with good music. It's a restaurant, cafe, and bar in one that caters to all types of diners. They serve Filipino inspired dishes much like their Bagnet Breakfast (Php 350). They also serve their meals in generous servings, perfect for those dining with friends or those with big appetites.
Bagnet Breakfast (Php 350)
Also Read: Unit 27 Bar+Cafe in Eastwood: All the Good Things You Want to Do in Life
Bluesmith Coffee
Bluesmith Coffee is the ideal place for those seeking comfort in the bustling city. It provides visitors with an affable spot where you can hangout with your loved ones, exuding that familiar feeling of home. Sample their Bluesmith Beef Tapa (Php 310), which is a tender and juicy tapa with a bit of sweetness that's accompanied with fried egg. It will surely remind you of your mom's home-cooking! Don't forget to try their coffee as well!
Bluesmith Beef Tapa (Php 310)
Also Read: Bluesmith Coffee in Makati: People's comfort zone in the city
Bench Cafe
Bench Cafe brings local flavors with a twist to the table as they embody Bench's commitment to "love local". Reminiscent of the local carinderias (eateries) in the country, there are meals at this restaurant that are guaranteed to remind you of how your mom or grandma prepares meals!
Try their BENCH/TO D3: Beef Pares (Php 249), served with veggies, Bench salad, atsara, and a bowl of rice, which can either be Garlic Rice, Dilis Rice, Aligue Rice or Bagoong Rice. All their menu items are not only reasonably priced but also generously served so you can share it among a small group.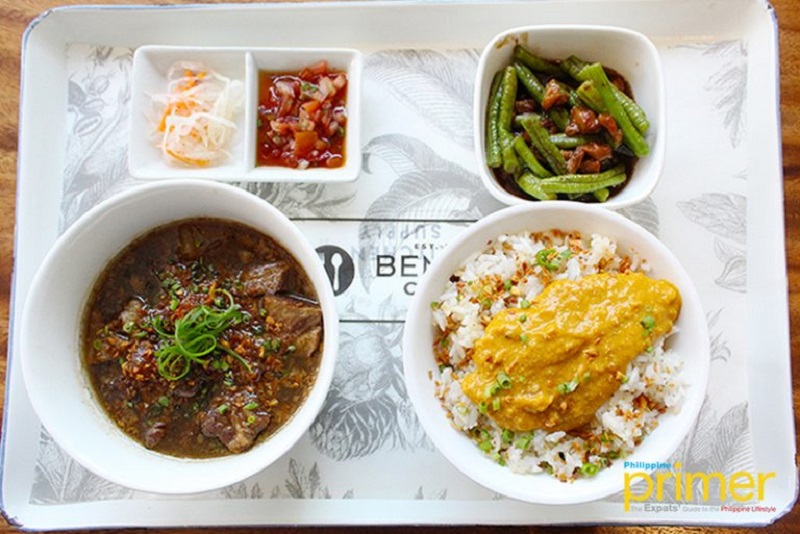 BENCH/TO D3: Beef Pares (Php 249)
Also Read: BENCH Cafe in BGC: Love Local with Chic Filipino Dishes
Bean & Yolk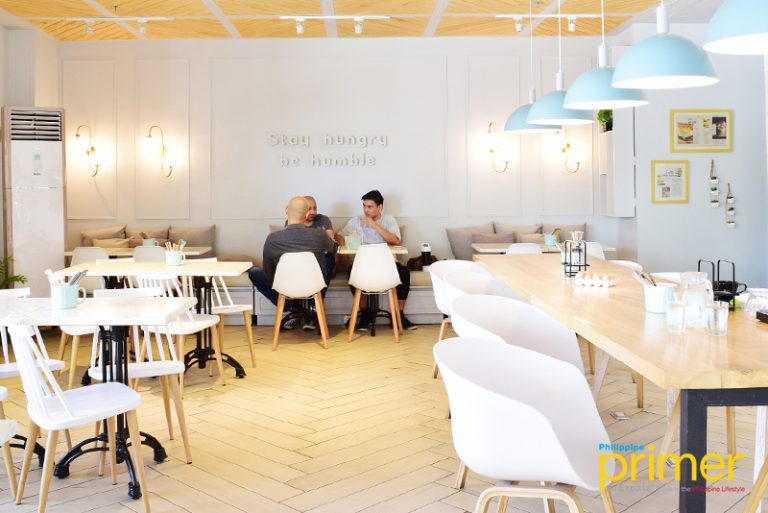 Who says that you can't have coffee and eggs outside of breakfast? Alabang's Bean & Yolk serves all-day breakfast, including a fresh cup of Joe! What's unique about this restaurant is their efforts to incorporate eggs in all of their dishes while providing healthy meals for that much-needed powerboost. Try their B&Y Tapa Bowl (Php 295), which is a healthier rendition of the classic Tapsilog, a Filipino breakfast item that's comprised of Tapa, fried rice, and eggs.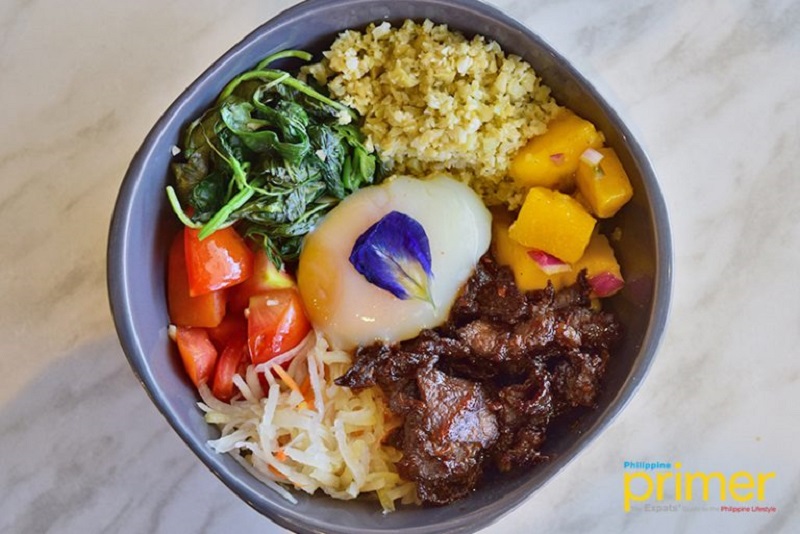 B&Y Tapa Bowl (Php 295)
Where's your go-to restaurant for all-day breakfast meals? Don't forget to share it with us in the comments!