Flossom Kitchen + Cafe in San Juan: Neighborhood's Comfort Place
Tucked away from the hustle and bustle streets of Manila is an alluring place that homes different establishment in one building. The Flossom Place is a sight to behold, standing out among the houses of a residential neighborhood in San Juan. The facade has a white paint and crisp look while the inside of the building is a tropical dream to explore.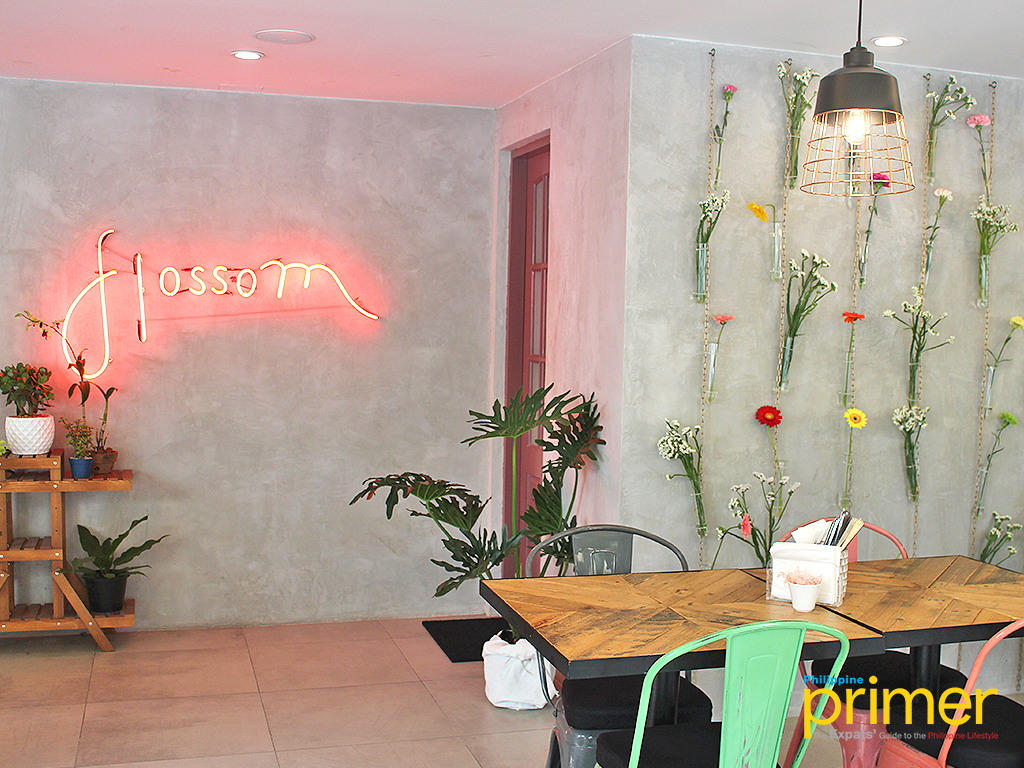 The name is adapted from orchid importer and distributor Flossom Flowers Philippines who also own Flossom Place
The stores consist of a salon, a co-working space, an office, and Flossom Kitchen + Cafe. They first opened in November 2017, catering to people of all ages and walks of life who want nothing more than to enjoy a great meal in a place that makes you want to take out your camera or smartphone to capture the moment.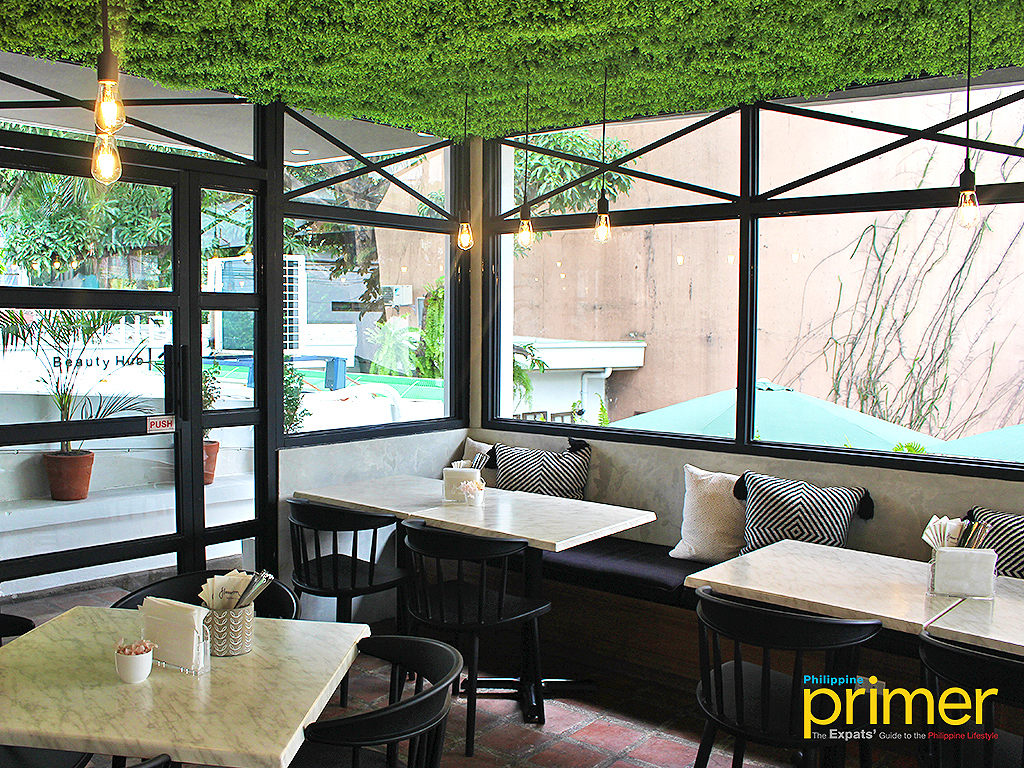 This room can be rented out for different special occasions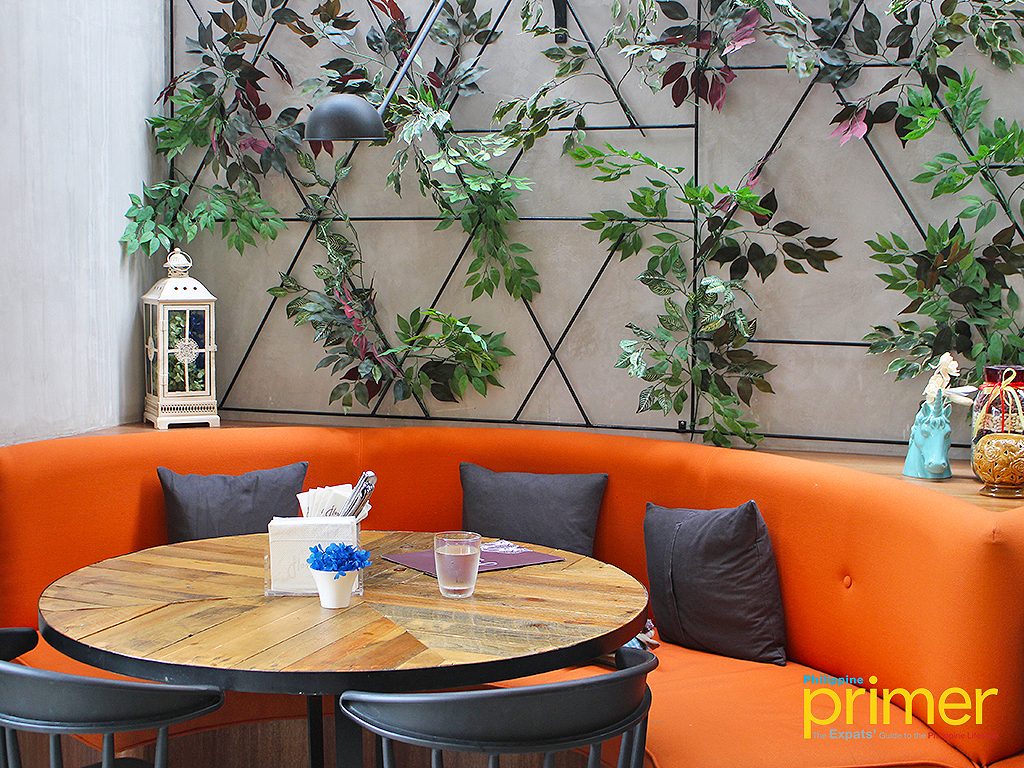 The entire space is highlighted with vibrant and pastel colors as well as plants and flowers
Upon entering you'll immediately be swept off your feet as the raw walls are accentuated with floral murals, plants,  and fresh flowers making it a wonderland for every phytophilous or who just wants to unwind during the day or night. Flossom Kitchen + Cafe offers modern comfort food crafted by its owners Betrina Lee and Jessica Wong.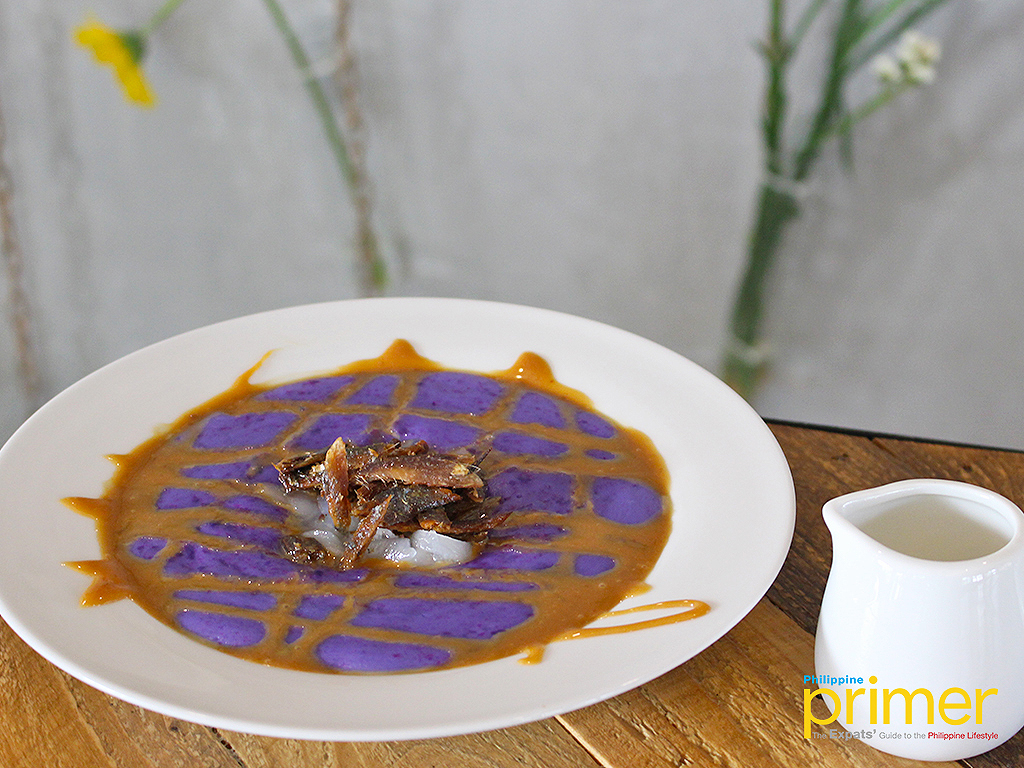 Ube Champorado (Php280), one of their bestsellers and most raved about dishes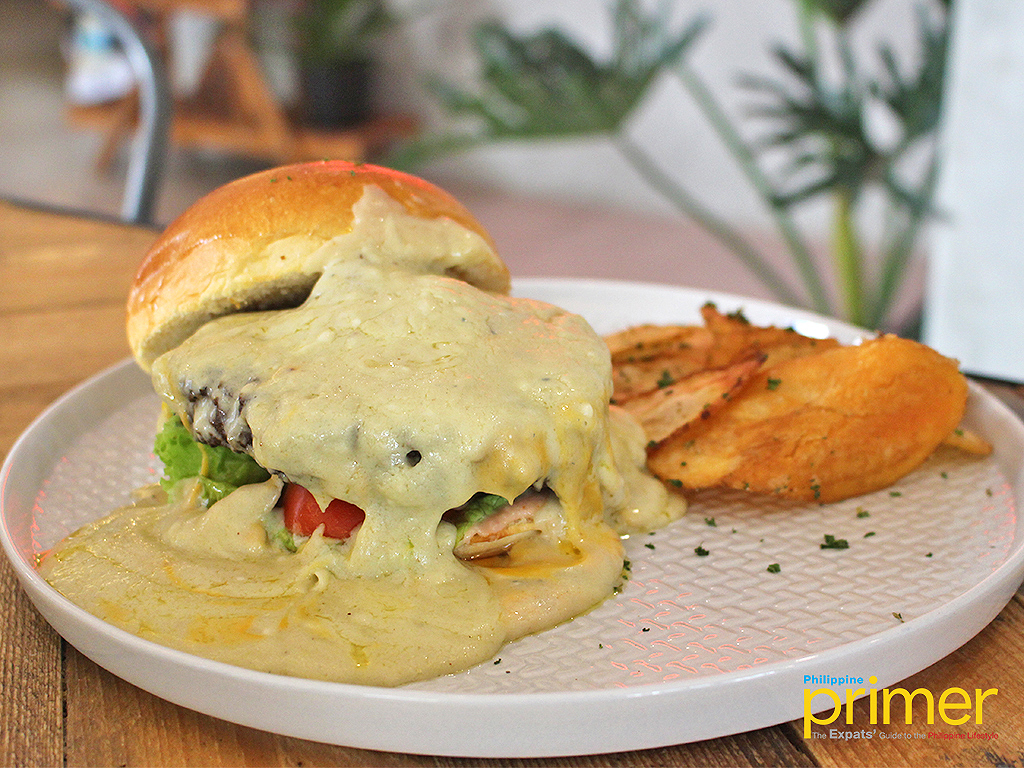 Molten Lava Burger (Php 420), the epitome of goodness on a plate
The dishes are unique yet not intimidating to the crowd, it's fit for those who want to enjoy and share a filling meal with someone. One of their popular attraction to their menu is the Ube Champorado (Php 280) that has been a hit with many customers, sweet sticky rice with ube (purple yam), topped with sweet macapuno, salty fish and drizzled with yema sauce, the taste is something familiar yet the ube adds peculiarity to it.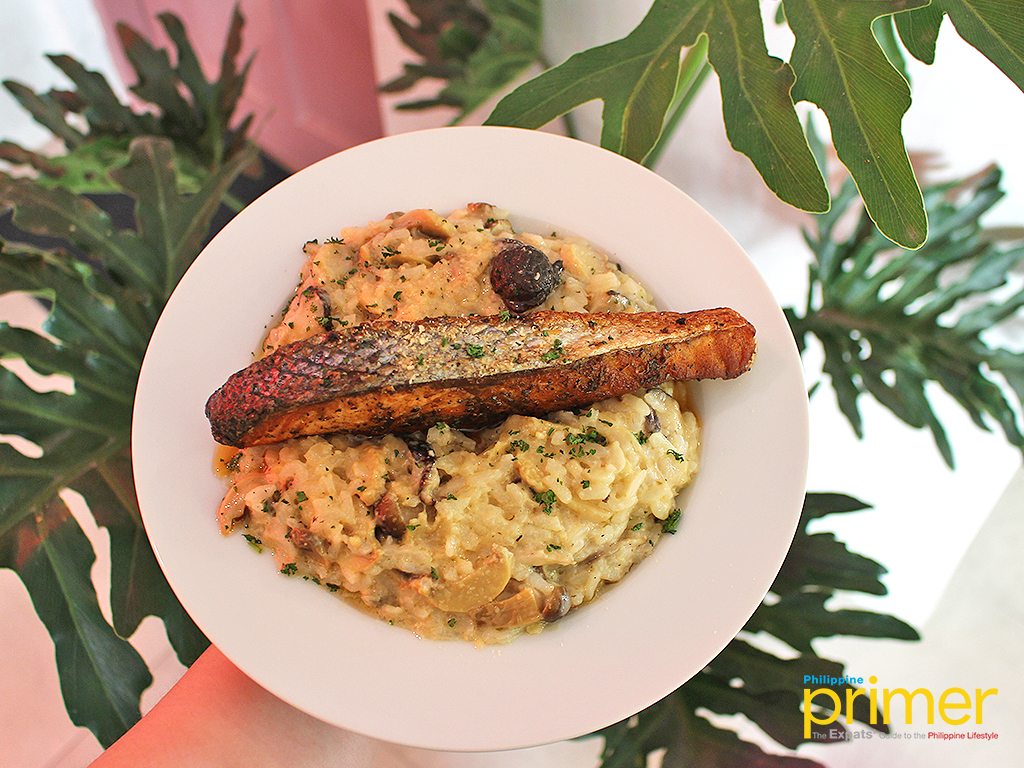 Mushroom Truffle Rissoto (Php 420) with Grilled Norwegian Salmon (Php 250)
Chori Shrimp Pizza (Php 550), thin crust pizza with Tierra Chorizo De Bilbao and fresh shrimp
Another dish that you should order is their Molten Lava Burger (Php 420), one of their signatures that has grilled Angus beef patty, Flossom sauce, and fresh potato chips on the side. Other best-selling dishes include Mushroom Truffle Rissoto (Php 420), Avocado Toast (Php 300), and Chori Shrimp Pizza (Php 550). All dishes are best shared as it's good for two to three people.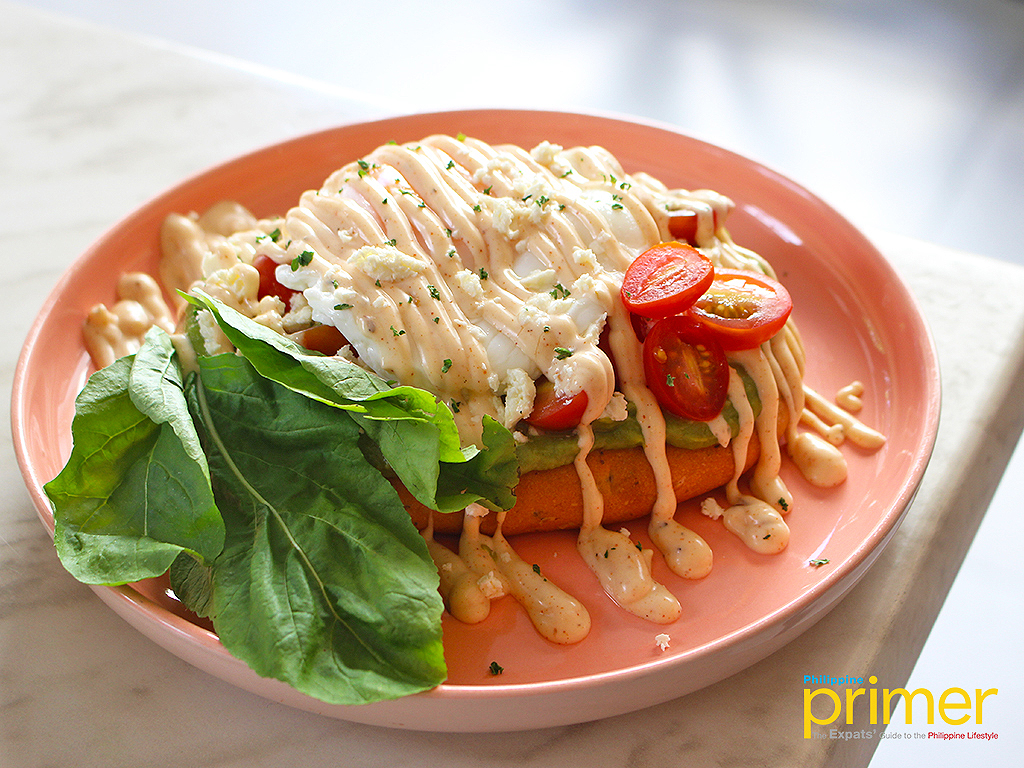 Avocado Toast (Php 300), perfect for lunch or snacks
Flossom Kitchen + Cafe Tiramisu with edible flowers (Php 150)
End your meal with their homemade desserts and crafted with love. They make their own pastries and cakes, garnished with edible flowers for that Flossom feel to it. Breakfast lovers can enjoy an all-day breakfast starting at 8 am and have a free refill of coffee every 8 am until 10 am every day.
They will be having a Valentine's Day promo in February so make sure you follow their social media accounts.

187 N. Averilla, San Juan, Metro Manila

8 am to 10 pm (Monday to Friday), 8 am to 11 pm (Saturday and Sunday)

flossomkitchencafe@gmail.com