Single Origin at Greenbelt: A Standout on Coffee and Comfort Food
Amid a multitude of coffee shops and restaurants at the business and shopping district of Makati, Single Origin keeps its game strong in the local food and coffee scene by opening a third branch right in the city's prime shopping complex, Greenbelt.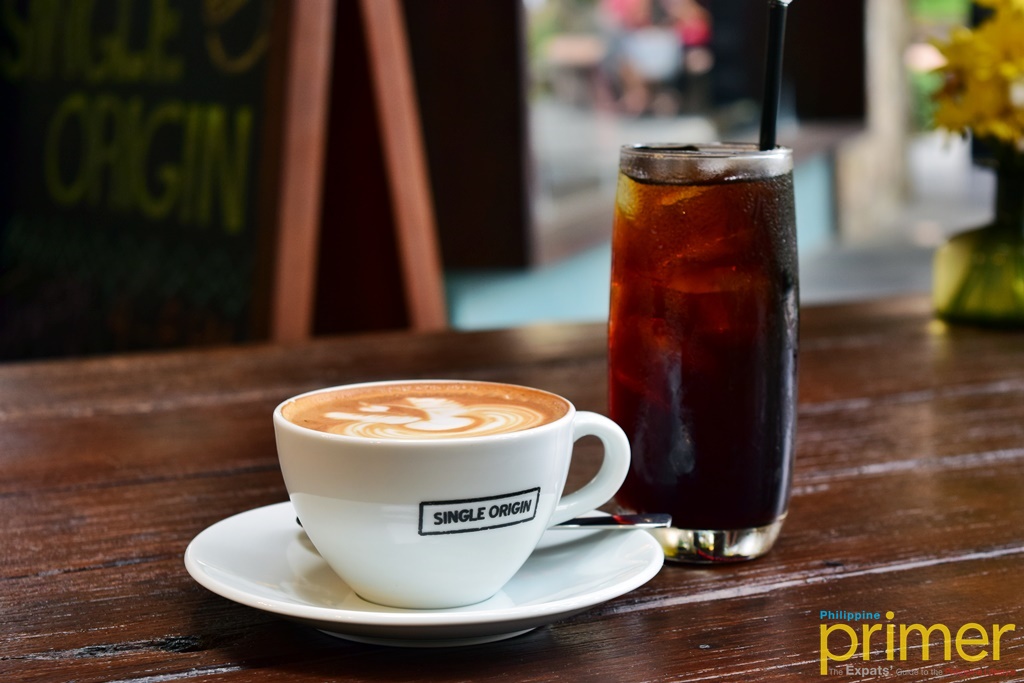 Single Origin first entered Manila's ever-growing coffee scene in 2015 as a specialty coffee shop that locally mainstreamed the concept of "single-origin coffee." This lets you have a deeper understanding of your coffee by knowing the characteristics of the region where it was grown
It didn't take long for people to see beyond Single Origin as a coffee shop. Single Origin is, in fact, not just a place for a special coffee experience but also a one-stop stomping ground for people who seek comfort food, wine, beer, and cocktails.
The food at Single Origin notably uses the finest ingredients integrating with flavors that are refreshingly familiar to the Filipino palate. A must-try for breakfast food lovers is the Salted Caramel Choco A La Mode French Toast (Php 350), which features three fluffy cubes of the well-loved Brioche bread, topped with homemade vanilla ice cream and salted caramel sauce.
If you want the classic crispiness of waffles, have their Choco Bacon Waffle (Php 395), a good breakfast meal that will power you up but won't make you feel stuffy.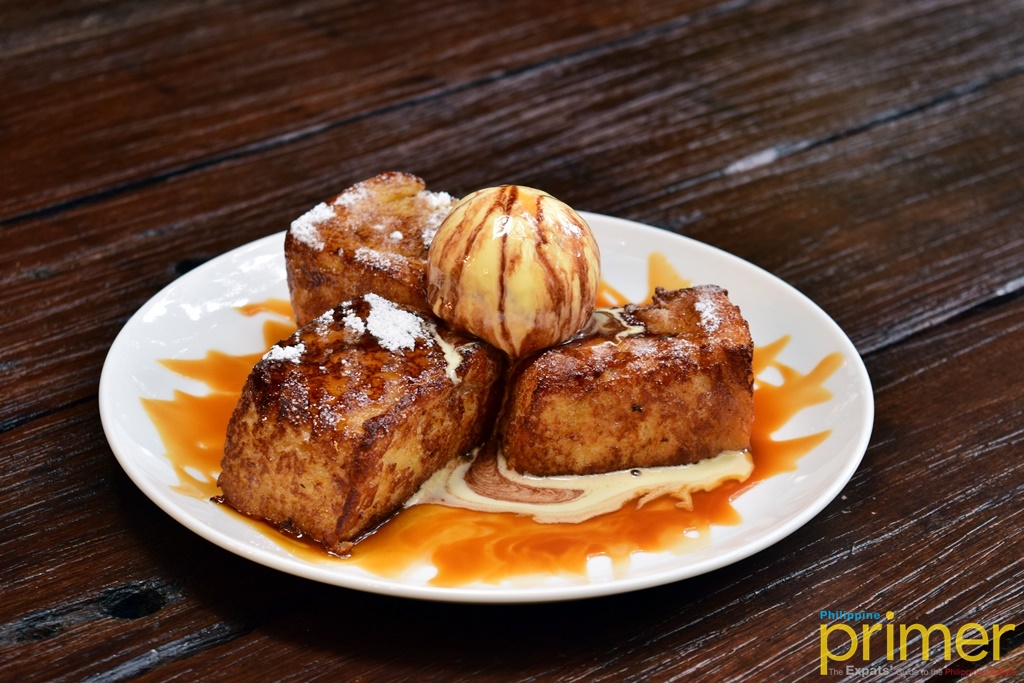 Salted Caramel Choco A La Mode French Toast (Php 350)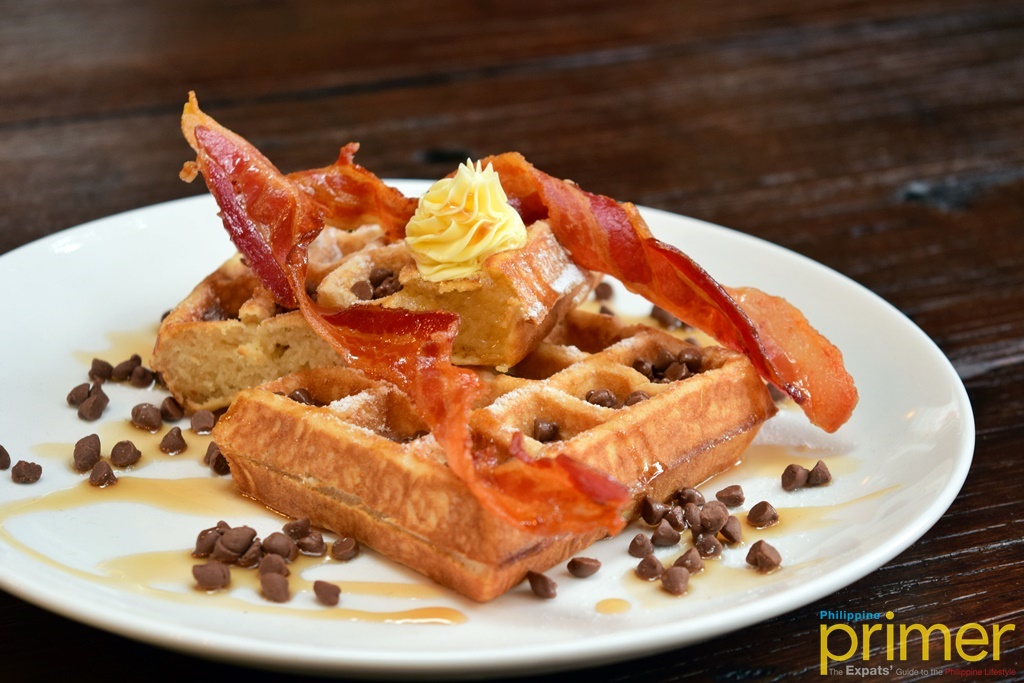 Choco Bacon Waffle (Php 395)
French fry lovers will also love the Chori Fries (Php 275), a plateful of fat hand-cut fries mixed with slices of Chorizo Pamplona, seasoned with parsley, parmesan cheese, and salt and pepper. Be sure to eat it right after it's served to enjoy the fresh taste!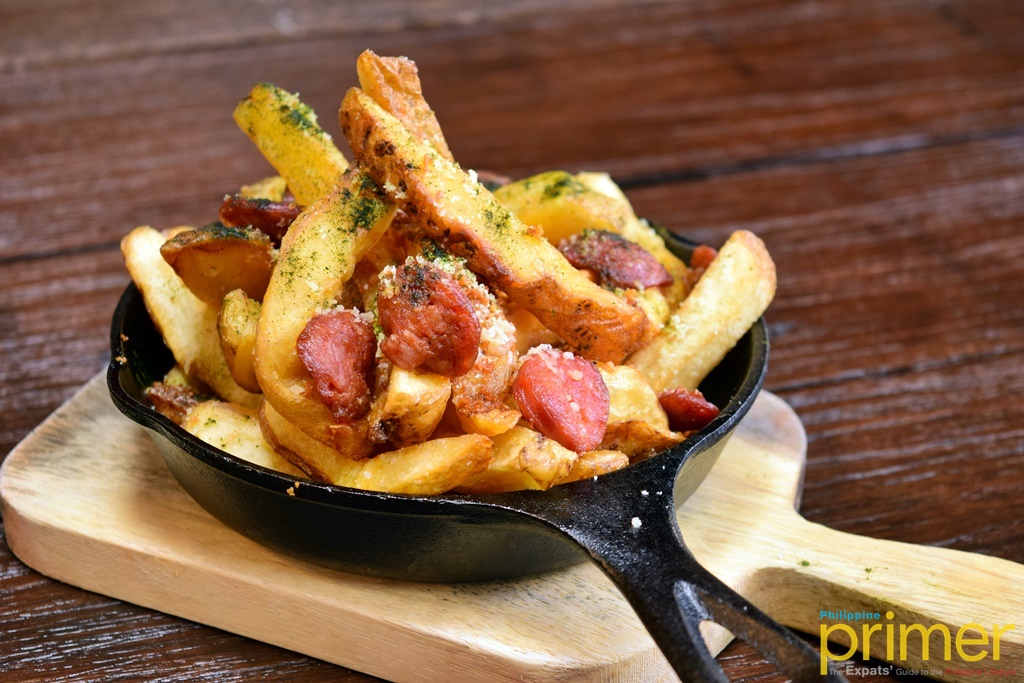 Chori Fries (Php 275)
The Brooklyn Steak and Frites (Php 995), meanwhile, is their latest addition to the menu. A relishing meal for the hungry and those craving for good steak, this dish is made with Grade 8 Brooklyn rib-eye steak that's cooked medium to medium-well to maintain the crusting of salt, pepper, and herbs.
The steak is a perfectly delightful meal for people who like their steaks really tender and easy to eat. Every slice of the beef is effortless, and every bite is as cheering as eating a piece of cake. This dish is served with their homemade fries and baked spinach and bacon.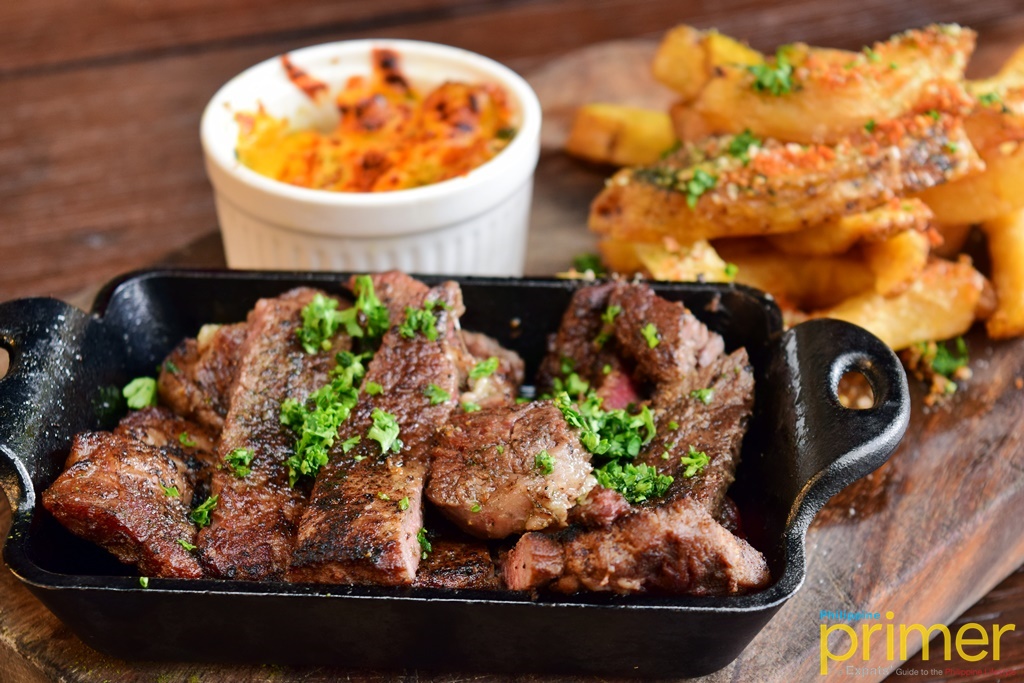 Brooklyn Steak and Frites (Php 995)
For coffee lovers, here's your most awaited part. We have three recommendations for you to try when you visit this new branch of Single Origin:
The Syphon brewing method is a Japanese traditional way of brewing coffee in a visually appealing vacuum glass pot. This process is said to extract the full flavors of coffee compared to simply boiling it.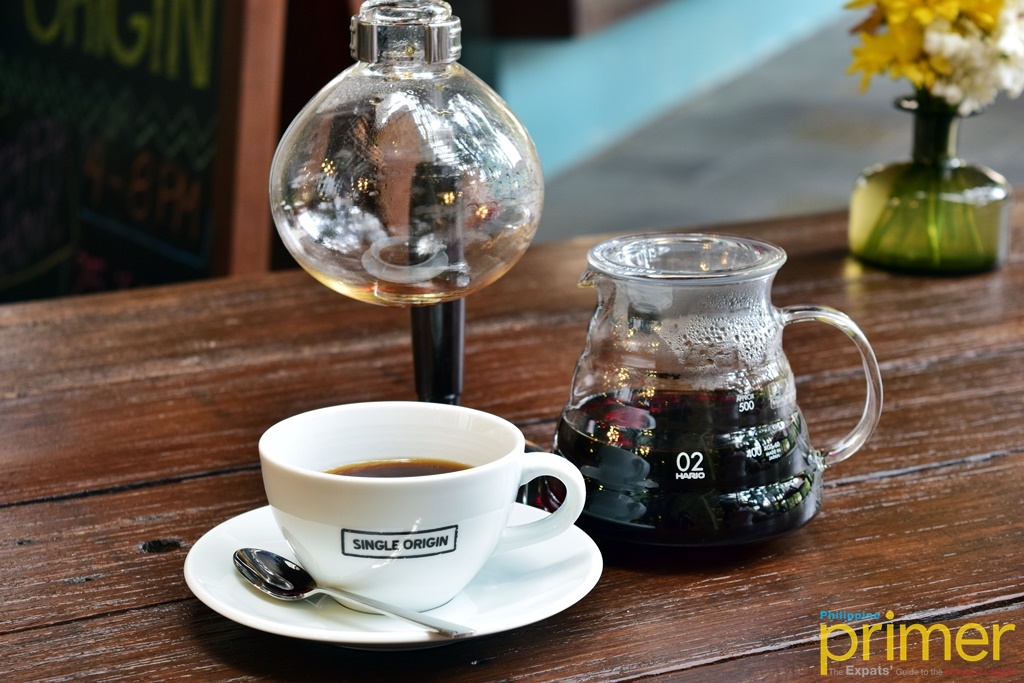 Syphon 20oz blend (Php 280)
If you need a stronger boost for the day, try the refreshing 18-hr Cold Process Iced Coffee (Php 150). It's stronger than your regular iced Americano.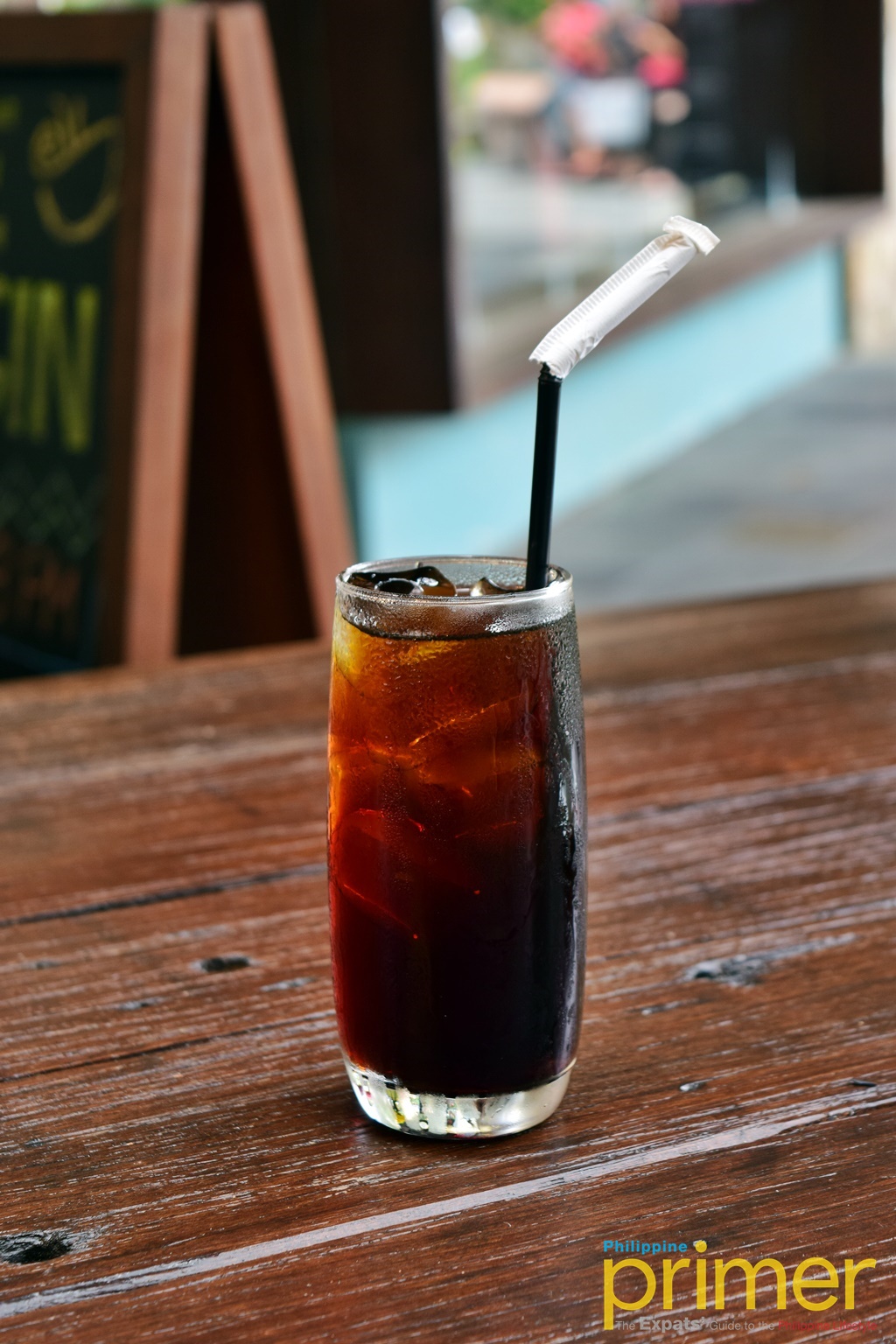 18-hr Cold Process Iced Coffee 16oz (Php 150)
If you want something creamy and delicious, sip on a hot cup of Vanilla Latte (Php 160).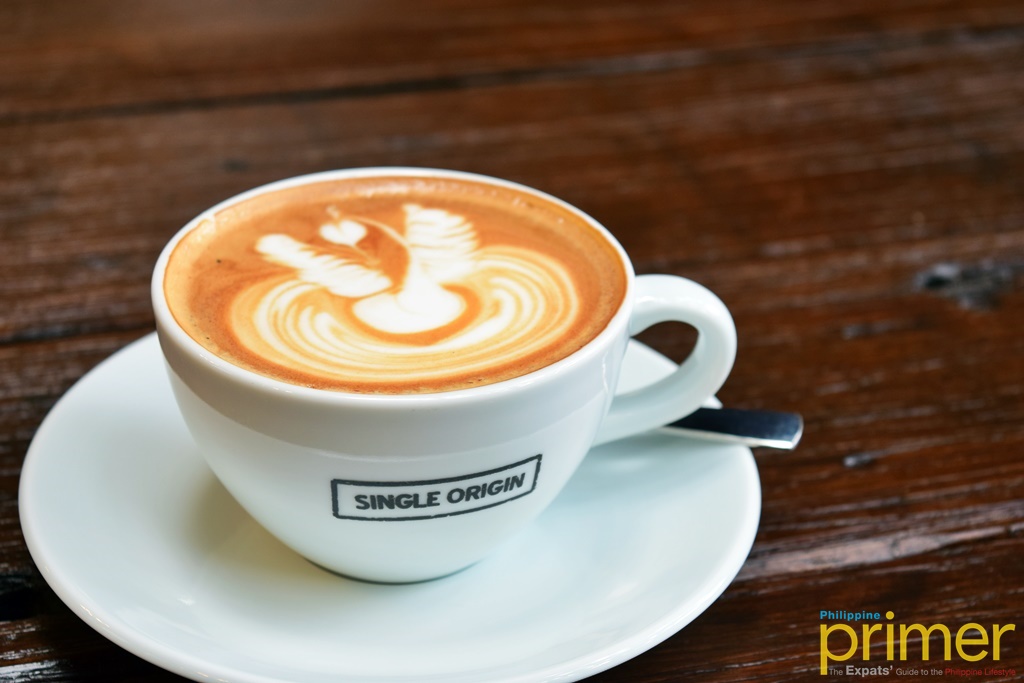 Vanilla Latte 8oz (Php 160)
Single Origin's newest branch at Greenbelt 3 has the same familiar vibe as its precursors in BGC and Rockwell, although, noticeably, it particularly highlights Kenya (one of the sources of their single-origin coffee) through a big yet subtle wall painting of the country's flag high up on one wall. Its trademark interiors that incorporate strong industrial elements with upscale furnishings engender warm and cozy feelings, especially with the abundance of brick and wood surfaces.
While the competition is strong at a shopping center like Greenbelt, this neighborhood café strongly stands out because of the feelings it gives to visitors once they step inside. Perhaps due to the fact that Single Origin has generous vertical space, the atmosphere inside this café is laidback, unhurried, and airy. The height of the place does not go to waste because of the wall-to-ceiling wooden shelves that showcase a wide selection of fine wines on one side, imported craft beers on another, and various coffee products and brewing machines on the other.
Single Origin is one of the best options at Greenbelt for a restful breakfast (or brunch), a mellow after-work hangout, and a casual catch-up with friends over coffee and cocktails. Now, take your friends and family, and feel the difference in the ambiance of Single Origin at Greenbelt!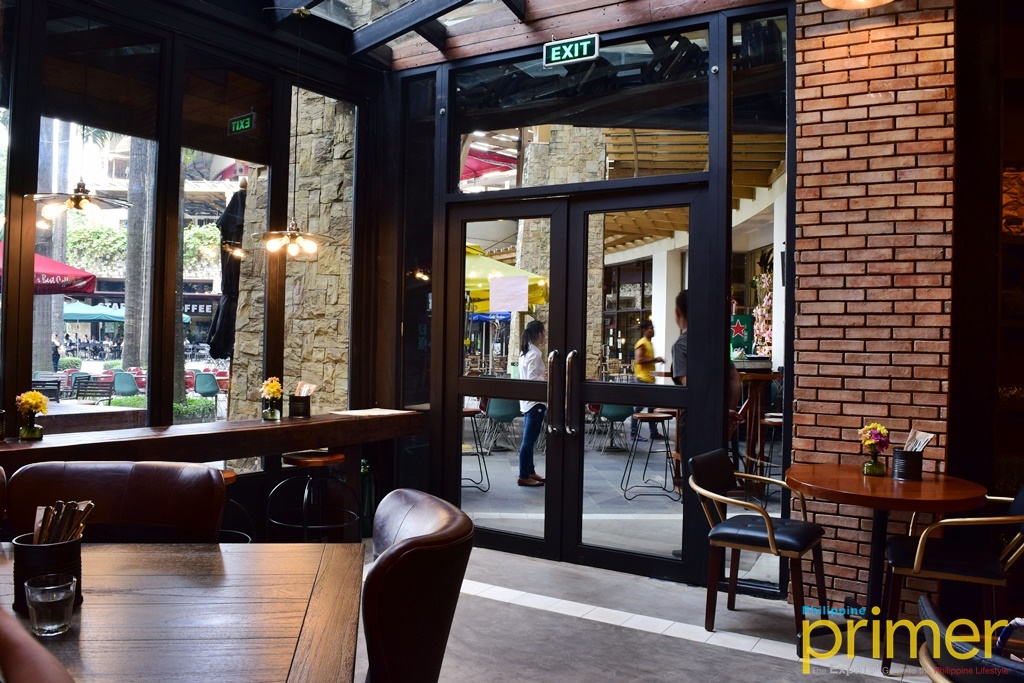 Starting this month, you can take advantage of three promotional offers at the Greenbelt branch in celebration of its opening. For only the whole month of December at Single Origin Greenbelt, you can take advantage of Wine All You Can at Php 699 (maximum of 3 hours, available for walk-ins), Beer Dough Pizzas at Php 199 (via Booky Reservations), and a free cup of Single Origin Coffee for a single-receipt purchase worth at least Php 1,500.
Also read:  Single Origin in Rockwell: Fresh Gourmet Sandwich Options
---
Written by Rizelle "Rei" Leaño
Store Information
Ground Floor, Greenbelt 3, Makati City
0977-390-0429
7 a.m. - 1 a.m. (Sun. to Thu.), 7 a.m. - 2 a.m. (Fri. to Sat.)