Nono's in Makati: A Haven of Comfort Food from Childhood Memories
While Cinderella sings along with the chirping of birds to the tune of her dreams, Chef Baba Benedicto dreamt of a restaurant backdropped with memories of her childhood. Now, in the quaint village of Salcedo and on the ground floor of Three Place came about a restaurant, which honors the name of her father, Nono.
Nono's at Salcedo is a charming mid-century modern home-inspired cafe with a warm vibe, born out of Chef Baba's desire of bringing her comfort food recipes for everyone to taste. With lights resembling bubbles floating above to reflect on the soft hues adorning its walls, Nono's seemed to want to draw its customers to its embrace and bring them home.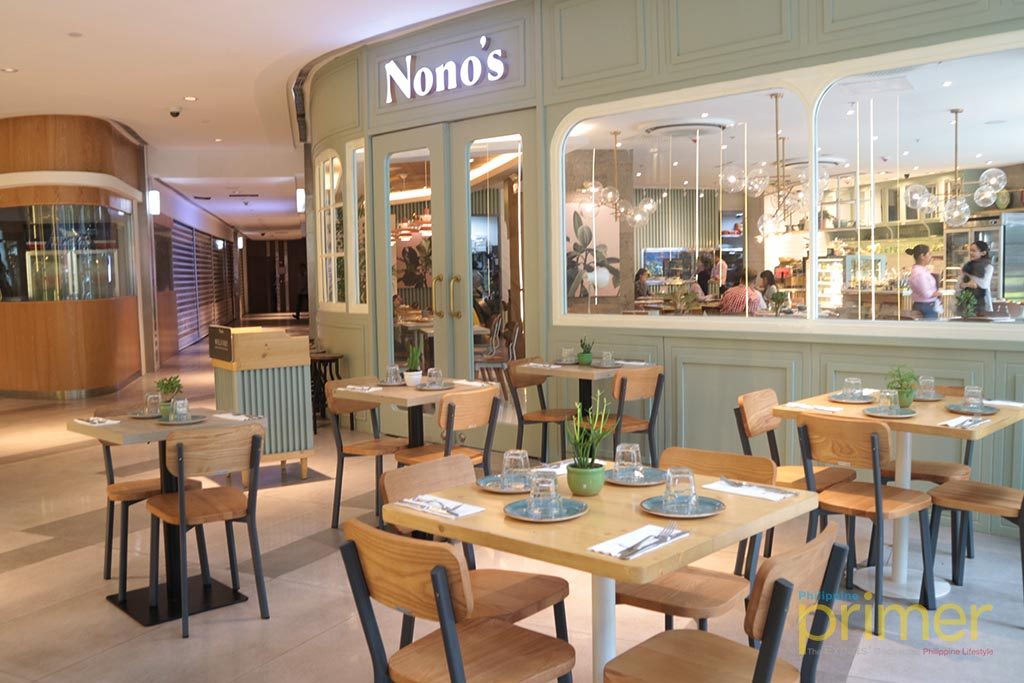 Nono's is a charming and homey restaurant in Salcedo Village, Makati City.
Nono's serves comfort food roused from Chef Baba's favorite dishes and snacks during her childhood in the United States and, later on, in the Philippines. With food inspired by her family – her dad, her mom, and even her yaya (nursemaid) – surely a lot of personal feelings are invested in each plate and cup they serve.
For breakfast, you can start with a hot cup of Flat White to blanket you during the rainy season. With a touch of exquisite bitterness that lingers pleasantly in the mouth, their coffee made from Australian beans is surely a must-try for lovers of the brew.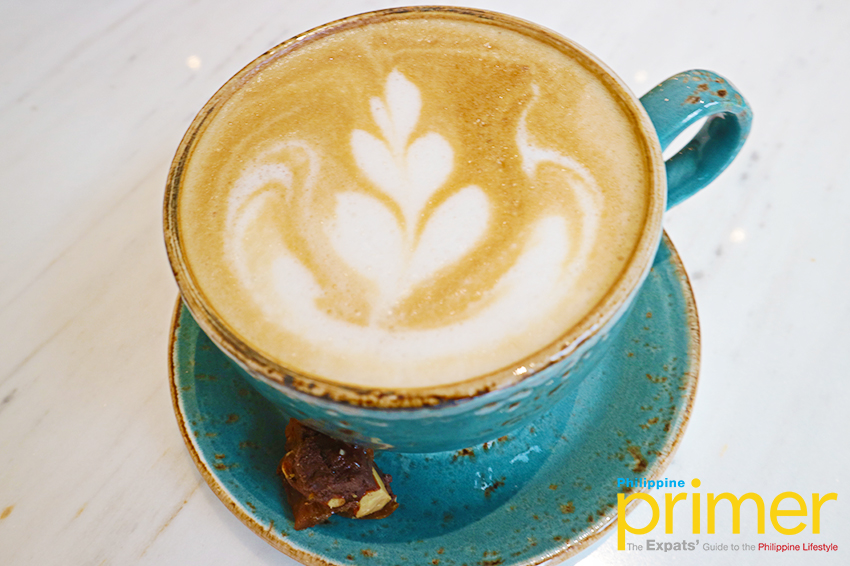 Flat White (Php 145)
Better yet, for starters, try their sourdough bread beside your cup of creamy Farmers Chowder Soup with chunks of quail eggs and bits of fresh Japanese corn. This creamy soup, with just the right pinch of salt, is more than ready to brighten up your day and your palate.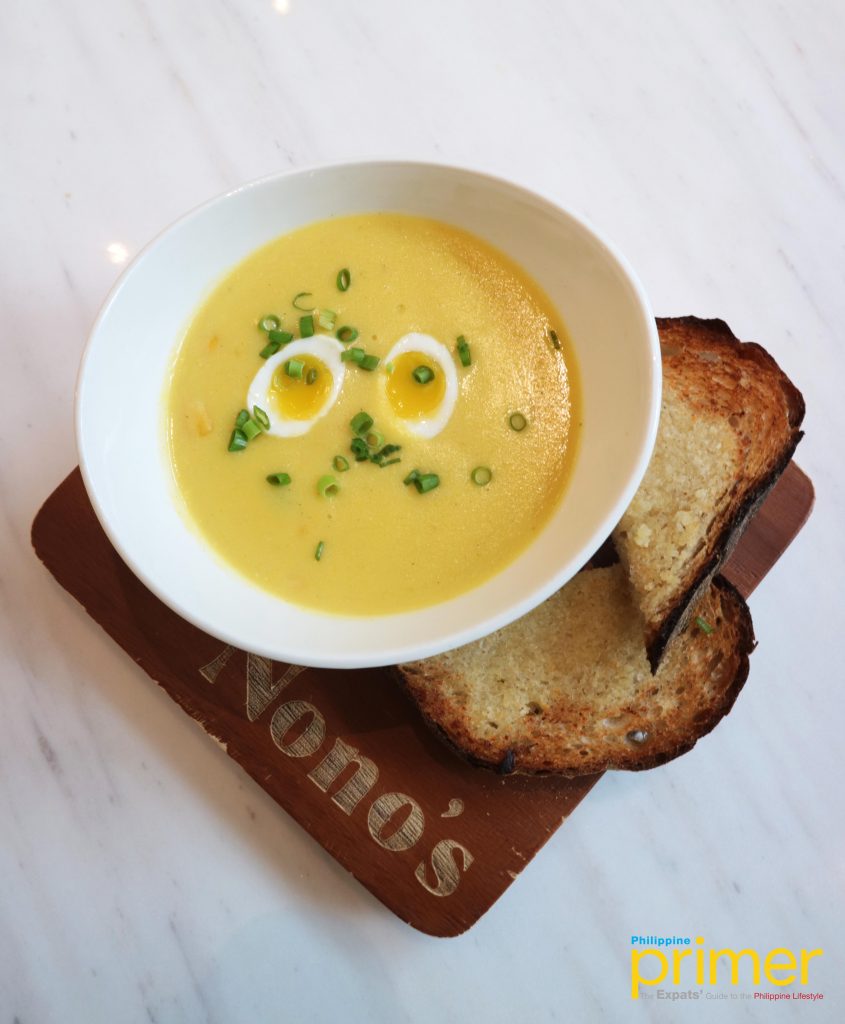 Farmers Corn Chowder Soup (Php 165 a cup)
You may also have a healthy Eggs Benedict, with smoked ham in and poached egg oozing from the side, for breakfast. With the soft bread you can sink your teeth into, the breakfast meal is as easy and as fun to eat by children and adults alike.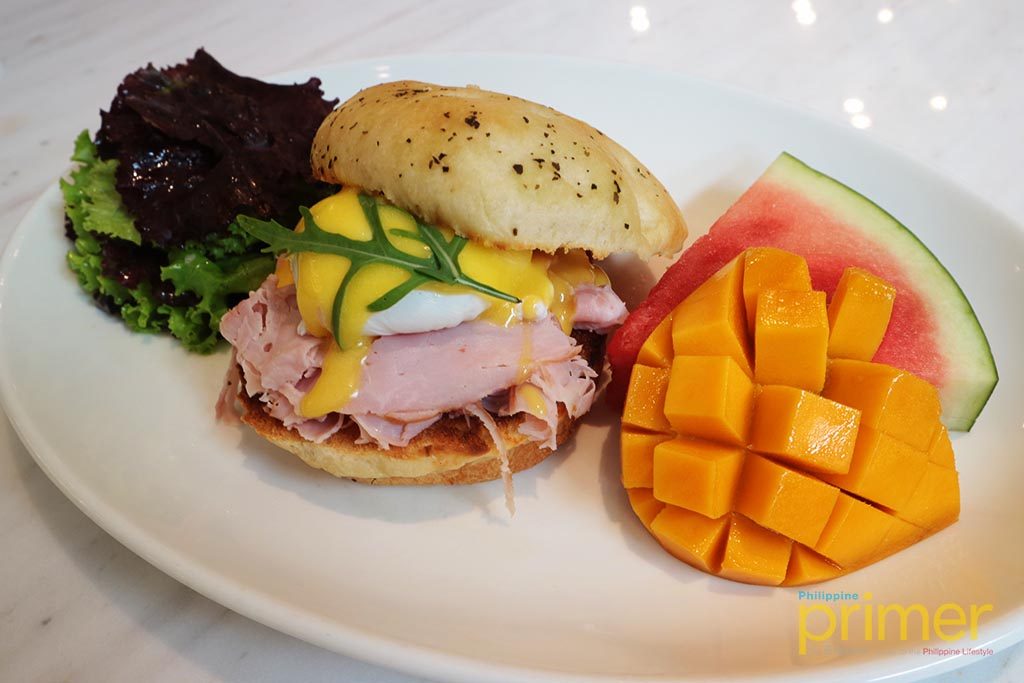 Eggs Benedict (Php 345)
As the restaurant is known to serve plates of food for breakfast and brunch, their Mac 'n Cheese might just be what you are looking for any time of the day. Shells of pasta are cocooned in a bed of Gruyere cheese. This cheese, which originated in Switzerland, will make your taste buds experience a soft, delectable encounter you don't want to miss.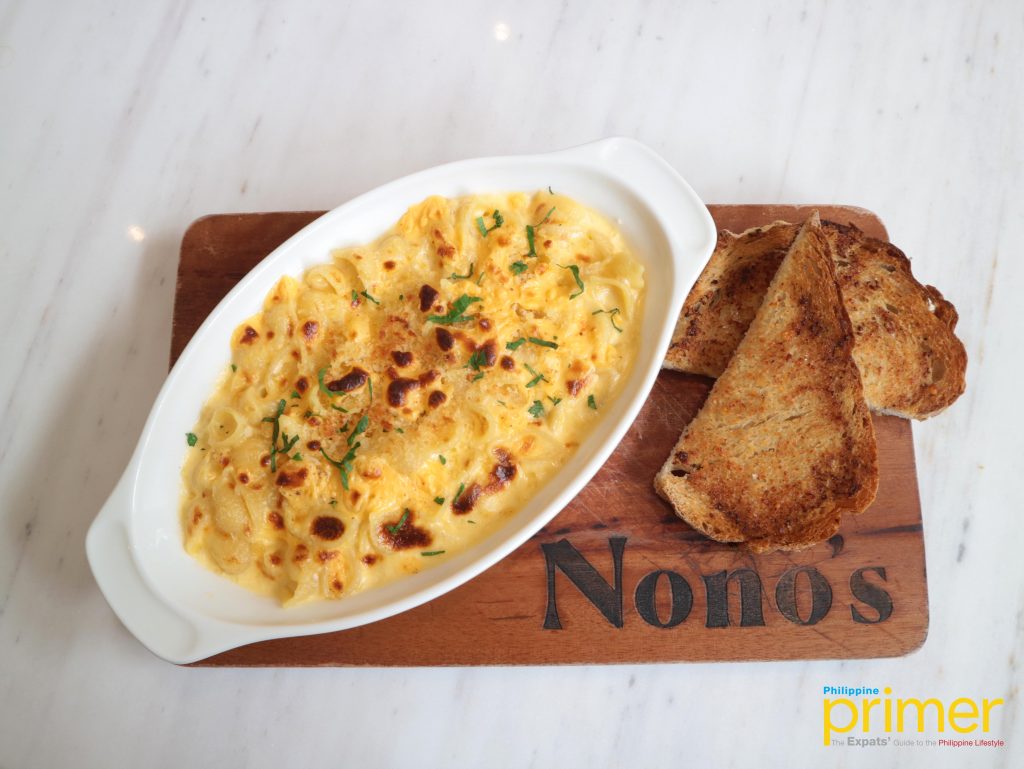 Mac 'n Cheese (Php 395, Add bacon for Php 125)
Now while noon is fast approaching, and you still want to sample a hearty breakfast meal, you and your friends from work may also want to visit Nono's for their Spicy Tuyo (Dried Fish) with Rice.
With a side of salsa, complete with dices of mangoes, tomatoes, onions, and salted egg, which balance the spice and saltiness of the tuyo, the meal tends to bring back memories of childhood in the countryside and might make you drive back home!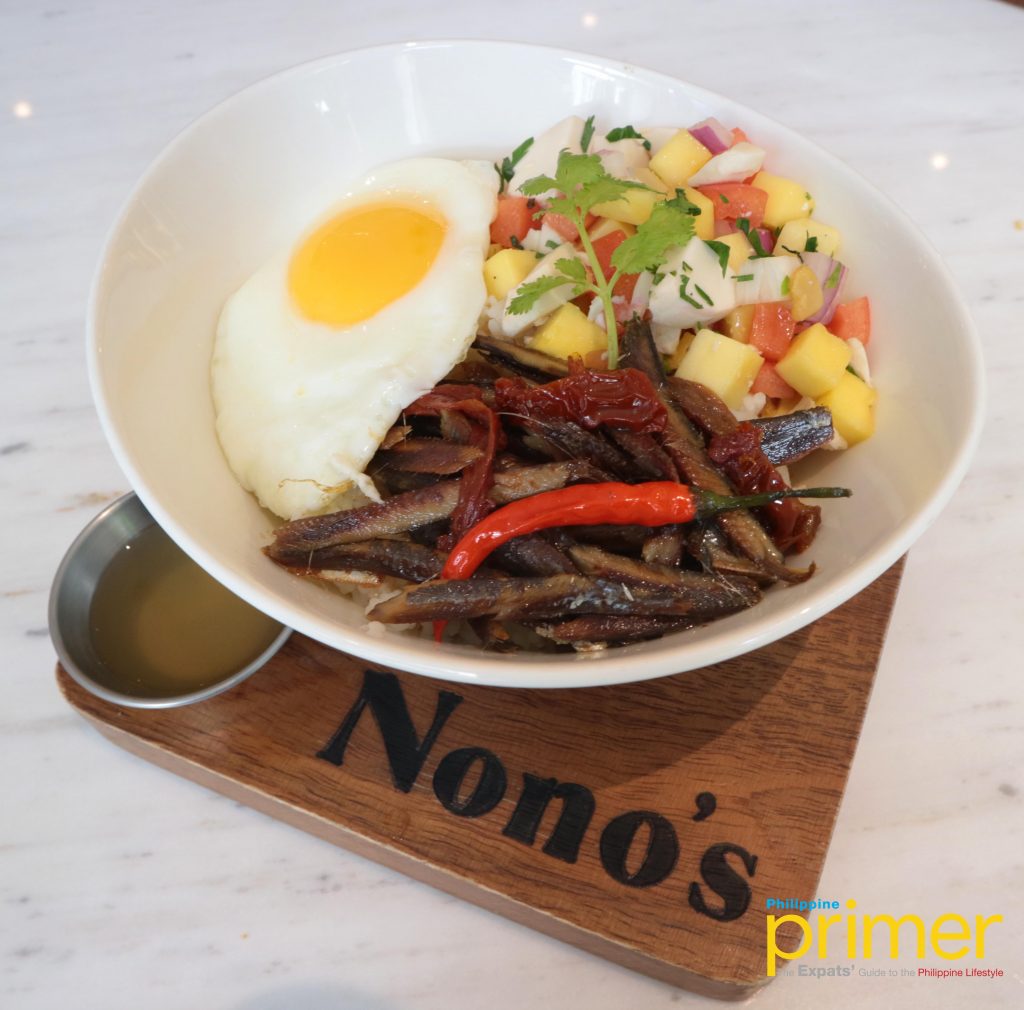 Nono's Spicy Tuyo (Php 365)
Finally, what can drive anyone wild is a mouthwatering serving of Nono's crispy Homestyle Fried Chicken which is complemented well by a dip of gravy or a drizzle of honey. Whether you choose fries or rice to go with it, the crispy chicken is sure to fill your palate with a flavorful crunch and, when munched on deeper, a soft bite of succulent meat you don't have to wrestle with.
Fresh corn on the cob is also served together with a roll of bread.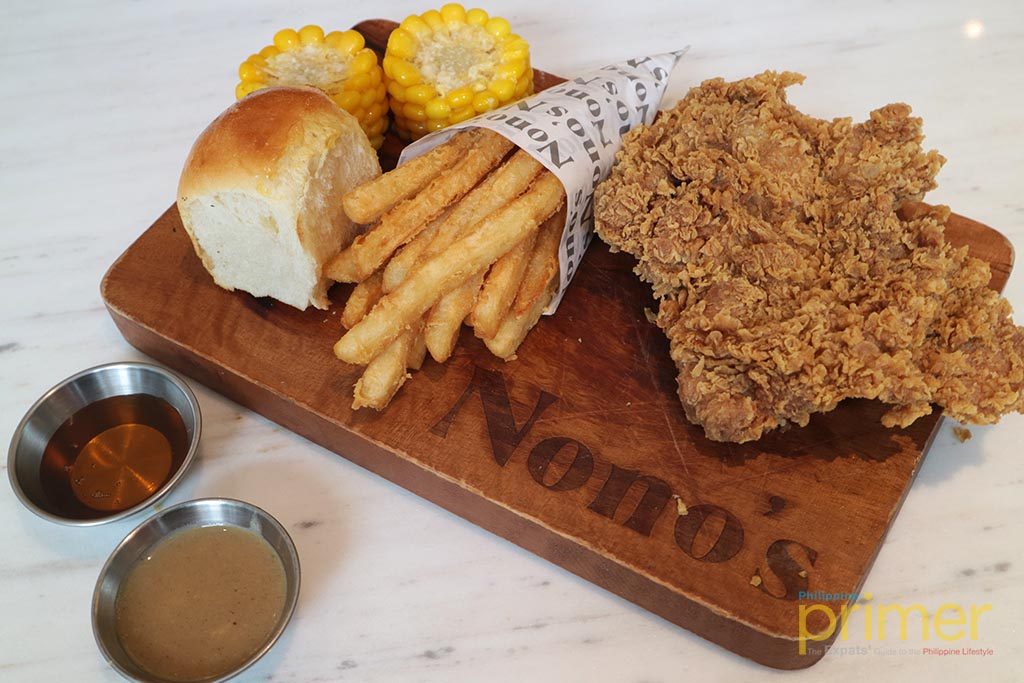 Nono's Homestyle Fried Chicken (Php 325)
Wait, you still have to save room for the much-awaited finale: dessert. For the sweet tooth and lovers of sugary confections, try Nono's Chocolate Oblivion, not too sweet as to give you a toothache.
Silvia's Strawberry Shortcake, which was named after Chef Baba's mom, can also be on the list of your favorites, for those who are a fan of surges of strawberry and not too sweet a confection. According to Chef Baba, what she has in mind for the future includes honoring her mom, Silvia, if given a chance.
Nono's Chocolate Oblivion (Php 155 per piece)
Other sweet treats and baked goodies are also lined up on Nono's shelves and counters as part of the Classic Confections, concocted by Chef Baba herself.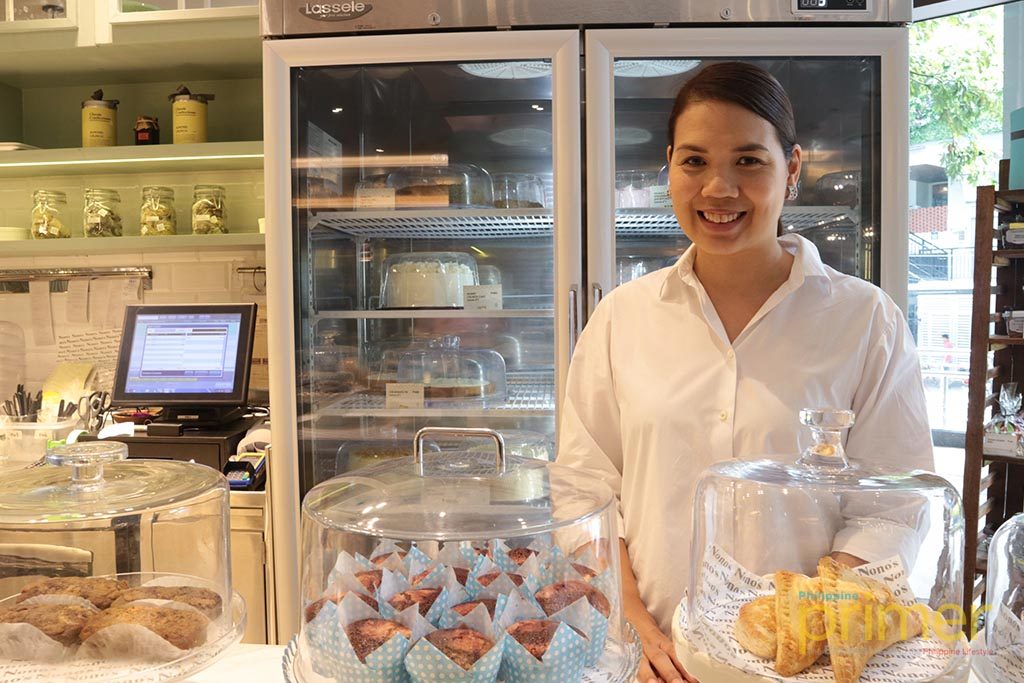 Chef Baba Ibazeta Benedicto of Nono's
Freshly baked butter croissants, for example, sit inside glass-encased trays to keep it fresh and ready for your consumption!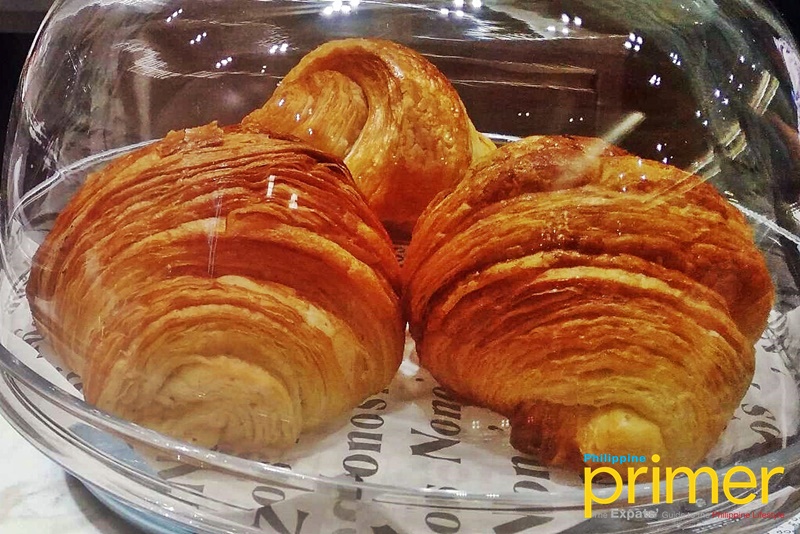 Buttered Croissant (Php 55)
Tip: Baked goodies are delivered every Tuesday, Friday, and Sunday!
If you want to experience a fusion of Filipino, American, and continental recipes, elevated from regular comfort food to an extraordinary one, try Nono's– a journey to Chef Baba's memorable childhood and family life.
How to get here
• By car, Three Central is only 10 to 12 minutes from EDSA via Ayala Avenue. There is a pay parking space available across the street as well as in Three Central's basement.
• By foot, Three Central is an easy 20-minute walk from Greenbelt.
General Information
G/F, Three Central, Valero St., Salcedo Village, Makati City
02-7901-6748
10 am to 10 pm
nonos@tastematters.com.ph
Level 1, Phase 1B, U.P. Town Center Katipunan Ave., Diliman, Quezon City
02-7958-5713
Second Level, The Podium Mall, 12 ADB Ave., Ortigas Center, Mandaluyong City
02-8637-5147
11 a.m. to 10 p.m. (Mon to Thu), 10 a.m. to 10 p.m. (Fri to Sun)
UG/F, Expansion Wing, Festival Mall, Filinvest City, Alabang, Muntinlupa City
02-8247-7980
7 a.m. to 9 p.m. (Sun to Thu); 7 a.m. to 10 p.m. (Fri to Sat)
L/G Glorietta 2, Glorietta Complex, Ayala Center, Makati City
02-7900-1225
7 a.m. to 9 p.m. (Sun to Thu); 7 a.m. to 10 p.m. (Fri to Sat)
G/F Solenad 3, Building E, Nuvali, Sta. Rosa City, Laguna
049-258-0539
11 a.m. to 9 p.m. (Mon to Fri); 10 a.m. to 10 p.m. (Sat); 10 a.m. to 9 p.m. (Sun)