Stacy's Home Café BGC: Taking You Back to the Vintage 90s
Retro-American restaurant Stacy's Home Cafe will impress you with its vintage vibe, boasting custom-made aesthetics and IG-worthy spots. The interior features treasured mementos that will give you a picture perfect idea of what it's like in the 90s, such as portraits of Marilyn Monroe, vintage radios, and toys.
Owned by Stacy's Concept Dining Inc, Stacy's first branch was established in June 2011 at Capitol Hills, Quezon City before they branched out to Forbestown Center, Bonifacio Global City.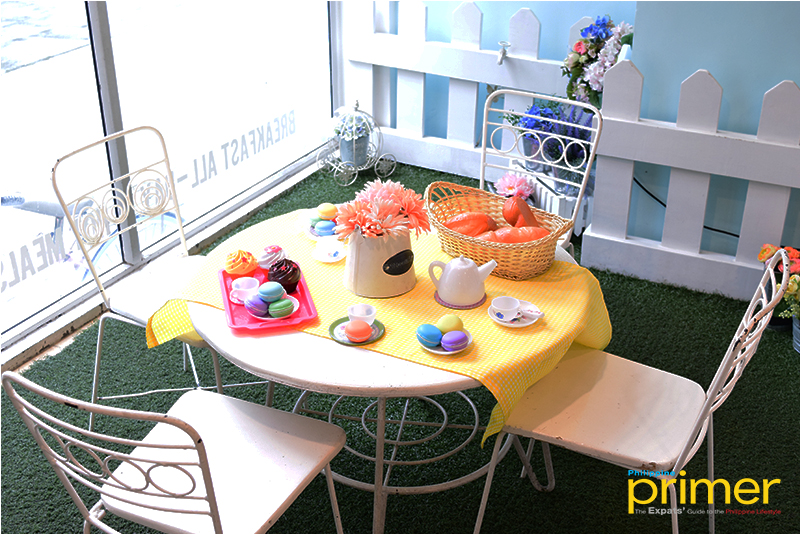 Stacy's Home Cafe ground floor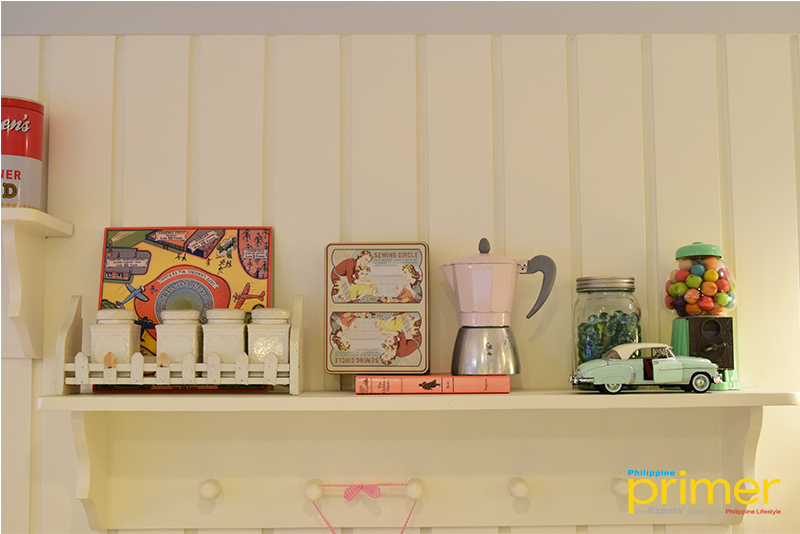 Stacy's vintage decoration 
More than the picturesque interior, Stacy's also features mouthwatering food–all thanks to Aby Nachura, former head of Del Monte PH Test Kitchen, for the restaurant's special recipes.
Meanwhile, Angelique Castro is responsible for Stacy's creative direction. The restaurant's name "Stacy" was inspired by her grandmother as she lived for an astounding 102 years, serving as a reflection of her joyous life.
Hence, this adorable cafe is perfect for special occasions like birthdays, parties, and more.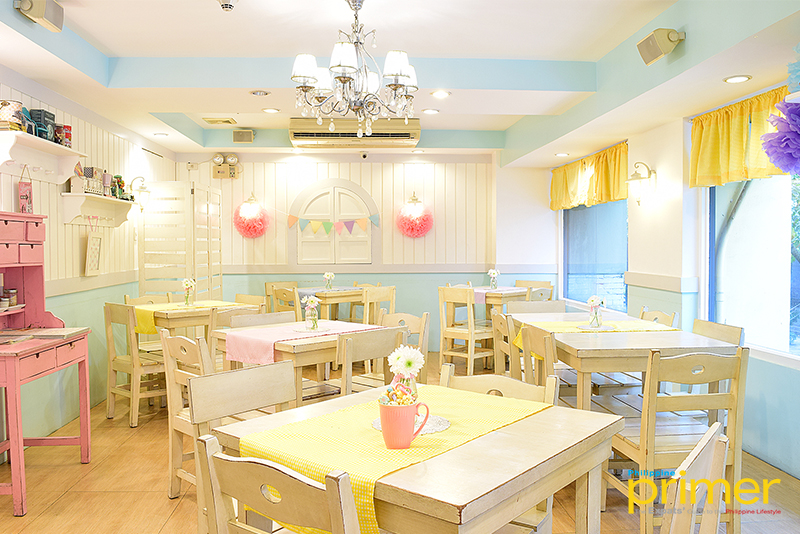 Stacy's Home Cafe 2nd floor dining area
For your breakfast food cravings, Stacy's Home Cafe is the place to be. They offer all-day breakfast menu, with a wide variety of desserts. They even have cute menu names: All Day Breakfast Hooray, Lovin' Spoonfuls, Ready Spaghetti, After Brunch Specials, Everyday Soups & Greens, and Little Miss Stacy's.
One of the restaurant's recommended choice from the All Day Breakfast Menu is the Big Breakfast Banger (Php 235). A full breakfast serving comprised of a french toast sandwich topped with sugar dust, sided with fries, a creamy scrambled egg jumbled with grilled sausages, onions and springs, and pepper. Lastly, a cup of fresh fruits is the best ending to this light but savory meal.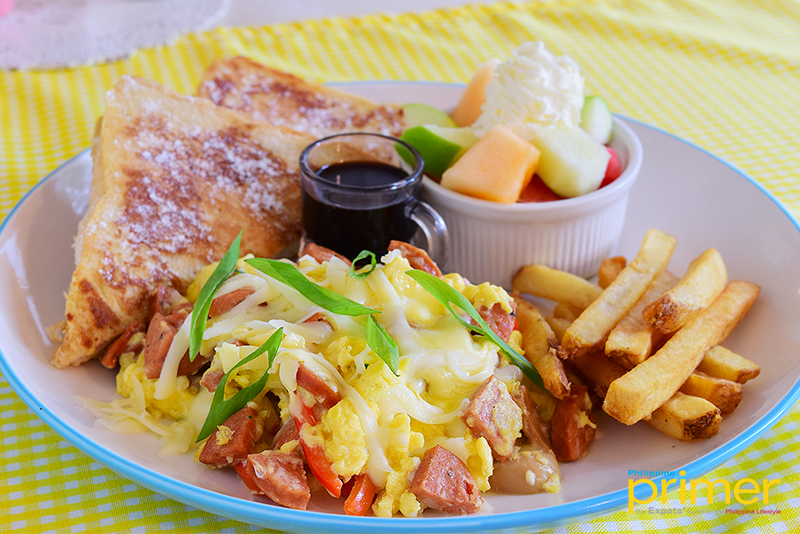 Stacy's Big Breakfast Bangers (Php 235)
For your sweet tooth, their handcrafted milkshakes (Php 125) will not disappoint as the flavors are so good they will melt in your mouth. The kids will especially love them!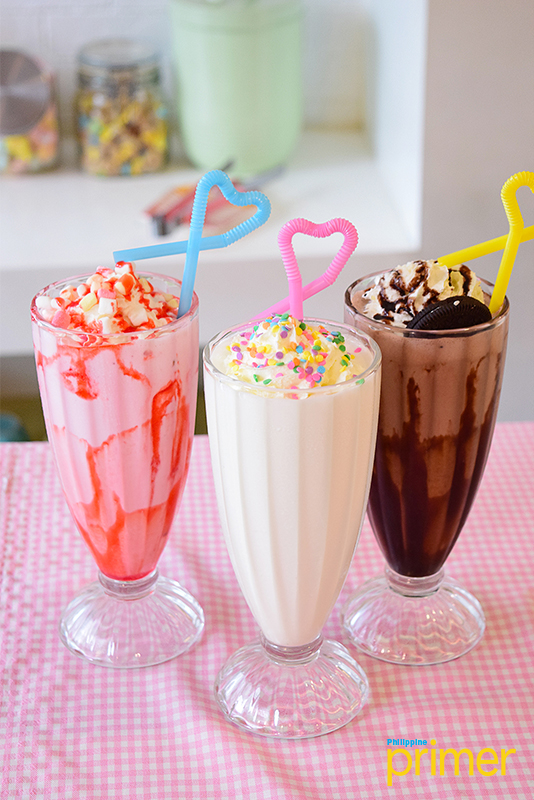 Stacy's handcrafted milkshakes (Php 125)
Another must-try is their Stacy Jones' Tapa that costs (Php 240). From a Filipino perspective, it would seem like a common tapa serving of beef, garlic rice, and scrambled egg. What makes Stacy Jones' Tapa stand out is that it is made with a secret marinade that bursts in flavor.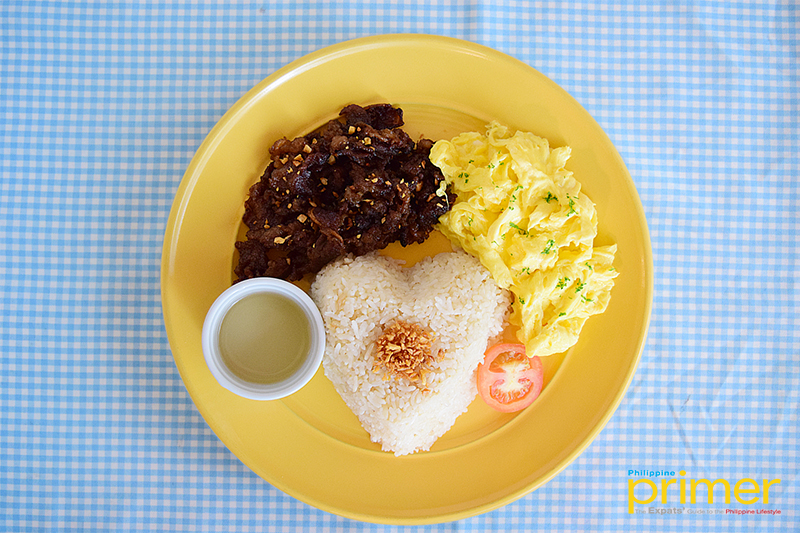 Stacy Jones' Tapa (Php 240)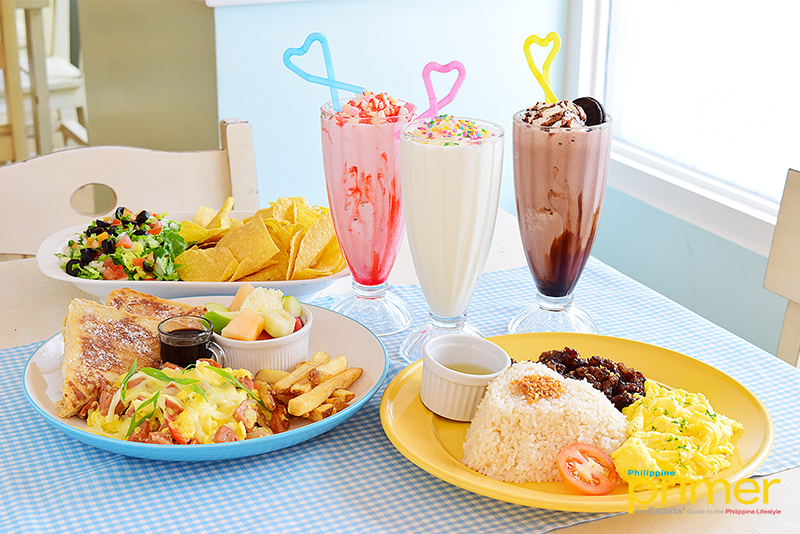 Stacy's must try: Stacy Jones Tapa (Php 240), Real Deal Nachos (Php 275) and Big Breakfast Bangers (Php 235)
Aside from the menu, they also offer special buffet style for private events, and the ever-loved Stacy's Party Boxes–featuring Bacon & Mushroom Carbonara, Dear John Sardine Pasta, Stacy's Spaghetti with Meatballs, Spicy Lemon Shrimp Scampi with Angel Hair, Layered Sausage & Potato Pie, Texas Barbeque Ribs, Homebakes Chicken Parmesan, and Martha's Potroast. The Stacy's Party Boxes are available for pre-order, but make sure to order one to two days before you drop by.
Every occasion spent with Stacy's is surely worth-reminiscing for the years to come!
For more inquiries regarding the bookings or reservations, email them at stacyshomecafe@gmail.com or call 02-952-6843 or 02-555-0140. Reservations for big groups with special orders must be booked 3 days prior to the expected date. Stacy's also strictly follows the first come, first serve basis on holidays.
General Information
F110 Forbestown Center, Rizal Drive, Bonfacio Global City, Taguig City
02-555-0140
8 a.m. to 9 p.m.
Cash or Card (Visa/Mastercard)
stacyshomecafe@gmail.com
1 Capitol Greenstreet, Capitol Hills, Quezon City
02-952-6843