Starbucks Reserve Philippines: Ultra-Premium Coffee Experience by Starbucks
Starbucks elevates one's coffee experience by bringing Starbucks Reserve to select stores in Metro Manila. Starbucks Reserve offers an "ultra-premium coffee experience" where coffee is an art and its origins make up a beautiful story which a conversation between the Starbucks Coffee Master and the individual revolves around.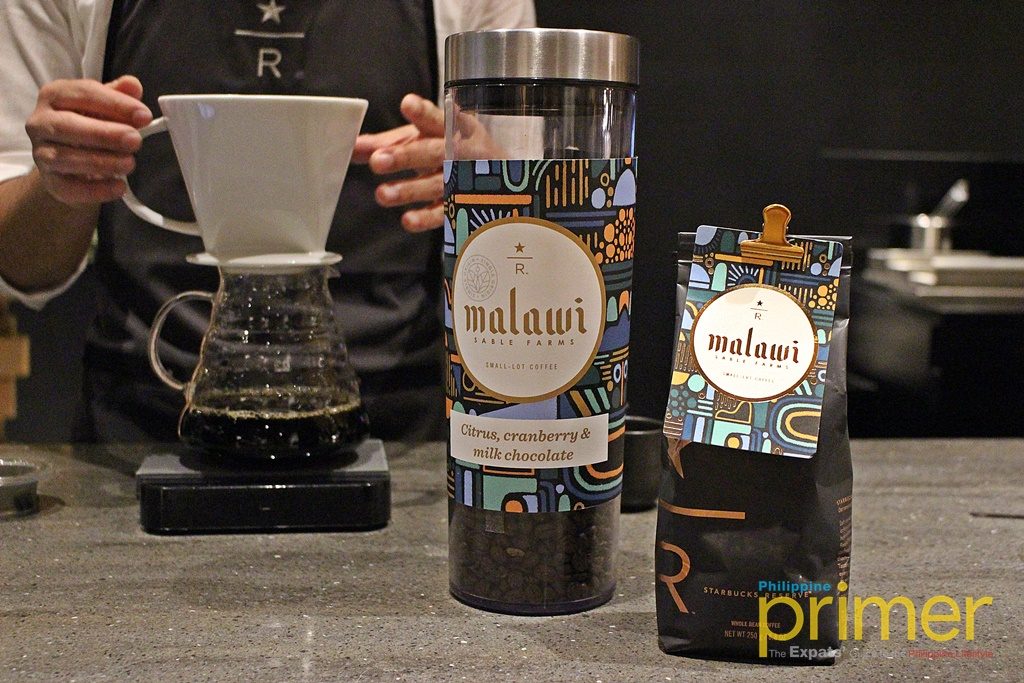 The concept of Starbucks Reserve first materialized in the form of a Roastery in Seattle, Washington, the birthplace of Starbucks. Starbucks Reserve Roastery was built as a place to showcase rare small-lot coffees and foster a true passion for coffee. Soon after, Starbucks Reserve stores opened around the world.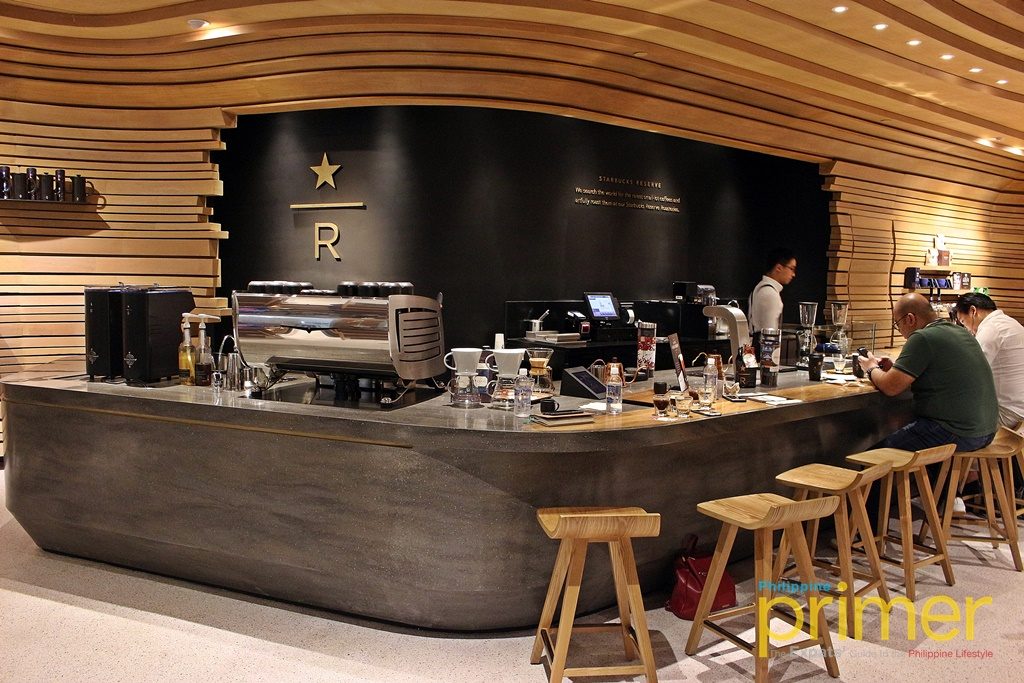 Starbucks Reserve Power Plant Mall opened in December 2017.
The global coffee brand's offering to third-wave coffee drinkers, Starbucks Reserve first launched in the Philippines in 2014 and now has 12 stores in Metro Manila.
Also read: Understanding the 3 Waves of Coffee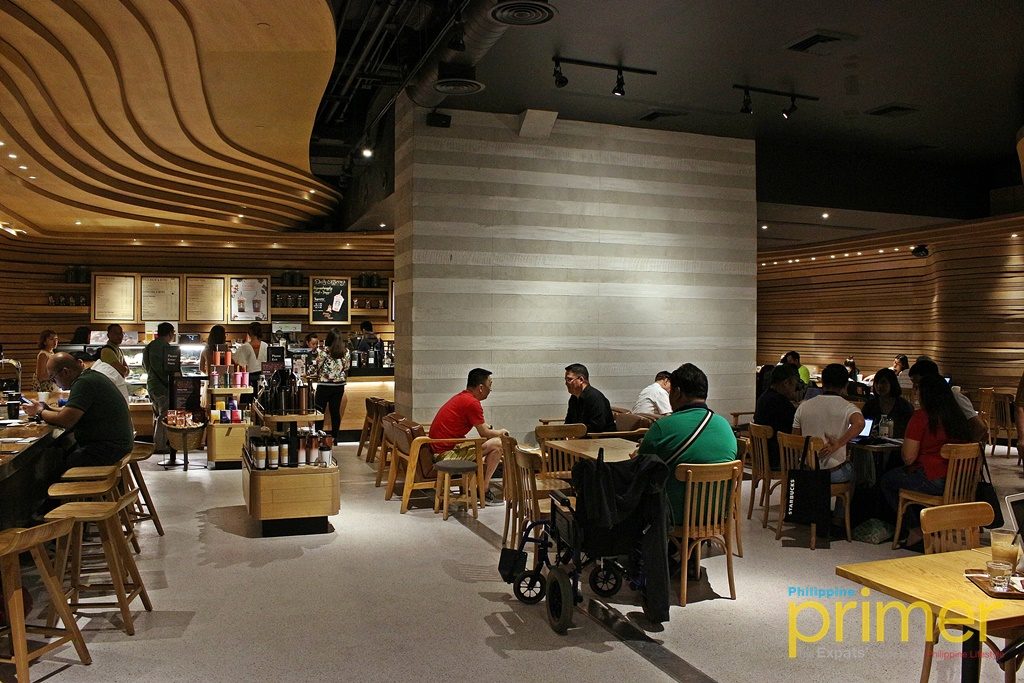 Starbucks Reserve features a cozy and chic wooden interior design. 
Starbucks Reserve's ultra-premium coffee experience is centered on process, product, engagement, and presentation as its four pillars.
The coffees offered are exclusive, exotic, and rare in quantity, shedding light on the small-lot farms and the people behind them. Currently, seven small-lot coffees with different origins and flavor profiles are available in Starbucks Reserve stores in Metro Manila. Availability varies per store; for instance, the Power Plant Mall branch has El Salvador Montecarlos Estate, Malawi Sable Farms, Peru La Capilla, and Rwanda Musasa at the time of our visit.
Also read: Types of Coffee that Grow in the Philippines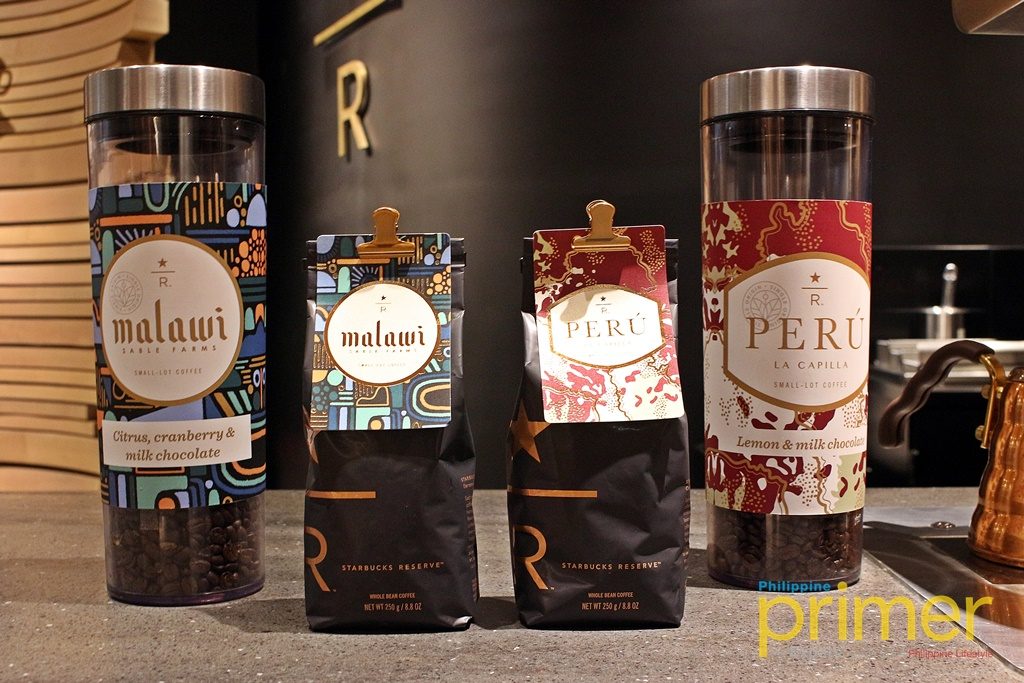 Each Starbucks Reserve showcases such manual brewing methods as Pour-Over, Chemex, and Siphon, which highlight different flavor profiles.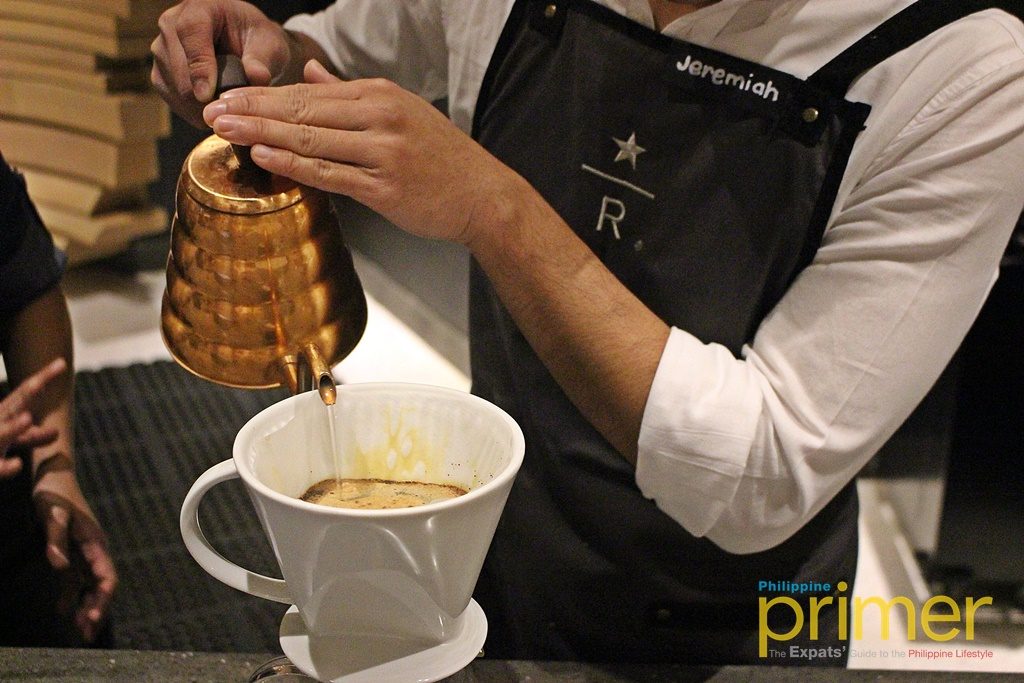 Pour-Over takes 3-4 minutes and produces a smooth and rich cup of coffee—if done right.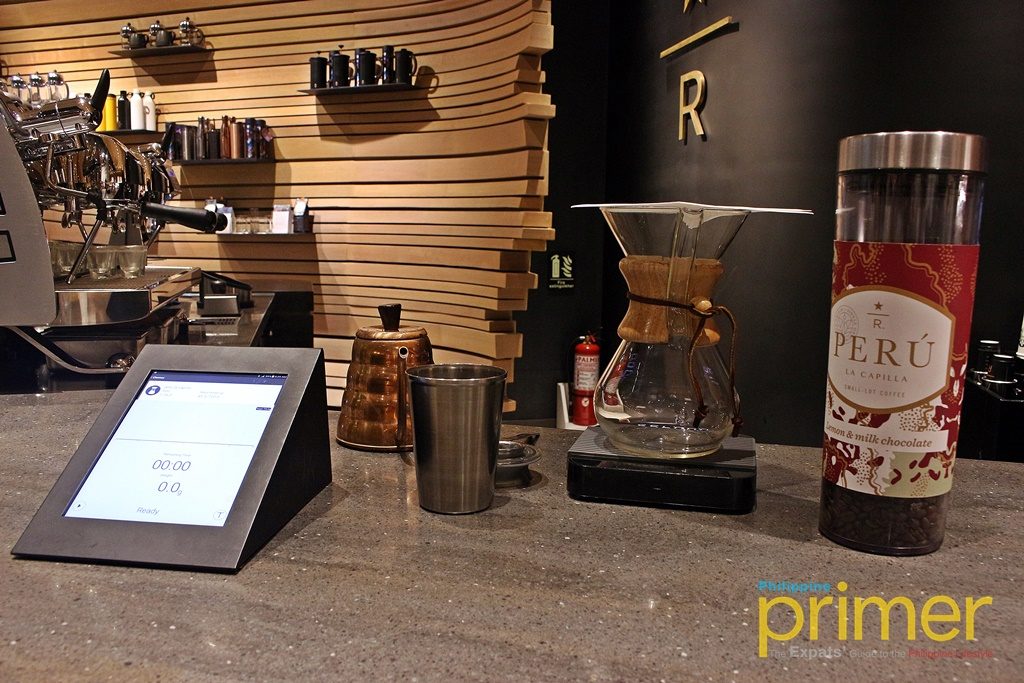 Chemex takes 7-9 minutes and produces a smooth and clean-tasting brew.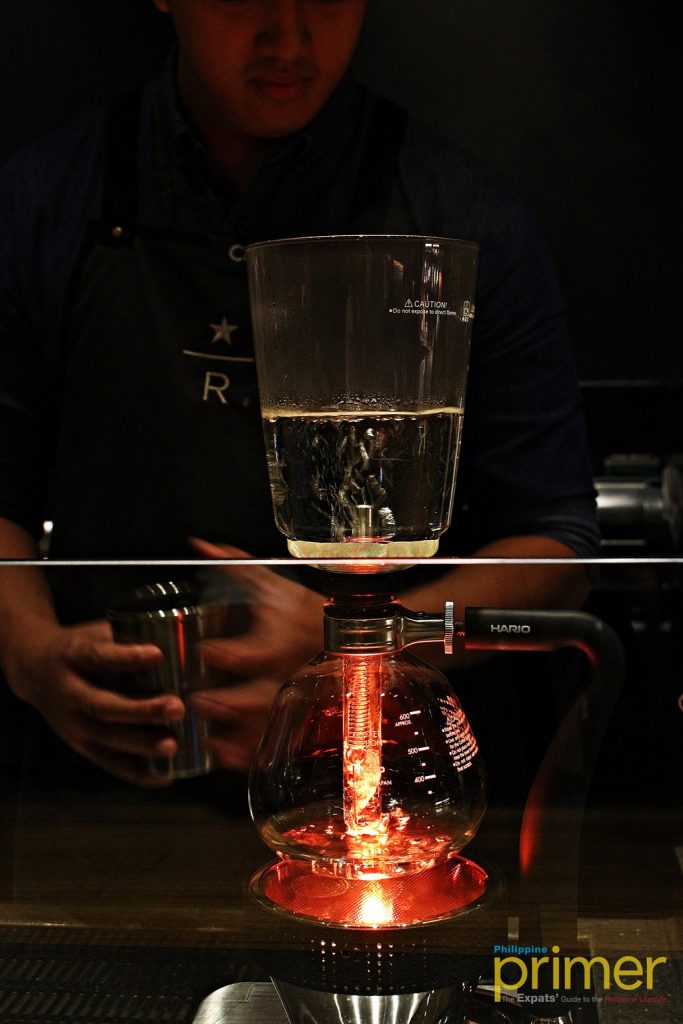 Siphon, which is known for its theatrical appeal, takes 9-14 minutes and creates a clean and balanced brew.
Also read: The Brewing Methods You'll Find in Today's Coffee Shops
Even the people behind the coffee bar are not your usual Starbucks barista. Differentiated by their black aprons, they have undergone training and certification to become Starbucks Coffee Masters, people who have taken their craft to the next level and mastered the art of manual brewing and telling great coffee stories.
You may hear the story, for instance, of the smallholders of La Capilla that have worked to cultivate coffee in the small land they own, a place that is miles away from any bustling city in Peru, or of Carlos who has managed through coffee rust to share a special kind of coffee grown around a dormant volcano in El Salvador—and how these stories have touched the Starbucks Coffee Master on a personal level.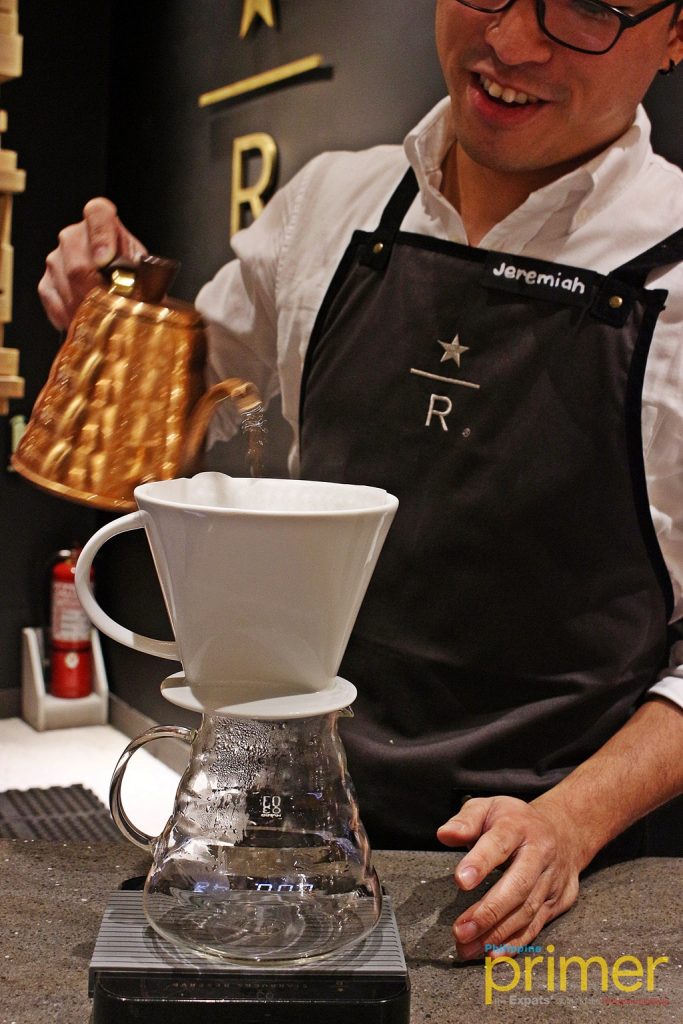 There is a new level of experience achieved by watching the manual brewing process and getting a sip of the coffee, all while having a conversation with the Starbucks Coffee Master. You learn about the coffee, the process, and the origin, and ultimately share their passion.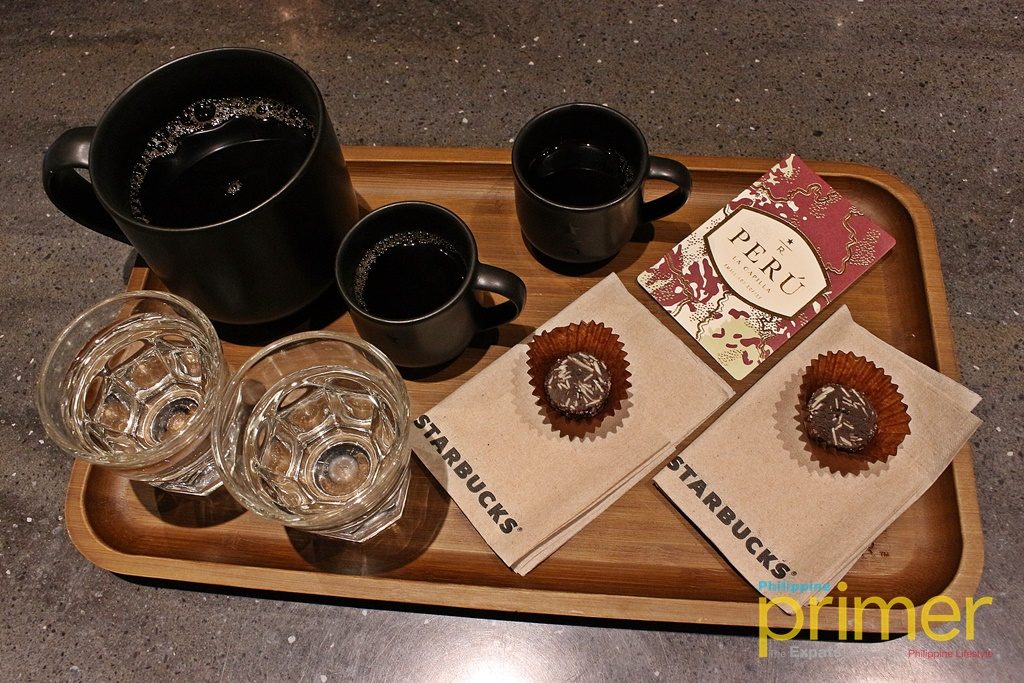 Ready for tasting—freshly brewed Peru La Capilla (Php 155/12 oz. – Pour-Over; Php 175/12 oz. – Siphon; Php 170/16 oz. – Chemex; Php 175/16 oz., Php 275/32 oz. – Coffee Press)
That coffee tasting is somewhat like a wine flight is amusing. Just like a wine flight, coffee tasting starts with smelling the coffee. You slurp it, and then "locate the experience in your tongue," which is to say that you try to recognize the body, the acidity, and the overall flavor of the coffee.
Of course, people's palates are tuned differently—some have an unrefined palate, while some are sensitive even to the most subtle of flavors. Taking your time and allowing the coffee to sit in your mouth and tongue will let you somewhat identify something, somewhere in your palate.
Sitting at the coffee bar at a Starbucks Reserve creates a greater awareness and a deeper understanding of coffee in its purest form—no creamer, no sugar, no flavoring. It is also a perfect transition for people with a sweet tooth to go from sugary coffee to the healthier black or unsweetened coffee.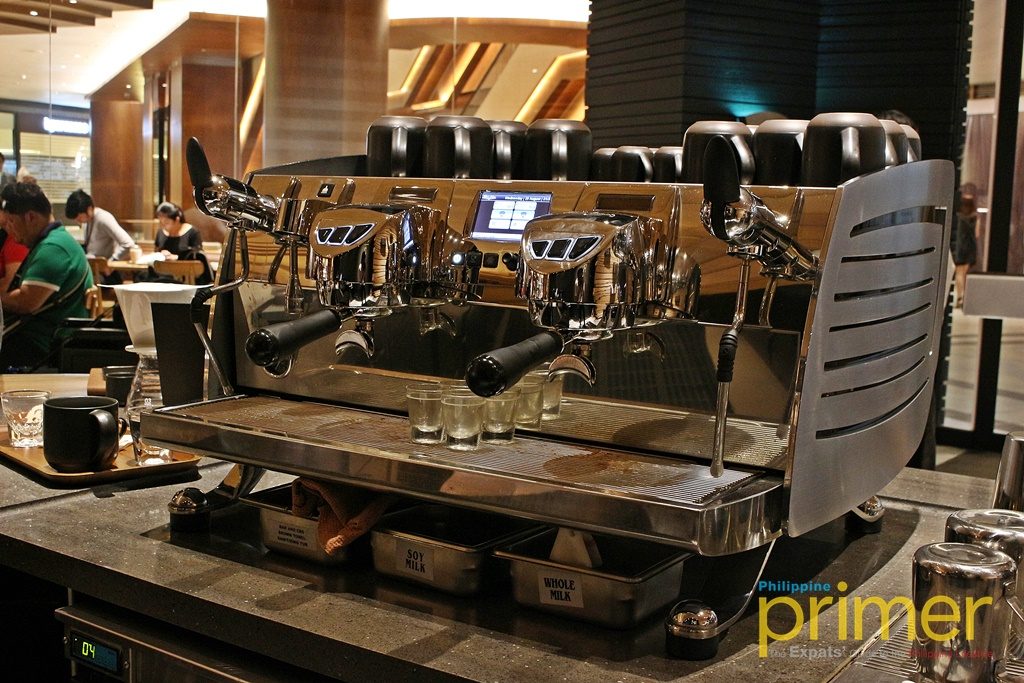 Select Starbucks Reserve Stores are housing a Black Eagle Espresso Machine.
In select Starbucks Reserve stores, you can taste Starbucks Reserve Coffees in espresso-based beverages like Caffe Latte and Vanilla Bean Latte. Four Starbucks Reserve Stores are housing a Black Eagle Espresso Machine which is exclusively used for Starbucks Reserve Coffee.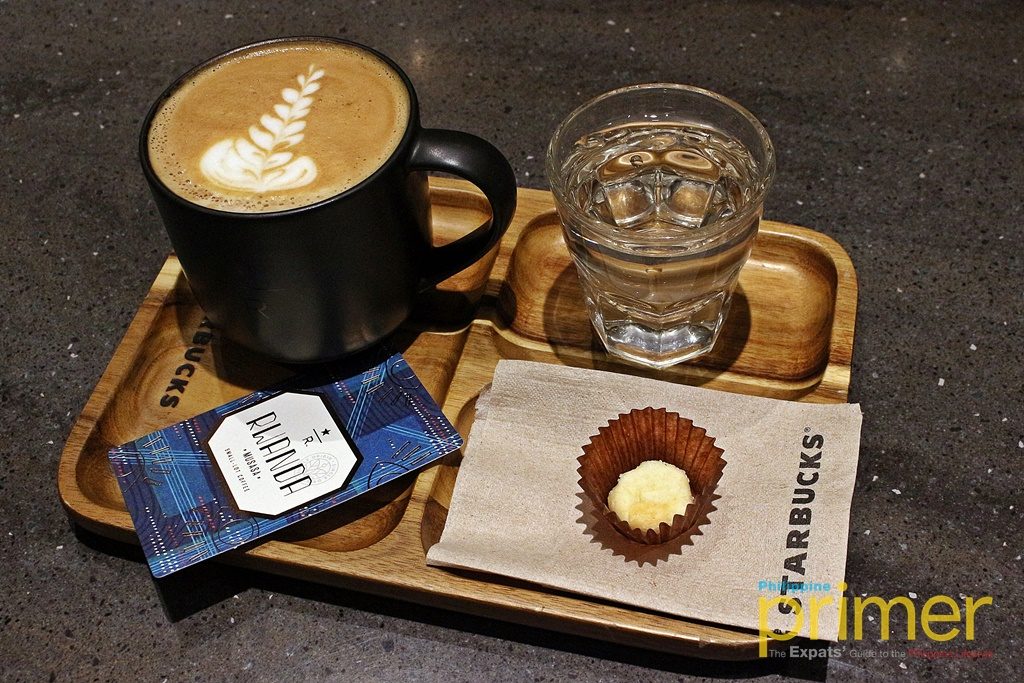 Caffe Latte (Php 180 tall; Php 195 grande) — Starbucks Reserve Rwanda Musasa espresso with steamed microfoam milk and finished with a latte art.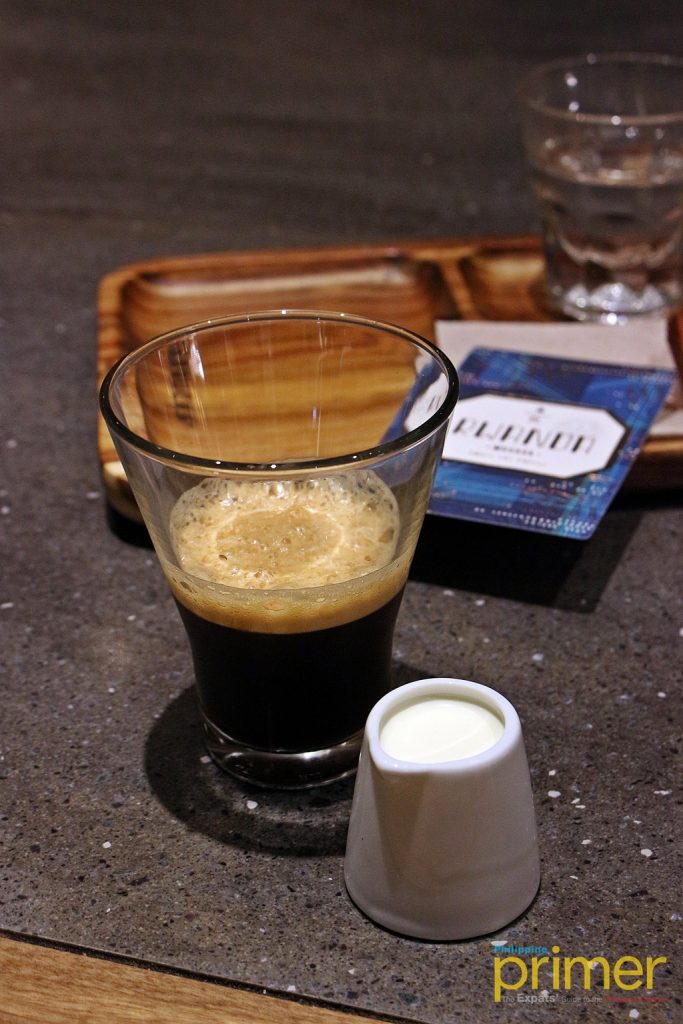 Shakerato Bianco Deconstructed (Php 210) — Starbucks Reserve Rwanda Musasa espresso shaken with ice, demerara syrup, and served with 1/2 oz. sweet cream.
Starbucks Reserve also offers an exclusive food menu to match your cup of Starbucks Reserve Coffee.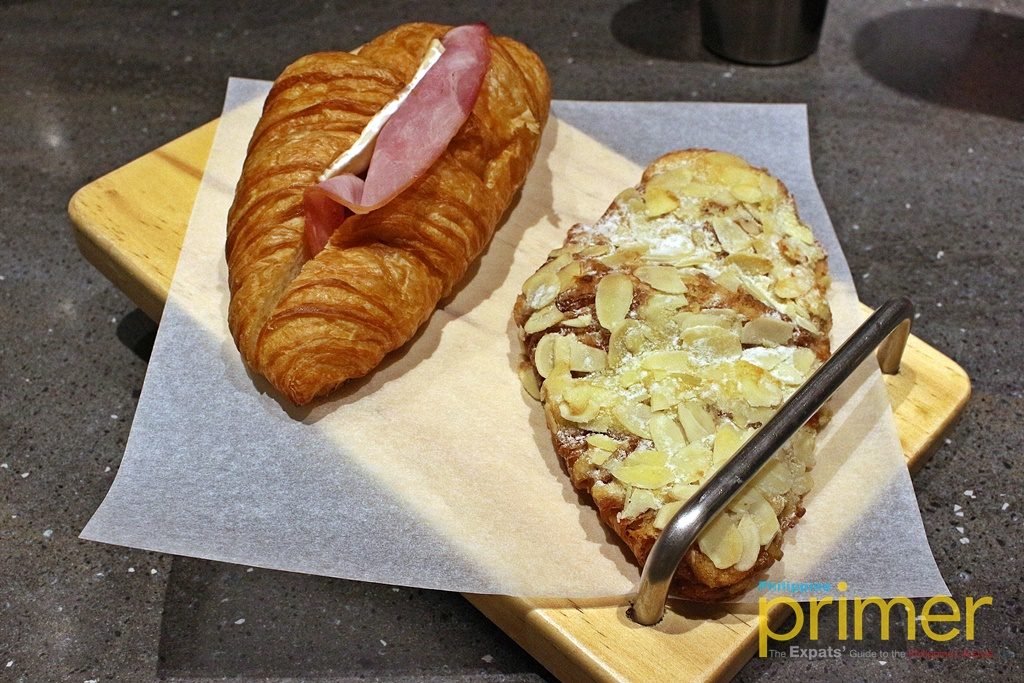 Smoked Ham and Brie in French Butter Croissant (Php 120), Almond Croissant (Php 105)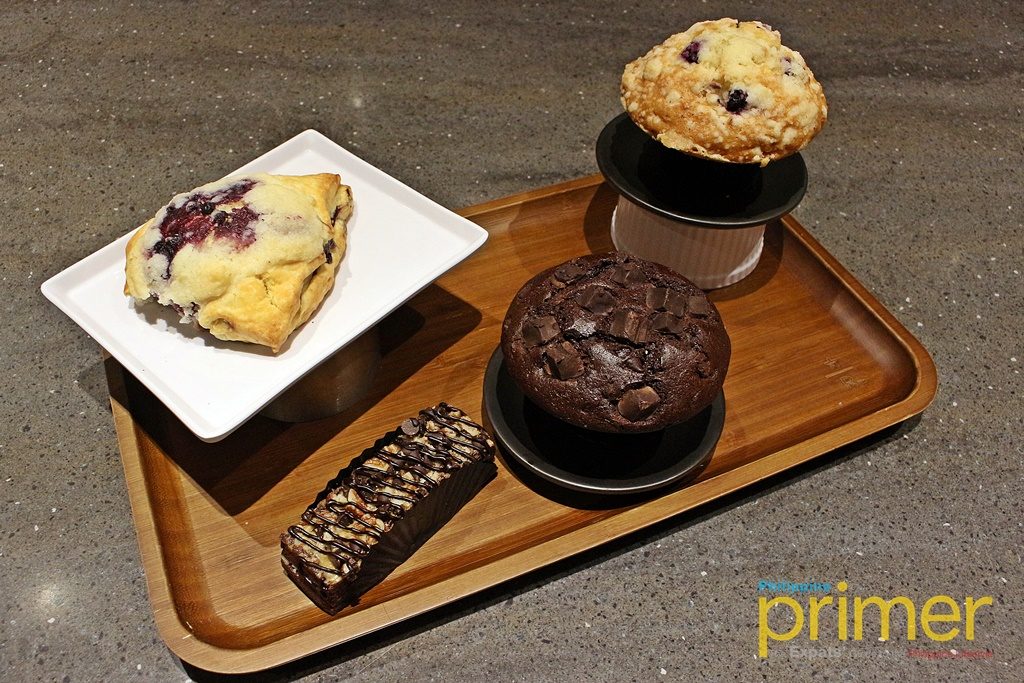 Blueberry Scone (Php 90), Turtle Pie Brownie (Php 65), Double Chocolate Muffin (Php 95), Blueberry Muffin (Php 95)
There's also a collection of Starbucks Reserve merchandise in elegant colors that symbolize the coffee community.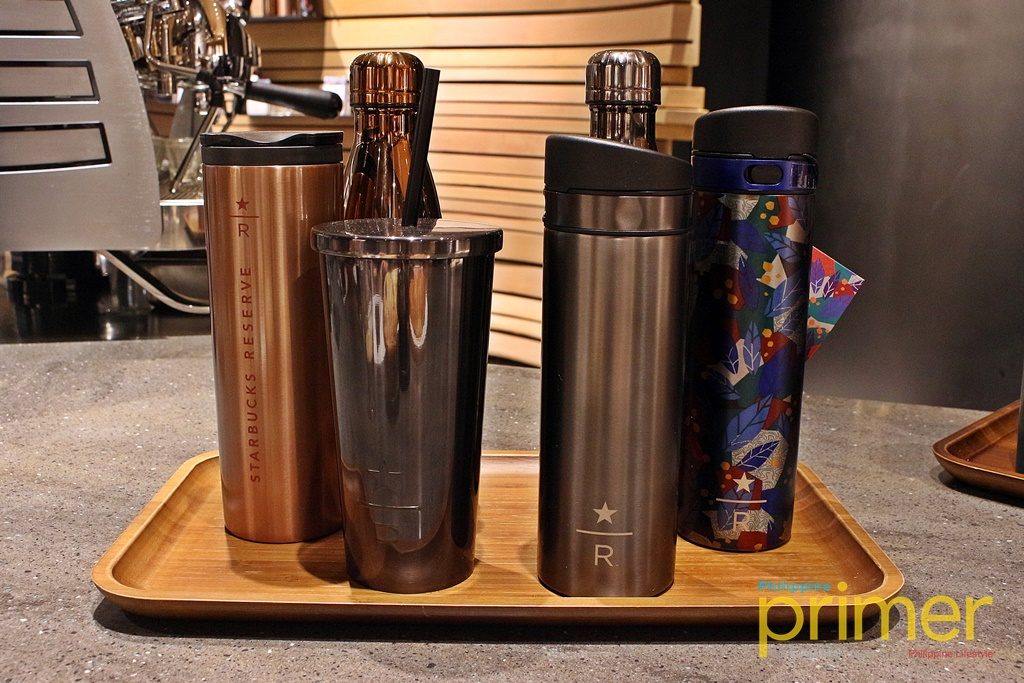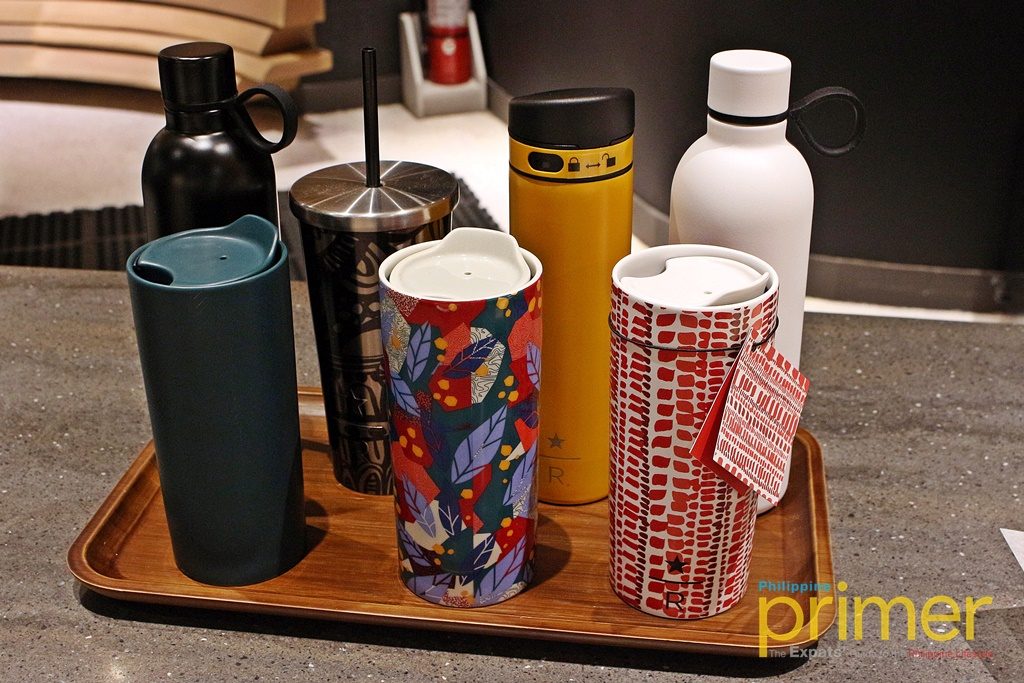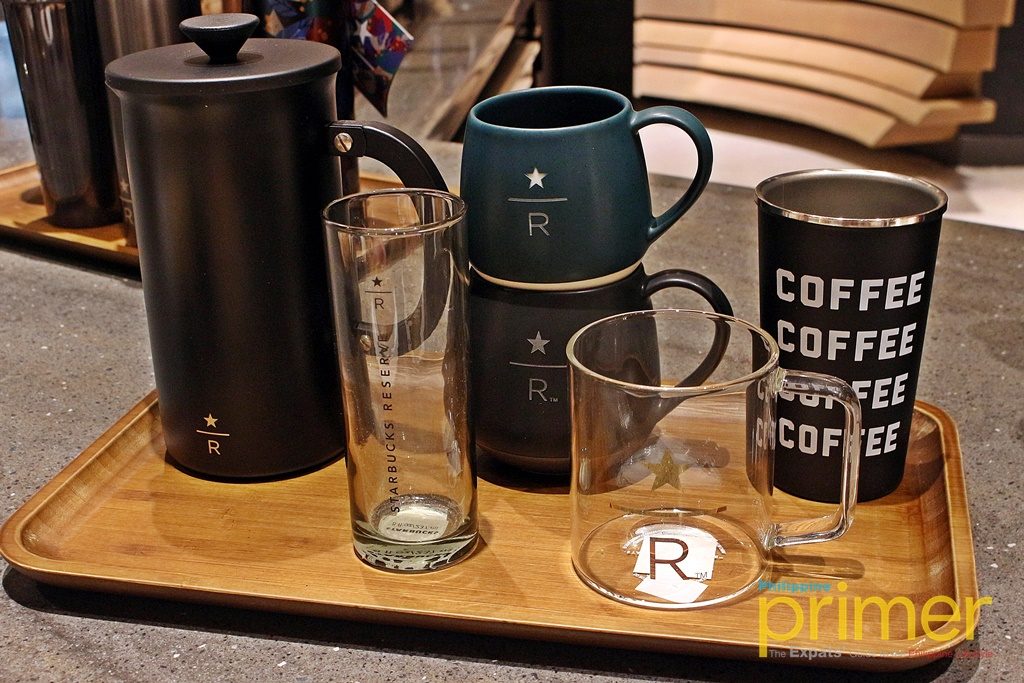 Starbucks Reserve is a special place that is ideal for those who have time to spare on or after a workday or on a day-off because Starbucks Reserve Coffee is not as quick and convenient as your regular Latte or Frappuccino, but it is definitely worth one's time.
Also read: The Miracle Brew: 6 Facts and Myths About Coffee
Starbucks Reserve Stores:
1. #14 Jupiter St., Bel-Air Village, Makati City
Operating hours: 6 am to 12 am (Mon to Fri); 7 am to 9:30 pm (Sat)
2. R1-162, Power Plant Mall, Rockwell Center, Makati City
Operating hours: 7 am to 12 am
3. Signa Designer Residences, Tower 1, Valero St. cor. Rufino St., Makati City
Operating hours: 6 am to 12 am (Mon to Fri)
4. G/F Stratosphere Building, Valero St., Makati City
Operating hours: 6 am to 12 am (Mon to Fri); 7 am to 11 pm (Sat to Sun)
5. G/F EX 121-123 Podium Mall Expansion, Julia Vargas Ave., Ortigas Center, Mandaluyong City
Operating hours: 6 am to 11 pm (Mon to Fri); 7:30 am to 11 pm (Sat); 8:30 am to 11 pm (Sun)
6. G/F S'Maison, Coral Way, Mall of Asia Complex, Pasay City
Operating hours: 8 am to 11:30 pm (Mon to Thu); 8 am to 12:30 am (Fri to Sun)
7. G/F The Sapphire Bloc Phase 1, Sapphire Rd., Ortigas Center, Pasig City
Operating hours: 6:30 am to 1:30 am (Mon to Thu); 6:30 am to 2 am (Fri); 7 am to 1 am (Sat)
8. 212 Tomas Morato Ave. cor. Dr. Lazcano St., Quezon City
Operating hours: 6:30 am to 3:30 am (Mon to Thu); 6:30 am to 12 am (Fri); 12 am to 12 am (Sat); 5 am to 3:30 am (Sun)
9. Forbes Town Center, Burgos Circle, BGC, Taguig City
Operating hours: 6 am to 12 am (Mon to Thu); 6 am to 1:30 am (Fri); 6:30 am to 12:30 am (Sat); 6:30 am to 11 pm (Sun)
10. UG/F Central Square, Bonifacio High Street, BGC, Taguig City
Operating hours: 11 am to 10 pm (Sun to Thu); 11 am to 11 pm (Fri to Sat)
11. Westgate Center, Commerce Ave., Alabang, Muntinlupa City
Operating hours: 6 am to 1 am
12. Three E-com Center, Seaside Blvd. cor. Ocean Dr., Mall of Asia Complex, Pasay City
Operating hours: to be updated
---
Written by Rei Leaño

Store Information