10 Reasons Why You Should Spend Christmas in the Philippines
10 Reasons Why You Should Spend Christmas in the Philippines
Christmas is – just as what that famous popstar sang in his holiday chart topper – the most beautiful time of the year. It's when everything that looked plain on an ordinary day suddenly lights up and brightens the whole area. It's when you hear Mariah Carey belting to "All I Want for Christmas is You" as soon as you enter the mall…on a September.
If you're thinking whether or not to stay here during the Holidays, Primer PH lists down a number of reasons why you should at least see how the Filipinos spend Christmas.
Photo by Eddie Mar Rico
Longest Christmas Season
Filipinos celebrate the Christmas season from the first day of September up until the Feast of the Three Kings(January 6). As soon as the "-Ber months" start, people start counting down to Christmas, decorating their homes and offices with anything that relates to Christmas.
Simbang Gabi
Simbang Gabi/ Misa de Gallo/ Rooster's Mass refers to 9 early morning (or evening) masses leading to Christmas Day. It starts on the 16th of December and ends on the 25th of December. People believe that the wishes of anyone who completes all 9 nights will come true. (See: Simbang Gabi)
Carolling
Following the start of Simbang Gabi, children also start going from one house to another, singing classic Filipino and foreign Christmas Carols such as "Ang Pasko ay Sumapit," "Silent Night," "We Wish You a Merry Christmas," and "Pasko na Naman." Homeowners would give any amount they wish to the carollers. If they don't, they may say "Patawad," but they should also be ready to the song these kids will sing for them in response.
Image grabbed from MagandaFilipino
Gift-Giving Tradition
Since Christmas is also the season of giving, there are also various activities related to this – monito/monita, exchange gifts, and – for those with godchildren – the giving of aguinaldos and pamasko. If you still don't know what to get them for the Holidays, here are gift-giving tips for your Filipino co-workers, friends, or godchildren. (See: Gift guides for your co-workers, Expat's Guide to being godparents)
Christmas Parties
No holiday celebration will be complete without Christmas parties – may it be in offices, schools, or organizations. These parties are usually that one day of the year where people get to de-stress and unleash their talents. One thing that is most anticipated during these kinds of events? Food, food, and more food.
Christmas songs
Christmas songs play everywhere, may it be in malls, restaurants, basically in every place where there are people. There would always be a mix of tunes – local and foreign, old and new – but there would always be staples that you would hear wherever you go. The list of songs would be endless, but it would always include Mariah Carey's All I Want for Christmas is You and Jose Mari Chan's Christmas in Our Hears. No matter how much you say you hate these tunes, you can't help but sing along to them as soon as you hear its intro play.
Image grabbed from DiscoverPh.
Holiday dishes
December is that time of the year where everyone simply forgets about their diet and consider everyday a "cheat day." As soon as the month starts, everyone starts looking forward and saving up for the yearly Noche Buena – the traditional family dinner held at midnight, December 25 – and the family gatherings which wouldn't be complete without the overflowing amount of food. Filipinos also boast their Christmas delicacies – puto bumbong (purple rice roll steamed in a bamboo tube topped with grated coconut and sugar) and bibingka (rice cake cooked in clay pots) – which they could usually munch on after the nightly Simbang Gabi.  (See: Expats guide to Simbang Gabi, 12 things you'll see on a Filipino table during Christmas, Expat's Guide to Common Dishes in a Filipino Potluck)
Christmas Attractions
The places in the country, especially in the metro, transforms into a festive and colourful attraction people visit to feel the Christmas spirit. Ayala Triangle, Nuvali, Greenhills Shopping Center, Mall of Asia, and Policarpio Street are just some of the areas that light up in celebration of the holiday season. Star City also has its Snow World attraction, where visitors get to know what it's like to experience a "White Christmas" whilst in the Philippines. (See: Christmas Destinations within Metro Manila, Ayala Triangle Garden's Festival of Lights)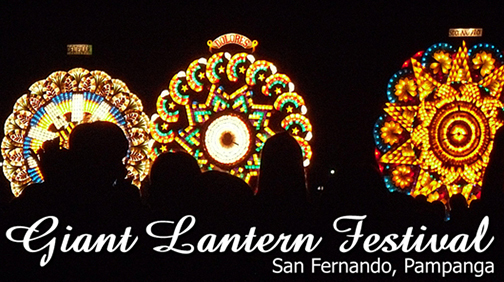 Image grabbed from City of San Fernando.
Events and Celebrations
One of the most famous festivities held during the Christmas season is San Fernando, Pampanga's Giant Lantern Festival. This yearly event celebrates the value of faith and hope, as well as the lantern-making tradition in the province. Universities such as the University of the Philippines and the University of Santo Tomas also hold parades, concerts, fireworks displays, and other Christmas-related events as part of their yearly traditions. (See: San Fernando's Giant Lantern Festival, Pre-Christmas events you shouldn't miss) 
Shopping Events and Bazaars
As the closing of the year draws near, various malls and shops drop the prices of their items to cater to more people during the gift-giving season. Since employees get their 13th month pay around this time, the mayhem in bazaars, stores, and shopping centers isn't a new sight and will always be a sign that Christmas is coming. (See: Christmas Bazaars 2016)