Top Christmas Destinations within Metro Manila
Top Christmas Destinations within Metro Manila
Just a few weeks to go and it's holiday season already! Want to make your Christmas memorable? Here are some Christmas destinations to watch out for in Manila. Join the fun and celebrate the holiday filled with love for this special occasion!
Festival of Lights at the Ayala Triangle Gardens, Makati City
GLIMMERING LIGHTS. Ayala's lights and sounds show during holiday season
One of the much-awaited events during the Christmas season is the Festival of Lights in Ayala Triangle in Makati City. Every year, spectators come to watch a mesmerizing display of twinkling lights to the tune of Christmas medleys being played in the area. The Festival of Lights runs daily from November 15, 2016 to January 8, 2017 at 6:00 pm to 10:00 pm with 30 minutes interval.
Address: Paseo de Roxas St., cor. Makati Ave. cor. Ayala Ave., Makati City
Price: Free
Christmas on Display in Greenhills, San Juan
CHRISTMAS ON DISPLAY. Greenhills' pride during Christmas season. Image grabbed from greenbulbpr.com
As a 60-year-old tradition, Greenhills Shopping Center's Christmas on Display is definitely one to watch out for. For 2016, the theme of the display is "One Life. One Story. One Fairytale.," which features castles, prince, and princess for its highlight. Aside from this display, Greenhills is a go-to place for Christmas shopping needs. No entrance fee needed.
Address: Greenhills Shopping Center, Ortigas Ave., San Juan City
Price: Free
Snow World in Star City, Pasay City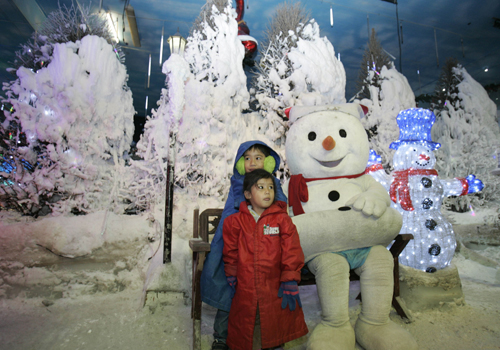 SNOW WORLD. Best experience for kids! Image grabbed from manilatimes.net
Who says you can't have White Christmas in the Philippines? Snow World in Pasay City will give you the best White Christmas here in Manila! This attraction will surely be loved by kids so why not let them enjoy a cold Christmas in one of the country's leading amusement parks!
Price: P150.00 for unlimited Same Day entrance (ride restrictions apply); Entrance fee excluded
Website: http://www.starcity.com.ph/content/snow-world/
Policarpio Street in Mandaluyong City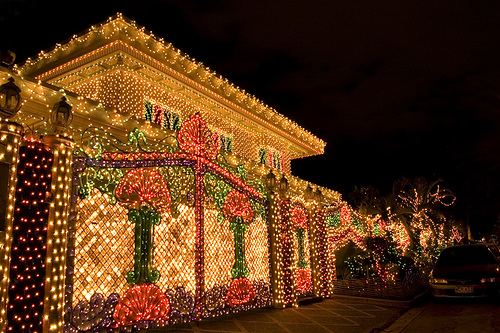 CHRISTMAS NEIGHBORHOOD. This street is famous for its one of a kind attraction during Christmas! Image grabbed from hoppler.com
Visit this Christmas-village like street in Mandaluyong! Policarpio is popular every Christmas as each house is brimming with colorful Christmas lights and unique Christmas decorations which is surely a feast in the eyes. See this eye-catching Christmas neighborhood and spend a nice tour at this destination!
Address: Policarpio Street, Brgy. Zuñiga, Mandaluyong City
Price: Free
UP Lantern Parade in UP Diliman, Quezon City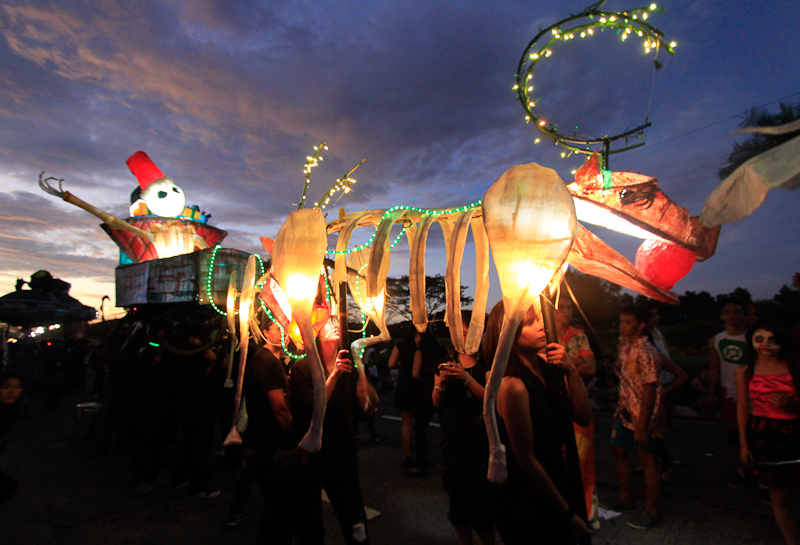 UP LANTERN PARADE. A showcase of various lanterns in the university. Image by AC Dimatatac grabbed from InterAksyon.com
Every December, the University of the Philippines Diliman is celebrating the holiday season through various artworks in giant lantern floats crafted by the different colleges in the university. Here, lanterns are paraded through the university's thoroughfare that makes the night shine through colorful visuals of lights by the students' artworks.
Address: University of the Philippines Diliman, Quezon City
Price: Free
Paskuhan at the University of Santo Tomas in España, Manila
PASKUHAN. A photo from UST's quadricentennial Christmas celebration in 2011. Image grabbed from gmanetwork.com
Also a highly-anticipated event in December is the UST Paskuhan. In this event, the prestigious university hosts various year-end events that will surely make your holidays as delightful as ever. Here you can witness concerts, fireworks display, and other Christmas programs that make thousands of spectators  enjoy the show.
Address: University of the Santo Tomas, España Blvd., Sampaloc, Manila
Price: Free as long as you are accompanied by a student from the university. Note: Bring ID for entrance purposes
Merry Christmas!