Your Ultimate Guide to MRT, LRT, and PNR
Your Ultimate Guide to MRT, LRT, and PNR
Updated as of May 15, 2023
Traffic congestion in the Philippines can be unbearable especially during rush hour. The trip through Epifanio de los Santos Avenue or EDSA can seem to go on forever, and the numerous taillights from vehicles of all shapes and sizes make EDSA look like a sea of red during the night.
IMAGE from Pexels
A considerable majority resort to using the rapid mass transportation system to avoid going through the hassle. So, here's your ultimate guide to navigating in and out of Manila using the MRT (the Manila Metro Rail Transit), the LRT 1 and 2 (Light Rail Transit), and the PNR (Philippine National Railways)!
Things to Remember Before Entering the Station
As with any establishment, you must first go through security before entering any of the train stations. Please be reminded that some items such as pointed or blunt weapons, flammable and poisonous items, and foul-smelling food are prohibited inside the stations.
While there are security guards around the station, it is still encouraged to secure all your belongings by placing your bags close to your body. It is also best to leave valuable and luxury items at home.
Finally, before entering any of the stations, plan ahead and know where you are heading to first. You should also check directions before entering the gate to make sure that you are in the correct platform.
Metro Rail Transit (MRT-3)
IMAGE from MRT 3 Philippines
The MRT has been playing a crucial role in providing transportation for commuters since 2000. It is available to commuters traveling from its southernmost station, Taft Avenue, going to North Avenue in Diliman, Quezon City, moving about a million passengers every month.
The MRT operates starting from 4:30 a.m. to 11 p.m., with morning and afternoon peak hours from 6:30 a.m. to 9:30 a.m. and 4:30 p.m. to 7:30 p.m. respectively during weekdays.
IMAGE from the Department of Transportation (DoTR)
Riding the MRT costs Php 15 to Php 30 depending on the station you are riding from and where you will alight. The ticket could either be a single journey ticket or the reloadable Beep card, also called a stored value ticket. A card costs Php 30 and is used in LRT 1 & 2, MRT 3, P2P buses, and selected bus lines.
IMAGE from beep card's Facebook page
For passengers who need to bring their fur babies with them, a development has been made in MRT since 2021 where passengers can now bring their pets on board, provided that pets are in diapers and placed inside a carrier, measuring 2×2 feet.
Also read: 5 Things You Can Do With Your Beep Card
Light Rail Transit (LRT 1 and 2)
Inaugurated in December 1984, the Light Rail Transit (LRT) Line-1 is considered the first and the oldest rapid transit line in the Philippines. It is also the second light rail in Southeast Asia and goes through the major cities of Manila, with stops in Makati, Pasay, and Quezon City, among others.

LRT 1 Route Map / IMAGE from Light Rail Manila Corporation
Tickets range from Php 15 to Php 30 depending on your destination and operates starting from 4:30 a.m. to 10:00 p.m. from Baclaran and 10:15 p.m. from Roosevelt during weekdays. During weekends and holidays, LRT-1's last train will take you from 9:30 p.m. from Baclaran and 9:45 p.m. from Roosevelt.
For locals and foreigners who want to explore the Metro's best restaurants, tourist destinations, and more, LRT-1 has a mobile application called ikotMNL Mobile App that gives you real-time updates regarding the station's crowd situation, the train's arrival and departure, and the nearest restaurants, malls, and destinations worth the visit.
You may download the ikotMNL Mobile App through Google Play Store or App Store.
Also read: Expat's Guide to LRT-1 Stations in Manila
Meanwhile, the LRT Line 2 is connected to the LRT-1 through the latter's Doroteo Jose Station. The LRT-2 is a way of going through the Metro from the Recto Station in Manila and ending in Antipolo Station in Rizal.
Just like the LRT-1, tickets for LRT-2 range from Php 15 to Php 30 and operates from 5:00 a.m. to 9:00 p.m. from Antipolo Station to Recto Station and 9:30 p.m. from Recto to Antipolo. This includes the weekends and holidays.
Also read: Expats' guide: LRT2 Stations
The LRT-2's Araneta Center-Cubao Station connects to the MRT-3 through the Gateway Mall and Farmer's Plaza complex, letting commuters conveniently transfer from LRT-2 to MRT-3. You may view LRT-2's route map here.
The Philippine National Railways (PNR)
Perhaps the most encompassing of all the railway transit systems in the Philippines is the Philippine National Railways (PNR) as it extends beyond Metro Manila. It has been in operation since November 24, 1892, making it the oldest railway system in Southeast Asia.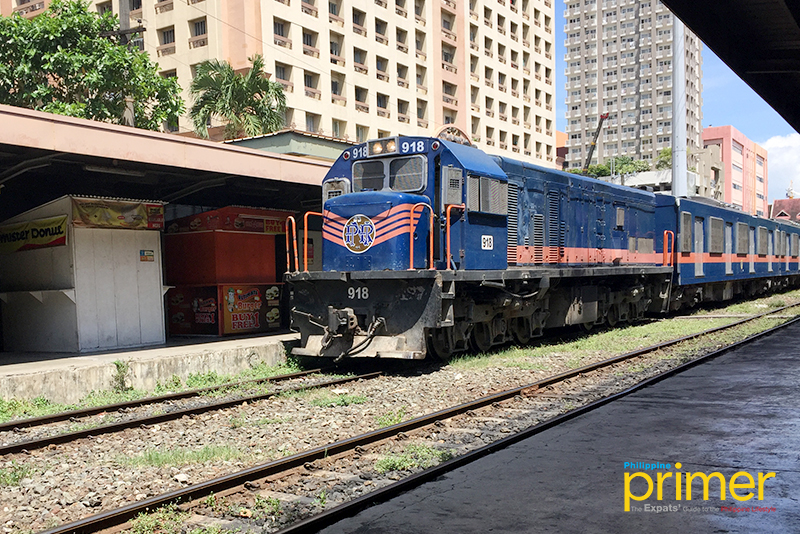 For now, passengers can travel from Caloocan in the north all the way to Calamba, Laguna in the south where a lot of resorts can be found, perfect for a summer getaway.
PNR Route Map / IMAGE from Philippine National Railways
Tickets to ride the airconditioned train start from Php 15 to Php 60. Train schedules vary on a regular basis depending on the availability of train sets and the weather conditions. To stay updated with the most recent schedule for the Philippine National Railways (PNR) trains, you can visit their official Facebook page here.
Also Read: Life Hacks for Expats: Navigating Traffic in the Philippines
Let this ultimate guide be your thrilling adventure through the bustling Metro railway systems! Hold on tight before you reach your desired station as you start your great Metro Manila journey.
---
Sources: DOT website, Light Rail Transit, Philippine National Railways, Rappler, CNN Philippines, The Metro Rail Transit