A Guide to the Philippines' National Costume
A Guide to the Philippines' National Costume
The Philippines' national clothing, despite the influence from different countries, is truly remarkable, undoubtedly unique, colourful, and ornate with bits and pieces from the natural resources found in the land itself.
According to an article by the NationalClothing.org, the main factors that formed traditional clothing of the Philippines are climate, cultural traditions, foreign conquerors, and way of living.
Here are the Philippines' national costumes for men and women.
FILIPINO MEN'S NATIONAL COSTUME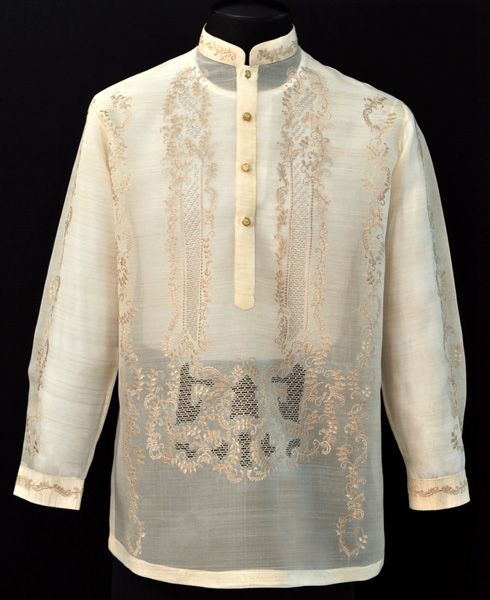 Barong./IMAGE Pinterest.com
Originated from the northern part of the Philippines, Barong Tagalog is the official national costume of Filipino men. It is worn over a Chinese collarless shirt called camisa de Chino. Its loose and long lines feature can be traced of its Chinese sources, the airy tropical appearance of Indo-Malay costume, the elongated effect of Hindu dressing, and the ornamental restraint of European men's clothing. The fabric used for this clothe is usually made of different natural resources from the Philippines such as piña fabric (hand-woven from pineapple leaves), jusi fabric (machine-woven from banana silk), and banana fabric (hand-woven from banana fiber).
Barong Tagalog is usually worn in ceremonial events such as weddings, formal parties, and official business meetings.
FILIPINO WOMEN'S NATIONAL COSTUME

BARO. Bell-sleeved camisa/IMAGE Pinterest.com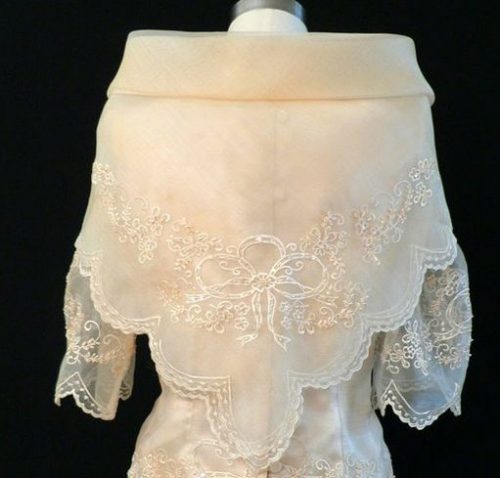 PANUELO. Neck covering attached to women's top/IMAGE Pinterest.com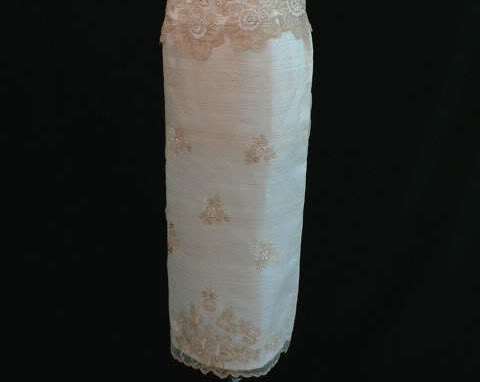 SAYA./IMAGE Pinterest.com
The official national costume of Filipina women is called Baro at Saya (Baro't Saya), also known as Filipiniana. According to an article published by Philippine Folk Life Museum Foundation, the wearing of Baro't Saya originated from the Spaniards and it was worn throughout the 400 years of the Spanish colonization.

A classic Maria Clara dress./IMAGE Pinterest.com

A modern Baro't Saya/IMAGE Pinterest.com
This ensemble has a lot of variations, the most popular one is the Maria Clara Dress, a dress inspired by a female character in the epic novel Noli Me Tangere by national hero Jose Rizal. It features a floor-length paneled skirt of silk or satin, and it consists of four separate pieces: the collarless waist-length, bell sleeved camisa; the bubble-shaped, floor-length saya; the stiff, neck-covering pañuelo; and the hip-hugging, knee length tapis or overskirt.

A modern Mestiza Dress or 'terno'/IMAGE Pinterest
Another popular kind is the Mestiza Dress, a formal dress made of expensive lace and fabric adorned with embroideries. Popularized by the Philippine First Lady Imelda Marcos, some even called it Imelda dress or terno (matching). Mestiza dress is known for its elegance and butterfly sleeves.
These variations of the Baro't Saya are usually worn in some traditional events in the Philippines such as Flores de Mayo, pageants, formal parties and celebrations, etc.
Shops like Onésimus Suits & Barongs and KULTURA offer high-quality and Filipino-made baro't saya and barong tagalog. You can find these shops in shopping malls nationwide like SM Supermalls, Rustan's, and Ayala Malls. 
Onesimus
SM Makati, SM Aura, Landmark Makati
Website: https://onesimus.com.ph/
Kultura
SM Makati, SM Aura, SM Megamall
Website: www.kulturafilipino.com
---
Images grabbed from pinterest.com, pinterest.com
Source: nationalclothing.org, aboutphilippines, philippinefolklifemuseum.org