Christmas Bazaars 2016
With the holidays just around the corner, more and more people would flock to the malls to buy their loved ones special gifts and goodies. While there are those who would be willing to splurge on the gifts to give for their friends and family, there are some who are on a budget who would rather await for the holiday sales at the malls, or would rather go to bazaars – a place where they can get items that are not only affordable, but are also one-of-a-kind.
Philippine Primer gives you a rundown of the bazaars happenings this month for anyone looking for a one stop shop to get everything they need – from holiday decorations, to clothes, to gift, and food items.
Noel Bazaar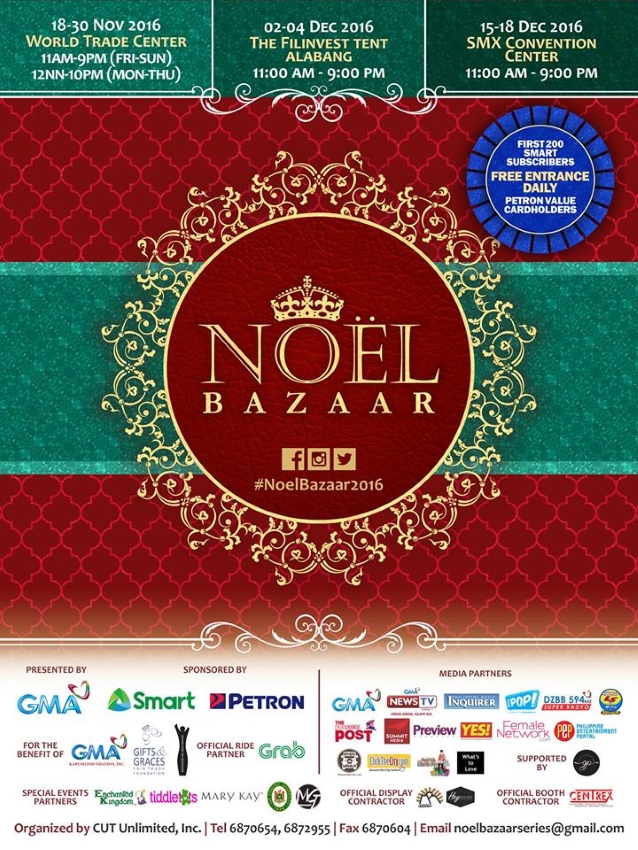 Known to be the country's leading holiday shopping event, Noel Bazaar features an array of stores for their patrons – from fashion and beauty items, novelties, to food. The event also will be holding workshops, games, raffles, fashion and variety shows featuring personalities from GMA. The most-awaited event, however, would be the GMA celebrity Ukay-Ukay and Auction where Kapuso artists put their clothes and other items up for sale.
When: December 15-18
Where: SMX Convention Center
The Grand Holiday Bazaar Series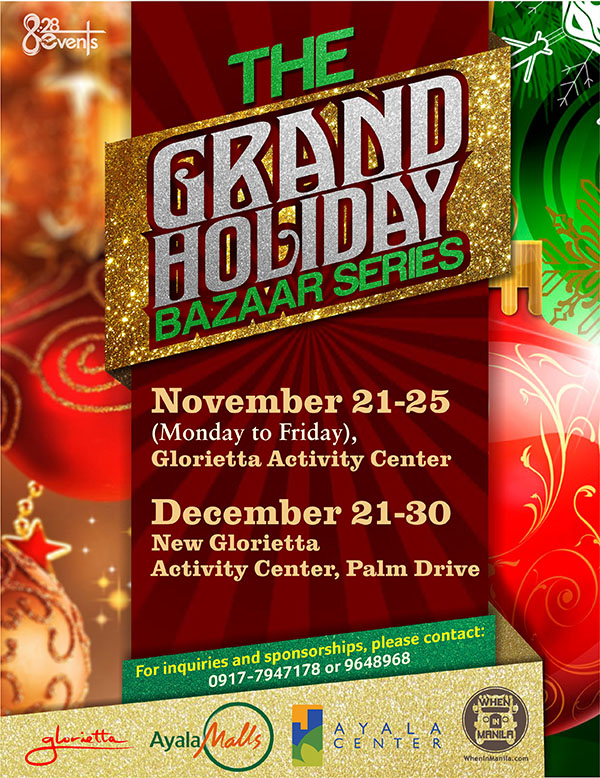 The Grand Holiday Bazaar Series showcases small local and online entrepreneurs that feature unique and stylish accessories, gadgets, household wares, food, and more. The bazaar will also feature workshops, talks, and performances from popular bands for those who would want to take a short break from their shopping.
When: December 20-30
Where: New Glorietta Activity Center, Palm Drive
Admission is free.
4th Grand Christmas Rush Fair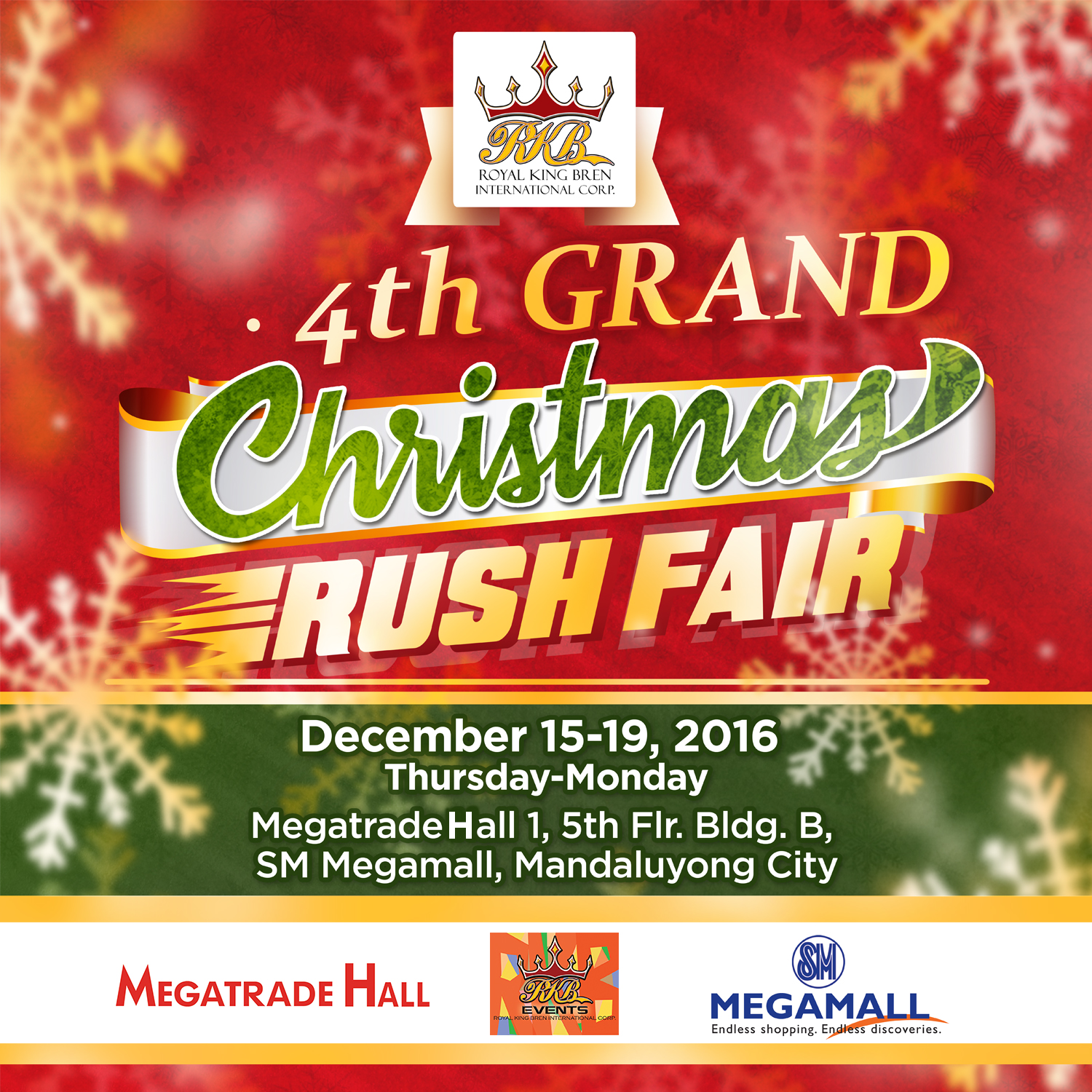 Now on its fourth year, this shopping event features a variation of stores that offer unique finds for those who are on a budget. From fashion items to gadgets – this bazaar makes sure that shoppers would be able to get everything they need in just one place. Singers, dancers, and choral groups will also be performing in the fair so people would feel the Christmas spirit while they do their shopping.
When: December 15-19
Where: Megatrade Hall 1, 5th Floor, Bldg. B., SM Megamall
Entrance fee is at P10. Senior citizens, persons with disabilities, pregnant women, and kids may enter the venue for free.
Ultimate Christmas Flea Market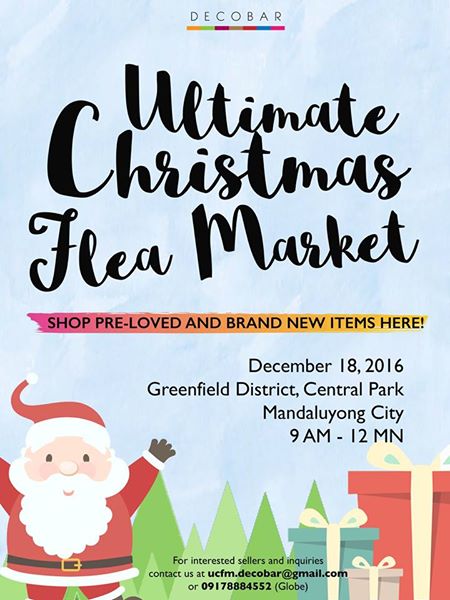 Fans of unique, limited edition items will surely enjoy taking a stroll along the Ultimate Christmas Flea Market. The shopping event features a wide array of brand new and pre-loved goods – from fashionable items to unique home decors and furniture – for anyone who likes to keep an eye on one-of-a-kind pieces.
When: December 18; 9AM-12MN
Where: Greenfield District, Central Park, Mandaluyong City
Admission is at P50/head. Children 10 years old and below can enter for free.
Katipunan Weekend Market
The Katipunan Weekend Market gives everyone a unique shopping experience by bringing in artists, entrepreneurs, and craftsmen in a single event. This bazaar showcases a curated set of concessionaires, bringing in arts and crafts items, vintage finds, and gourmet food. The event also shows their support on the local music scene, featuring performances by up and coming artists and bands.
When: December 9-11; December 21-23; 10AM-10PM (Wednesday – Saturday), 1PM-10PM (Sunday)
Where: 2/L Bridgeway, Estancia at Capitol Commons
A Christmas Spectacle: The Greenfield City Bazaar Experience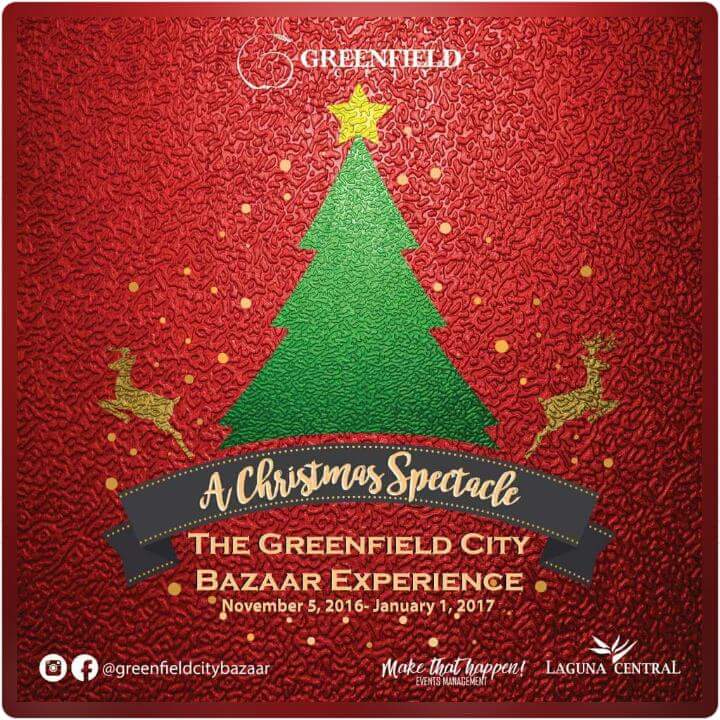 This village-themed bazaar showcases both food and non-food items that every member will surely enjoy, especially during the holidays. Items that can be found in this shopping event are handcrafted and unique, so everyone will surely find something special to give to their loved ones.
When: November 5, 2016 – January 1, 2016
Where: Laguna Central, Greenfield City, Sta. Rosa, Laguna
Christmas Toys & Collectibles Fair 2016
In its 11th year, the Christmas Toys & Collectibles Fair will be back to give gift ideas for the kids and the kids at heart. Just like every year, this event will be displaying stores that sell official and unofficial merchandise, toys, and memorabilia that you won't easily find anywhere else.
When: December 16-18
Where: Megatrade Hall 2, 5th level, Building B, SM Megamall
World Bazaar Festival 2016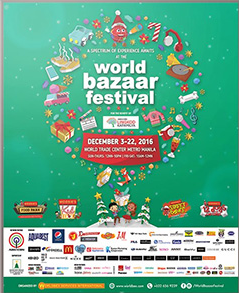 Claiming its title for being the longest-running annual charity in the country, the World Bazaar Festival continues to raise funds for the causes that its organizer, the ABS-CBN Foundation Inc., supports. With about 700 booths participating in this annual event, anyone who would be visiting this event would surely be able to get every item that they need, and show support for the charities that the bazaar supports.
When: December 3-23; 10AM-12MN
Where: World Trade Center, Manila