Listicle: 12 Things you'll see on a Filipino table during Christmas
Listicle: 12 Things you'll see on a Filipino table during Christmas
Among the many countries in the world that celebrate Christmas, none are done on a grander scale in their own home as much as Filipinos (a little bit biased, but we do have the longest Christmas season in the world). From decorations to food, Filipinos go the distance no matter how bleak their situation may seem.
If you're ever invited to Christmas dinner by one of your Filipino friends, here are 12 things you might see on their table:
Image grabbed from Wikimedia commons
Pancit. A Filipino classic, this noodle dish, which "promotes long life", is an ever-present dish in any celebration, more so during Christmas. If you've been invited by someone who's a bit more affluent, you may see more than one variety.
LECHE FLAN (LEFT) AND UBE HALAYA (RIGHT). Images grabbed from flickr (Dolly Rubiano for ube halaya and luchrupan for leche flan)
Ube halaya and leche flan. Leche flan, the Filipino version of crème caramel, is a staple dessert that makes it to every Filipino table during Christmas. It's served by itself or partnered with ube halaya or purple yam jam, which can be topped with cheese.
Image grabbed from Wong Hoi Li on flickr
Fruit salad. If you're not too fond of ube halaya or leche flan, there's another option that's always laid out on the table: fruit salad. It's the simplest of Filipino Christmas desserts, consisting of a can of canned or frozen fruit (usually Del Monte Fruit Cocktail) mixed with cream, condensed milk, and a bit of cheese. Want to be an even bigger hit? Add shreds of coconut meat.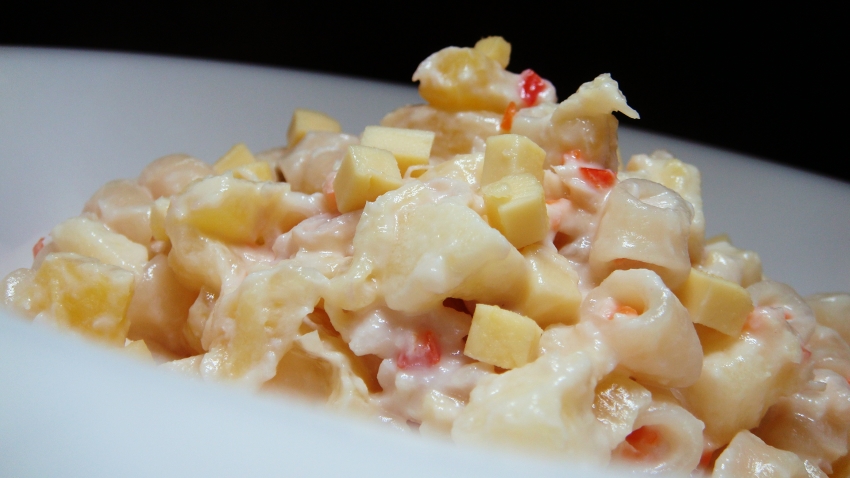 Image grabbed from digipam on flickr
Macaroni salad. Another popular Filipino Christmas salad, macaroni salad is often the replacement for those who could not prepare fruit salad for Christmas. As the name implies, it involves the use of elbow macaroni pasta mixed with other ingredients such as raisins, cheese, chicken, and a bit of cream. It's eaten either as a side dish or main dish (for those on a diet).
Image grabbed from pulaw on flickr
Sweet spaghetti. Whenever there's a party, there's most probably a huge serving of spaghetti. And with every Filipino party, that spaghetti will be sweet, meaty, and cheesy all at the same time. Filipinos have taken the classic meat sauce and have given it their own twist that's loved by young and old.
Image grabbed from Knorr
Rellenong bangus. or stuffed milkfish is a favorite amongst Filipinos. It gives you a chance to savor the taste of what has been called the National Fish stuffed with anything you can think of (though it's mostly shredded meat and a couple of veggies). Best eaten with a cup of rice… or two.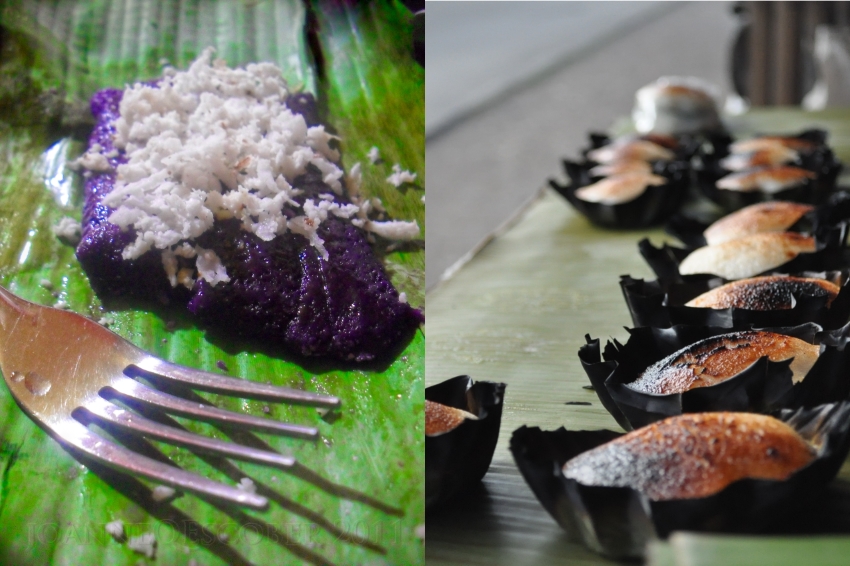 PUTO BUMBONG (LEFT) AND BIBINGKA (RIGHT). Images grabbed from flickr (whologwhy for bibingka and tacit requiem for puto bumbong)
Bibingka and puto bumbong. Two rice cakes that always signal the start of Christmas season should never be left out of any Filipino table. Bibingka is a rice cake made with coconut milk and eggs that's cooked in a clay pot, is often topped with sliced salted egg and grated dried coconut or niyog. Puto bumbong, on the other hand, is steamed glutinous rice mixed with purple yam powder (hence, the purple color) and served with shredded coconut mixed with sugar or topped with margarine or butter.
Image taken by Glendale Lapastora, grabbed from flickr
Barbecue. No party is complete without these sticks of grilled meat or chicken, and the same goes for Christmas, though it is, at times, served alongside hotdogs on a stick.
Image taken by Veronica of World to Table, grabbed from flickr
Hamon. Sometimes referred to as jamon or Christmas ham, these are usually glazed with syrup, honey, or otherwise encrusted with brown sugar crumble. It goes really well with the next item.
Image grabbed from Toni Girl on flickr
Keso de Bola. If you know a bit of Spanish, then this should be trivial. It's literally a ball of cheese wrapped in red plastic. It goes really well with Christmas ham either between two slices of bread or with rice (yes, we Filipinos eat meat and cheese with rice).
IT DOESN'T HAVE TO BE "ROUND". Rounded will sometimes do, as long as there's 12. Image grabbed from pixabay
12 different round fruits. Yes, it's that specific. Yes, it's a bit overboard, but every Filipino table will have a set of 12 round fruits prepared for Christmas. It's said to bring good luck for the coming year (which is why it usually makes it until New Year's Eve). A typical centerpiece at every Filipino table during Christmas, it's only trumped by the next item.
Image grabbed from digipam on flickr
Lechon. Ah, yes. The succulent yet crispy, and often heart-attack inducing, star of every Filipino celebration. Roast pig has been, and will always be the star of any Filipino gathering, more so during Christmas. Everyone likes it, and nothing ends up being wasted: any leftovers will be turned by creative Filipino moms into a different dish, though it's usually turned into lechon paksiw for lunch the following day.