7 Hip Drinking Spots in Poblacion for a Chill Time
Needing some post-work hangout? Why not invite your friends to unwind at Makati's chillest destination, Poblacion? This area is very popular for its amazing dining places and—of course—a pool of fantastic drinking spots!
Also read: Beyond Nightlife: Poblacion Street Guide

So if you're in the mood for a glass of your favorite liquor paired with a chill vibe, check out our list below:
Dulo MNL
4992 P. Guanzon, Barangay Poblacion, Makati City
Cafe by day and bar at night, Dulo MNL is surely a crowd-favorite artsy hub in P. Guanzon Street. Aside from their mouthwatering food, they also have a wide range of drinks from alcoholic to non-alcoholic. The raw and edgy vibe of Dulo is evident in its interior and overall aesthetics, making it perfect for your IG feed.
Also read: Dulo MNL in Poblacion: Cafe, Restobar, and Event Space in One

Facebook: facebook.com/duloMNL
Instagram: instagram.com/dulomnl
Pedro Tap House
5910 Matilde Street, Poblacion, Makati City

Tucked away in Matilde Street is a humble bar that serves craft beer straight from the tap. The owners wanted to find a place where they can serve fresh beer from their own brewery, which led to the creation of Pedro Tap House. Try out their best-selling flavored craft beers and pair it with their appetizing bar chows (Bar Junk is highly recommended!). They also host weekly gigs so watch out for those!
Also read: Pedro Tap House in Poblacion Serves Up Fresh Craft Beers
Facebook: facebook.com/pedrotaphouse
Instagram: instagram.com/pedrotaphouse
Lampara
5883 Enriquez Street, Poblacion, Makati

Lampara is a neo-Filipino bistro in Enriquez Street that specializes in bringing quirky twists and upgrades to Filipino classics. Part of the menu is their signature cocktails that use ingredients they stock in jars displayed at the bar. Try their best-seller Pana Kakana Kana, a gin-based drink infused with whole pepper and orange peel.
Also read: Lampara in Makati Brings New Light to Filipino Food
Facebook: facebook.com/pg/lampara.pob
Instagram: instagram.com/lampara.pob
Antidote
Roof Deck, I'M Hotel, 7862 Makati Ave., Poblacion, Makati City

A jellyfish rooftop bar located in one of the busiest cities in the Metro seems like a fever dream. But yes, Antidote bar exists—at the roof deck of the 34-story I'M Hotel, to be exact. Their cocktail menu was crafted in collaboration with Mace, the head bartender of one of New York's best bars. Sip their best-selling Mr. DOMango, a moringa-infused vodka, banana liqueur, mango puree, and coconut milk drink with tapioca pearls.
Also Read: Antidote in Makati: Watch Your Poison Become the Cure
Facebook: facebook.com/antidotebarph
Instagram: instagram.com/antidotebarph
The Wild Poppy
2/F 5666 Don Pedro Street, Poblacion, Makati

Can't decide between tea and alcohol? Well, The Wild Poppy saves the day with their tea-infused signature cocktails. Aside from the drinks and delectable eats, the interior's cozy vibe is enough to make you feel relaxed. It's situated on the second floor of 5666 Don Pedro Street.
Also Read: The Wild Poppy in Makati: Serving Southeast Asian Cuisine and Cocktails with a Twist
Facebook: facebook.com/thewildpoppyph
Instagram: instagram.com/thewildpoppy
Alchemy Bistro Bar
4893 Durban Street, Barangay Poblacion, Makati City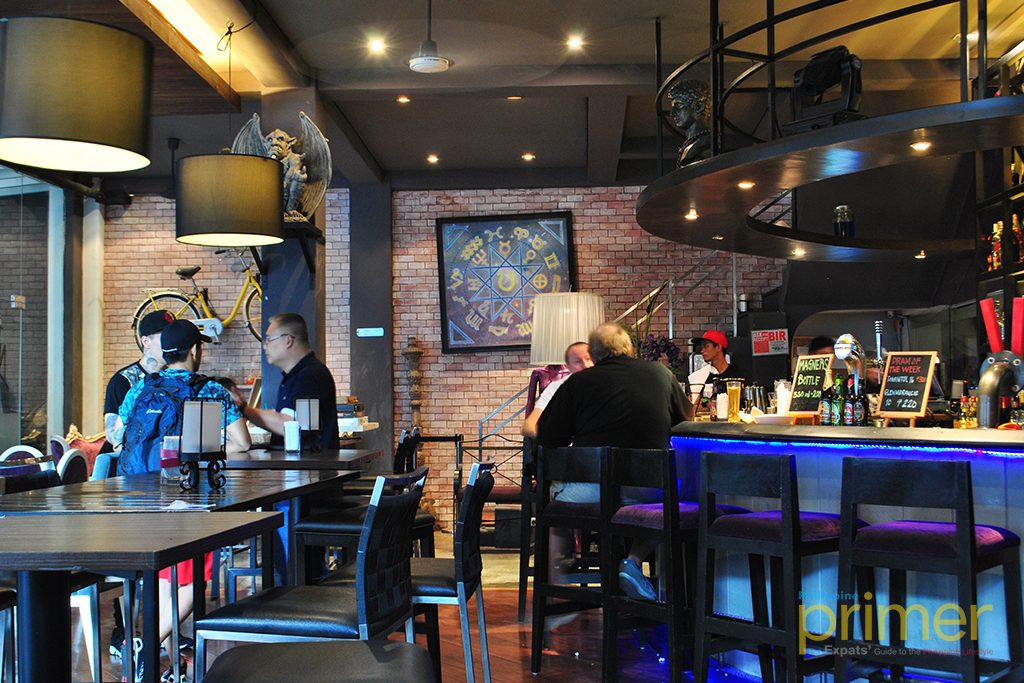 Alchemy Bistro Bar is a 3-story hangout place in Durban Street that emits mauve lights at night seemingly to attract passersby. Inside, there are many "potions" to try: non-alcoholic mixes like smoothies, fruit shakes, and juices, as well as alcoholic mixes including vodka, gin, rum, tequila, whiskey, and brandy. Watch out for DJs and bands that turn up the place every week!
Also Read: Alchemy in Makati: A Beacon of European Cuisine
Facebook: facebook.com/alchemybistrobar
Instagram: instagram.com/alchemybistrobar
Kermit Manila
4636 Molina Street, Poblacion, Makati City

There's a little piece of Siargao that can be found in the quieter part of Poblacion, along Molino Street to be exact. Aside from their famed pizza, Kermit Manila also has cocktails that you can only taste here, like the Gin Basil Smash and Grifoni's Sour. Fashioned after Kermit Surf Resort and Restaurant in Siargao, this restaurant will give you the island vibe you must have been missing.
Also Read: Kermit Manila in Poblacion: A Treasure Trove of Napoletana Pizzas and Italian, Seafood Flavors
Instagram: instagram.com/kermitmanila

Truly there's nothing wrong in blowing off some steam from time to time with a cold glass of cocktail. What's your favorite drinking spot in Poblacion? Let us know in the comments!