Alchemy in Makati: A Beacon of European Cuisine
Alchemists believe the Philosopher's stone can turn cheap, amalgamated metals into gold. Alchemy Bistro Bar in Poblacion believes their fusion of classic European-French cuisine and an eccentric laboratory filled with potions and concoctions will surely get its customers to visit the place over and over again.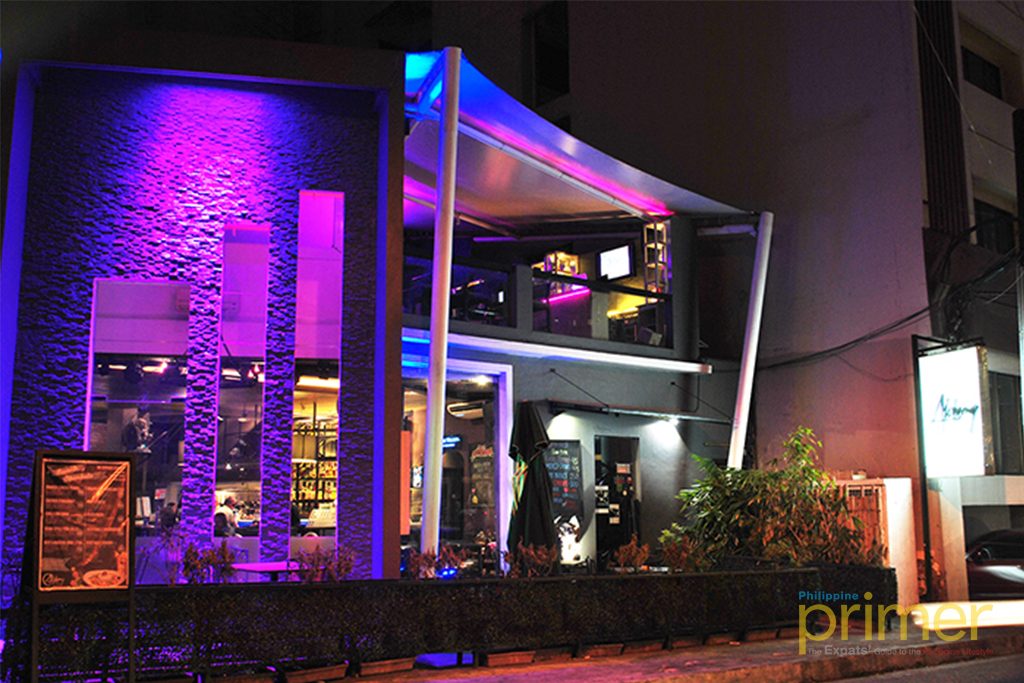 Alchemy Bistro Bar gives off a mysterious glow in Poblacion.
At night, Alchemy Bistro Bar exudes a peculiar mauve from the outside, as if a beacon to draw Poblacion's passersby with its mysterious glow. Inside the lair is a relaxing vibe, first, with its main lounge called the Elixir Lab. Located on the first floor of the small restaurant, the hall is a hearth of live bands, fine food, and beverages. It also sports small, enthralling items which resemble an actual laboratory with test tubes and oblique glasses, adding to the eccentricity of the place.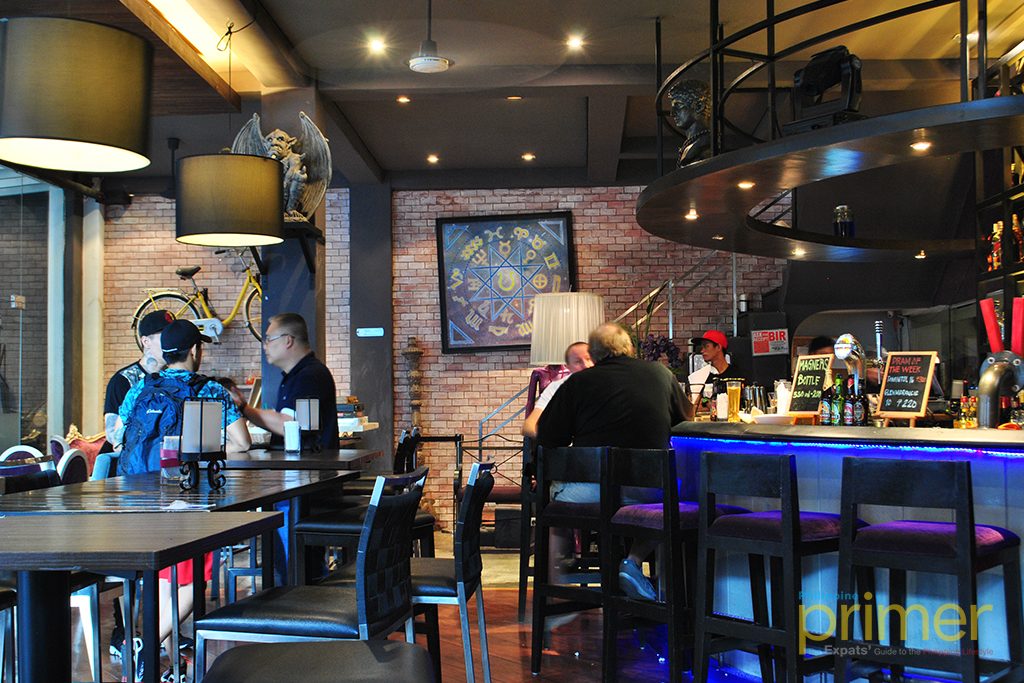 The Elixir Lab is the main lounge where live bands perform and good food are served. 
Upstairs, revelers may sample potions from the open bar located in the Philosopher's Patio, where DJs also frequent the voguish place to join the excitement. Among the range of concoctions available in their bar include non-alcoholic mixes, smoothies, fruit shakes, and juices, as well as alcoholic mixes like vodka, gin, rum, tequila, whiskeys, and brandies.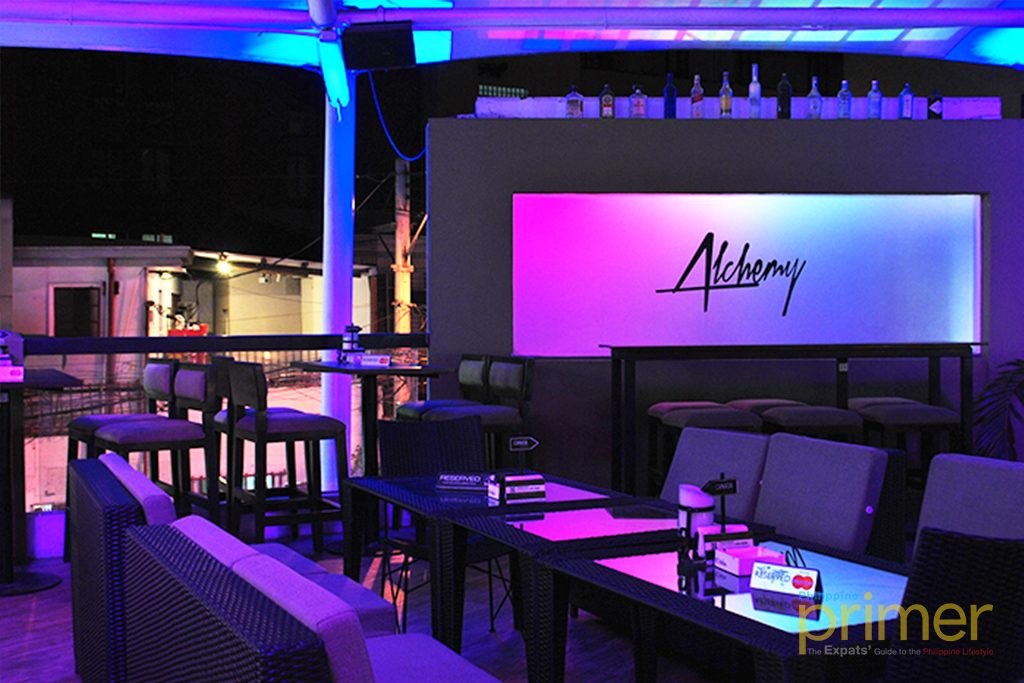 The Philosopher's Patio serves fine drinks from their open bar. 
Within the bistro, family and friends may also engage in good conversation while waiting for their hearty serving of thin-crust pizza, fresh from the Solaris Oven. The place is one of the most popular parts of the bistro thanks to the brick furnace shipped from Italy. A selection of pizzas, among which are Chorizo Daviola and Quatro Formaggi, range from Php 350 to Php 480.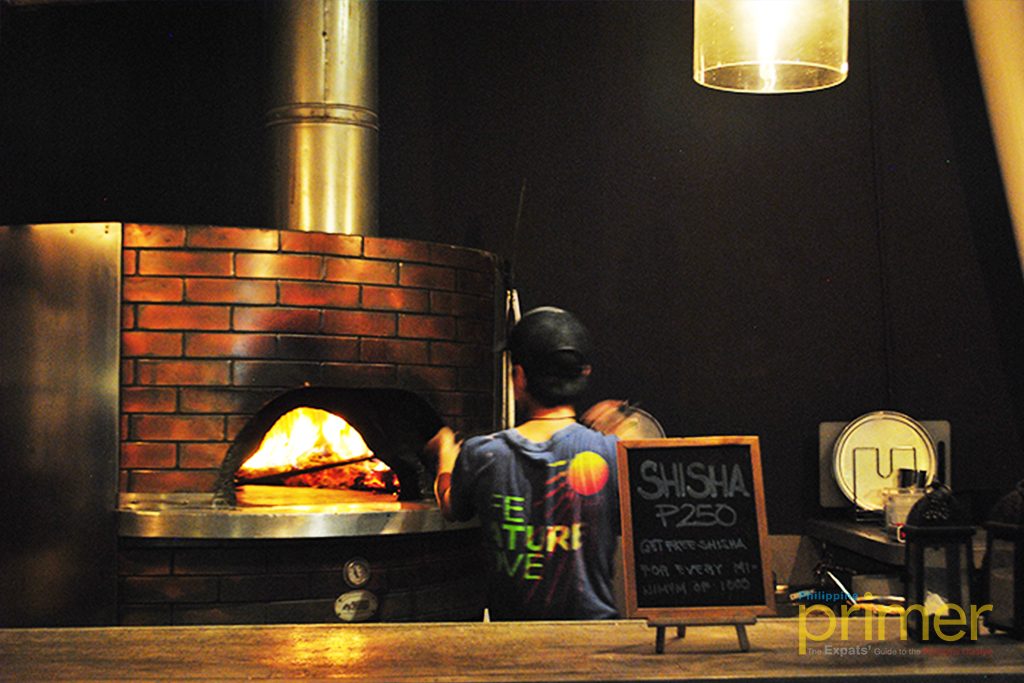 The brick furnace of the Solaris Oven bakes thin crust pizzas for family and friends.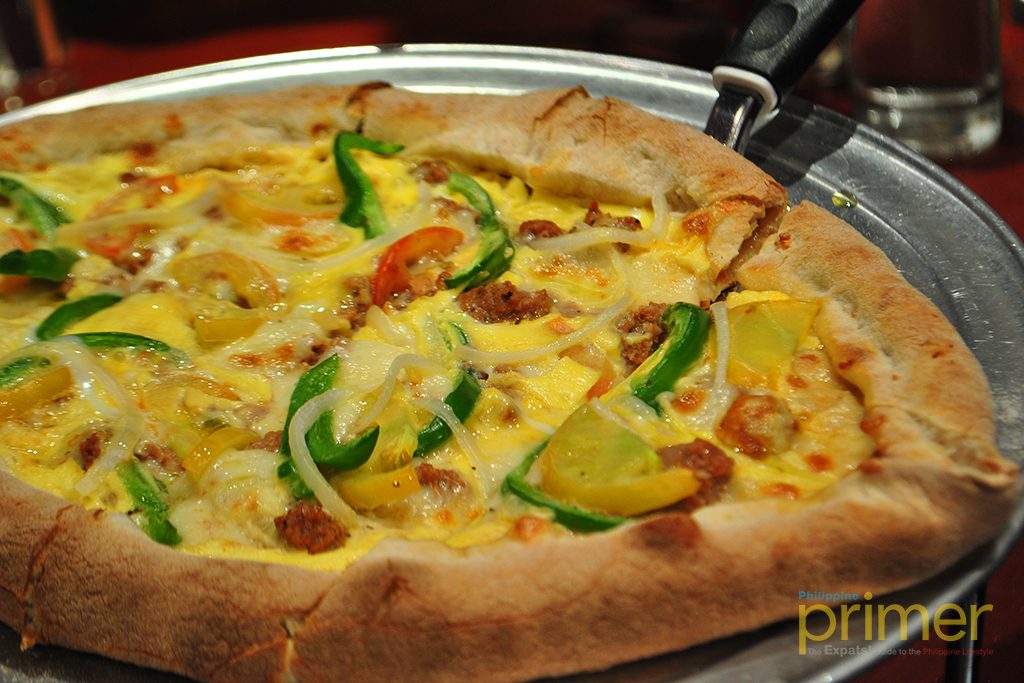 Alchemy serves thin crust pizza fresh from the oven. 
With Chef Tina Moscardon at the helm of Alchemy's, the bistro's menu is a fusion of flavors from Italy, France, and all of Europe. A few of their best sellers include their Slow-Braised Lamb Shank (Php 775) with a side of couscous, beans, and pine nuts; Fillet Au Poivre (Php 1,230) on a bed of mashed potatoes, steamed carrots, and Brussel sprouts; and their Half-Pound Burger with a side of fries.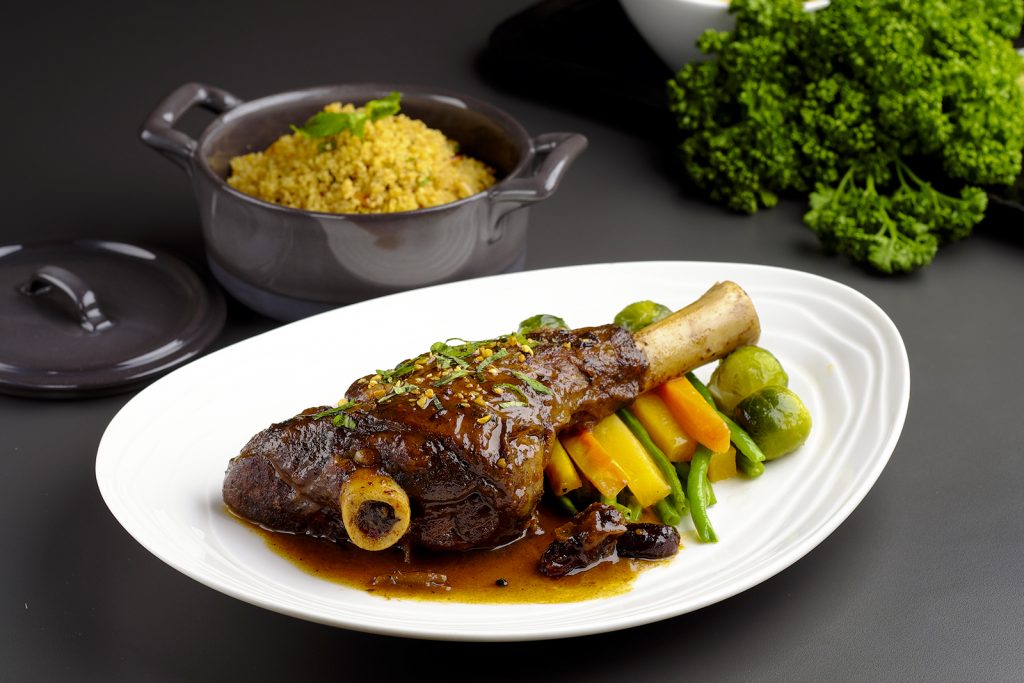 Slow-Braised Lamb Shank (Php 775)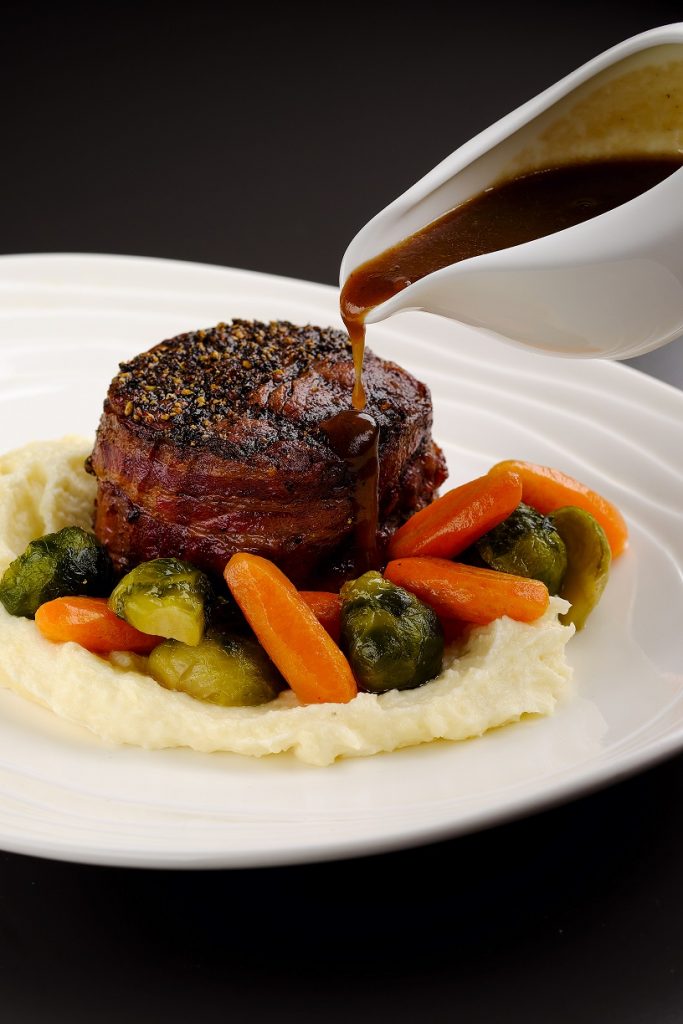 Fillet Au Poivre (Php 1,230, service charge not included)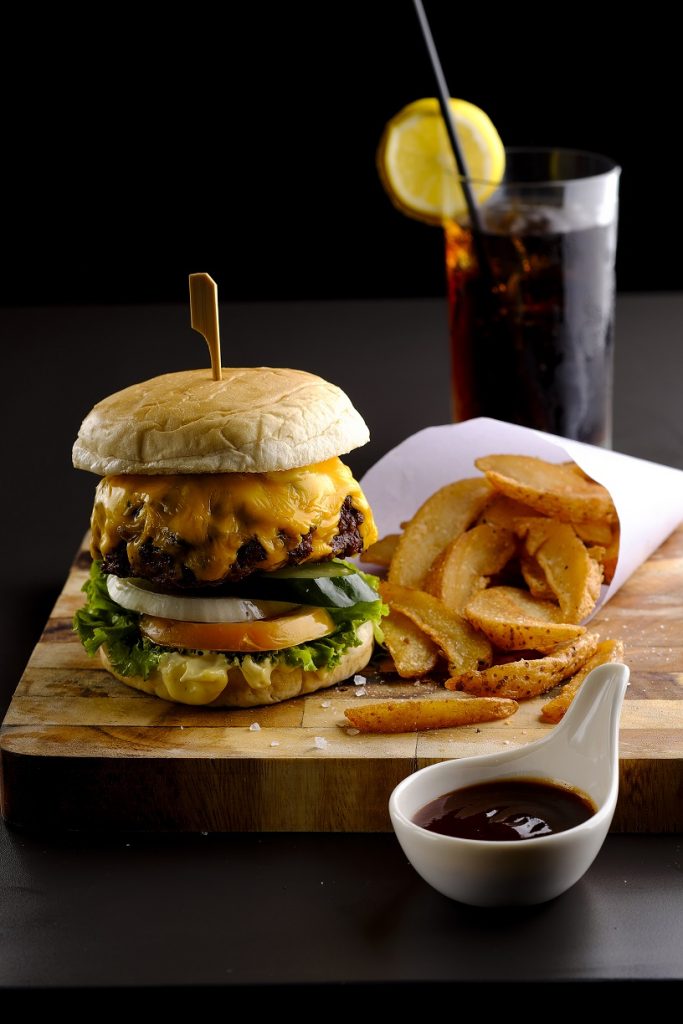 Half-Pound Burger
Born in 2014 to stars Chef Tina, who studied at the Le Cordon Bleu Culinary School, and Engineer Gordon Currie, Alchemy has the right fusion of good food and fine elixirs that will make you feel the electricity of one of Manila's hippest place—Poblacion.
---
 This first appeared in Philippine Primer Japanese Magazine's August 2018 issue.
Images courtesy of Alchemy Bistro Bar
Featured image grabbed from Alchemy
General Information
4893 Durban Street, Barangay Poblacion, Makati City
02-500-7398
0917-555-5641
5 pm to 2 am (Mon); 11 am to 2 am (Tue. to Sat); 2 pm to 2 am (Sun)