Pedro Tap House in Poblacion Serves Up Fresh Craft Beers
What happens when you put passion into your hobbies? Well, you get to brew distinct craft beers in a cozy next-door tap house.
Nadine Fanlo has always wanted to make uniquely flavored craft beers, but aside from enjoying the beverages for her personal consumption, she, along with her husband Jaime Fanlo and their friend Jill Borja had to pursue a dream.
From a simple sip of beer to producing several bottles, the trio went out of their comfort zones by venturing in the commercial scene. They formally established the Pedro Brewcrafters in San Pedro, Laguna back in 2015.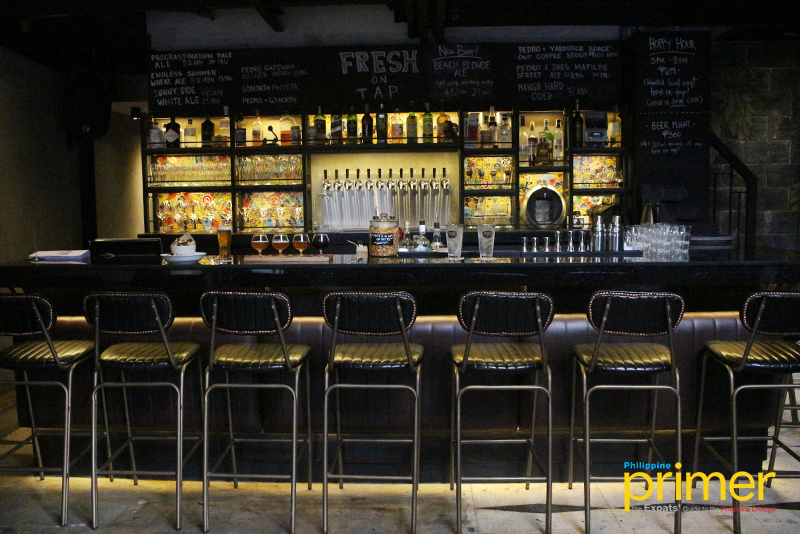 With the start of their own brewery, more and more variants of their craft beers have been taking the spaces of the market shelves. This granted them the opportunity to establish this latest addition to the growing downtown Poblacion—Pedro Tap House.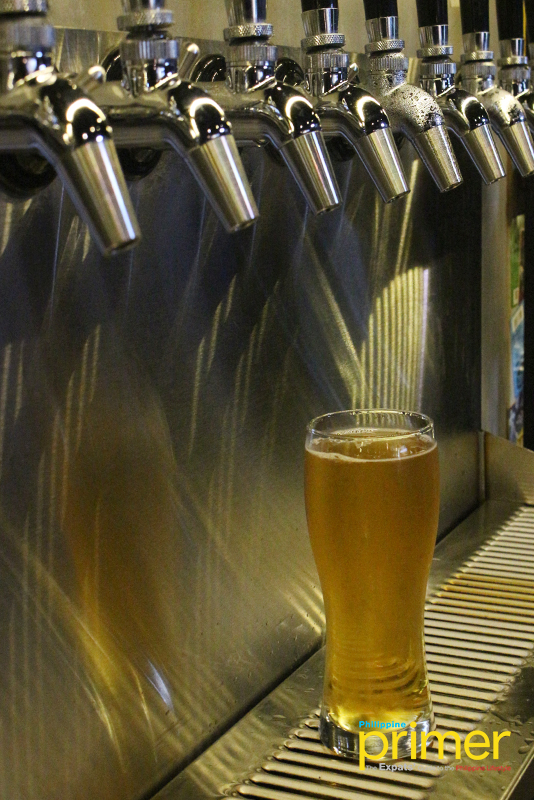 "We always wanted to build a place where we could serve our beer fresh from tap since the beginning of the brewery," Nadine shared, admitting that their venture towards reaching the commercial scene was not as smooth sailing as it sounded like.
Nadine, who handles the sales and marketing operations of the company, recalled that making their dream come true almost ended up as a pipe dream. She revealed that the establishment of the brewery already costed them "a lot of time and energy."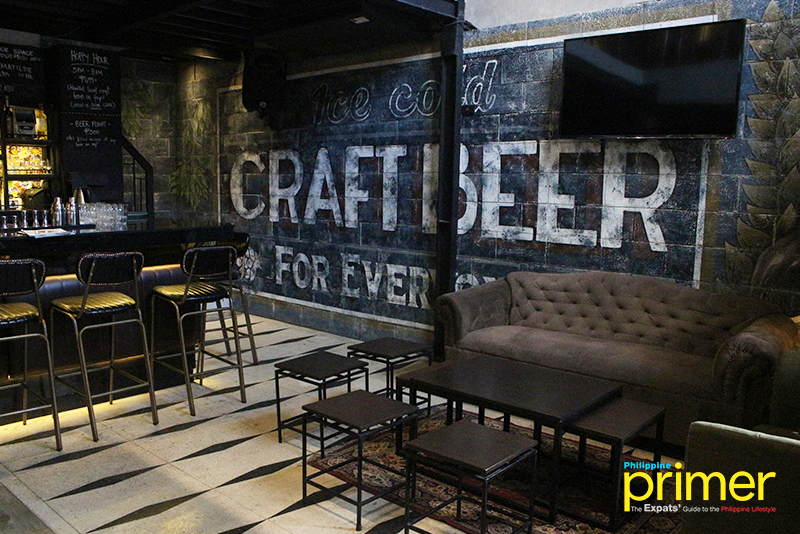 "The plans to put up the tap house [even] got pushed back," she said, "but three years later, here we are, we have a tap house."
Tucked away along the quiet street of Matilde, Pedro Tap House appears like just another home in the neighborhood. But after it formally opened in December last year, the humble bar sheds its true front, showing the rage for absolute fun and revelry at nighttime.
Upon stepping in, the bar counter, which greets guests with an array of beer taps and exciting bottled beverages, is sure to tickle every thirst for some great drinks. The industrial, quirky walls and some chic elements are the ones that set the mood, making the place an ideal setting.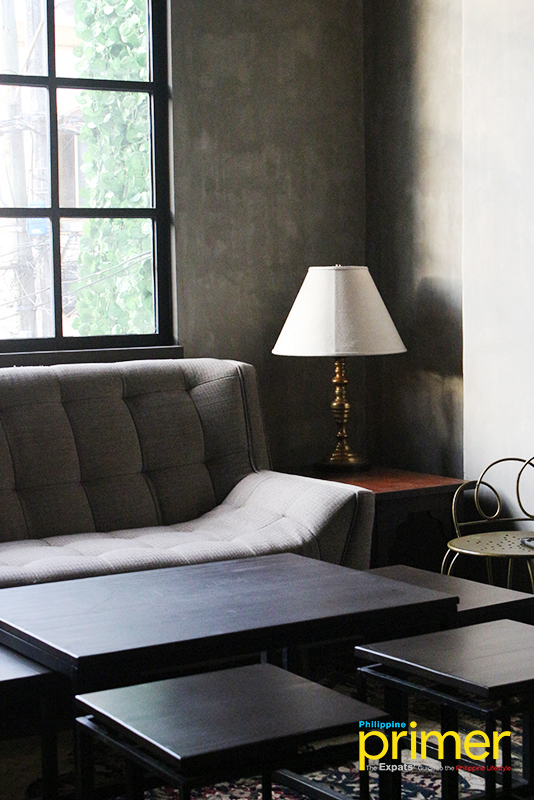 Upstairs provides more comfort with a living room setup. There are also seats for solo diners overlooking the airy lower floor.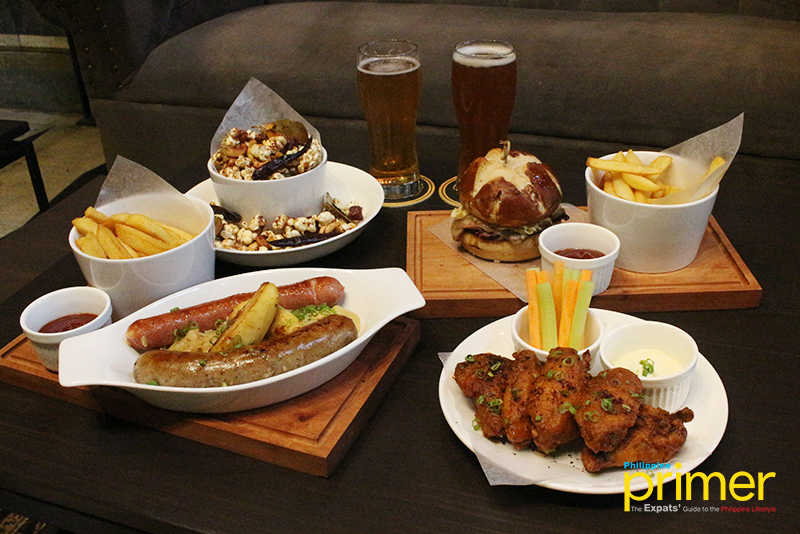 To start the night's agenda, we asked for their recommended and best-seller beers fresh on tap such as the Gateway Pilsner (Php 165/255), the Procrastination Pale Ale (Php 165/255), and the Space Out Coffee Stout (Php 185/295)—all from the craft beers of Pedro Brewcrafters.
If you want a beer that is not bitter and has well-balanced taste and nice malty notes, The Gateway Pilsner is what you are thirsty for. According to Nadine, this beer is only served at the Tap House and not distributed by the brewery.
But if you prefer a kick of bitterness, try the Procrastination Pale Ale that is clearly aromatic and fragrant.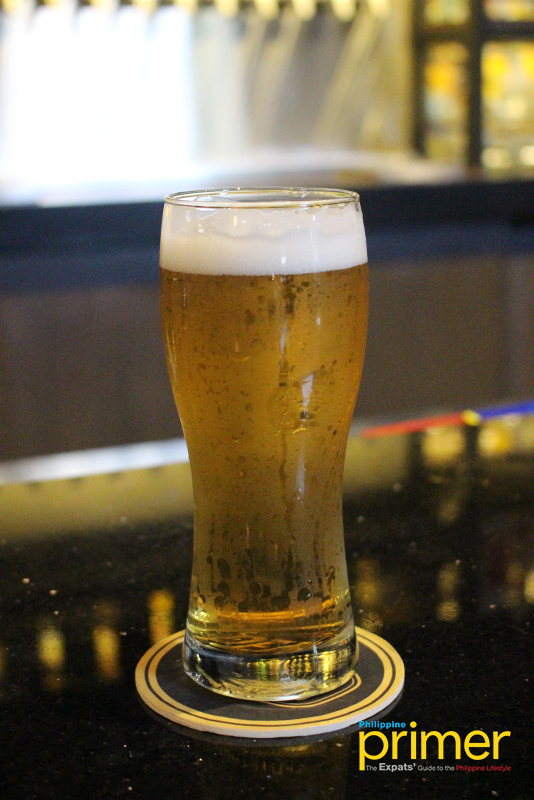 Gateway Pilsner (Php 165/255)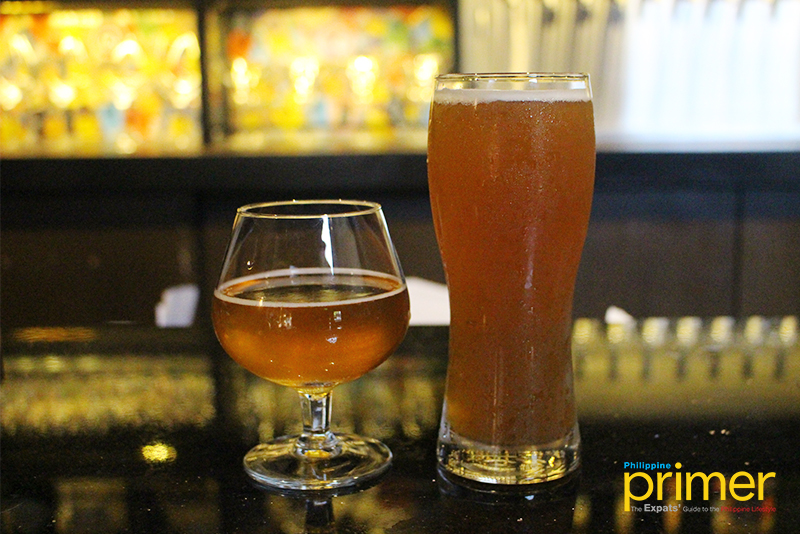 Procrastination Pale Ale (Php 165/255)
Meanwhile, the Space Out Coffee Stout, tagged as the "dark beer", is relatively unique. The Tap House has partnered with Yardstick Coffee for this drink that makes it give the caffeine and chocolaty savor, making it quite enticing.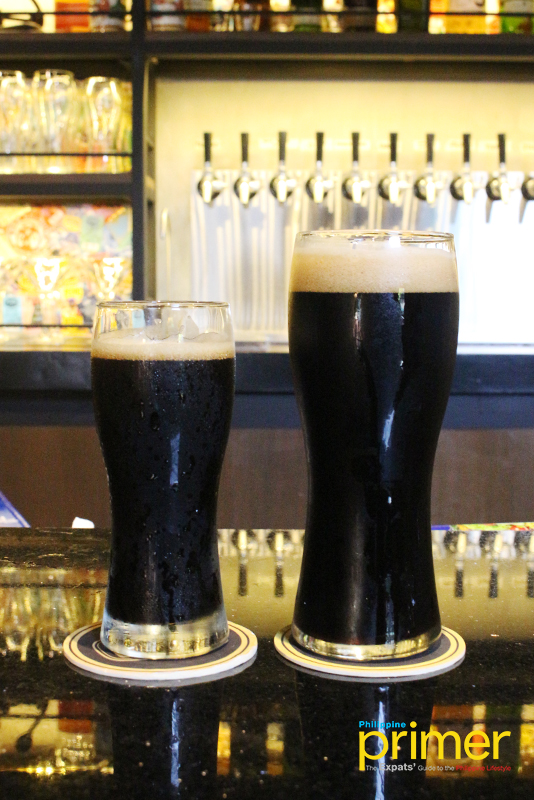 Space Out Coffee Stout (Php 185/295)
Indulge in a variety of their craft beers by ordering the Beer Flight (Php 300), which includes 4 100ml servings of any beer on tap.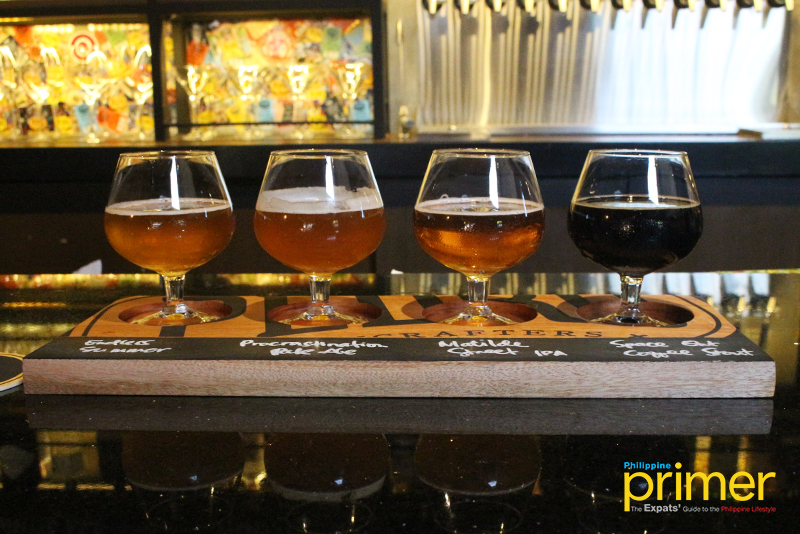 Beer Flight (Php 300)
Moreover, Pedro Tap House not only prides itself on presenting their own craft beers but also boasts their satisfying bar chows best paired with their drinks. Interestingly, their entire food menu was conceptualized by Jen and Jeremy Slagle, the duo behind the fine specialty store, Mister Delicious.
Try the Bar Junk (Php 300), for example. This one gives all the flavors you will desire while having your beer. It has popcorn, candied bacon, almonds, cashews, chili, and orange zest—all coated in bacon butter and ground sugar.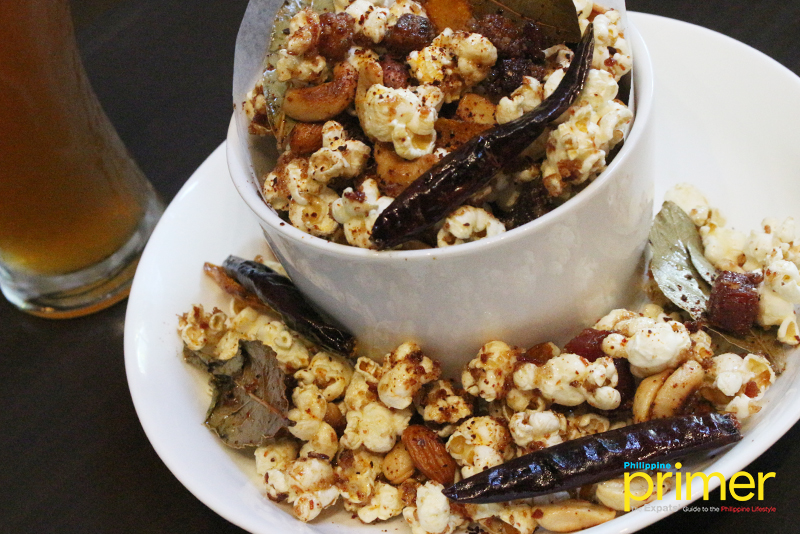 Bar Junk (Php 300)
Satisfy your meaty cravings by having the Pastrami Reuben (Php 565) and the Beer Sausages (Php 690) on the table.
The sandwich has the ever tasty Mister Delicious Sous Vide Pastrami in pretzel buns with cheese and coleslaw, while the sausages, braised in their Endless Summer Wheat Ale, are purely tender and served with sauerkraut and apple.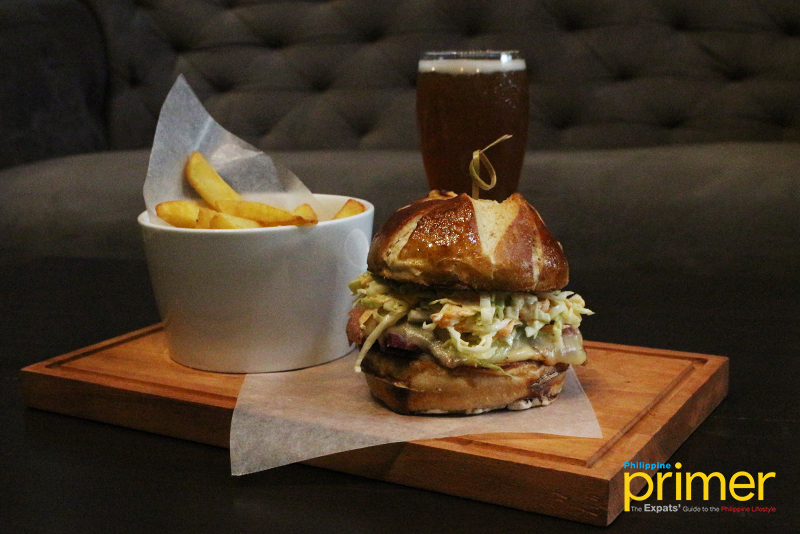 Pastrami Reuben (Php 565)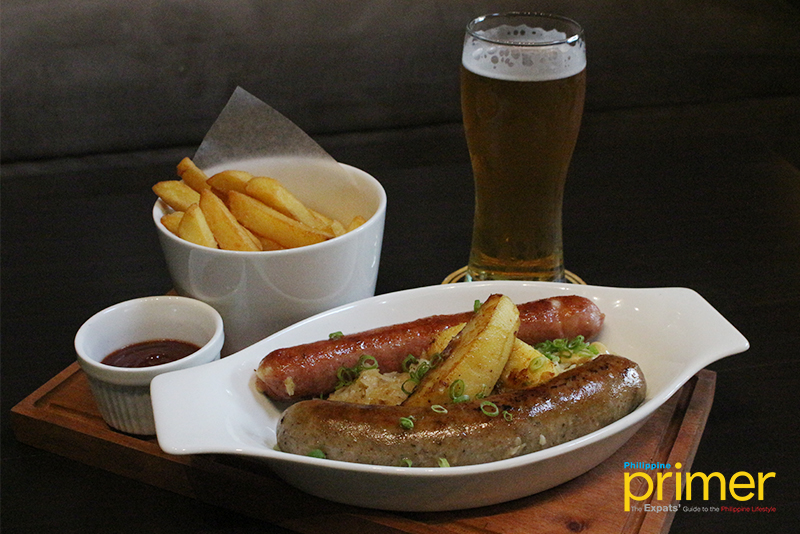 Beer Sausages (Php 690)
Also chow down on the Buffalo Wings (Php 260), which has six pieces of chicken wings served with their home-made blue cheese dressing.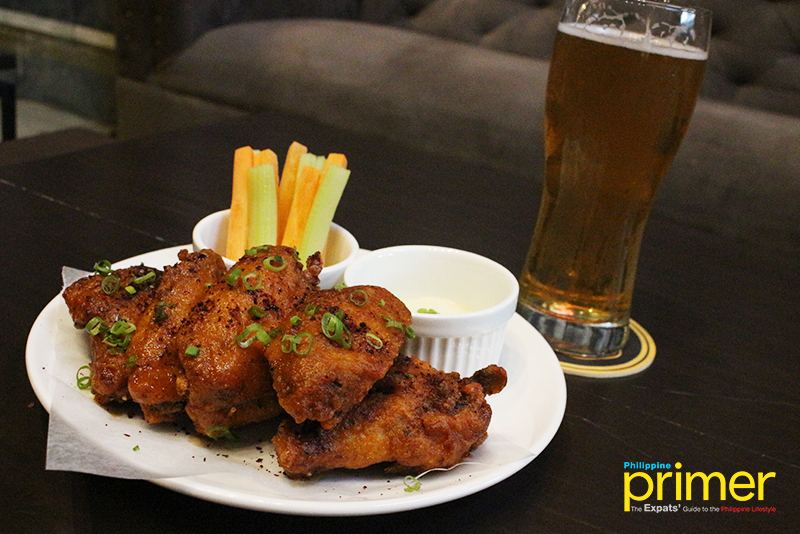 Buffalo Wings (Php 260) 
Excitingly, Pedro Tap House offers unlimited 10oz. beers on tap during "Hoppy Hour", which is from 5 a.m. to 8 p.m. This is available for only Php 699 (+ service charge) per person.
Apart from encouraging beer lovers and wine drinkers to try their variants, Nadine also hopes to find a new spot where Pedro Brewcrafters can "showcase" other things they can do, craft products that consumers don't find easily, and promote the so-called "experimental brews."
"We are really looking forward to having a place where we can showcase the other things that we can do and don't necessarily put out in the market on a wide scale," she stressed.
Visit Pedro Tap House at 5910 Matilde Street, Poblacion, Makati City. It opens on Tuesday to Saturday, from 5 p.m. to 1 a.m., and Friday to Saturday, from 5 p.m. to 2 a.m. For more information, visit their website and follow them on Facebook, and Instagram. You may also call 0933-851-2861 or send an email to pedrotaphouse@gmail.com.
---
Written by JR Padlan
Store Information
5910 Matilde Street, Poblacion, Makati City
0933-851-2861
5:00 pm to 1:00 am (Tuesday to Thursday) ; 5:00 pm to 2:00 am (Friday to Saturday)
Sunday to Monday
Cash, Credit Cards
pedrotaphouse@gmail.com