Types of Curry That You Can Try in Metro Manila
Curry is perhaps one of the oldest and most beautifully complex dishes in the world, with its consumption dating at least four centuries back. From key ingredients being turmeric, ginger, and garlic, this globally popular dish has grown with hundreds of ingredients and cooking methods, representing various regional cuisines from around the world. Curry's global sweep is all thanks to the cross-cultural trade between India, Europe, and Southeast Asia.
To satisfy your sense of taste, we have listed different types of curry you can savor in many restaurants in Manila!
Indian Curry
Traditional Indian curries usually include an Indian spice blend called garam masala. At least 20 kinds of spices are used, and while the most commonly used spices are ginger, chili, cumin, coriander, and turmeric, the selection of spices and ingredients may vary per region. Traditional Indian curries are prepared with fish, vegetables, and meats, with either yogurt, cream or milk. This fusion of flavors are often thick and rich in aroma and taste and can be mild or spicy. What makes Indian curry stand out is its spices—the taste is guaranteed to be bold and exotic.
Here are some restaurants where you can try Indian Curry:
New Bombay Royale
The interior of New Bombay Royale will no doubt transport you to India with its earthy tones, varied vivid colors, and intricate patterns and motifs. Their menu features dishes handled and maintained by Indian chef, ensuring that they can deliver that authentic Indian taste every time.
Their Chicken Tikka Masala has tender pieces of boneless grilled chicken cooked in rich tomato sauce with masala in thick gravy. Other recommended dishes are the Tandoori Chicken and Shrimp Biryani, both of which are house specialties and cooked with spinach sauce. The servers always ask if you want it mild, medium, or extra spicy so don't be afraid to try out any of their specialties. If the flavors are a bit too much, you can always tone it down with a yogurt drink called lassi, often flavored with fruits and made with spices and yogurt.
Also read: New Bombay Royale in Venice Grand Canal Mall
Address: G/F Venice Grand Canal Mall, McKinley Hill, Taguig City
Telephone Number: 02-810-1101
Business Hours: 11 am to 11 pm
Website: newbombayroyale.com
Facebook: New Bombay Royale Mckinley
Kashmir
For over 40 years, Kashmir Restaurant has been serving authentic Indian cuisine. Kashmir started in 1975 when three sisters wanted to let Filipinos experience Indian culture through its food. Starting from home-cooked meals to a full-time business restaurant for over four decades, Kashmir continuously receives recognition over the years as one of the best authentic Indian restaurants in Manila. Their line-up of curry dishes includes such classics as chicken and lamb, but they've also added a fish curry which uses a fillet of lapu-lapu (grouper) and a shrimp curry.
Kashmir also has a wide variety of dishes from meats, breads, vegetarian meals, and seafood. What makes each dish special is the use of their very own mix of Indian spices that make their tasty dishes even more mouthwatering.
Also read: Kashmir: Indian Dining Destination in Metro Manila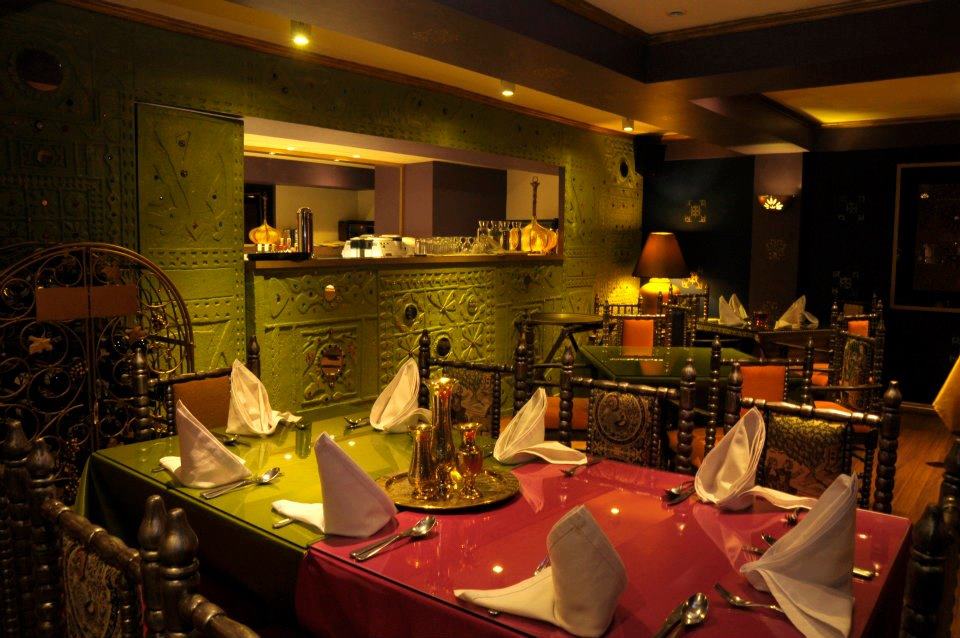 Address: Festejo Bldg., 816 Arnaiz Ave., San Lorenzo, Makati City
Telephone Number: 02-844-4927
Business Hours: 11 am to 11 pm
Website: kashmir.ph
Facebook: Kashmir Indian Restaurant
Royal Indian Curry House
Royal Indian Curry House or RICH is a four-story restaurant with sports bars, private rooms, and a sky lounge. It is Manila's first Indian sports bar and restaurant, offering a wide selection of curries, and Indian and Pakistani dishes. The owners are Nepalese who grew up in India and their chef, Surat Rana, is from New Delhi, India.
The restaurant makes sure that their menu offerings are just as their name suggests: royal and rich. As a curry house, they have a long list of curry dishes. One of the most popular ones is Murgh Makhani, also known as the Indian butter chicken, which is best served with cheese naan. One of the best known Indian food in the world, this dish is loved for its mild and creamy flavor.
Also read: Royal Indian Curry House in Poblacion
Address: 5345 General Luna St., Poblacion, Makati City
Telephone Number: 02-801-4435 / 0906-434-5102
Business Hours: 12 pm to 5 am
Facebook: Royal Indian Curry House
Massaman Curry
A mixture of sweet, smooth, and spicy flavors is what best describes massaman curry, dubbed as the king of curries by CNN Travel. Originating in Thailand, massaman curry is often prepared with spices like cinnamon, nutmeg, bay leaves, star anise, and cumin and mixed with some palm sugar and coconut milk that give it a distinct rich creaminess. Massaman is perfect for everyone, from the adventurous to the less adventurous taste buds.
Here are some restaurants where you can try Massaman Curry:
AzuThai
Thai Cuisine is known for its harmoniously bold and flavorful dishes that make it a much-loved cuisine. At AzuThai, you'll see how the restaurant aims to elevate Thai cuisine while still sticking to tradition. The calming ambiance of the restaurant complements the vibrant Thai dishes they serve. When it comes to the food, the exotic flavors present in every dish is something that diners should look forward to.
Tom Yum Goong, Crispy Catfish Salad, Pomelo Salad, Pad Thai, and the widely popular Massaman Curry are just some of the classic Thai dishes everyone needs to try. Their Massaman Lamb Curry is a mild and fragrant concoction of tender and flavorful lamb meat with Massaman gai, shallots, potatoes, and peanuts.
Also read: AzuThai in Makati: Home-style Thai Cuisine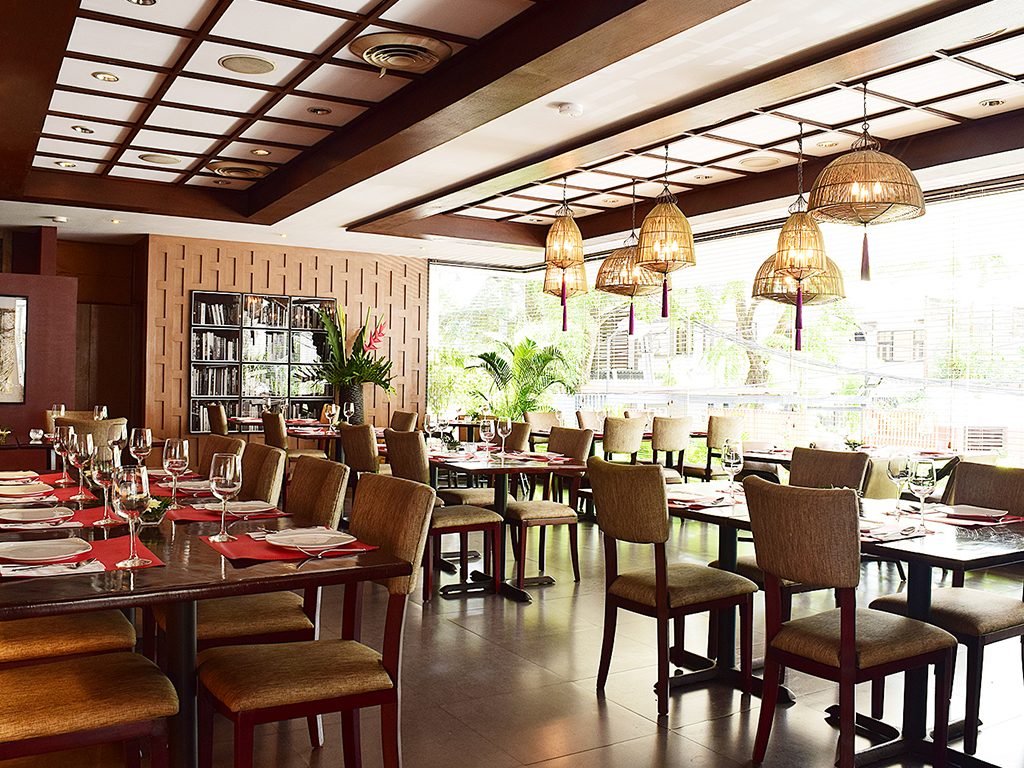 Address: G/F Milkyway Bldg., 900 A. Arnaiz Ave. cor. Paseo de Roxas St., Makati City
Telephone Number: 02-813-0671 / 02-817-6252
Business Hours: Lunch – 11:30 am to 2:30 pm, Dinner – 5:30 pm to 10:00 pm
Website: azuthai.com/index.php
Facebook: Azuthai
Benjarong
The menu at Benjarong is reasonably priced despite being housed in Dusit Thani Manila. Anyone can have a taste of Thailand. We highly recommend Gaeng Massaman Nuea made with beef chuck, cashew, onions, potatoes, and crushed peanuts in massaman curry sauce.
Also read: A taste of Thai Cuisine through Benjarong Restaurant at Dusit Thani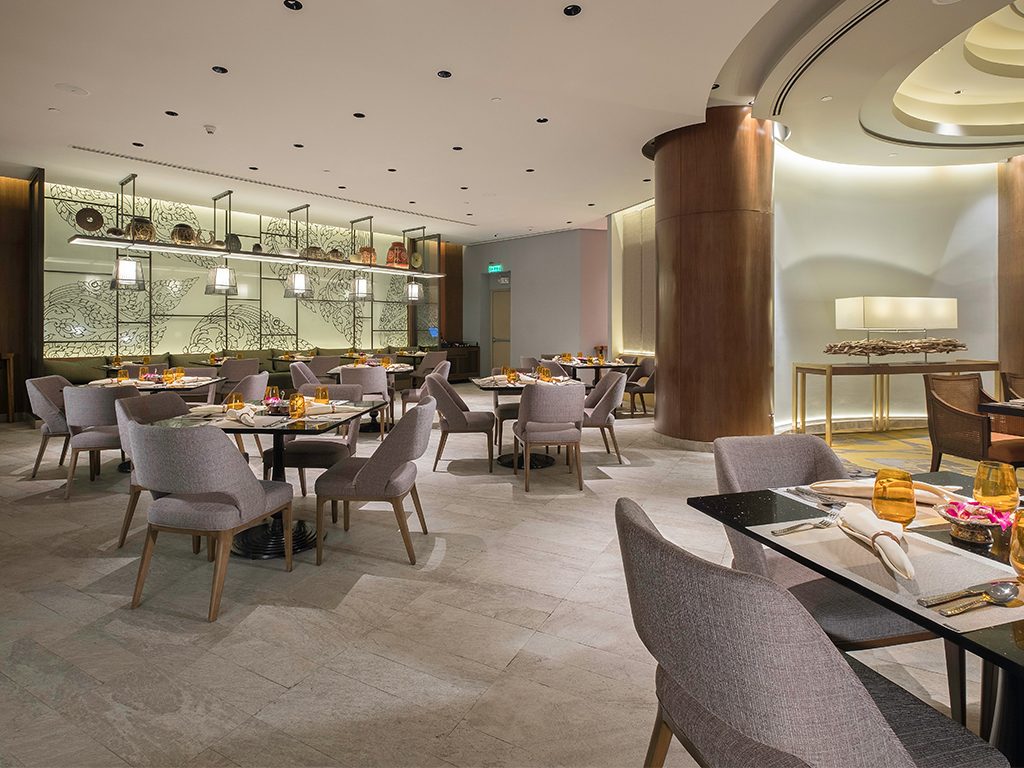 Address: G/F, Dusit Thani Manila, Ayala Center, Makati City
Telephone Number: 02-238-8888
Business Hours: Lunch – 11:30 am to 2:30 pm, Dinner – 6 pm to 10 pm, Bar – 5:30 pm to 12 am
Website: dusit.com/dusitthani/manila/dining/benjarong/
Facebook: Benjarong Manila
Mango Tree
This famous Thai restaurant has stores in Bangkok, Tokyo, London, Hong Kong, and Dubai. It's also one of only three stores certified as "Thailand Select" by the Thai Department of Commerce. They offer delectable curry dishes like the Crab with Yellow Curry Sauce, Green Curry Seafood, and the most recommended Lamb Shank Mussaman Curry.
Also read: Mango Tree in BGC: Authentic Thai Without the Flight
Address: 7th Ave., Bonifacio High Street Central, BGC, Taguig City
Telephone Number: 02-616-6694 / 02-621-3233
Business Hours: Lunch – 11:30 am to 2:30 pm, Dinner – 5:30 pm to 11:30 pm (Sun to Thurs); Lunch – 11:30 am to 2:30 pm, Dinner – 5:30 pm to 1 am (Fri to Sat)
Facebook: Mango Tree Manila
Southeast Asian Curry
Many Southeast Asian curries use coconut milk or coconut cream, an ingredient that isn't common in other regional curries. It's also common to encounter lime and/or lemongrass in the recipe, as both are native to many Southeast Asian countries. And then, there's galangal. Many mistake this for ginger but they aren't alike. Galangal has a citrusy and piney taste while ginger is more aromatic, pungent, and spicy.
Here are some restaurants where you can try Southeast Asian Curry:
Spices
Opened in 1994, Spices at The Peninsula showcases exotic flavors from India, Indonesia, Malaysia, Thailand, Vietnam, Pakistan, the Philippines, and Sri Lanka. The Balinese-inspired decors of the restaurant give you a relaxing feeling. The glass-enclosed pavilion has a relaxing view of the outdoor pool and garden, a perfect place for an intimate dining experience.
They have eight curry items including Murgh Makhani, a North Indian tandoor roasted chicken in silky tomato gravy, and Gaeng Kiew Warn Goong Gai, a spicy Thai green curry with coconut milk, eggplant and basil. Spices highlights the cuisines of eight Asian countries by offering dishes with unique spices that represent the rich culture and flavor of the country. If you're not into spicy food, they can adjust the spiciness level rangin from mild, medium and spicy to very spicy.
Also read:  Spices in Makati: A Symphony of Asian Flavors
Address: The Peninsula Manila, Ayala Ave. cor. Makati Ave., Makati City
Telephone Number: 02-887-2888 ext. 6754 or 6755
Business Hours: Lunch – 11:30 am to 2:30 pm, Dinner – 6 pm to 11 pm
Website: manila.peninsula.com
Facebook: The Peninsula Manila
Wooden Spoon
Owned by Filipino celebrity chef, Sandy Daza, Wooden Spoon is a Filipino restaurant that brings favorite home-cooked dishes to the next level. For a taste of Filipino-style curry, Sandy's Beef Curry is a spicy dish made with melt-in-your-mouth beef leg boiled for about three hours and then mixed with curry paste made with ground basil, lemongrass, and green peppers. You can also ask to have chicken with the dish instead.
Also read: Wooden Spoon in Powerplant Makati
Address: LGF Power Plant Mall, Rockwell, Makati City
Telephone Number: 02-403-3585
Business Hours: 11 am to 9 pm (Mon to Thu); 11 am to 10 pm (Fri to Sat); 10 am to 9 pm (Sun)
Facebook: Wooden Spoon
People's Palace
For first-timers, People's Palace recommended dish is the Massaman Curry of Lamb with potatoes, peanuts, and shallots. For spicy lovers, a must-try is Green Chicken Curry with eggplants, kaffir, basil, and a lot of chili peppers. The restaurant takes pride in homemade, fresh, and additive-free cooking.
Also read: People's Palace in Makati
Address: G/F, Garden Side, Greenbelt 3, Ayala Center, Makati City
Telephone Number: 02-729-2888
Business Hours: 11 am to 10 pm
Website: peoplespalacethai.com
Japanese Curry
Japanese curry has a thick sauce that is almost stew-like in consistency. Most are made with beef, chicken, or pork, and usually contain onions, carrots, and potatoes. As with many curry dishes, some Japanese curries are mild and some are extremely hot. A popular way of cooking Japanese curry is by using curry roux, which resembles bouillon cubes and is offered by a variety of brands. Japanese curry is commonly served in three ways: with rice, noodles, and as a filling for bread.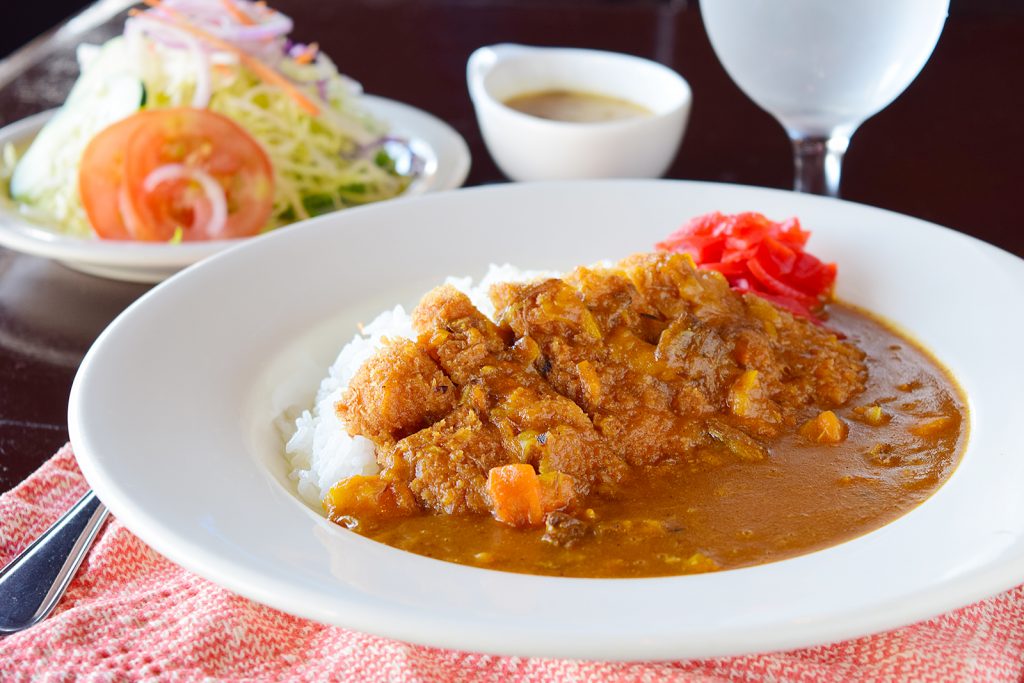 Here are some restaurants where you can try Japanese Curry:
Tokyo Camp BBQ Curry
Camp is a restaurant concept from Tokyo that takes people on a gastronomical adventure through Japanese curry. It first opened in Tokyo in 2007 by one adventurous man, Takashi Sato, who loves camping and the outdoors. Every corner is done up with items like camping backpacks and lanterns, as well as framed photos and signages related to travel and adventure.
The specialty of Tokyo Camp, curry, is a very apt dish for this theme, considering that curry is a common camping food and even said to be a favorite military food. If you want one dish with a certain curry sauce, you have the freedom to create your own combination. There are six main dishes and three curry sauces to choose from. One of the master's recommendations is BBQ Pork Belly & Brown Keema Curry, a combination of flame-grilled meaty pork belly and a smooth and well-balanced curry sauce that's original from Tokyo. For the diet-conscious, the perfect dish is Fully Loaded Chunky Vegetables with Green Vegeful Curry.
Also read: Camp in Makati: Extraordinary Japanese curry from Tokyo!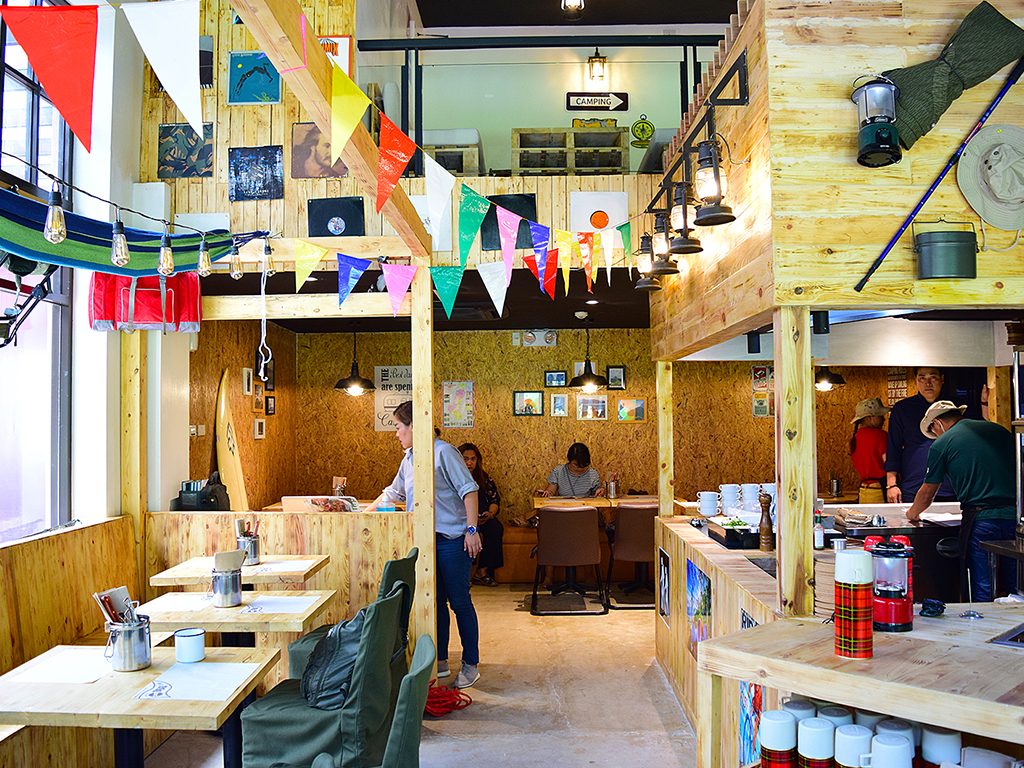 Address: Ayala Triangle Gardens, Makati City
Contact number: 02-851-6730 / 02-651-6730
Operating hours: 10 am to 10 pm
Facebook: CAMP Curry Philippines
Saboten
One of the best places in Metro Manila to eat authentic tonkatsu is Saboten, a restaurant that has its roots in the country where the well-loved pork cutlet dish was born. And if you mix this specialty with such a much-loved Japanese specialty as curry, then you have got yourself the most heartening Japanese meal in the city.
Their curry is made with special spices that go perfectly well with their fresh, crisp, and meaty tonkatsu.
Also read: Saboten in BGC: Home of Decades-Old Original Katsu
Address: G/F, Serendra, BGC, Taguig City
Telephone Number: 02-625-2000 / 0917-816-0061
Business Hours: 11 am to 11 pm
Website: raintreehospitality.net/saboten
Facebook: Saboten Philippines
CoCo Ichibanya
All seven branches of CoCo Ichibanya—or "CoCo Ichi" to its patrons—serve their world-famous curry. The most fun part in CoCo Ichi is customizing your meal. You can select the serving size of Japanese rice: from 200g and 300g (standard) up to 600g. You can also choose the level of spiciness from the Mildest to the throat-searing Level 5. In Japan, the highest level of spice for curry is 10!
People who have gone to CoCo Ichibanya have lauded their Pork Cutlet and Omelet Curry as it's their most recommended for first-time curry diners.
Also read: CoCo Ichibanya: Metro Manila's Leading Curry House
Address: LG/F, Estancia Mall, Capitol Commons, Oranbo, Pasig City
Telephone Number: 02-696-1649
Business Hours: 11 am to 9 pm (Mon to Thu); 10 am to 10 pm (Fri to Sun)
Facebook: CoCo Ichibanya PH
Curry Hot Pot and Noodles
Curry has often been paired with rice or bread, but creative concoctions have emerged, incorporating curry with a comforting bowl of noodles or hot pot.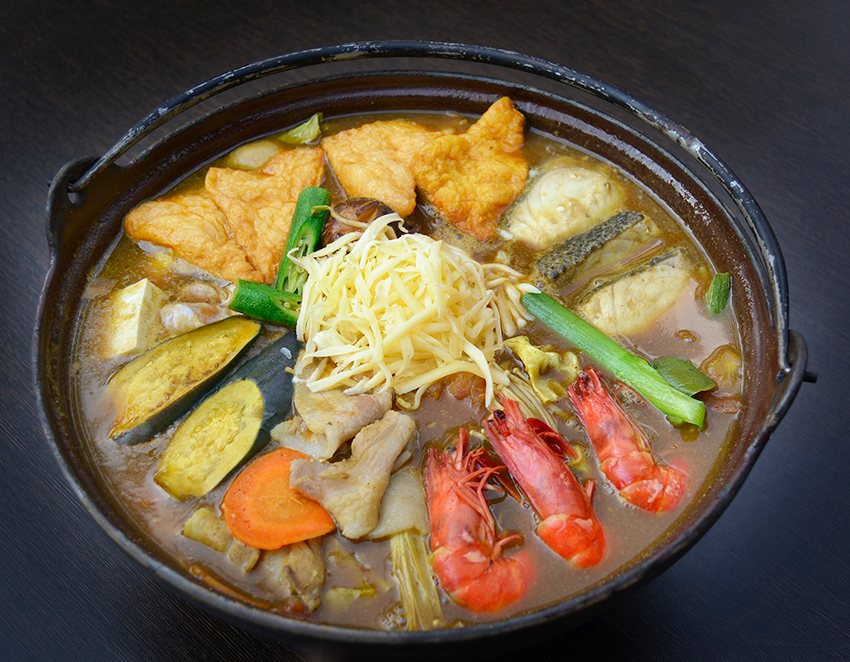 Here are some restaurants where you can try Curry Hot Pot and Noodles:
Sekitori
Sekitori is popular for their Chanko Nabe, a traditional dish that lets sumo wrestlers carb-load while also being healthy. The dish is full of vegetables and low in fat. It is boiled for around five hours with dozens of types of ingredients that give it a rich taste. A must-try variation is the Curry Chanko Nabe, which has a rich and flavorful curry roux.
Also read: Sekitori Japanese Restaurant in Ortigas
Address: Hanston Square Bldg., Ortigas, Pasig City
Telephone Number: 02-881-7985
Business Hours: 12 pm to 2:30 pm, 5 pm to 11 pm
Website: sekitori.asia
Sigekiya
The authentic flavors of Sigekiya, under the guidance of a Japanese master from Yokohama, is very popular in Alabang. Customers can choose the spiciness level of their ramen, and since there is no limit, some people even choose level 100 or higher. Their only curry dish, the Tsukemen with Japanese Curry has straight noodles which the soup clings to really well, making it very delicious.
Also read: Sigekiya Ramen
Address: G/F Commercenter, 1780 Commerce cor. Filinvest Ave., Filinvest City, Alabang
Telephone Number: 02-805-0400
Business Hours: 11 am to 10 pm
Facebook: Sigekiya Ramen PH
Marugame Udon
Marugame Udon has captivated the hearts of many people with their thick, firm, and chewy udon noodles. Their Curry Udon presents to the palate a perfect balance of curry and bonito soup that fit well with the firm and smooth texture of the udon noodles. Other curry specials are Curry Rice and Omelette Katsu Curry, which prove that noodles are not the only thing this restaurant can produce well.
Also read: Marugame Udon Opens First PH Branch in BGC
Address: Unit 982, B7, Bonifacio High Street, BGC, Taguig City
Operating Hours: 11 am to 10 pm
Facebook: Marugame Philippines
---
This also appears in Philippine Primer Magazine's September 2018 issue.