Marugame Udon Opens First PH Branch in BGC
One of Japan's largest udon restaurant chains, Marugame Udon, has finally opened at Bonifacio High Street in BGC. The restaurant was brought to the Philippines by the biggest operator of noodle restaurants in Japan, Toridoll Holdings Corporation, through Suyen Corporation.
Marugame held its ribbon cutting ceremony last Wednesday. It was attended by Toridoll Holdings Corp. President Takaya Awata, Suyen Corp. President Virgilio Lim, Suyen Corp. CEO Ben Chan, and many others.
During the ribbon cutting ceremony (L-R): Rowena Toweldan (Ayala Land Inc.), Kimihiro Tanaka (Toridoll Exec. Dir.), Takashi Nagasawa (Toridoll Exec. Dir.), Takaya Awata (Toridoll Holdings Corp. President), Taguig Mayor Lani Cayetano, Ben Chan (Suyen Corp. Chairman and CEO), Makoto Iyori (Japanese Minister of Economic Affairs), and Virgilio Lim (Suyen Corp. President).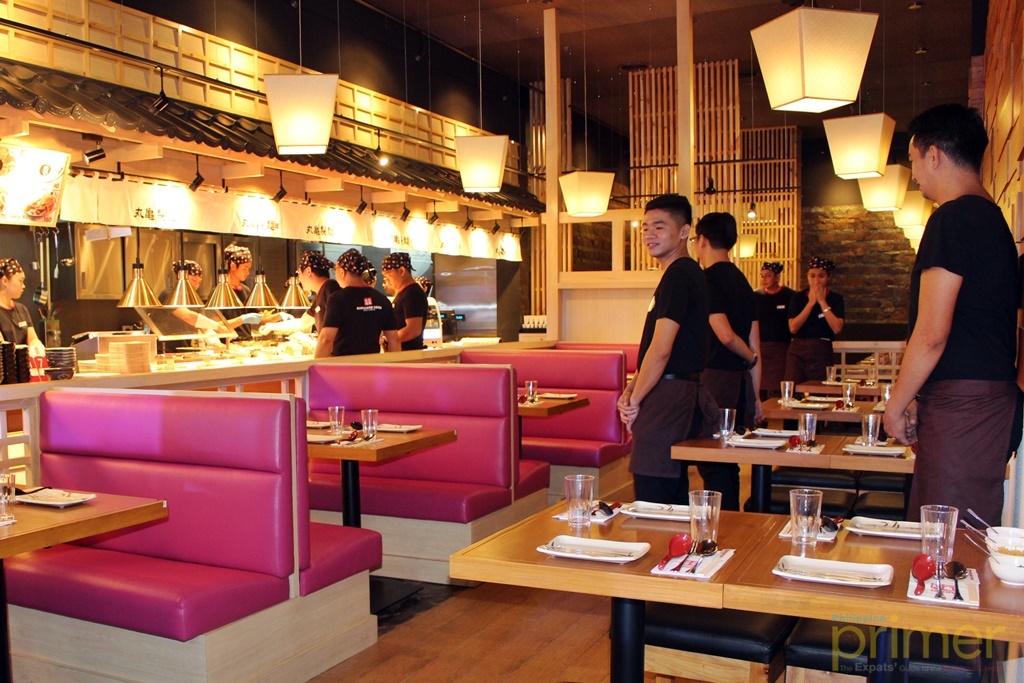 Marugame Udon is finally open in BGC!
The first branch of Marugame Udon was opened in Japan in 2000. Since then, the restaurant has been well received by foodies and noodle lovers not only in Japan but also around the world. Marugame Udon now has about 800 branches in Japan alone and almost 200 across 12 countries.
What's there not to love about Marugame Udon? Their noodle and rice dishes are gratifying. The place has a very friendly and accommodating atmosphere. And all the dishes are reasonably priced!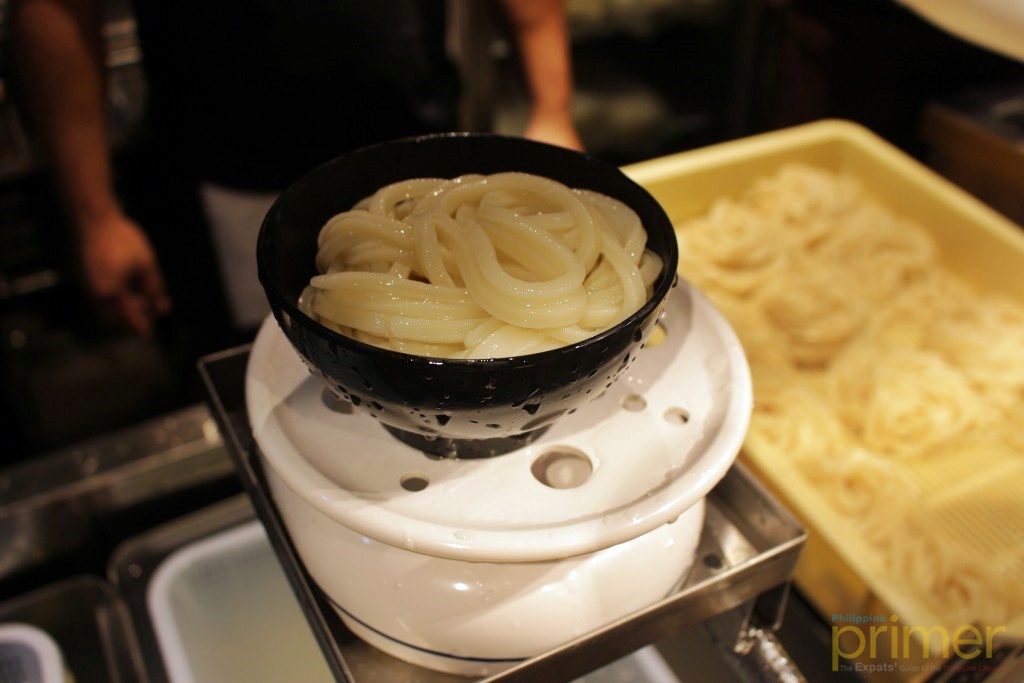 Freshly made udon ready to be served!
Marugame Udon is best known for their self-service approach and fresh handmade udon noodles, which are made right in their open kitchen that lets you see the whole process. Marugame Udon puts high importance in serving freshly made noodles on your table to make sure that you can enjoy the soft, chewy and fresh taste of udon.
Have your udon your way with Marugame's self-service concept.
While you can expect Marugame Udon's best classic dishes from Japan like Beef Ontama Bukkake Udon and Kake Udon, they have also made udon more lovable for the local market by adding new dishes that adapt to the Filipino taste like the Carbonara Udon. They also have classic Japanese rice bowls that will surely bring out the voracious foodie in you.
Another thing that puts Marugame Udon closer to Filipinos' hearts is that they have a high preference for local ingredients to suit the local community.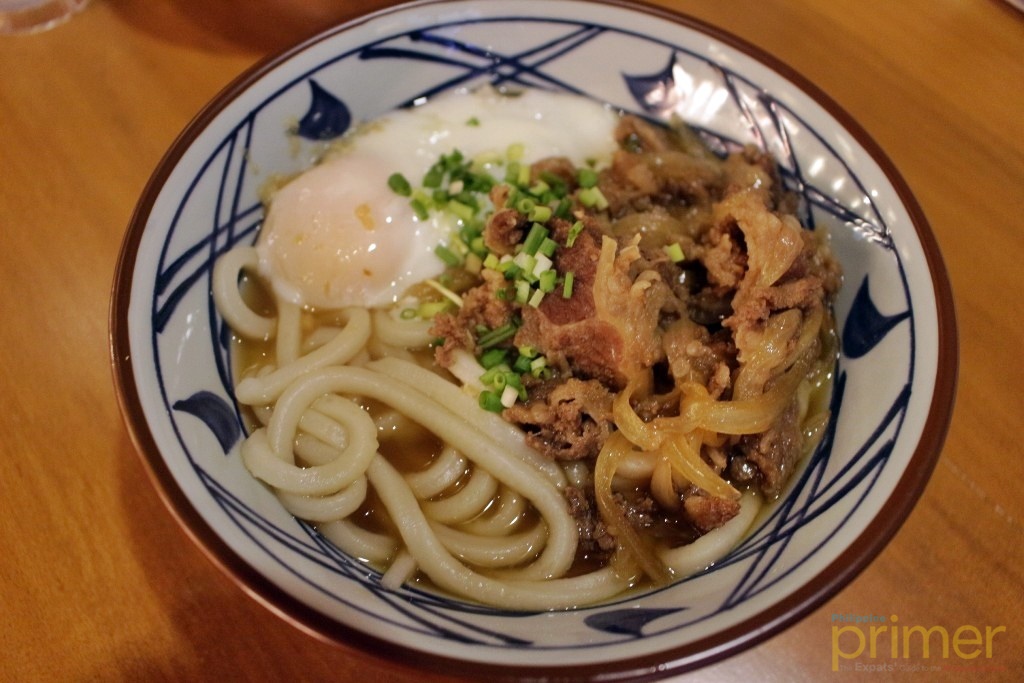 Beef Ontama Bukkake Udon – freshly made udon with bukkake soup, topped with sliced beef and Japanese poached egg (Php 210 – regular, Php 260 – large)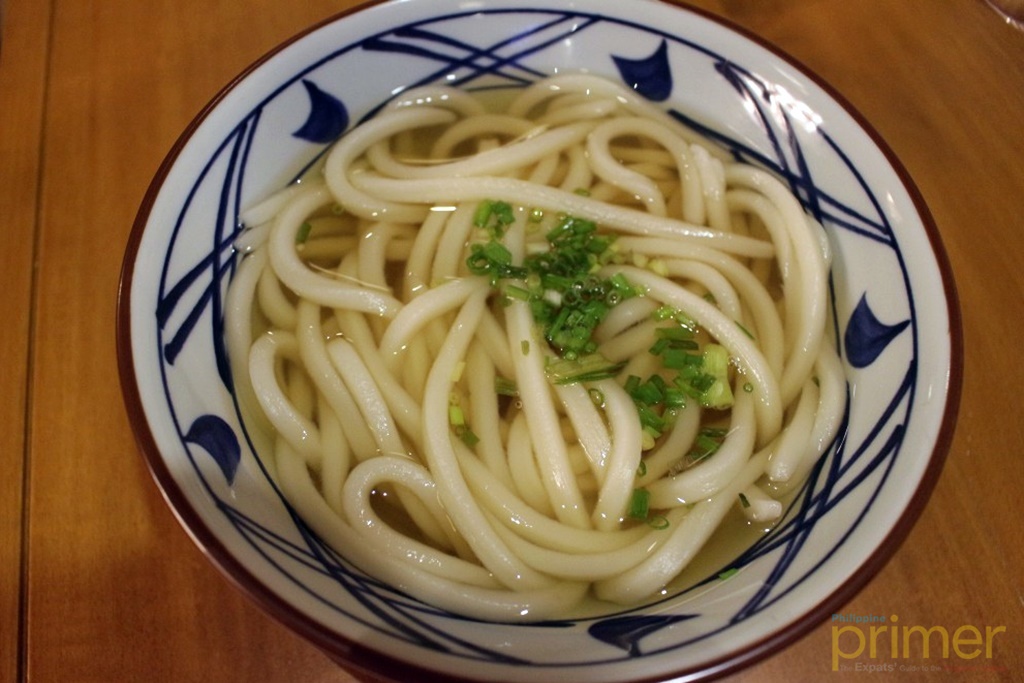 Kake Udon – a classic meal of freshly made udon with kake soup, best eaten with green onions, grated ginger and ground sesame. (Php 95 – regular, Php 145 – large)
Curry Rice. (Php 160)
The interiors feel a lot like a local restaurant in Japan but were also given subtle adjustments to be more enjoyable for local diners. For instance, the seats are wider and use softer cushions, so groups can enjoy chatting with friends over a long meal of udon.
A perfect place to bring your friends and family.
Udon has been served in different restaurants in the metro but often overlooked because it's always ramen that takes the spotlight, hence ramen was often the first choice when it comes to noodle soup cravings. But now, finally, there is a special Japanese restaurant that brings udon to the fore, letting you enjoy a good bowl of noodle soup in any weather.
Also read: Toridoll: Operator of Well-loved Japanese Restaurants
Details:
Address: Unit 982, B7, Bonifacio High Street, BGC, Taguig
Operating hours: 11 a.m. to 10 p.m. (Mon. to Sun.)
Facebook page: www.facebook.com/marugameph
---
Written by: Rizelle "Rei" Leaño