The Expats' Ultimate Guide to Public Transportation in the Philippines
The Expats' Ultimate Guide to Public Transportation in the Philippines
Riding the public transportation in the Philippines is one of the best ways to learn more about the country, particularly in terms of the Filipino culture, values and practices. Albeit daunting if it's your first time, it's honestly easy to go around as long as you know the basic transportation means.
Check out this ultimate guide to public transportation in the Philippines:
Train

LRT Train / IMAGE Neil Bat-og
There are three train lines in the Philippines, namely Metro Rail Transit (MRT), Light Rail Transit (LRT), and PNR (Philippine National Railways).
Riding these train lines during rush hour may overwhelm you, but they can get you relatively faster to your destination especially if you're just traveling around Metro Manila. Filipinos usually take the train to avoid bumper-to-bumper traffic along EDSA road.
To get access to MRT and LRT, buy a single-journey ticket at the booth in the station. Single-journey ticket price starts at Php 12, and can go up until Php 28, depending on how far your destination is. You may also purchase a beep card that you can reload to avoid the long queue at the single-journey ticket booth. MRT and LRT are ideal if you're commuting to the northern part of Metro Manila.
Beep card for MRT and LRT
Also read: Things You Can Do With Your Beep Card
Meanwhile, for PNR, there's a small table at the station where you can purchase a ticket starting from Php 10 up to Php 45. This train line is ideal if you're traveling to destinations outside of Metro Manila.
PNR currently has two front services: the Metro South Commuter Train (from Tutuban to Calamba) and the Bicol Commuter Train (Tagkawayan to Legazpi).
Also read: 
Jeepneys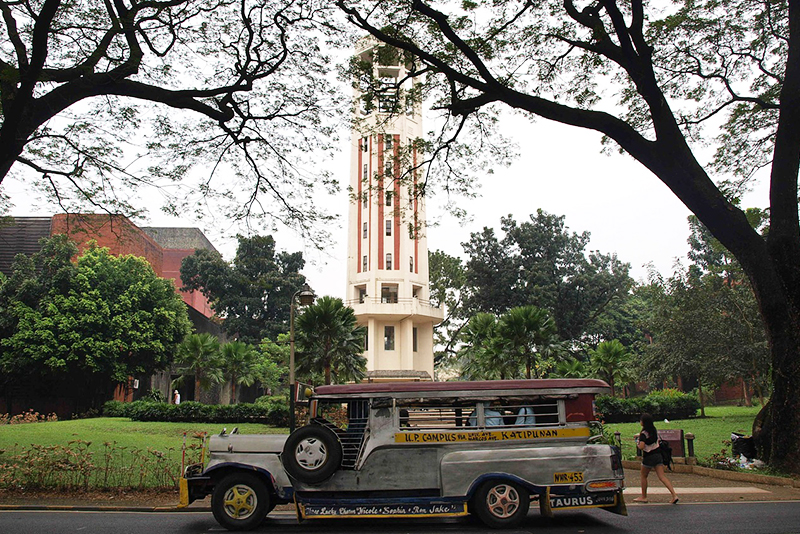 Jeepney–the most iconic ride in the Philippines.
As the most iconic vehicle in the Philippines, jeepneys can be found almost anywhere you go. Each jeepney goes around different points in a city or town.
Paying is a bit unique because you have to pass your fare up to the driver by saying "Bayad po", while "Para po" if you're going off. At present, the minimum fare is Php 10.
In case you're unsure, you can always tell the driver about your destination, and he will gladly drop you off at the nearest landmark.
Also read: How to Ride and Enjoy the Iconic Jeepney
Unfortunately, jeepneys may be decreasing in number as they are being replaced with the modernized PUVs, but they have the same payment method.
Modernized PUVs by Hino Motors
Bus
Like any other countries, buses are one of the most commonly used public transportation in the Philippines. There are different types of buses in the country such as the Point-to-Point (P2P), shuttle, provincial, ordinary, and air-conditioned buses.
There is a ticketing officer roaming around the bus to ask for your payment in exchange for a ticket. Remember to keep the ticket as the inspector might ask you for it to check if you've already paid. Again, the fares depend on how far your destination is.
Regular buses are either ordinary or air-conditioned, and they have different routes from north to south of the Metro. Just like jeepneys, you can always ask the ticket officer or the inspector if you're unsure of your destination.
There are also buses that only go around within a city, such as the BGC Bus in Taguig City, which is currently at Php 13.
BGC Bus in Taguig City
Also read: How to Commute in the South of Metro Manila
Further, provincial buses have deluxe and regular types, with deluxe being the pricier of the two because it has a comfort room inside. Provincial trips usually take about seven hours or more.
P2P buses have fixed pick-up and drop-off locations, and they are more expensive than the regular buses. However, they offer a hassle-free ride during rush hour as the queue is very little to none. P2P bus fares start at Php 100.
Also read: P2P Bus Service Guide for Expats
Majority of shuttle buses also have a fixed point, particularly in casinos, while hotel shuttles can have different drop-off points from the hotel. It is better if you ask the hotel in advance if they offer shuttle buses with different drop-off points.
Vans
Vans are commonly used in the Philippines nowadays, especially because of the boom of UV Express. It may be a bit crowded inside, but sometimes it's more convenient than taking the bus or jeepney.
Fares start at Php 60 and are usually collected before the van takes off from the terminal.
Taxis
Airport taxi in the Philippines
There are two types of taxis in the Philippines, the regular white ones and the yellow taxis. Flag down rate is at Php 40 for white taxis, while the distance rate per km is Php 13.50.
Yellow taxis are only available at airport terminals, and they are pricier than the white one with a Php 70 flag down rate.
Also read: Grab/Uber or Taxis: Which do you prefer?
Transportation apps
With the boom of modern technology, transportation apps are also prominent in the Philippines–the popular ones being Grab, Angkas, and Wunder Carpool. Prices vary depending on the location and time you book your ride, and it's usually difficult to book one during rush hours.
Grab has GrabCar (4-seater, 6-seater, and Premium), GrabShare, and GrabTaxi. GrabCar is the recommended option, but you can try GrabShare if you want to carpool.
GrabShare and Wunder Carpool have the same concept, sharing the ride with other passengers. Carpooling may take you a while before you reach your destination, but it's usually the cheapest option.
Lastly, Angkas only offers a motorcycle ride, which may make it the fastest option out of all the transportation apps. It's also relatively cheaper, but it's not ideal if you're going to long distances.
Also read: 
Tricycles/E-tricycles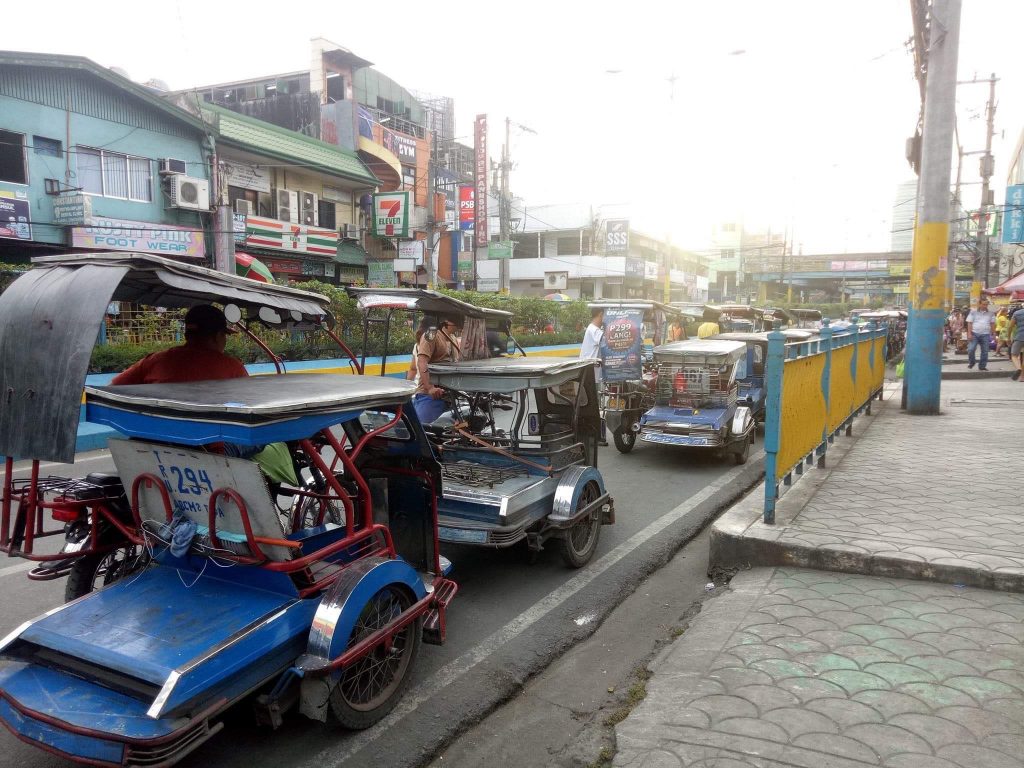 Tricycles are for quick, short-distance rides
Filipinos usually pick tricycles for quick, short-distance rides within a city or barangay. The tricycle can accommodate up to six passengers in one trip, with a minimum fare of Php 10.
Special trips start at Php 40. Be sure to negotiate before you get in the tricycle because some drivers might charge you with a higher price. You are also free to haggle if you think they are charging you too much.
Sidecar/Pedicab/Padyak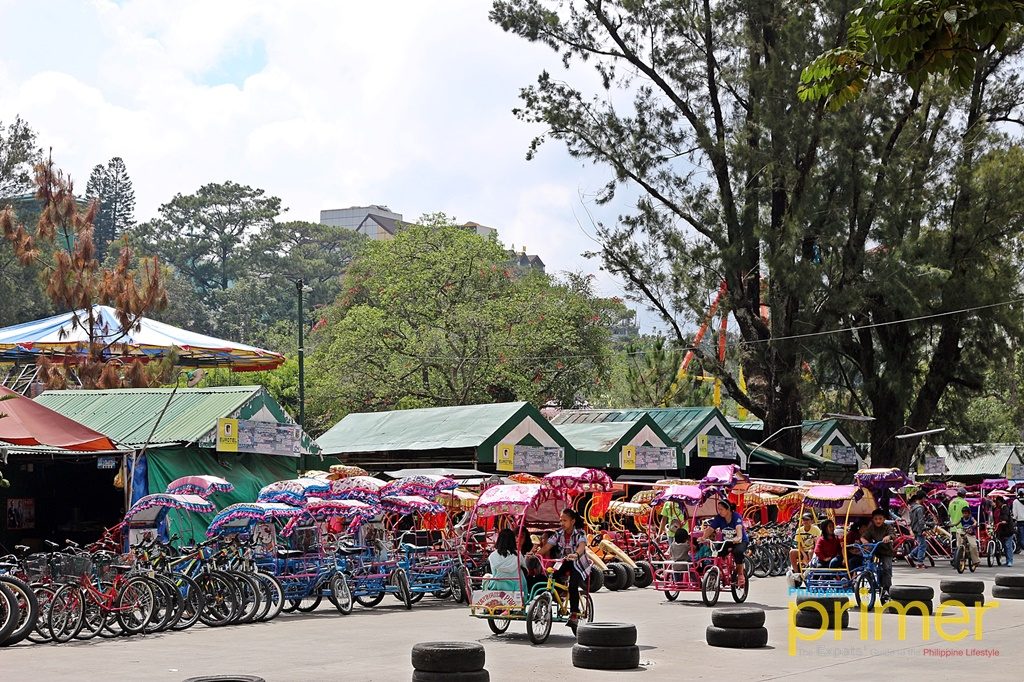 Sidecars, also known as pedicab or padyak
Just like tricycles, sidecars, also known as pedicab or padyak, start at Php 10 per trip, and can accommodate up to two persons. This type of transportation is prominent in Manila City, but only for short distances.
Roro
Roro ferries in Batangas Pier
There are different types of Roros, or "Roll-on, Roll-off ships", that are used as a public transportation–the ferries and the cruise ferries.
The Pasig River Ferry Service costs about Php 30 to Php 95, and you can already travel around Manila City's top attractions. The Batangas Pier is also a popular ferry port as it serves as a gateway to different islands along the provinces in Calabarzon, where you can find some of the best beaches near Manila.
Also read:
Airplane
Although there are ferries available, taking the plane is the easiest way to see the other islands in the country.
There are a lot of small airports all over the Philippines, but the largest ones are Ninoy Aquino International Airport (NAIA) in Manila, Mactan-Cebu International Airport in Cebu, Francis Bangoy International Airport in Davao, and Kalibo International Airport in Kalibo.
Also read: LIST: Commercial Airlines in the Philippines
We hope this guide to public transportation in the Philippines will help ease your stay in the country! For more commuting tips, check out the following links:
---
Written by Yana Bautista