Expats' Guide: PNR Stations
Expats' Guide: PNR Stations
Before the advent of light rail and the subsequent rise of LRT1, LRT2, and MRT, there was the Philippine National Railways, or PNR. It used to span the entire island of Luzon, from La Union to Bicol, and has been in operation since November 24, 1892.
IN SERVICE FOR 124 YEARS. It may no longer be the best way to go from North to South, but it's still the lifeblood for some of our countrymen.
It's not exactly in stellar condition, but the PNR is still being used by most Filipinos to travel from Muntinlupa City to Manila, known as the Metro South Commuter (MSC). It's also used by people who want to go from Naga City in Camarines Sur to either Sipocot, Camarines Sur or Legazpi City, Albay.
THE CURRENT STATE OF PNR. It used to connect Manila to La Union and Bicol, but now it's only used for trips from Muntinlupa City to Manila and from Naga City to either Sipocot or Legazpi City in the Bicol Region.
We'll focus on the Metro Manila Stations for now, so here's the list of stations you can use for their Metro South Commuter:
Tutuban
Blumentritt (connected to LRT1)
Laon-laan
España
Santa Mesa (connected to LRT2)
Pandacan
Paco
San Andres
Vito Cruz
Buendia
Pasay Road
EDSA
Nichols
Food Terminal Incorporated (FTI)
Bicutan
Sucat
Alabang
The MSC is time-bound, so be sure to get tickets before the scheduled departure time. Here are the latest schedules for the northbound and southbound trips of the MSC, as well as the fare matrix:
NORTHBOUND
SOUTHBOUND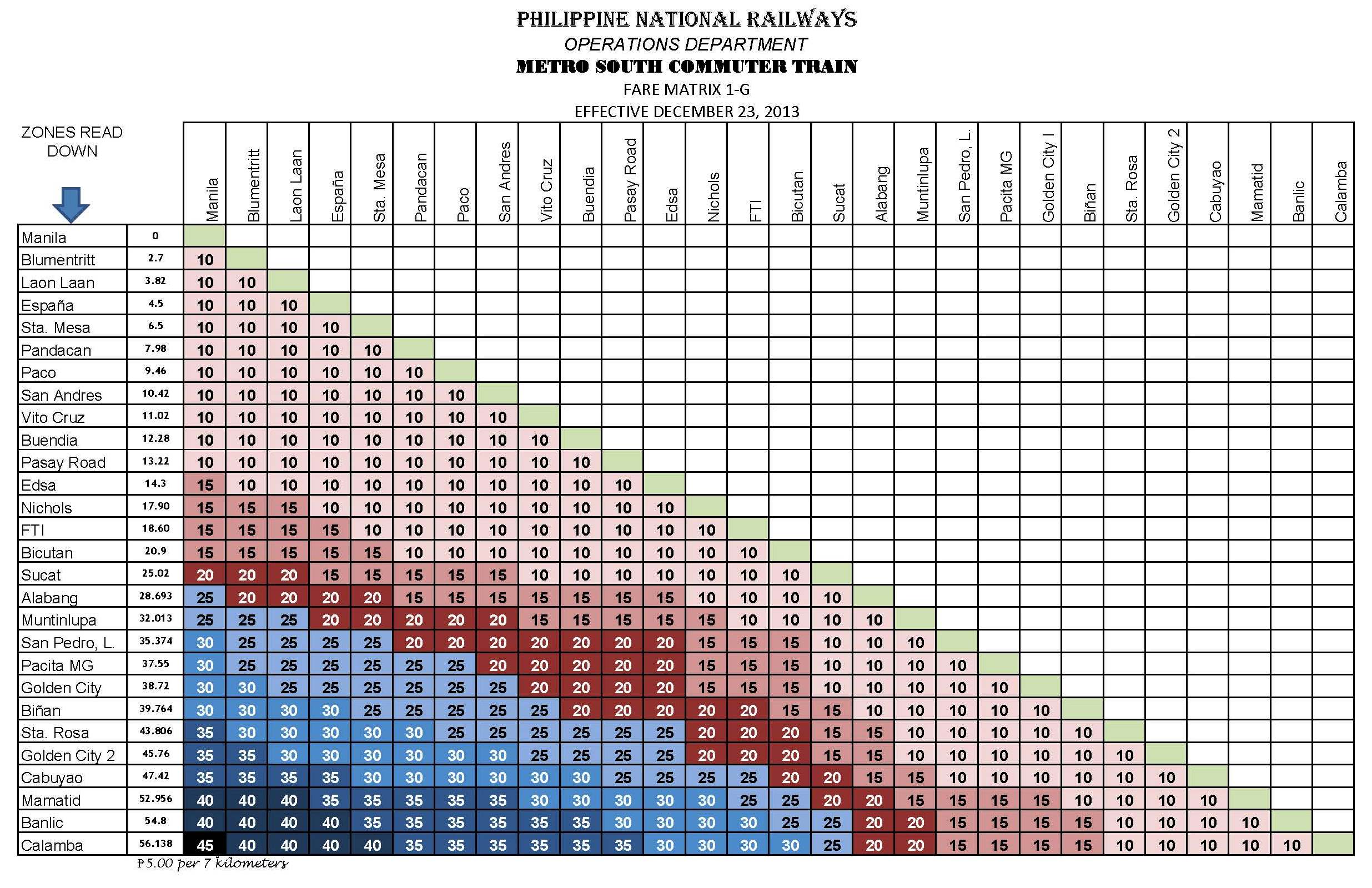 A CUTAWAY OF THE MOST RECENT FARE MATRIX. The full fare matrix can be seen here.
---
Source: www.pnr.gov.ph
All images grabbed from www.pnr.gov.ph