How to Ride and Enjoy the Iconic Jeepney
How to Ride and Enjoy the Iconic Jeepney
You've most likely seen them. Those unique, colorful, hard-to-miss, sometimes noisy and clanky but definitely cool and idiosyncratic rides made of stainless frame, dusty wheels, and loads of vibrant embellishments confidently plying through the main thoroughfares of the metro – the iconic jeepneys!
You know you're in Manila when you see and hear those so-called PUV (public utility vehicle) of the masses, also dubbed 'the king of the street', that cruise and honk their way through the complex road networks of the city with an air of boldness and aplomb.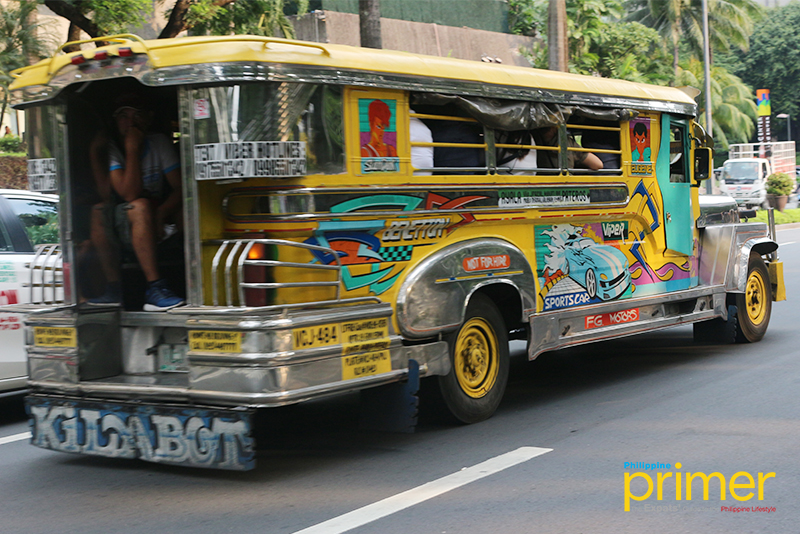 This mode of transportation has been very much a part of the Filipino pop culture and history since it evolved from military jeeps remodeled to have a more practical use to the military men and civilians during the post-World War II era.
The altered jeep then underwent several further modifications until it became the jeepney as we know it now. The 16 to 20-seater ride that has brought countless passengers to their destinations without many frills, and without much cost.
A unique experience at a cheap cost
Costing at a standard fare of PHP7.50 per passenger, the jeepney is the cheapest and perhaps the most fascinating mode of transportation in the Philippines.
Imagine the open windows and entrance (that also serves as the exit), the ticket-less system, the speedy trips, the hollering barkers, the passengers you get to rub elbows with (quite literally), the cramped space, and the skillful, almost intrepid way the driver squeezes the jeepney in and out of traffic just to maximize time, trips, and the number of passengers served.
And although the preferred mode of transformation for most expats is the common and familiar cab, your Filipino culture immersion is not complete without trying the jeepney ride. The jeepney may look intimidating at first, but it could be a fun and interesting way to go around the metro.
All you need is just a few coins in your pocket and a whole lot of adventurous spirit inside you. It is not for the timid as it could be challenging especially for first-time riders, but overcoming the challenge is sure to help you gain more confidence as you live in a foreign land, and gain a unique experience that you can tick off your adventure bucket list.
But before embarking on a trip via this classic Filipino ride, allow us to help you get familiar with it first by teaching you the basics you need to know. It's time for some Jeepney 101!
Jeepney Destination / Route Mechanics
You will see the jeepney's route printed on its front and its sides. If you are unsure if it will pass by your destination, do not hesitate to ask the jeepney driver or the conductor if there's one. There are also the so-called jeepney barkers, those who hawk for passengers as they point and shout the destination of the jeepney.
Photo by Gen Yamaguchi via GenYamaguchi.com
Jeepneys have designated destinations and so they regularly go by the same route. For example, Ayala-Washington bound jeepneys to have a terminal near the Shell gasoline station at Ayala corner McKinley.
Once filled with passengers, the trip begins. From the terminal, they traverse Ayala Avenue, cross Buendia (also called Gil Puyat Ave.) towards Ayala Extension, turn left to Yakal, then to Chino Roces, then Washington. From there they go back to their origin by taking Dela Rosa Street, Buendia, then back to Ayala.
There are some specific pick up and alighting points (jeepney stops) along these routes especially along busy roads like Ayala Avenue. But generally, passengers may board and alight at less busy streets at their convenience, except of course in 'no loading and unloading zones'.
So, now that you have a picture of how a jeepney goes about its journey, let's explore the mechanics when you're actually riding the jeepney. What to expect, what to do, what to avoid, and how to just enjoy the whole ride.
Photo from CountryWithinACity
Getting In
There are jeepneys that have designated terminals so you may simply queue and board there. You may also wait at jeepney stops, or at any allowed points along the route of the jeepney you need to ride. Just hail the jeepney and then move quickly once it stops for you.
As you get in, grab the bar at the jeepney's rear and then the bar above (ceiling) to help you keep your footing as the jeepney moves along. Sometimes, the driver waits for you to get a seat before it drives off, sometimes it doesn't, so grip that bar and keep your poise.
Sometimes when you get on board, the seats look like they're all taken or that there's not enough room for you, simply wait or give the other passengers a glance to signal or motion them to move and give you space.
You may also go right ahead and take a small space you see, squeeze yourself in it as you say 'excuse me'. They will move as much as space would allow and you will get your space.
Then take that seat. Just occupy enough space though, be courteous and considerate enough not to do a man-spread. Sit comfortably but do not plop yourself too comfortably there like you would on a lazy boy. Remember, it is a public utility vehicle and every paying passenger has a right to space. Sometimes, someone (usually guys) would still board a fully-loaded jeepney and hang at the rear by the hand out of necessity. It's fine, don't be shocked.
Do not put your stuff beside you like that space is meant for another passenger, not your bag (if your bag is big and you need space for it, just tell the driver or conductor that you need the extra space and that you're going to pay for it. The same rate applies.)
Paying
The basic phrase to say when paying is 'bayad po', where bayad means 'to pay' while po is a Filipino expression of respect. At the same time, you extend your arms towards the jeepney driver. Filipinos are known to be hospitable and helpful, and so it's an unwritten rule for passengers to help pass the fare to the jeepney driver and also help pass the spare change.
You are also expected to do the same.
It is recommended that you pay using smaller bills (coins if possible) for your own convenience and the jeepney driver's as well. And remember, it is necessary to inform the driver how many you are paying for if you are not handing an exact payment to avoid confusion. And don't be afraid to ask for your change if the driver forgets to give it to you.
As mentioned, the standard fare for a jeepney ride is PHP7.50. That is for the first 4km and will cost an additional PHP1.25 for every kilometer exceeded.
Getting Off
To inform the jeepney driver that you have to go down, simply say 'para'. If you're not too sure where exactly to alight because the place is unfamiliar, simply tell the driver beforehand where you would like to be dropped off like your exact destination or a landmark near it, example 'Ayala Triangle', 'LRT', or 'Makati Med'.
Safety Tips
Jeepney rides, albeit relatively convenient, safe, and definitely cheap, requires extra caution just like any crowded public space. To ensure your safety, keep in mind the following:
• Keep your phone and other valuables safely inside your pocket or bag
• Always keep and hold your bag close to you
• Look around you and be attentive
• Avoid riding jeepneys without passengers or have suspicious looking passengers especially at night
Enjoying the Ride
It may not be the perfect mode of transportation – no air-conditioning (except for a few Makati loop jeepneys), no TV (just some blasting sounds form the stereo), the seats may not be well-upholstered, the trip a bit bumpy, etc. but it definitely is a must-try ride for those seeking for some local culture experience and an exciting road adventure.
So, get yourself on board the king of the street, let the not-so-pure city air touch your skin and blow your hair, look out the windows and see the sights in a whole new perspective, sit beside some locals who while away their time inside the jeepney chatting, laughing, dozing off a bit, or even humming or eating (yes, it's usually an interesting mix of passengers!), and take it all in as another unique, memorable experience to enjoy.
Remember, it's not about the destination, it's the journey. So savor every bit of moment you have in there and have fun!
And now that you've got the basics covered, it's time to test your jeepney know-how by actually riding one! Remember, a good way to enjoy the city like a local is to ride like a local.