Kali Ma Cafe in Siargao Serves Fully Vegan Options in the Island
Within Lotus Shores Yoga and Surf Retreat, situated in the municipality of General Luna in Siargao, is a restaurant named Kali Ma Cafe that serves only the healthiest eats.
Started operating in 2016, this plant-based cafe fondly presents fully vegan options, sourcing produce from the resort's own growing vegetable plantation and some organic farms in the island.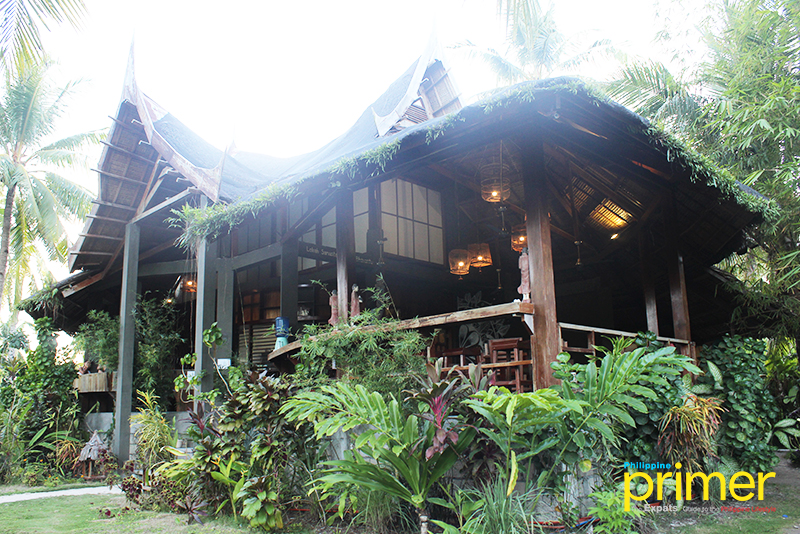 Kali Ma Cafe is the in-house restaurant of Lotus Shores
The name Kali Ma, meaning "Kali Mother" in Sanskrit, represents the preservation of mother nature. Owner Louise Isobel said that the restaurant was named as such to encourage people to relate themselves to the environment in a more intimate way.
"We eat three times a day. Thus, we can make three powerful choices daily and contribute to our own well-being," she said.
She also stressed: "A plant-based diet and vegan lifestyle is the only sustainable way to live on the planet where our choices reflect our spiritual nature and honor the truth of our connected and divine existence."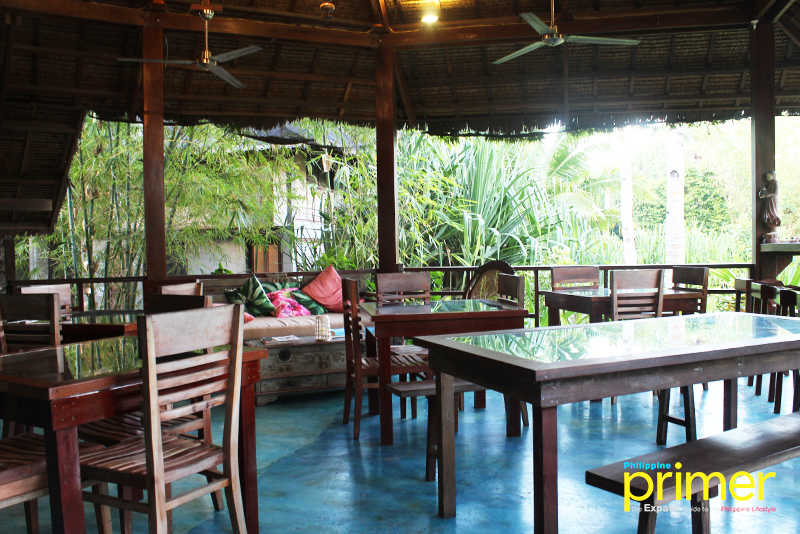 The resort is well-ventilated, exuding a soothing ambiance as the resort
As part of the commune that is oriented towards the spiritual essence of yoga and demands serenity and repose, Kali Ma has kept the soothing vibration of the place.
In fact, the restaurant flaunts simple interiors merely designed with aspects of both indigenous and modern Japanese architectural styles.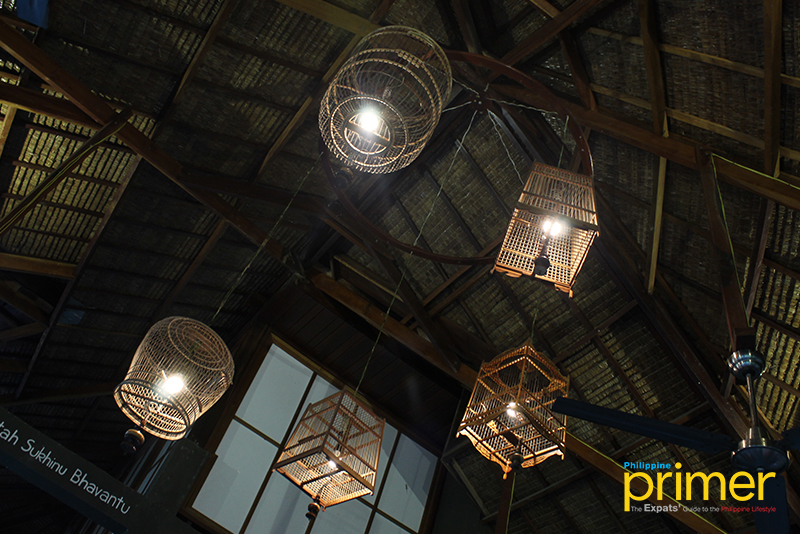 The ceiling has vintage cage light fixtures that make the mood more relaxing
Isobel shared that the place was aimed in a way that it can maintain the harmony of the place.
"We could have easily done a colorful and loud interiors, but for us, we really wanted to help people to have more clarity of mind by putting minimal features rather than bombarding them with more visuals," she said.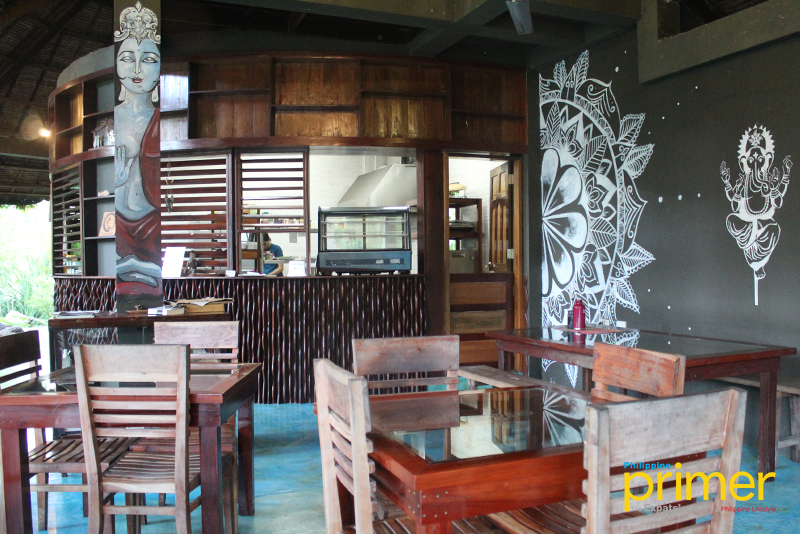 The walls are decorated with minimalist illustrations
When it comes to food, Kali Ma Cafe offers meals that are made from scratch and will surely satiate every epicure, even the non-vegan ones.
Try the Eggplant Lasagna (Php 400), which is alternating layers of eggplant and cauliflower-sheets baked with slow-cooked pomodoro, cashew-masala creme, and moringa-pesto. The parmesan cheese incredibly complements the bitterness of the eggplant.
Eggplant Lasagna (Php 400)
An ideal meal for lunch, the Jungle Jack Fruit Bowl (Php 350) is what everyone needs. It is savory jackfruit chunks dressed in Asian spices, served with cauliflower, sweet potato, and cabbage.
Meanwhile, diners must not skip the Baked Cauliflower Koftas (Php 380), which has three Indian kofta balls made with cauliflower, chickpea flour, herbs, and spices. This one has distinct curry sauce and cashew creme, making the taste of the kofta balls stand out.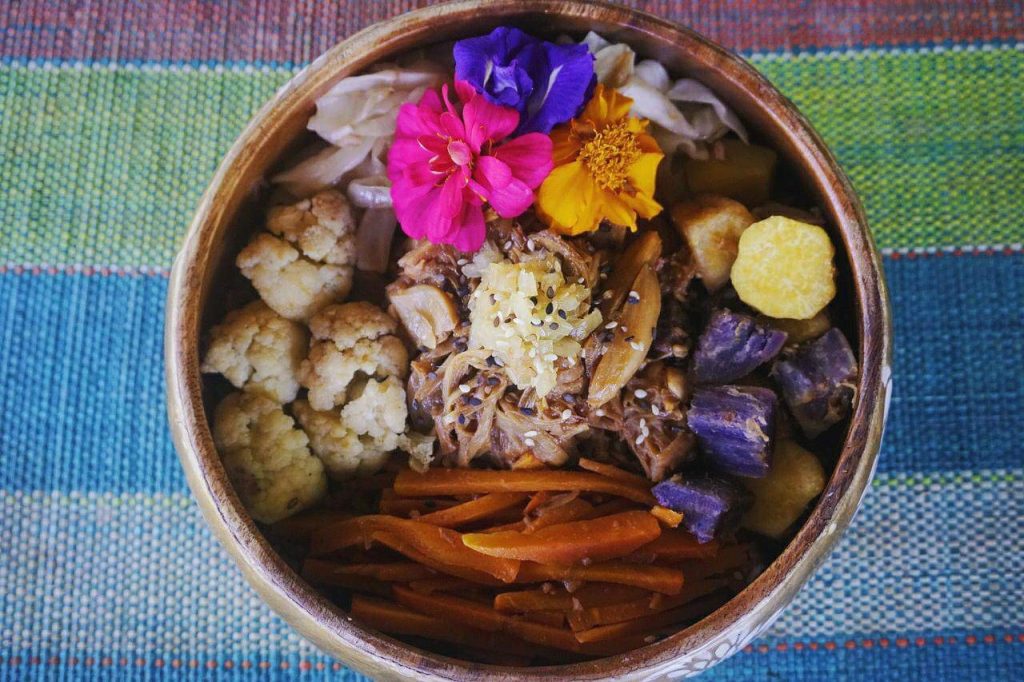 Jungle Jack Fruit Bowl (Php 350) 
Baked Cauliflower Koftas (Php 380)
Certainly, Kali Ma Cafe is a go-to cafe for everyone who seeks comfort in the island while having the goodness of some healthy eats.
Also read:  La Carinderia in General Luna, Siargao: The Island's Go-to Restaurant for Filipino-Italian Comfort Food
---
This first appeared in Philippine Primer Japanese Magazine's December 2018 issue.
Images courtesy of Kali Ma Cafe.

Purok 5 Poblacion, General Luna Siargao, Surigao Del Norte

Breakfast 7:00 a.m - 10:30 a.m. ; Lunch: 11:00 a.m. - 4:00 p.m. ; Dinner: 5:30 p.m. - 8:30 p.m. (Monday to Sunday)