La Carinderia in General Luna, Siargao: The Island's Go-to Restaurant for Filipino-Italian Comfort Food
La Carinderia in General Luna, Siargao: The Island's Go-to Restaurant for Filipino-Italian Comfort Food
Born out of Italian Head Chef and Owner Stefano Tomasiello's love for Filipino home cooked meals, La Carinderia was established together with his Filipina wife, Priscilla, out of Stefano's passion for the concept of traditional dining at small local eateries in the country, where the restaurant took its name from.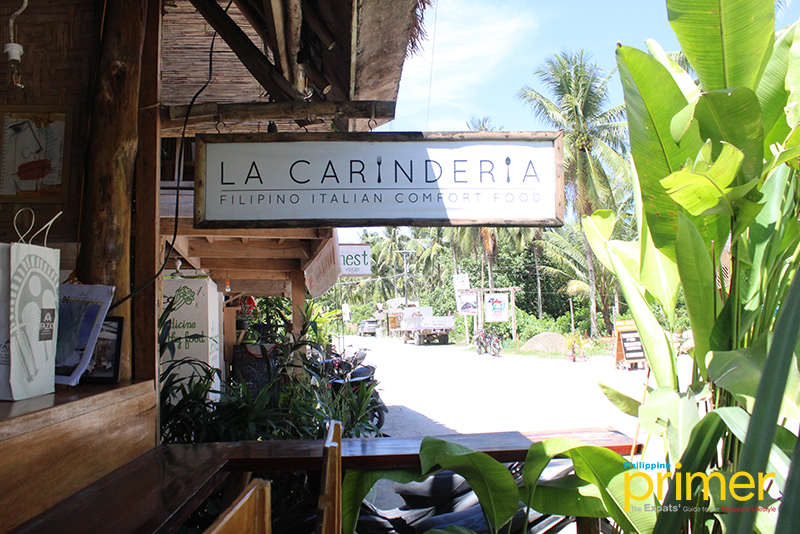 La Carinderia is a humble open-air restaurant that you can easily pass by General Luna's Tourism Road
Reopening on August 2017 with a revamped and relaxed vibe, La Carinderia started as a humble Filipino-Italian diner with only four tables and a small kitchen situated inside their home, where they cooked the ordered meals before bringing each dish out.
Now, La Carinderia is the go-to place of every island visitor with its chill environment, good music, homey service, and great food from a fusion of Italian cuisine with a Filipino twist. The restaurant also exudes a laid-back, island vibe that lets you dine barefoot on their sandy floor.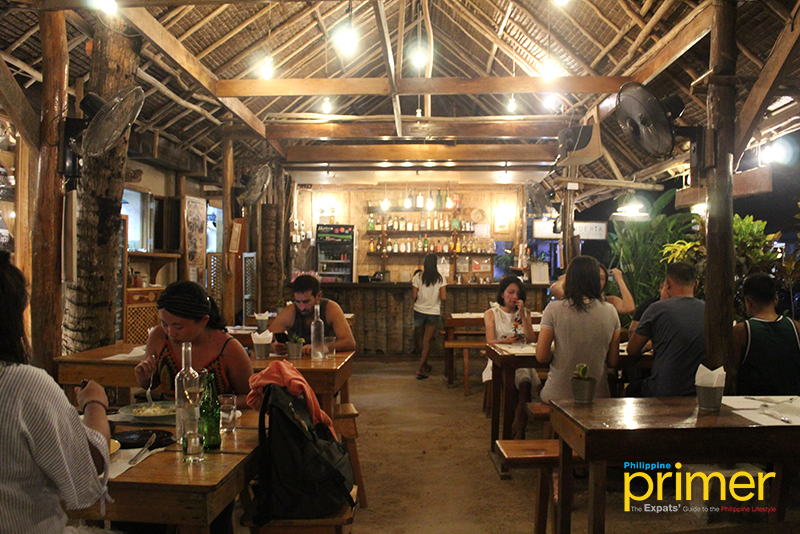 La Carinderia mirrors a lighthouse at night, treating their guests with its warm hanging lights
With most of the dishes inspired from the traditional recipe of Stefano's mother, expats will love their Polpette di Zucca (Php 140/4 pieces), a Japanese-inspired, vegetarian best-seller made of balls of pumpkins. The ensemble will surely reach the topmost of your list of favorites with its crunchy outermost layer contrasting its mushy pumpkin core.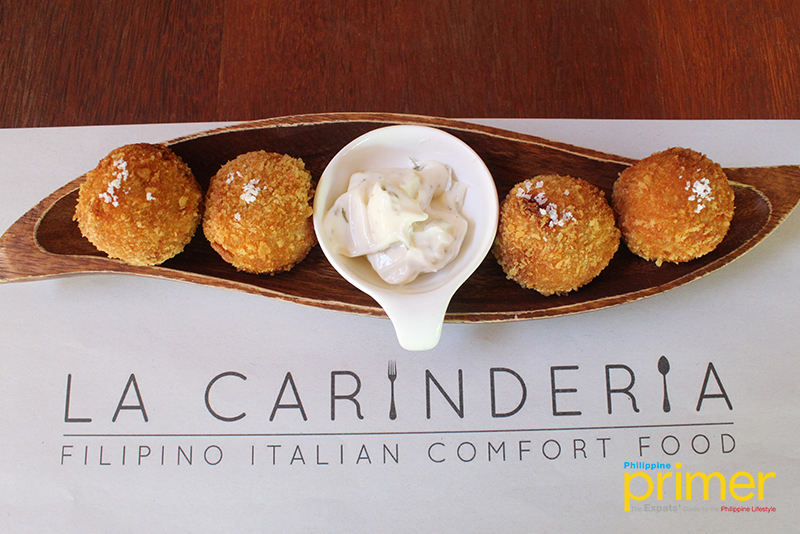 Polpette di Zucca (P140/4 pieces)
Another traditional street food they serve that is often found in Southern Italy, the Panzerotto (Php 100) quickly resembles that of the local Empanada or folded pizza, stuffed inside with mozzarella cheese, tomatoes, and Sicillian oregano.
This snack is surely a treat to your palate, with the touch of sour coming from the tomatoes oozing gently as you slice the crunchy panzerotto in half.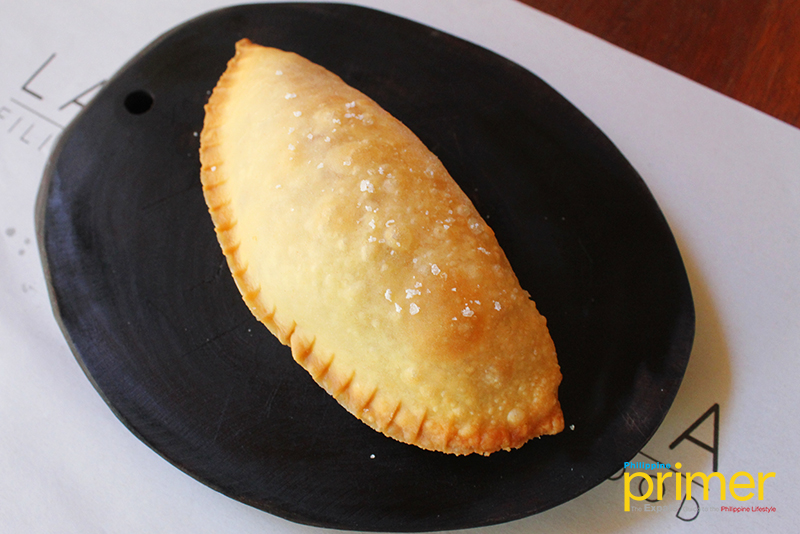 Panzerotto (Php 100)
This street food can easily be paired with a serving of the Insalata Tiepida di Calamaro e Mango (Php 350), where fresh slices of squid go well with the sweet mango dices, combined with an arugula and tomato ensemble, dressed with calamansi and siling labuyo combination. 
Surely if you want a refreshing treat brought about by the crisp greens, fresh squid, and oh-so-sweet mangoes, the Insalata Tiepida di Calamaro e Mango is the perfect choice for you.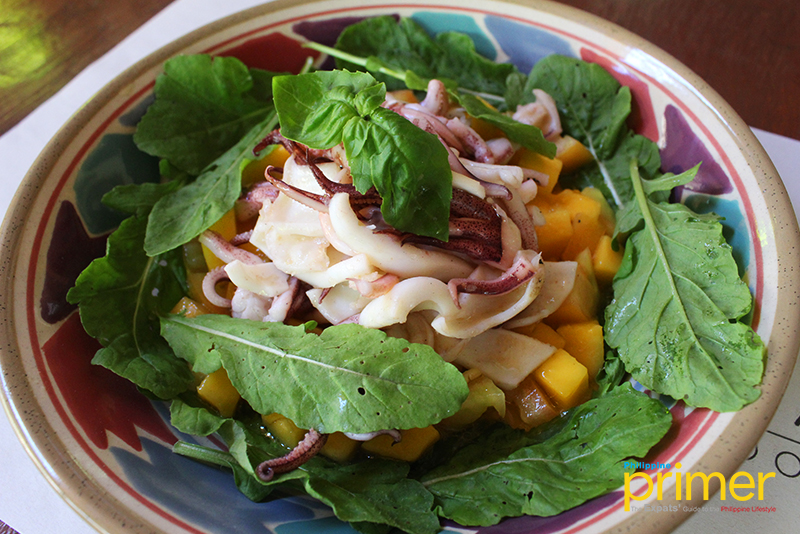 Insalata Tiepida di Calamaro e Mango (Php 350)
On the other hand, a Filipino favorite also graces their list of most recommended dishes with the Tuna Sisig (Php 350) made with spicy marinated tuna, peppered with fresh tomatoes and ginger, balancing the bite of spice coming from the dish.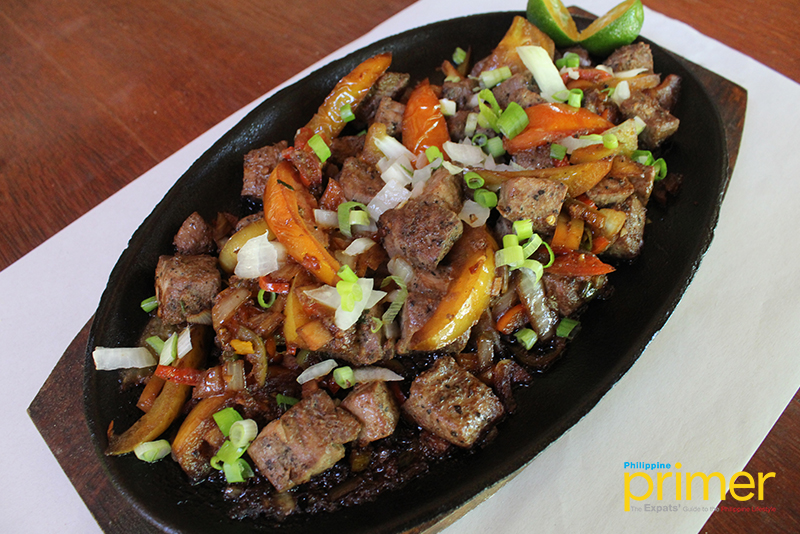 Tuna Sisig (Php 350)
This, together with the Italian-Filipino fusion of seafood hotpot, known as the Guazzetto di Pesce (Php 490), is best served with rice or salad if so pleased.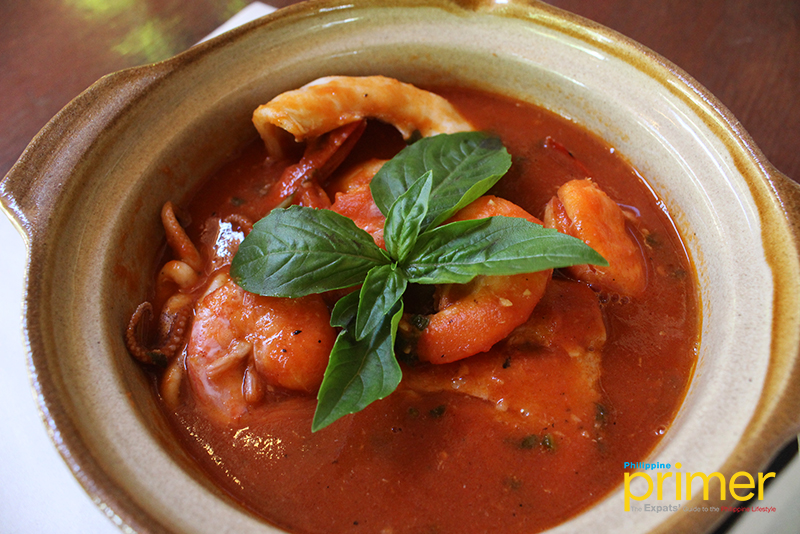 Guazzetto di Pesce (Php 490)
With La Carinderia's reputation for being one of the most open and friendly gastropubs in the island, Stefano and Priscilla wanted to highlight how they always welcome requests from guests, may it be their special, creamy Carbonara (Php 400) with bacon bits that balances the flavor of the dish, or other Italian favorites you so wish.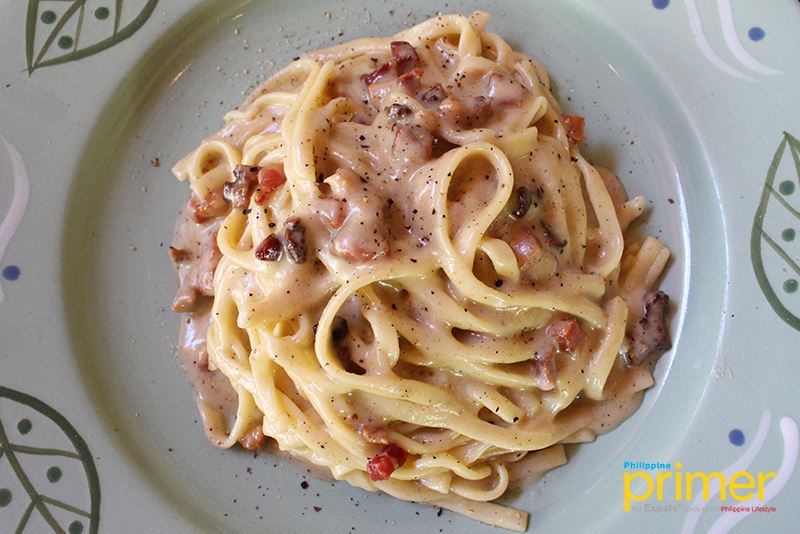 La Carinderia's Special Carbonara (Php 400)
Don't forget to visit Priscilla's little corner at La Carinderia if you ever dine in the place! The mini shop carries apparels, postcards, towels, souvenirs, and other local and Italian products, coming from the couple's various travels in and outside the country!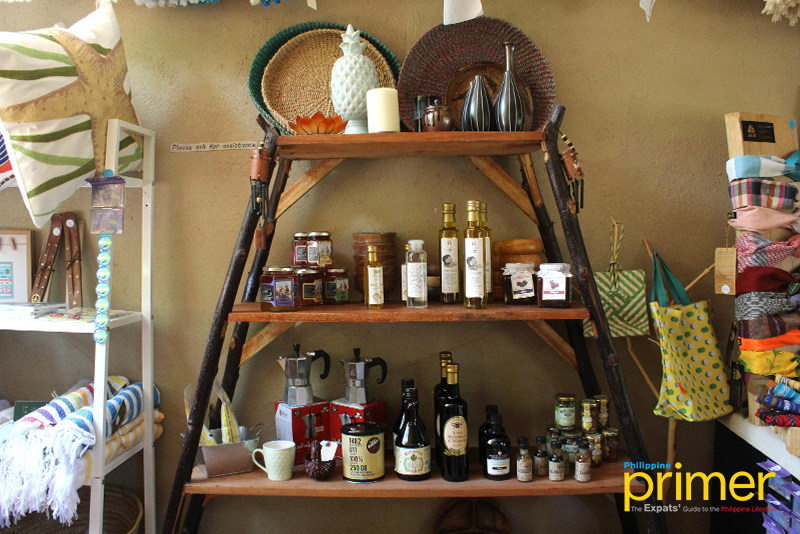 Priscilla's little corner inside La Carinderia sports locally, handmade apparels, as well as products they bought from Italy
So visit La Carinderia and experience the fusion of Italian and Filipino cuisine like you've never tasted before! 
For more information, visit their Facebook page at La Carinderia, and follow them on Instagram at @lacarinderia. Better yet, for a memorable dining experience at La Carinderia, visit them along the Tourism Road, Purok 5, General Luna, Siargao or call them at 0977-214-3914. 
---
Written by Chin Sanigan
Store Information
Tourism Road, Purok 5, General Luna, Siargao Island, Surigao del Norte
0977-214-3914
11 a.m. to 10:30 p.m. (Mondays to Sundays)