Group & Boiler Coffee Co: Alabang's Chillest (and Friendliest) Coffee Shop
Admit it, the terms specialty coffee and third-wave coffee shop can be quite intimidating especially to casual coffee drinkers—a thought that Coffee Specialist Hans Juan kept in mind when he decided to put up Group & Boiler Coffee Co in Alabang.
Also read: 10 Third Wave Coffee Shops for a Premium Caffeine Experience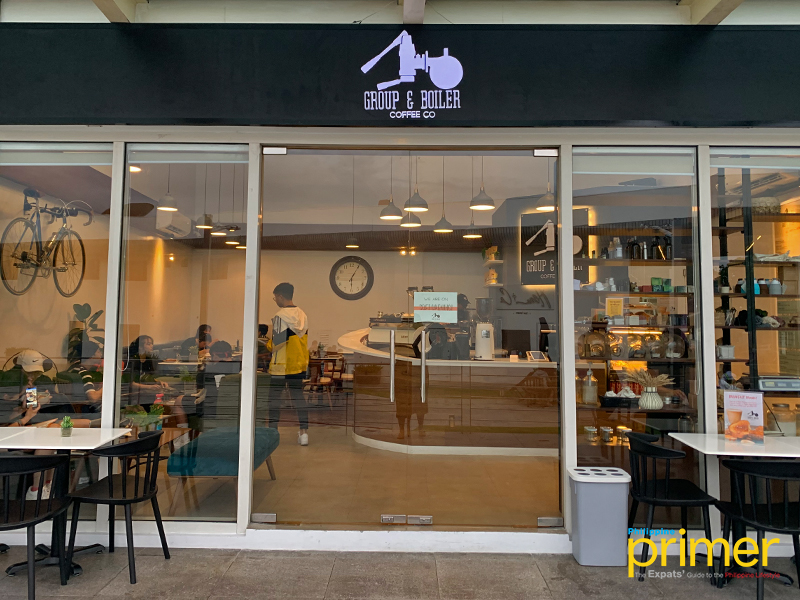 Opened just last June 18, Group & Boiler Coffee Co vows to provide the Southies a new destination where they can chill and converse over a cup of good coffee and a plate of a delicious straightforward meal, without having to worry about coffee bean origins and brewing methods. 
"It's more of like a consequence [only] if people get interested [in specialty coffee], but we're not actively pushing that this is specialty coffee because we wanted it to [just] be normal [where] you come in, you get coffee," Hans explained.
The newly established coffee shop also aims to cater to everyone—not just to the millennials or to the avid coffee drinkers, but to anyone who wants a place to catch up with friends and even hold small meetings.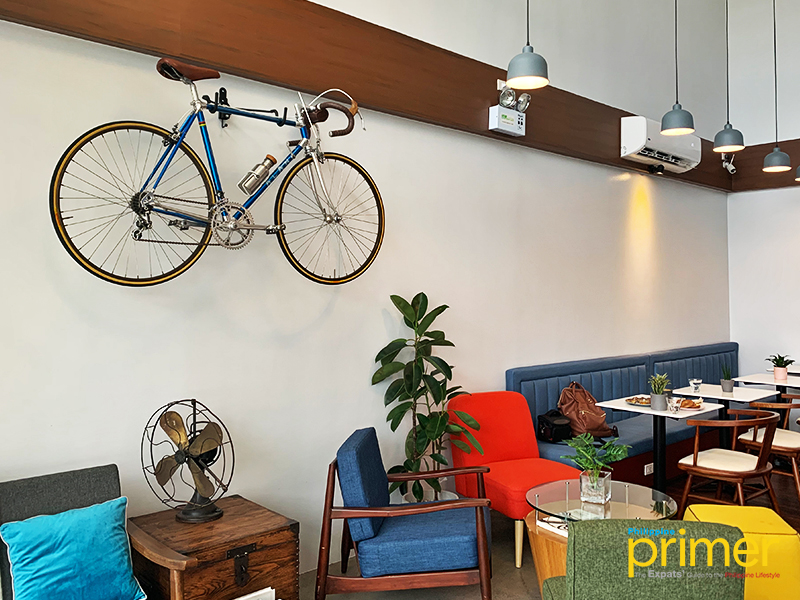 Every piece in the cafe has its own story. The mounted vintage bike on the wall, for one, actually works and is an heirloom from Hans' grandfather
Through its glass double doors is a laidback mid-century modern interior that truly invites people to stay. Customers are met with its main counter that houses one of the cafe's most prized possession—the Lamarzocco machine, which is the first of its kind in the country. 
The mechanically-operated machine is one of the three brewing methods that Group & Boiler specializes in, including pour-over and cold brew. It also emphasizes the cafe's desire to highlight the value of handmade products.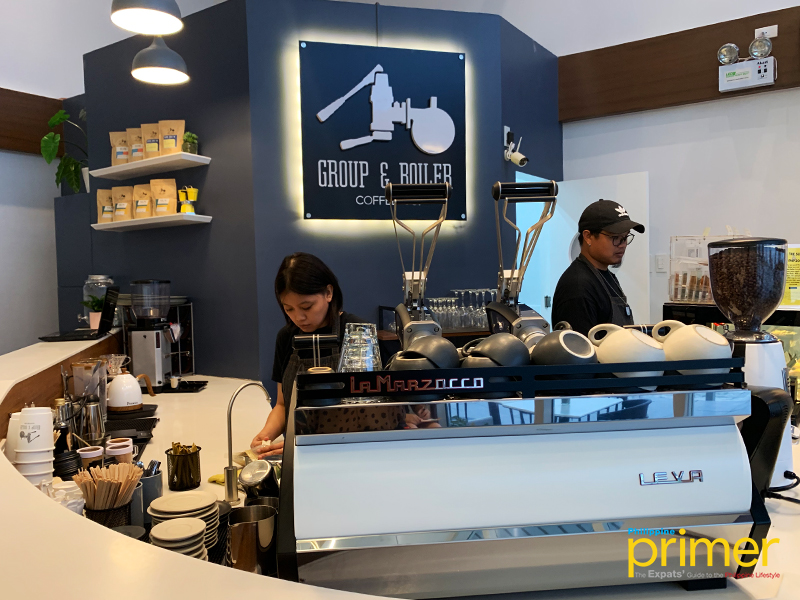 The machine also a good visual representation of its name, which is literally from two important coffee machine parts of the same name
Their manually pressed espresso drinks are perfect for those who like their coffee strong, but for an even greater caffeine kick, go for their pour-over.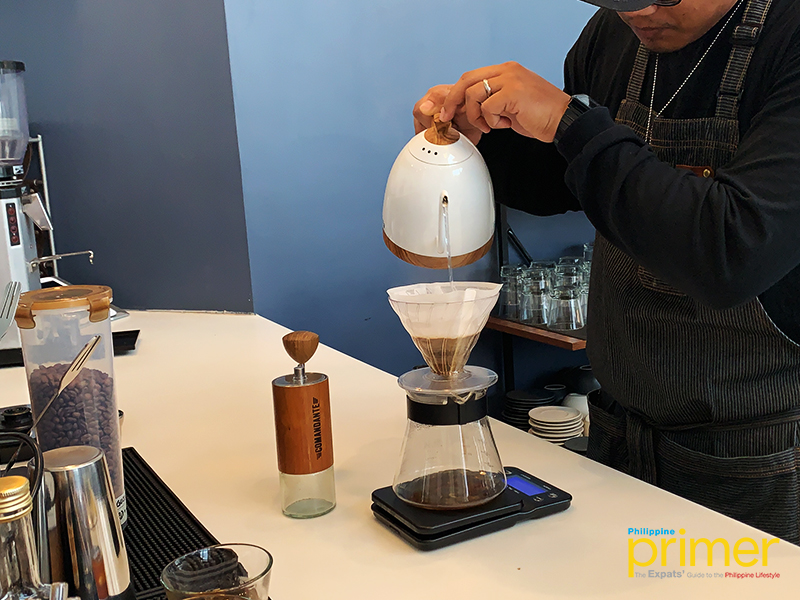 The process of pour-over
Group & Boiler serves their Cold Brew (Php 120 to Php 150) coffees in a tall wine glass. Yes, you read it right—in a tall wine glass—though the presentation is more for aromatic appreciation than fanciness.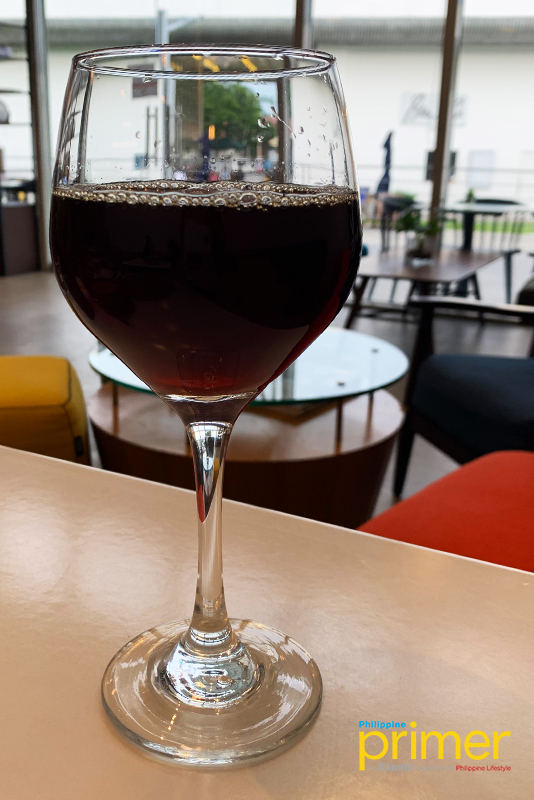 Cold Brew (Php 120 to Php 150)
But if you're someone who appreciates more sweetness in your coffee, then their Butterscotch Latte (Php 160) is sure to hit the spot. Made with their homemade butterscotch, a cup of the rich latte is enough to warm any sweet tooth's soul.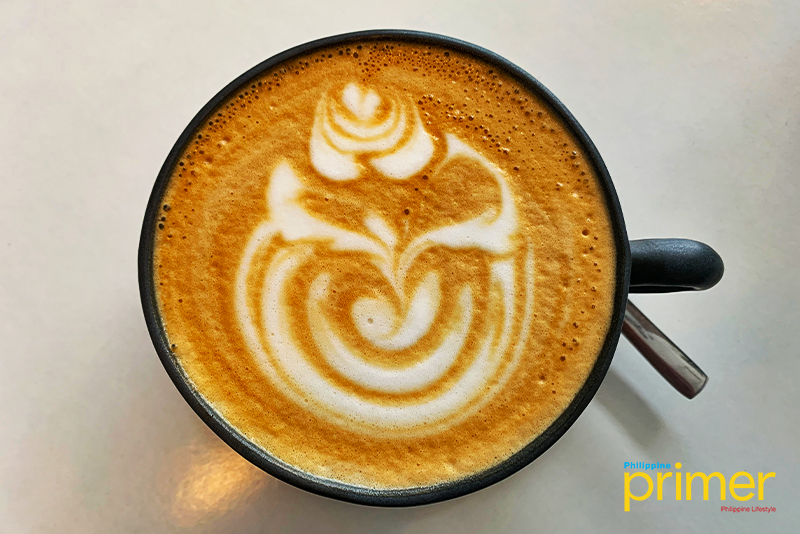 Butterscotch Latte (Php 160), served in a mug handcrafted by potter EJ Espiritu of Cornerstone Pottery Farm
These cups of Joe go well with their carefully curated menu. Hans said that they made sure to offer straightforward eats, with just enough selection to not burden the customers. 
Start off your day (or night, nobody's judging) with a serving of the classic French Toast (Php 180). The slices of milk toast are cooked in a hefty amount of real butter and served with honey.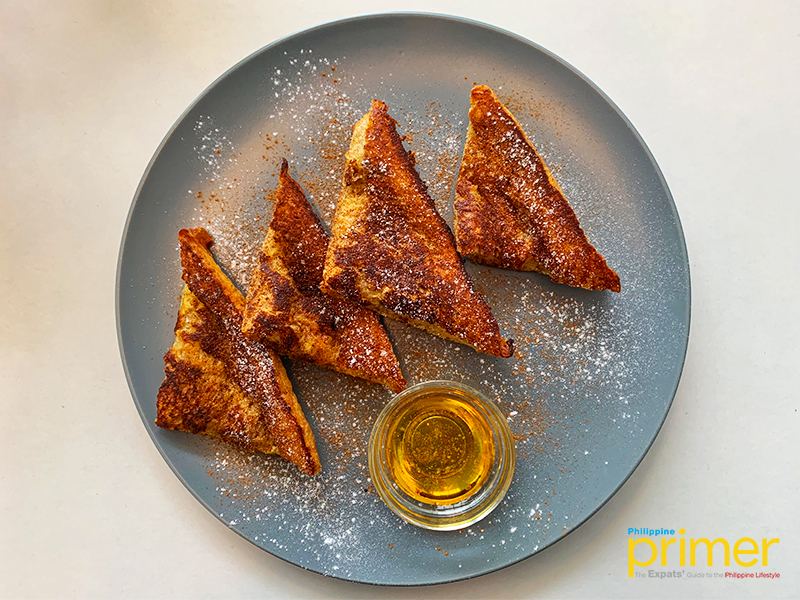 French Toast (Php 180)
Another breakfast staple is a bagel, but have you had it with bacon and Sriracha sauce? If not, then don't miss out on Group & Boiler's Sriracha Bagel (Php 100)!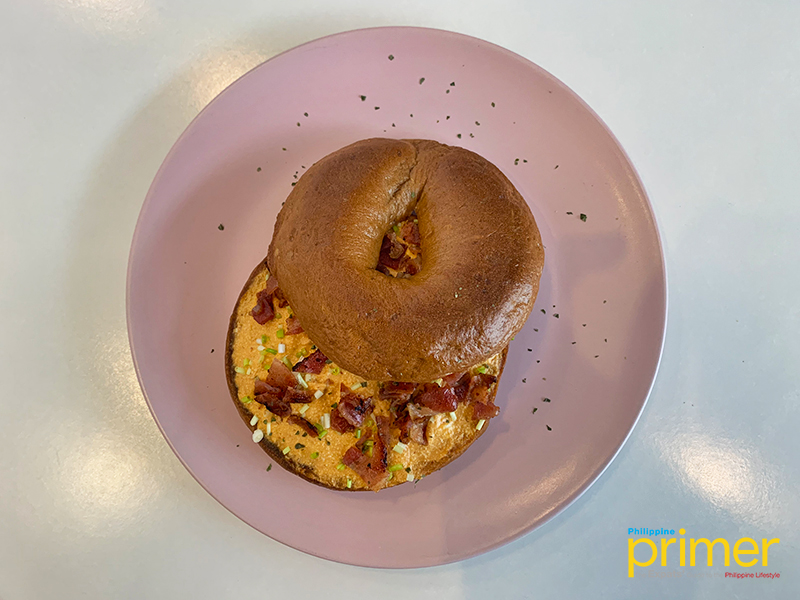 Sriracha Bagel (Php 100)
The Beef Pastrami (Php 320), on the other hand, is perfect for those looking for a more than filling meal. Made with beef pastrami, romaine lettuce, mozzarella, and white cheddar sandwiched between grilled sourdough slices.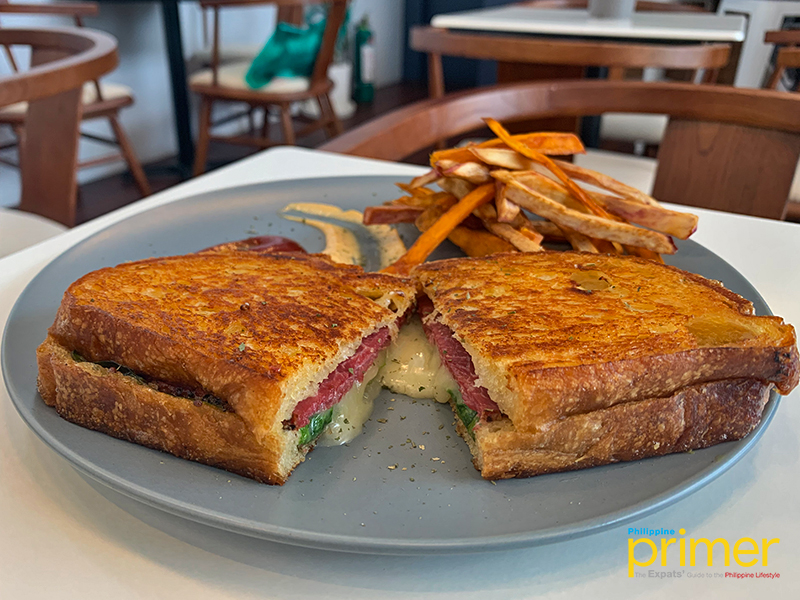 Beef Pastrami (Php 320)
Who says you can't have a bowl of oats any time of the day? Their Chia Matcha Overnight Oats (Php 180) might just be an amazing comfort food for the night owls out there.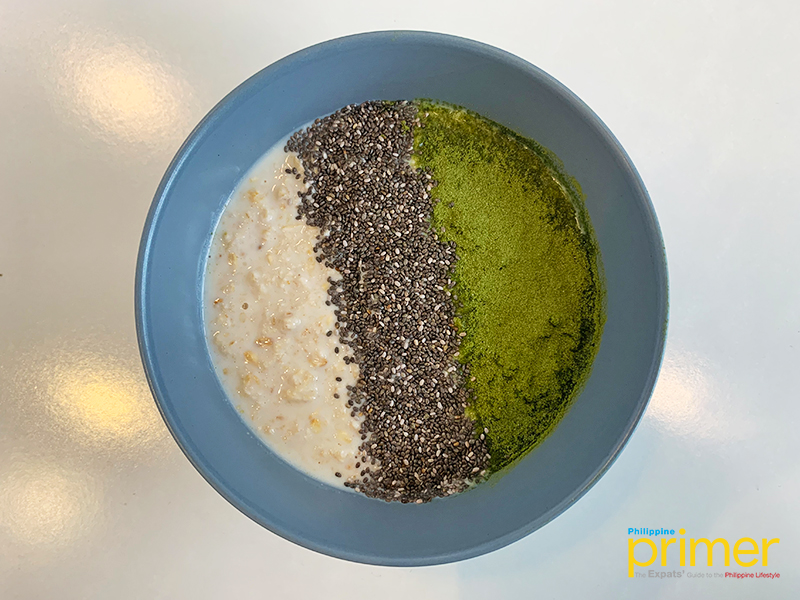 Chia Matcha Overnight Oats (Php 180)
The layout of Group & Boiler's main counter also tells a lot about what the store believes in, which is being people-centered above all else. Those who are interested to know more about how their coffees are made can sit on one of the bar stools and converse with their highly trained baristas.
And the philosophy to be people-centered extends to their own staff. Hans narrated how he knows each and every one of his employees and how they all had connections prior to the establishment of the coffee shop. 
"It feels like a family, not just [a] boss-barista [relationship]," he added.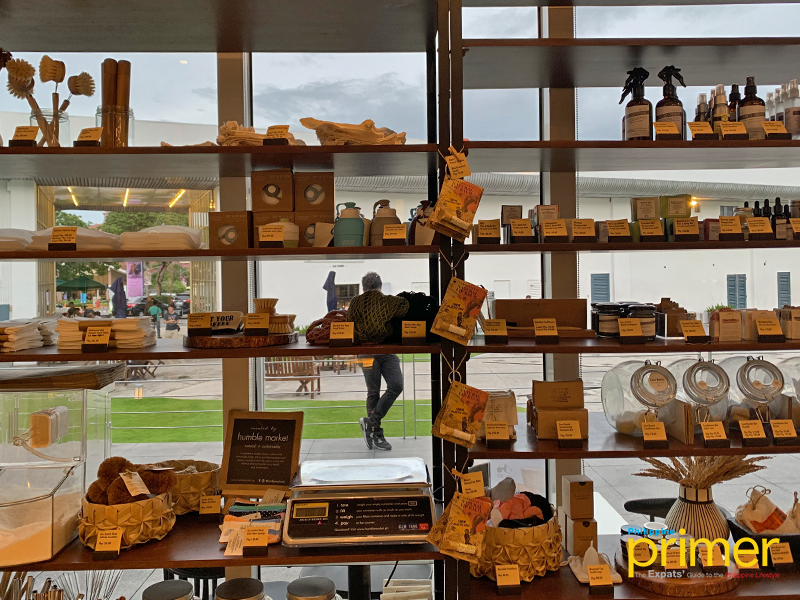 On one side of the glass wall are shelves of sustainable and zero-waste products consigned with the brand Humble Market
The coffee shop is looking into adding more items to their menu, including coffee cocktails. They also plan to add more branches by the last quarter of this year.
Next time you're around the Molito area, don't hesitate to drop by Group & Boiler. Check out their coffee, their food, and maybe engage their baristas in a hearty conversation! 
Also read: 10 Restaurants to Visit in Molito, Alabang
Group & Boiler is currently on soft opening. 
How to get here
Group and Boiler is located at Molito Lifestyle Complex in Alabang. The cafe is situated between Chairman Wang's and Yushoken.
---
Written by Faye Almazan
Store Information
Molito Complex, Madrigal Ave., Alabang, Muntinlupa City
7 a.m. to 11 p.m.
Restaurant Menu
You can scroll the image left and right.