Tiger Sugar in BGC: Brown Sugar Boba Milk Is a Must Try!
Milk tea brands are starting to pop up everywhere in Metro Manila, and Taiwan's popular Tiger Sugar is only among the new ones to try.
However, their signature drink Brown Sugar Boba Milk with Cream Mousse does not contain tea at all!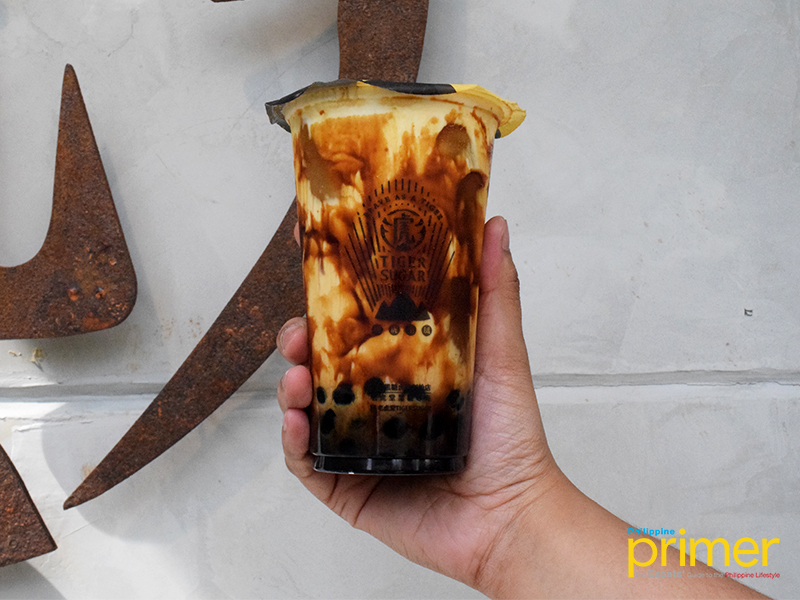 Taiwan's Tiger Sugar takes Manila by storm of brown sugar and fresh milk!
Opened last December in Bonifacio High Street, Taguig City, Tiger Sugar is a famous brand from Taiwan known for their signature tiger-striped cups. This look is highly marketed by the brand to be picture-worthy—perfect to post on social media!
If you notice a rustic metal logo on the side of their stand, it is where they are instructing every customer to take a photo of the drink. Afterward, shake the cup 15 times to fully mix the ingredients for the best flavor!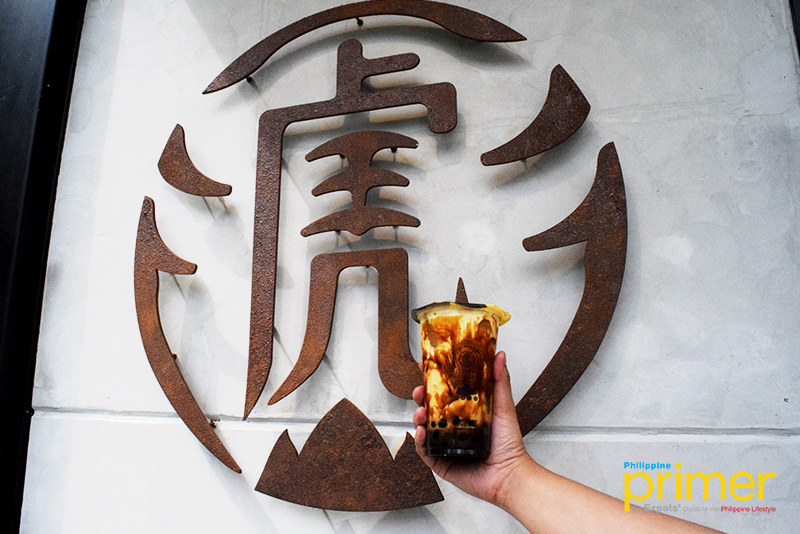 Every branch of Tiger Sugar has this rustic metal logo for that brown milk drink selfie.
Their signature bestseller drink, Brown Sugar Boba Milk with Cream Mousse (Php 120), contains three main ingredients: boba, fresh cream, and cream mousse. The warm boba, a Taiwanese term for tapioca, is placed on the cup after being soaked in a special mixture of brown sugar.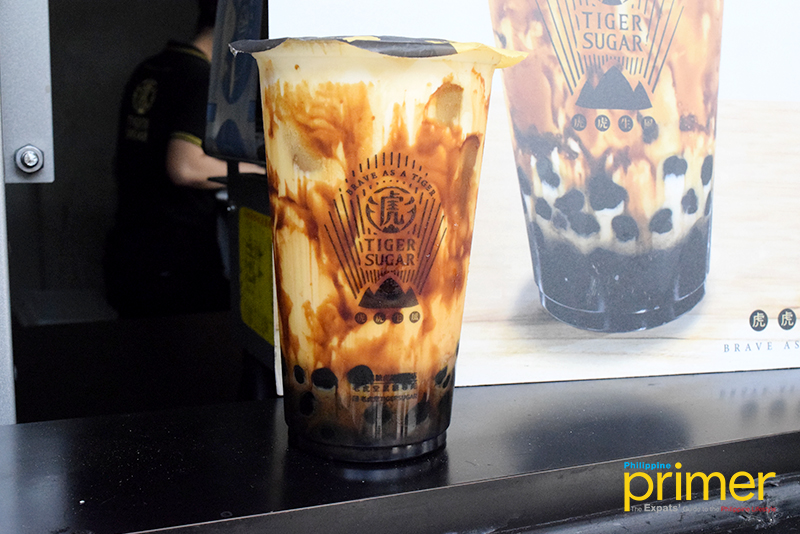 Tiger Sugar makes sure to serve all their drinks with the signature tiger stripes to maintain quality and flavor.
The cup is then lined with brown sugar syrup before adding fresh milk to create the tiger streaks. Finally, the non-salty cream mousse is placed on top.
The drink is not fully complete without shaking the cup, so make sure to mix them all!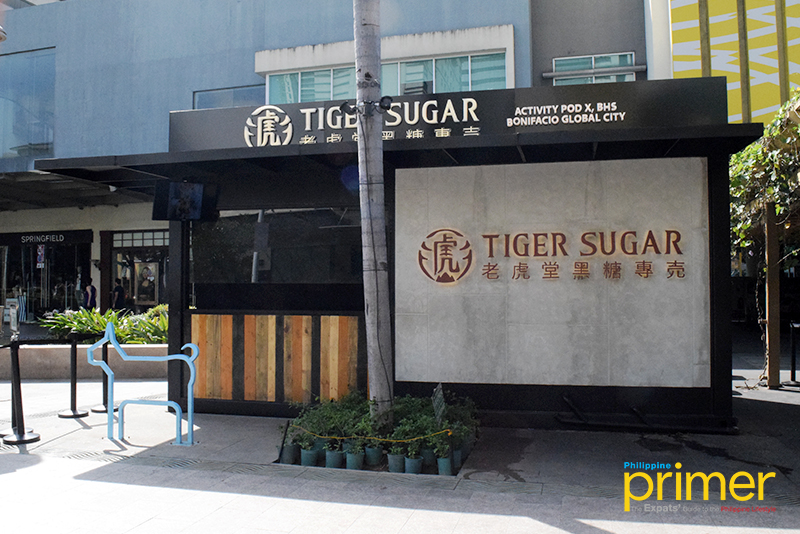 The first Tiger Sugar stall in BGC is usually surrounded by a long line of customers even before opening.
Tiger Sugar recommends shaking each drink 15 times to dissolve the brown sugar, mix the cream and milk, and cool the warm boba to achieve its chewy texture. It is recommended to be consumed within 6 hours to maintain its quality.
Also read: CoCo Fresh Tea and Juice: Enjoy The Summer On-The-Go Experience!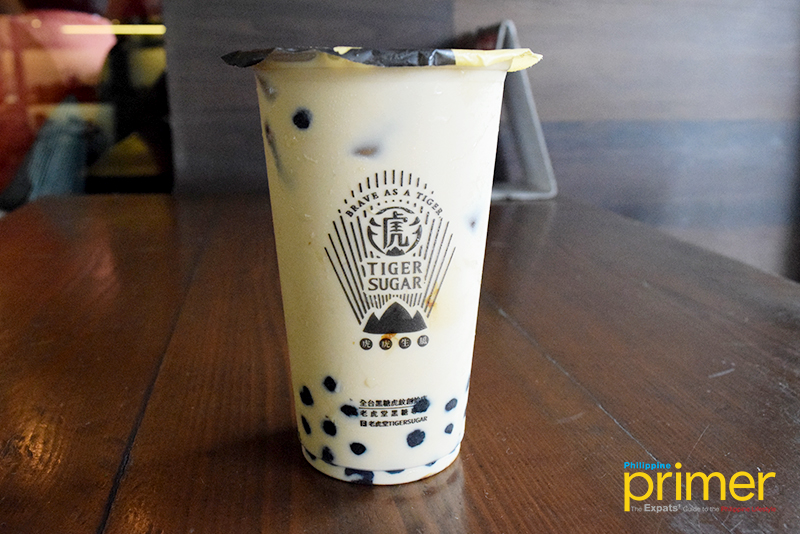 A fully mixed Brown Sugar Boba Milk with Cream Mousse (Php 120) should look like this after shaking! 
It is only recently when they started serving actual milk tea of either black or green tea. They also offer to add either boba or pearls that are smaller.
With this, customers can also customize the amount of sugar to either 50% or 100%.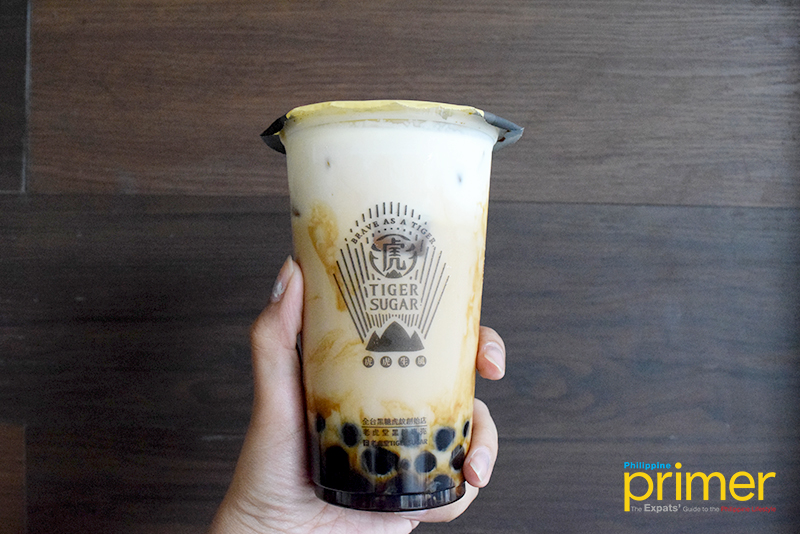 For that real milk tea, try the Green Tea Latte with Boba and Cream Mousse, 50% sugar (Php 110)
If you haven't tried Tiger Sugar yet, we recommend having patience as their queue can take almost an hour!
Otherwise, you can wait for them to open a branch in your city. They are targeting to open 10 branches in 2019 starting with Makati and Quezon City in February.
Also read: LIST: The Best Milk Teas in the Metro and Where to Get Them
Have you tried this caffeine-free milk drink yet? Tell us your experience in the comments below!

Activity Pod X, Bonifacio High Street, BGC, Taguig

Sun to Thurs 11 a.m.-10 p.m., Fri to Sat 11 a.m.-11 p.m.

tigersugarphilippines@gmail.com