Early Night? in BGC: Where Night Owls Meet
A lively spot with neon lights will automatically catch your attention whenever you pass by The Fort Strip in Bonifacio Global City at night.
Truly, Early Night? is doing it right, being one of the well-loved nightlife spots in the city.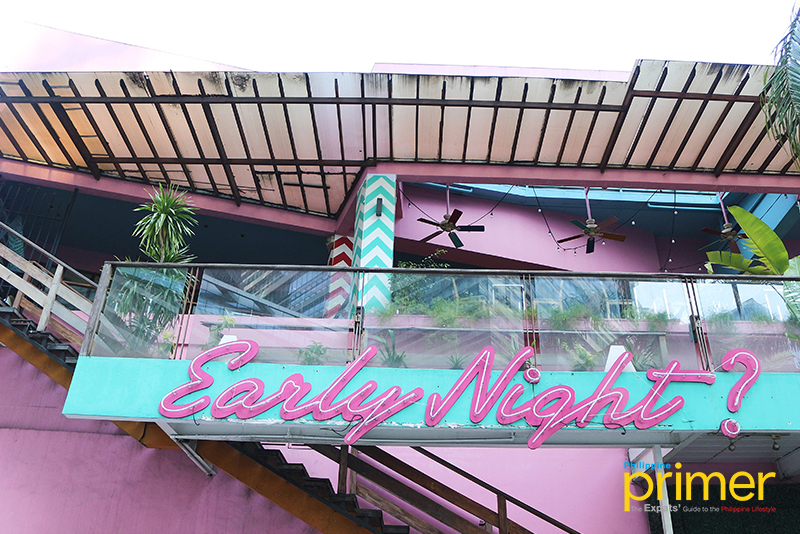 According to managing partner Pamela Solilapsi-Guerrero, the spot of Early Night? used to be the second floor of Aracama Restaurant. However, they wanted to twist it up a little bit to meet the demands of the market.
"Conceptualizing started with a random conversation in our Aracama partner's chat group at around midnight; we wanted a bar that would complement our other bars and clubs. We knew we needed a cheaper pre-game place or happy hour place for our customers while also catering for ex-party goers who want to just have an 'early night'," Pamela explained.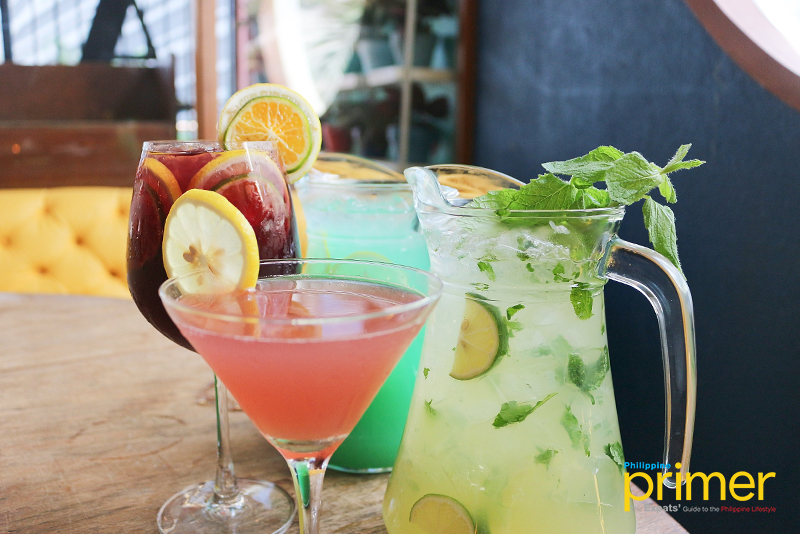 She added: "we came up with different names for the bar in that chat group and Early Night stood out. We then started sending out pegs for the interiors and decided to make it more vibrant, colorful with shabby chic mismatched furniture.. and that's how Early Night was born."
Chef Fernando Aracama is the man behind Early Night?'s comfort eats. He's inspired by the flavors of his cherished home island of Negros, hence showcasing the best of Filipino cuisine.
But, Early Night? is not about eating heavy Filipino meals—it's all about the street foods that are perfect to pair with any type of alcohol.
"Our guests can enjoy a straight-up sizzling sisig or tapsilog & tocilog in a bowl or maybe a bag of Jack & Jill Chippy topped with chili, cheese & sour cream. It's a sari-sari store meets beer garden menu. Fun, campy, and familiar," Pamela expressed.
When we speak of comfort food, fries is always among the first ones to pop up. Lo and behold, Early Night? offers two variations that will make you wonder why you haven't tried them before. The Chili Cheese Fries (Php 200) is one of them—it's literally finger-licking good.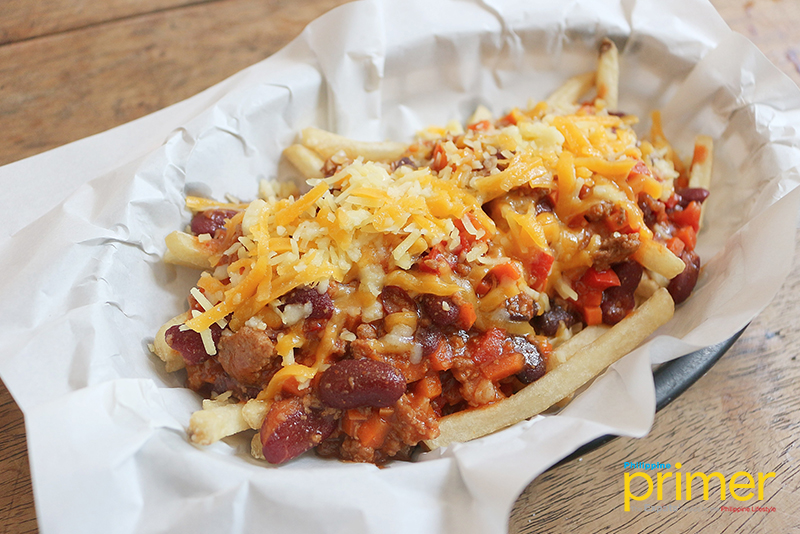 Chili Cheese Fries (Php 200)
But what really caught our attention is the Sisig Fries (Php 200). This meaty dish is topped with onion and chili like your regular sisig, except this time it's merged with actual fries.
Sisig Fries (Php 200)
Tokwa't Baboy (Php 190) is also an ideal pair with your alcohol. The soft tofu complements the overall sour and spicy taste of this meal.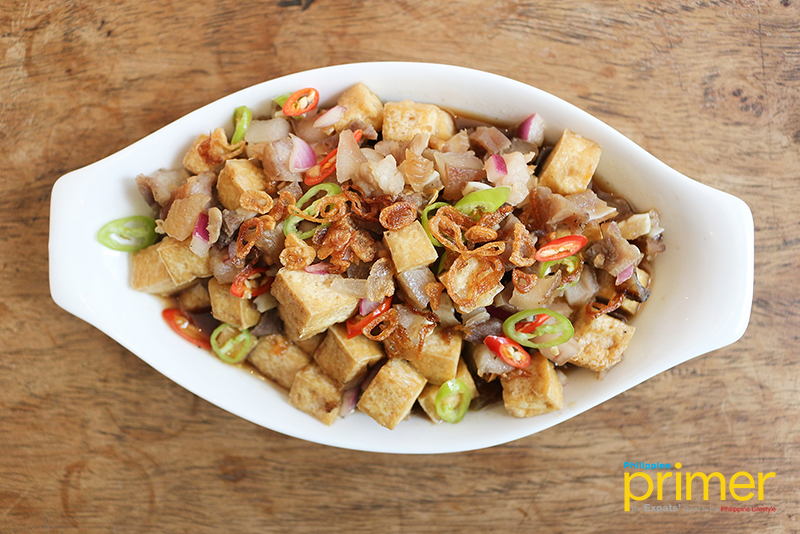 Tokwa't Baboy (Php 190)
If you haven't tried any of the traditional Filipino street food, give FKK / Fishballs, Kikiam, Kropek (Php 190) a try. It's served with a sweet chili sauce.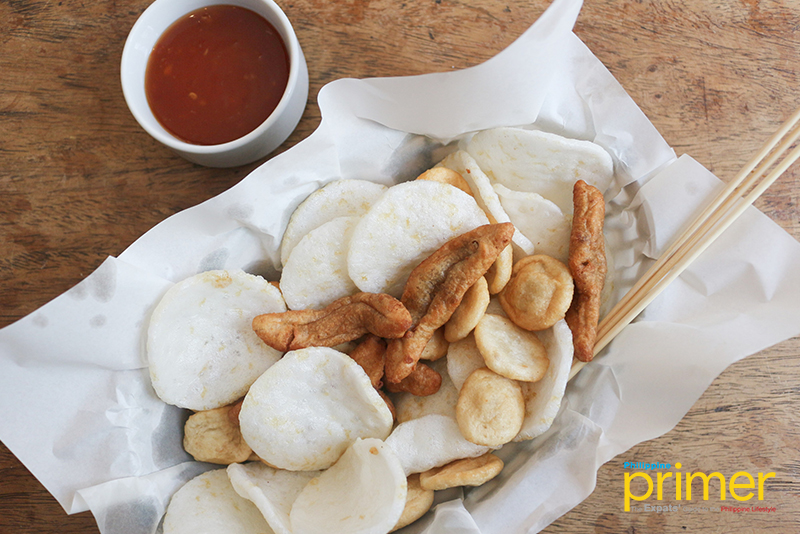 FKK / Fishballs, Kikiam, Kropek (Php 190)
Now for the drinks, they have the classic cocktails that you can drink all night long, available in glass and pitcher. Among the crowd-favorites are Kamikaze (Php 105/Php 380), Mojito (Php 125/Php 450), Sangria (Php 125/Php 450), and of course, Cosmopolitan (Php 140/Php 490).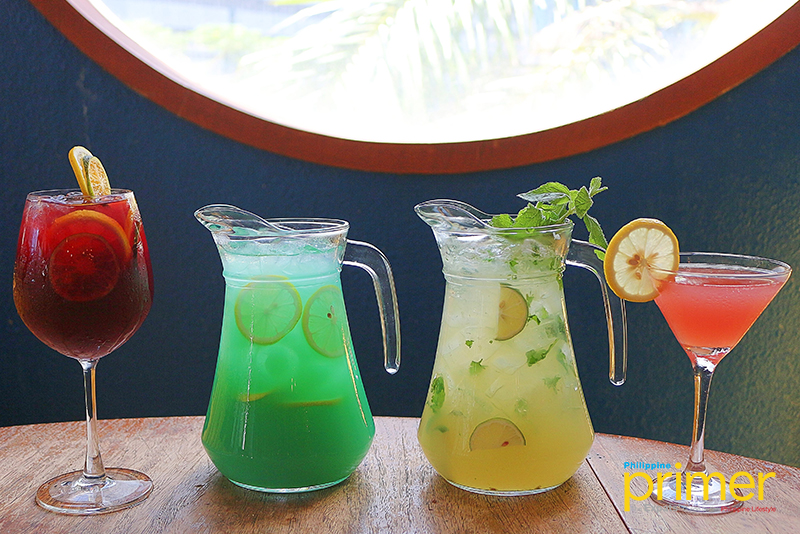 From left to right: Sangria (Php 125/Php 450), Kamikaze (Php 105/Php 380), Mojito (Php 125/Php 450), Cosmopolitan (Php 140/Php 490)
If you're still hungry and looking to eat dinner, you can order at Aracama downstairs and have them sent up to the second floor.
You may book them for private events, too! The venue is really just ideal for different events, may it be office parties or birthdays.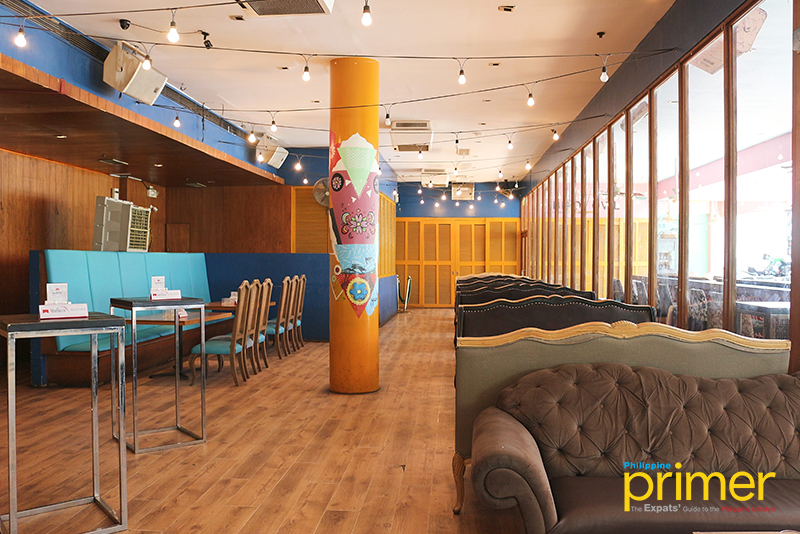 The overall look is all about being IG-worthy, so they commissioned artists to play around with their interior.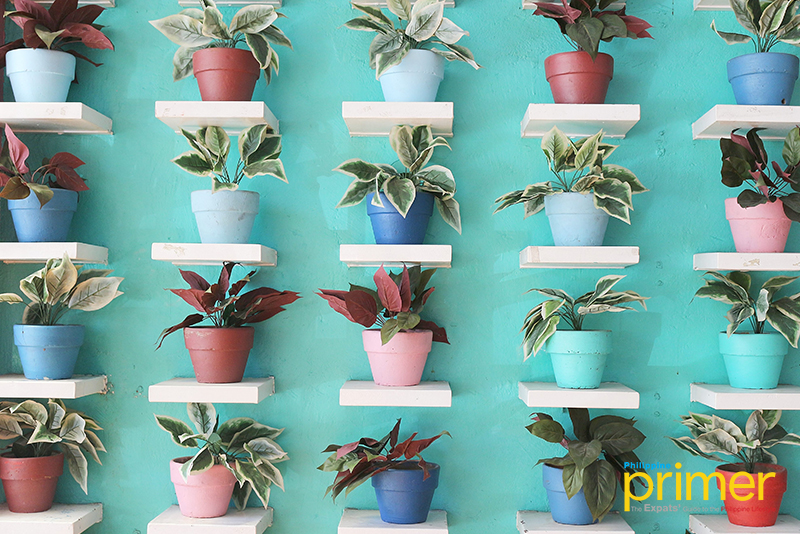 "As millennial as it sounds, we wanted to make the place very 'Instagrammable'. Aracama was very serious and mature while Early Night is more young, vibrant and playful. We commissioned artists to design the bare walls and columns to give it more life," Pamela said.
Also read: 6 Instagram-Worthy Summer Destinations of 2019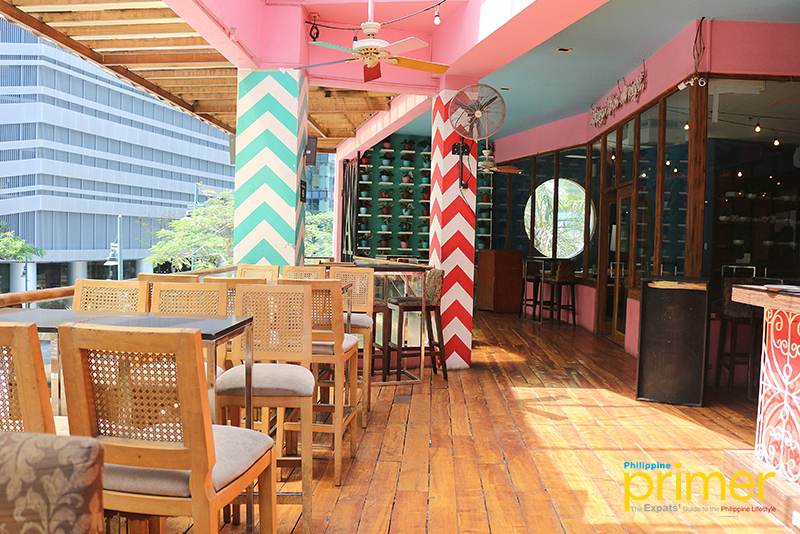 So if you're looking for an after-work hangout or maybe just a wait-out-traffic pit stop, Early Night? may just be your new favorite.
They are the perfect definition of happy hour because they're actually offering happy hour rates for their drinks the whole night.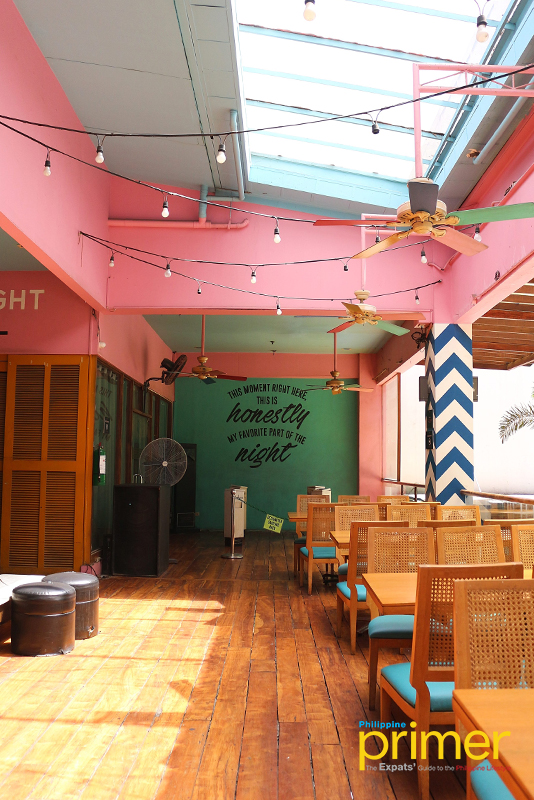 Trust us, munching on their delish street food paired with alcohol while gazing right through the city would be a great way to end the week.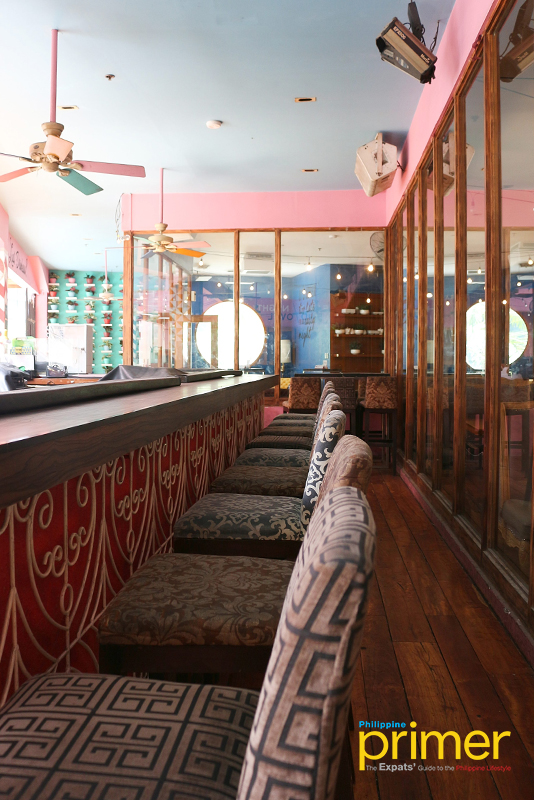 "Early Night? is a place where people can just go for a drink without the need to dress up or pay for door charge. It's a place where you can come as you are and have 'one drink' and an 'early night'.. which usually doesn't end up with one drink and an early night anyway," Pamela concluded.
How to get here
By car: From EDSA Ayala, head north to Mckinley Road, then turn left onto 5th Avenue. Continue and then turn right onto 28th Street, then turn right onto 7th Avenue. On your right is the parking spot of The Fort Strip.
By public transport: Take the BGC Bus West Route. The Fort is the second stop.
---
Written by Yana Bautista

Fort Bonifacio Unit C, The Fort Entertainment Center 5th Ave. corner 26th st., Bonifacio Global City

Mondays to Sundays: 5 p.m. to 4 a.m. Lunch: 11 a.m. to 2 p.m. / Dinner: 5 p.m. to 10 p.m. (Mondays to Fridays)
Restaurant Menu
You can scroll the image left and right.