Local Provisions Kitchen + Mini Bar in El Nido, Palawan: A New American Restaurant Undisturbed by the Passing Time and Trend
Local Provisions Kitchen + Mini Bar in El Nido, Palawan: A New American Restaurant Undisturbed by the Passing Time and Trend
Local Provisions Kitchen + Mini Bar is situated within the serene expanse of the plaza called Shoppes at Vanilla Beach that leads to Marimegmeg Beach, El Nido, joining a handful of other restaurants and establishments in offering varied dining experiences to tourists and locals alike.
The restaurant visibly features an all-encompassing simplicity, which is well-reflected from its barely embellished interiors from the hanging yellow rattan lanterns and geometrically-painted tabletops, down to its food offerings that are reminiscent of nothing but the warmth of home cooking.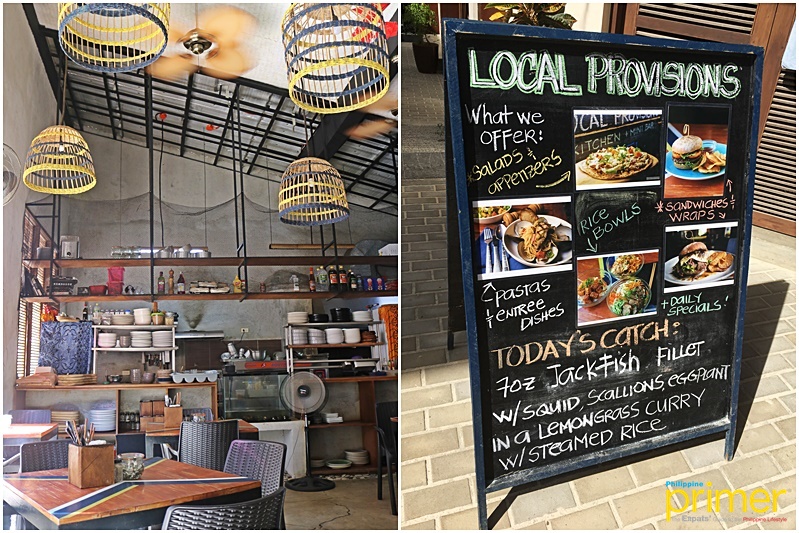 It is run by couple Barbra May Sia (from Manila) and Kurt Famador (from Cebu), who personally operate the kitchen as well—while Barbs is mostly in charge of the pastries, Kurt heads the main cooking aspect of Local Provisions.
Their consciously curtailed menu is foremost centered on New American Cuisine: curtailed, for they only want to serve what is available, easy to get, and what their quaint kitchen is capable of putting forth every day, and New American for they cannot generally categorize their offerings as Filipino cuisine due to their inherent diversity.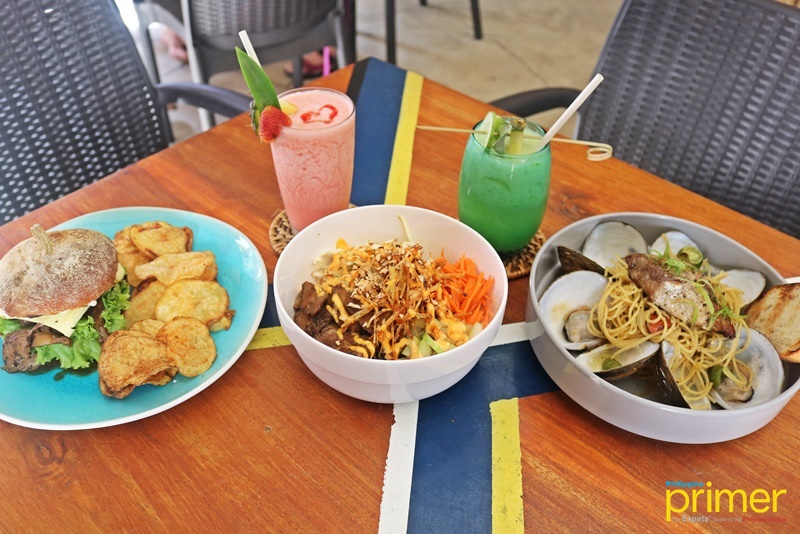 Their ingredients are as local as they can be, too. Instead of sourcing them from the market—which is just their last option, they source them from the fishermen themselves who usually supply the restaurant every morning.
Local Provisions' open kitchen
And in their pursuit of sustainability, they largely utilize the types of fish that are not on high-demand in Palawan and scrape them to the bone to serve more purposes than the usual. These include jackfish, Tagalog talakitok, mahi-mahi, and covia or pandawan. Take their Grilled Fish + Clam Aglio Olio (Php 375), for one.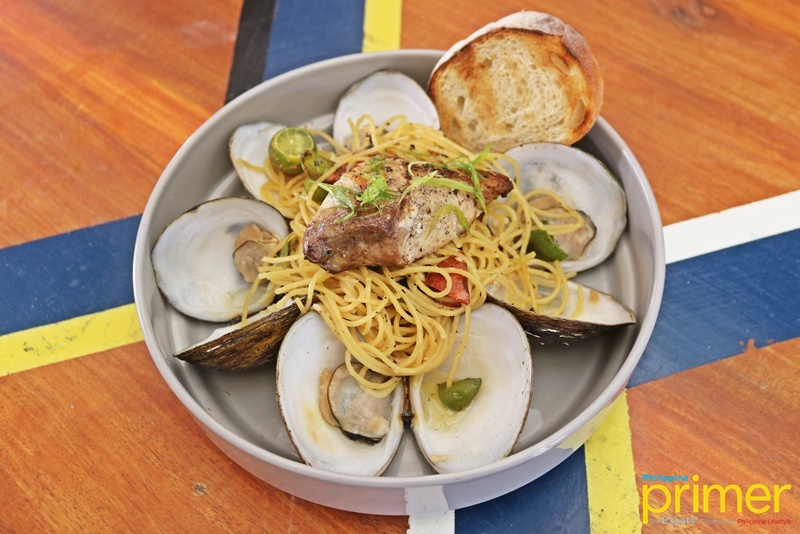 Grilled Fish + Clam Aglio Olio (Php 375)
This pasta dish that undeniably sees no stinginess in ingredients features a generous slice of grilled mahi-mahi, which conclusively tops the Aglio olio lying down on the bed of unseasoned yet naturally salty mangrove clams.
Among others, they take pride in their Catch of the Day. This varies depending on the availability of the products but the base of its sauce remains the staple sinigang-like—one that is made out of mixing curry powder, coconut milk, a variety of spices such as ginger and garlic, and either kamias or green mangoes that bring forth the sour taste among others.
Dogtooth Tuna, also known as Biyad locally, for our next #catchoftheday……#localprovisionsph…
Their line-up of rice bowls, whereas, include Bryan's Lemongrass Pork (Php 310) whose citrusy nature is carefully balanced by the saltiness of the restaurant's very own rice topping, making it one of the most sought-after at Local Provisions.
Bryan's Lemongrass Pork (Php 310) is rightfully named after the sous chef, Bryan, who came up with the dish
With all these delicious fares from this humble, by-the-beach restaurant, what might have captured our hearts entirely is the Braised Beef Sandwich (Php 380). We mean, it is hard not to fall head over heels for this when it looks and tastes like that.
Braised Beef Sandwich (Php 380)
From the slightly chewy and rustic-looking homemade country bun to the sweet Kitayama beef from Bukidnon that does the honor of tickling the palates, it will give you a clear perspective of what kind of restaurant Local Provisions really is.
Also read: Midtown Bakery in El Nido: Tasty Treats to Munch While on Island Tour
Apart from the kitchen itself that is the main point, it also features a minibar right by the entrance. It is managed by Kurt's cousin, Justin, who carefully and professionally makes the bar's own syrups and concoctions in order to complement the food selection as well as to ensure the quality of the beverages.
We got to try two of their offerings: Strawberry Colada (Php 160) and Pineapple Cucumber Cooler (Php 145).
While the former gives off an all-too creamy goodness that is accented by the kick of the white and dark rum, the latter is a non-alcoholic drink that is perfectly concocted to wash away fatigue.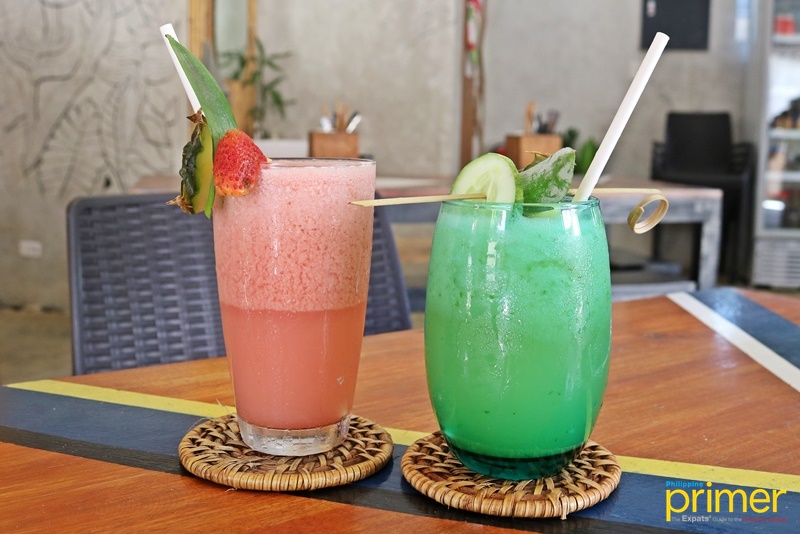 (L) Strawberry Colada (Php 160) that may well be one of your favorites; (R) Pineapple Cucumber Cooler (Php 145) that even cucumber non-fans may possibly love
Local Provisions Kitchen + Mini Bar does not take the bar insurmountably high when it comes to the dining experience. Rather, they take it on a firm, level-headed spot undisturbed by anything. Not even by the waves of the passing time and trend.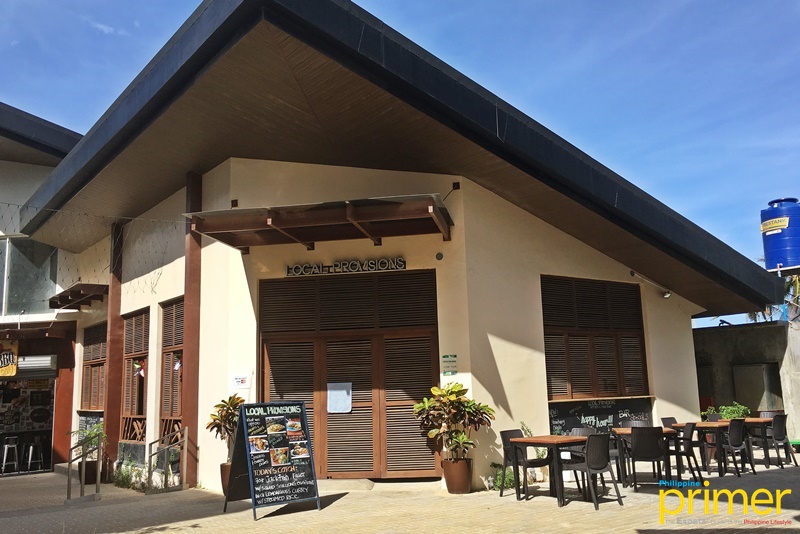 How to get here
Local Provisions Kitchen + Mini Bar is located at the Shoppes at Vanilla Beach.
From El Nido Municipal Hall, you can ride a tricycle that passes through the Taytay-El Nido National Highway. You will be dropped off at Vanilla Beach where the prominent landmark is the only McDonald's in town.
---
This first appeared in Philippine Primer's Japanese and English Magazine March 2020 issue.
Written by Shairah Nabong
Store Information
Units 60-61, Shoppes at Vanilla Beach, Sitio Marimegmeg, El Nido, Pala
0928-378-3349
12 p.m. to 9 p.m.