Cara Mia in Makati: A Decade of Serving All Things Gelato
One of the first brands to come to mind when you hear the word gelato is Cara Mia.
Well, there's more to love about the brand as they recently opened their 29th store at Glorietta 4 in Makati City, in celebration of their 10th year anniversary. The cherry on top might be the launching of the newest addition to Cara Mia's product line: the Gelato Sandwich.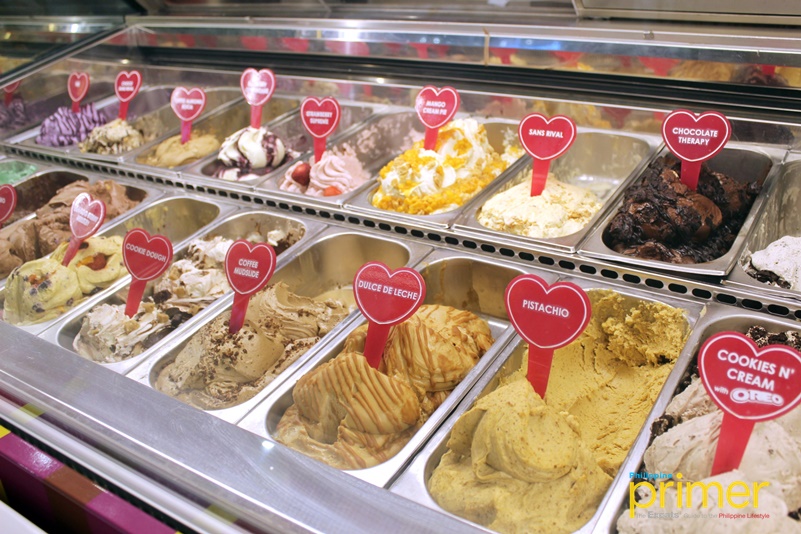 Over the years, Cara Mia has come up with 20 luscious gelato flavors ranging from the classics like Chocolate Therapy and Ube (purple yam) to the trendy ones like Mint with Chocolate. If that isn't enough, they sell cakes as well—one of which is their decadent ube cake.
Much like its sister company Amici, Cara Mia is also a family venture. The Moran family acquired the equipment to make gelato from the Italian priest Gianluigi Colombo at Amici Di Don Bosco and went on to open the first Cara Mia branch in Greenhills back in 2009. They have since used the same technique that Fr. Gianluigi applied in making his beloved gelato.
Also read: Amici in BGC Serves Fresh Italian Food That Caters to the Filipino Taste Buds
Currently, Chef Paolo Moran is the head of the kitchen and is in charge of developing new offerings for both Amici and Cara Mia.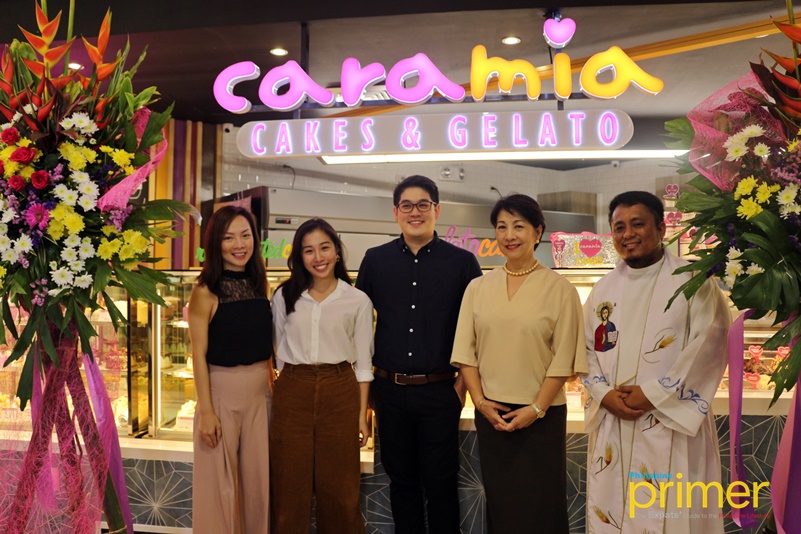 (L-R) Melissa Tan; marketing manager, Pammy Moran; executive chef Paolo Moran; and Tessie Moran grace the opening of  Cara Mia in Glorietta.
For only Php 150, you can try their mouthwatering Gelato Sandwich, which comes in Cara Mia's three best-selling gelato variants Ferrero, Pistachio and Mango Cream Pie.
At first look, it may resemble the famous local delicacy Sylvanas, so what really comprises this cute little package?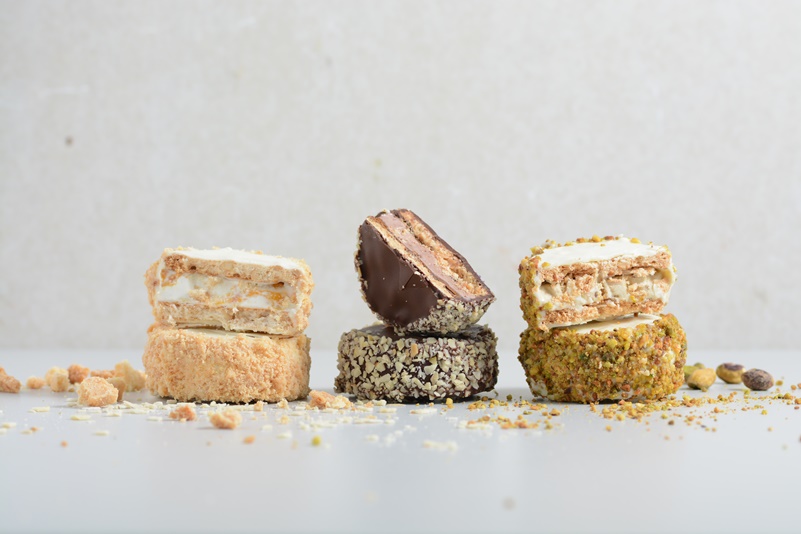 IMAGE courtesy of Cara Mia
Unlike the usual ice cream sandwich, the gelato that you so loved is sandwiched between two sans rival wafers instead of cookies. It is also coated with chocolate and rolled in either crumbs or nuts.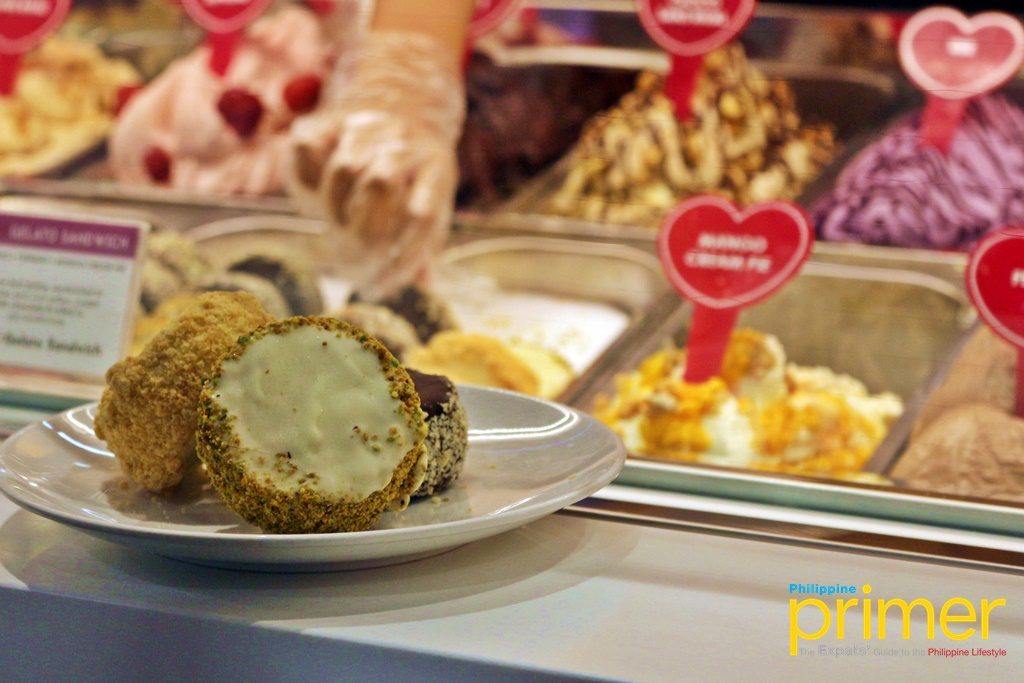 The Ferrero Gelato Sandwich has the goodness of gelato encased in sans rival wafer, dark chocolate, and almonds.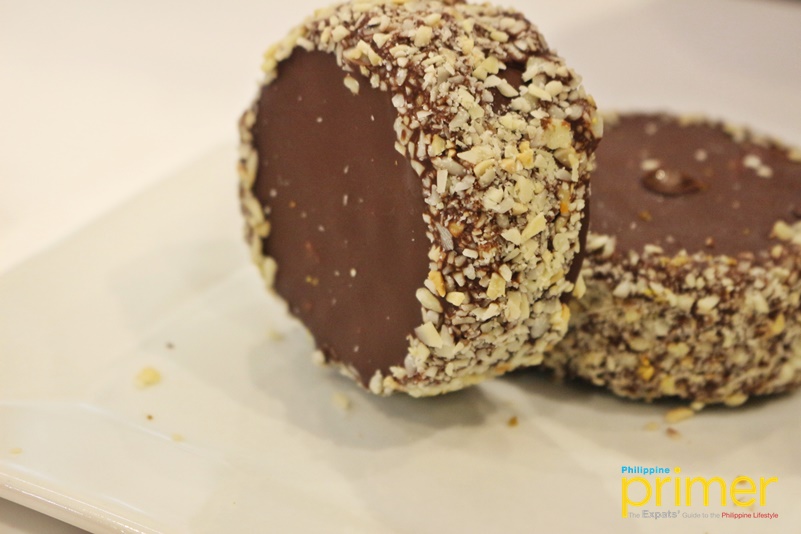 Ferrero Gelato Sandwich (Php 150)
Meanwhile, the Pistachio variant has a white chocolate coat rolled in pistachio nuts.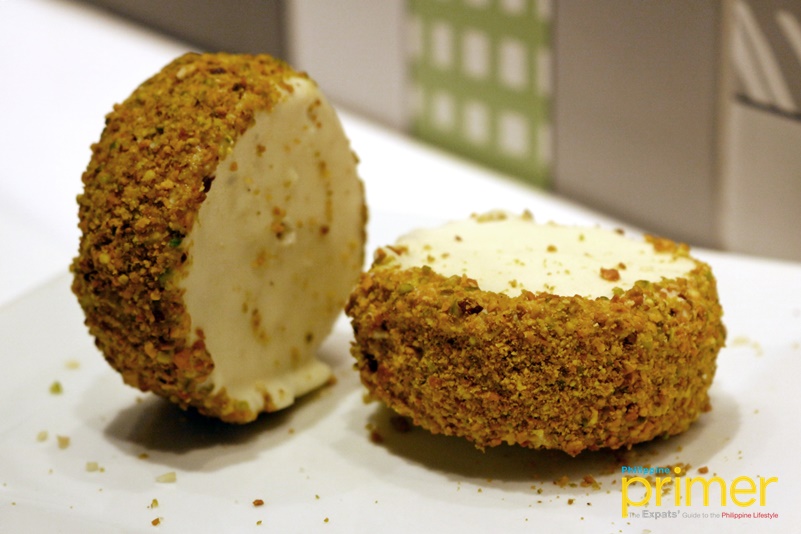 Pistachio Gelato Sandwich (Php 150)
Last but not least is the Mango Cream Pie, which is coated with white chocolate and pie crust crumbs.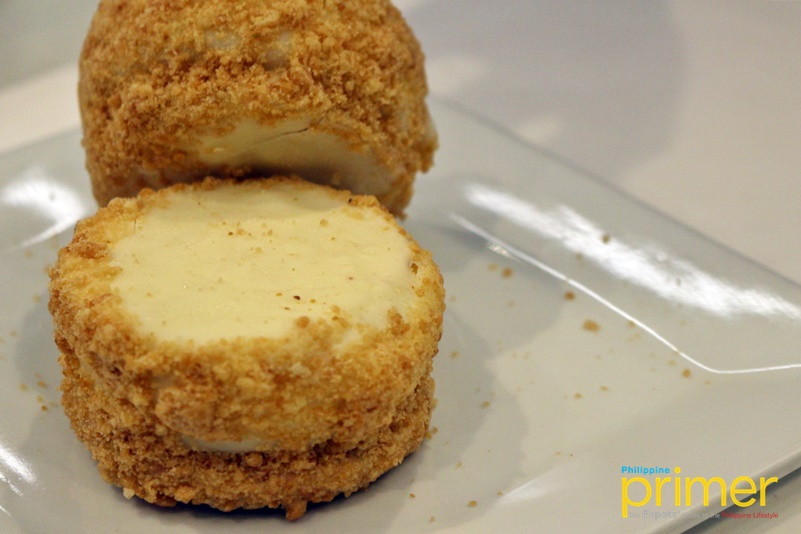 Mango Cream Pie Gelato Sandwich (Php 150)
Every flavor of the Gelato Sandwich is a unique experience—definitely another exciting way to eat your gelato. Not to mention that it also takes away the mess and hassle of eating ice cream and having it melt on your hands!
Cara Mia Gelato Sandwiches are now available across all Cara Mia branches for dine-in and take-out. You can also avail of this at any Amici branch for dine-in.
With over 20 branches around the metro, Cara Mia has been offering one of the best premium gelatos in town for ten years. In fact, it is one of the first ones to do so in the Philippines.
Check the nearest Cara Mia branch near you on Cara Mia's official website.
Also read: Check Out These 6 Mango Desserts for A Sweet Treat
Store Information
2/F Glorietta 4, Ayala Center, Ayala Ave., Makati City
0917-633-4275
10 a.m. to 9 p.m. (Mon. to Fri.); 10 a.m. to 10 p.m. (Sat. to Sun.)
Cash, credit card
Restaurant Menu
You can scroll the image left and right.