Amici in BGC Serves Fresh Italian Food That Caters to the Filipino Taste Buds
Bonifacio Global City (BGC) in Taguig is home to a number of restaurants specializing in all kinds of cuisines and specialties. Whether you're craving for sushi, steak or milk tea, chances are BGC has something to offer you.
Also read: BGC Restaurants 2019
That is why Italian-style restaurant Amici decided to put up its flagship branch in this grub hub. Located on the third floor of One Bonifacio Highstreet Mall, Amici serves Italian food that is authentic yet still very Filipino.
Amici, which is Italian for "friends," was founded by Fr. Gianluigi Colombo, an Italian priest from Don Bosco Technical Institute of Makati. It was originally a cafeteria for the students and employees of Don Bosco but was acquired by the Morans in 2007.
According to Pammy Moran, marketing manager of Amici and Caramia, they have retained some of Fr. Colombo's recipes like the lasagna, while used the others as a basis for the rest of the menu.
With the help of Italian chefs and recipe consultants, they have tweaked and innovated the menu to remain Italian while being relatable to the Filipino market. Presently, Chef Paolo Moran is in-charge of the dishes of Amici.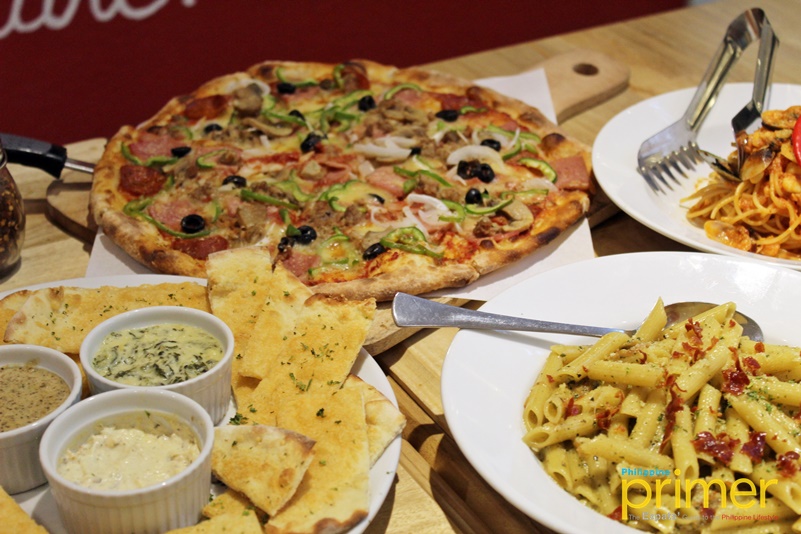 Amici has three mouthwatering dips that come with a serving of thin pizza bread that you can order for starters. Choose from Spinach Artichoke (Php 390), Smoked Salmon (Php 390), and Truffle Mushroom (Php 385). All the dips have rich flavor and texture to them that will leave you munching on the pizza bread even before your entree arrives!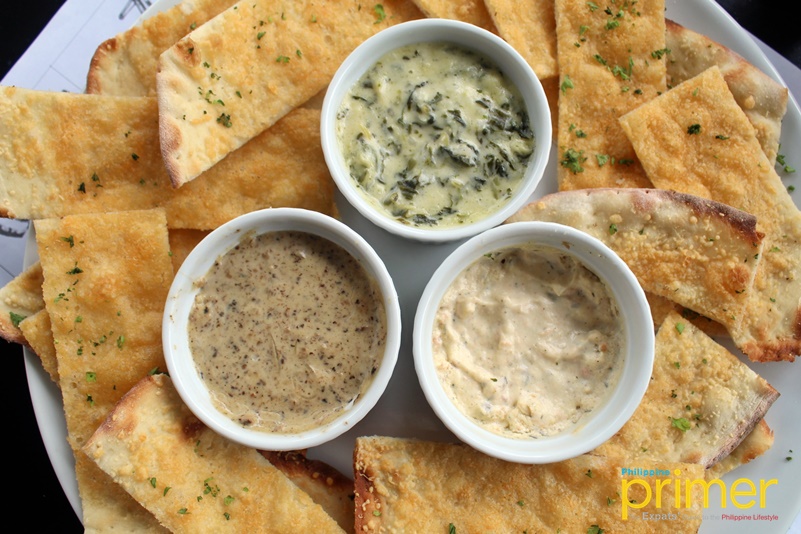 Will it be an Italian restaurant without pasta? Two of their best-sellers are Creamy Pesto and Prosciutto and Seafood Diablo, both made with the freshest ingredients and spices. Their pasta dishes come in three serving sizes: Regular, Grande, and Gruppo.
The Creamy Pesto and Prosciutto (Php 400 – Regular) has creamy goodness from the sauce and the home-made pesto, balanced by the crunchy prosciutto and penne cooked al dente. Pammy said that this particular pasta dish is catered to Filipinos who love everything saucy and creamy.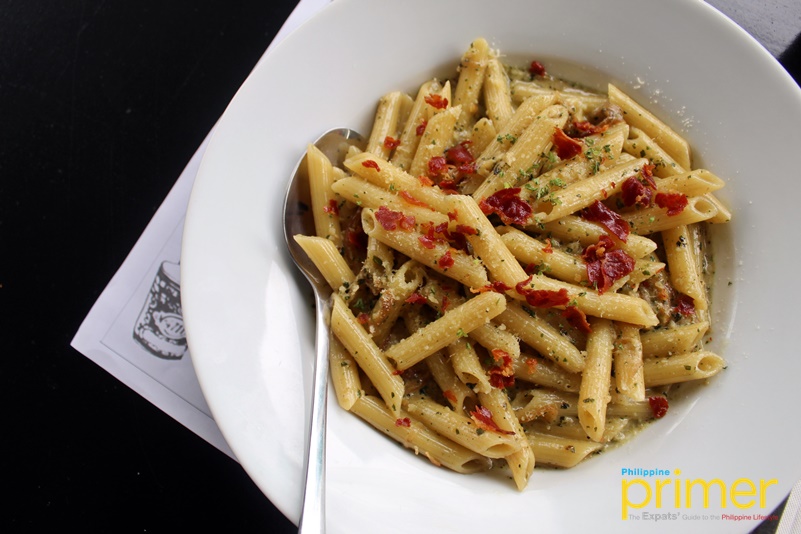 Creamy Pesto and Prosciutto (Php 400 – Regular)
For those who love spicy food, the Seafood Diablo (Php 415 – Regular) is perfect for you! A bed of linguini in rich red tomato-based sauce with cream is topped with perfectly cooked scallops, mussels, and squid. You can even request to make it spicier!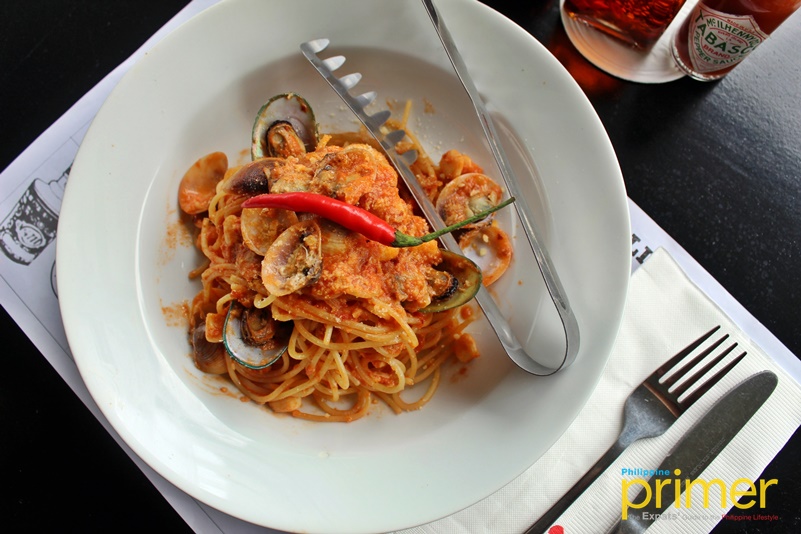 Seafood Diablo (Php 415 – Regular)
Amici also takes pride in their IL Supremo pizza (Php 498) as every delicious topping you can think of is on the thin crust! It has Italian sausage, ham, pepperoni, mushrooms, bell peppers, onions, black olives, anchovies, mozzarella, and parmesan!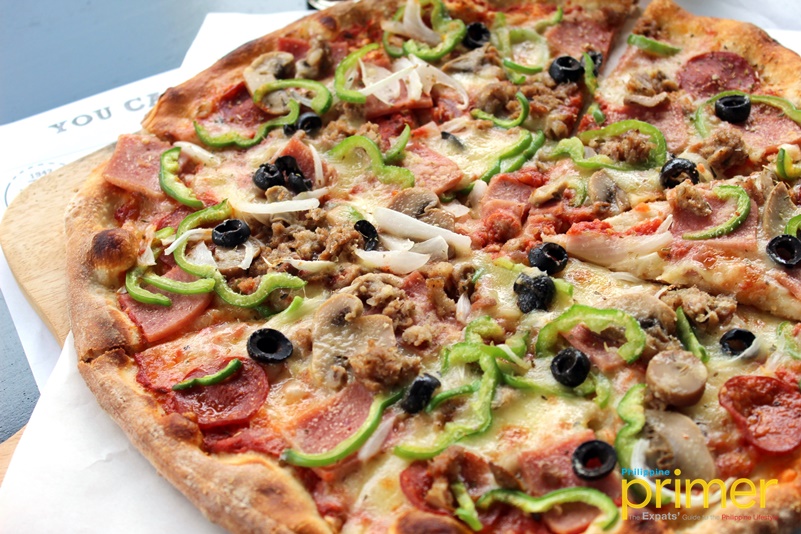 IL Supremo pizza (Php 498)
Upon entering the restaurant, quirky murals showcasing famous Italian food greet diners. According to Pammy, they want to make their customers feel the Italian vibe as soon as they enter Amici. This is also evident in the designs of their chairs and other small details in the restaurant.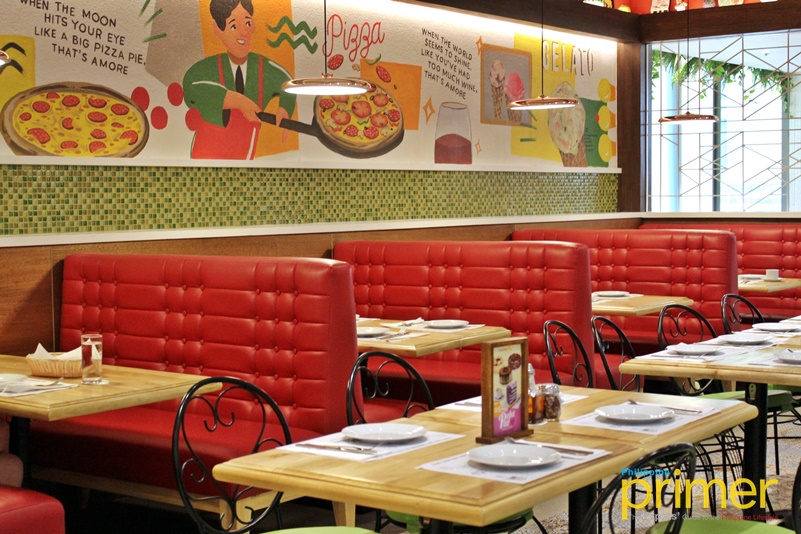 Their couches can seat groups, perfect for the target market of Amici. Families are their usual customers on weekends, while employees in the area frequent the place on weekdays. The branch can seat 60 to 70 people, and once the al-fresco area is finished, it can accommodate as much as 100 diners.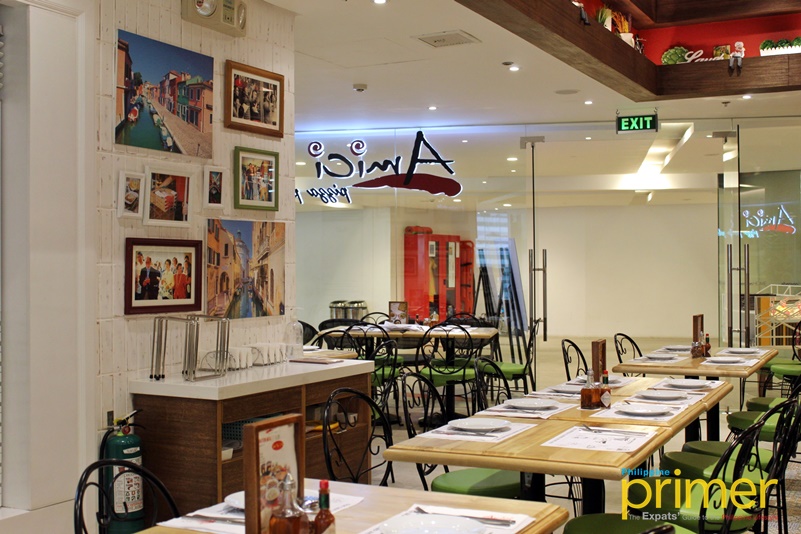 You may be wondering what sets the flagship store apart from others. Pammy said that they usually do more promos and events here and they also offer special, off-the-menu dishes in the branch from time to time.
Don't want to go out? You can also order your favorites from Amici's website and have it delivered right at your doorstep!
Amici currently has nine branches in the Philippines, with the flagship branch in BGC being the newest. Each houses the gelato brand Caramia, also owned by the Morans.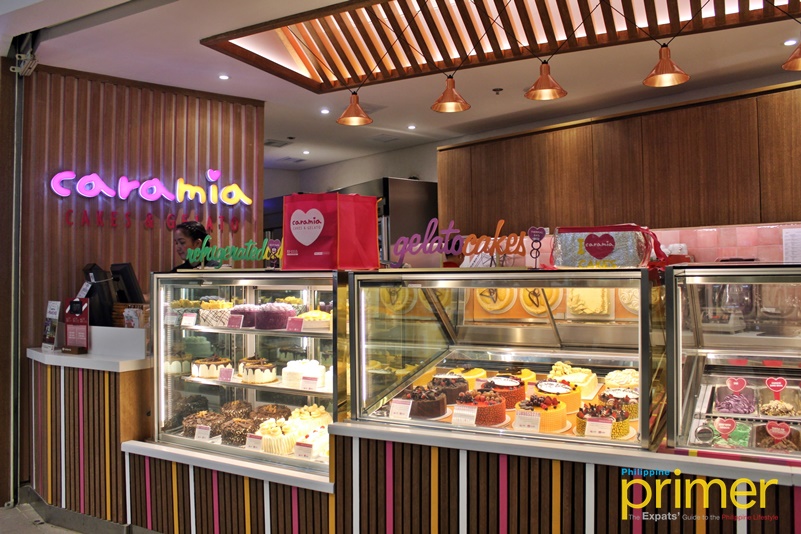 Aside from their creamy and flavorful gelato, Caramia also offers refrigerated and gelato cakes—the perfect sweet treats after a hearty Italian meal!
The heart of Amici lies in its pursuit to serve Italian food that is authentic, but at the same time is open to adapt. From the priests of Don Bosco to the Morans, Amici is a legacy waiting to unfold.
General Information
3/F One Bonifacio High Street Mall, 5th Avenue, BGC, Taguig City
02-555-1000
11 a.m. to 10 p.m. on weekdays, 11 a.m. to 12 m.n. on weekends
Restaurant Menu
You can scroll the image left and right.