DC Super Heroes Cafe in SM Megamall Is Every Comic Fan's Dream Haven
Updated as of March 20, 2020: DC Super Heroes Cafe in SM Megamall has permanently closed its doors last March 12.
We all grew up having superheroes to look up to, especially from the comics and movies that we used to love. We get fascinated by how powerful a superhero can be, and how they defeat evil with their superpowers.
Well, it's never too late to fulfill your childhood fantasy of going inside the DC Universe! Situated in SM Mega Fashion Hall, DC Super Heroes Cafe is a guaranteed food haven and attraction for all superhero fans.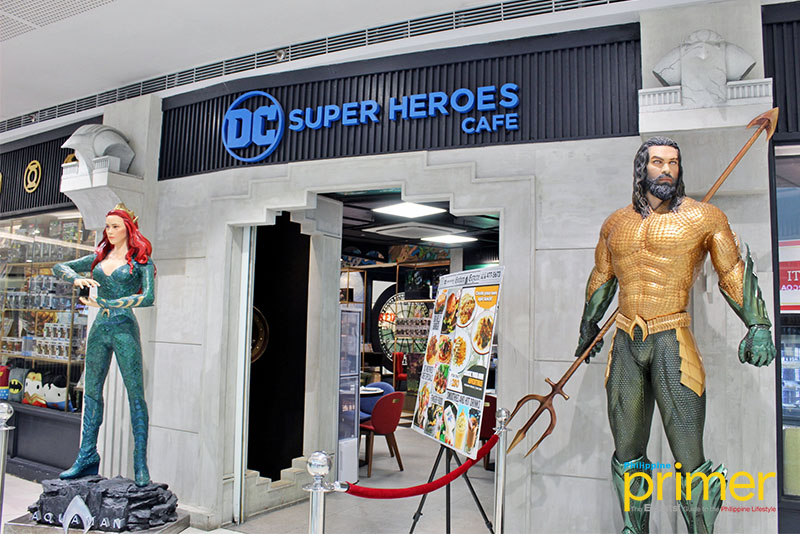 As a certified fan of superheroes—particularly DC—owner Edric Chua decided to put up every kid and adult's dream place full of comics and toys of their favorite characters. Obviously, his love for comic superheroes brought this cool cafe to life.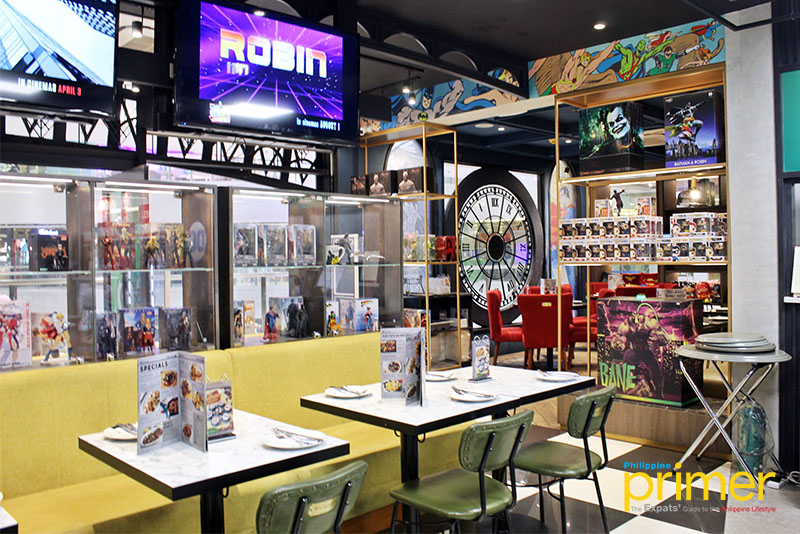 In case you didn't know, this is one of the 3 Pacific-licensed DC Super Heroes Cafe in Southeast Asia, along with Malaysia and Singapore, which makes this cafe as legit as it can be!  
Any superhero fan would gush and give their loudest applause at how awesome it looks inside and out because they got every bit of detail—from the floor and commissioned wall art panels to tables and chairs—perfectly designed after the DC Universe.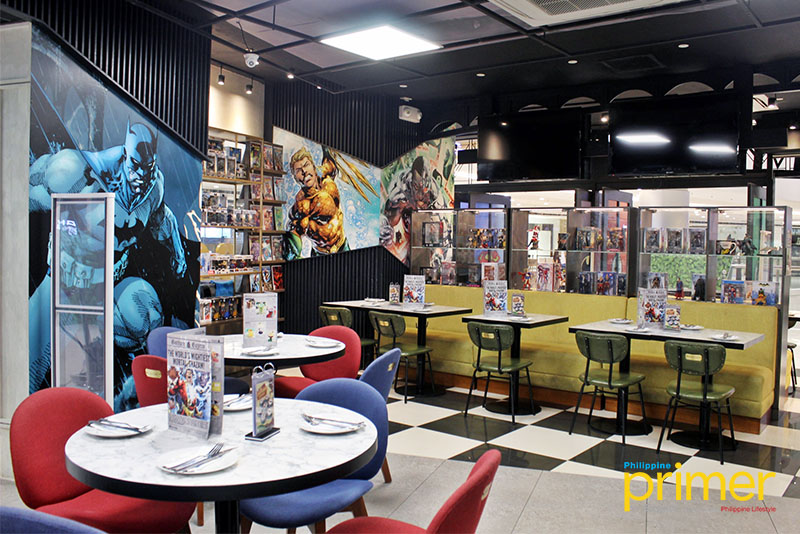 This cafe can serve up to 90 pax!
Life-sized statues of Aqua Man and Mera will welcome you in like a true superhero.
The first thing you'll probably notice is the Jitters Coffee and Big Belly Burger signs that DC fans would easily recognize for its reference in the famous store names featured in television series The Flash, Arrow, Supergirl, and DC's Legend of Tomorrow.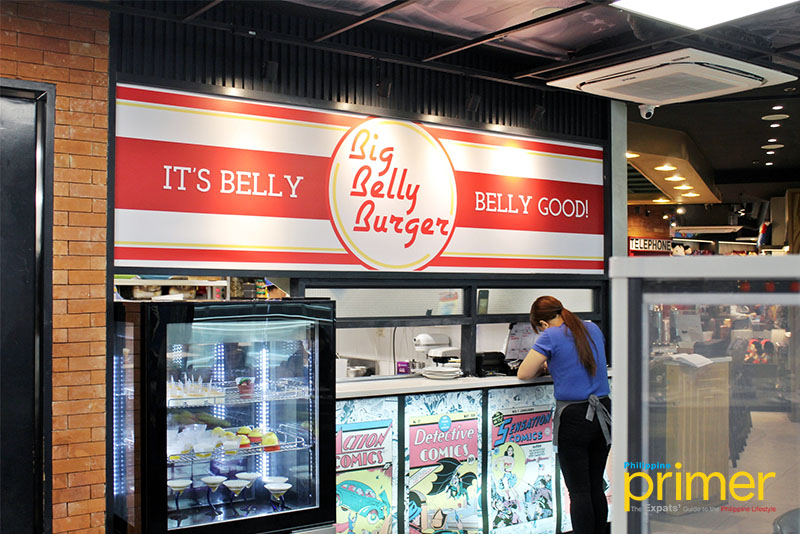 The famous Big Belly Burger from the DC Universe
There are three areas in this cafe: one is the Hall of Justice at the right side, which is designed after the headquarters of Justice League; another is the Gotham-inspired VIP area; and the standard diner theme, where all the main superheroes are featured.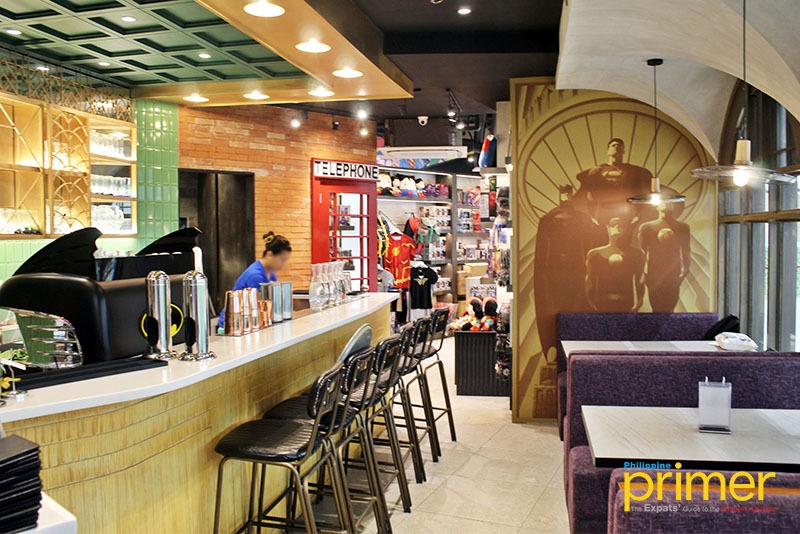 The Hall of Justice area
When you look closely at the small details, you'll notice that every chair inside has a nameplate of all characters in both DC cinematic and television series universe.
If you're feeling a bit playful, you are free to hunt down your favorite superhero's name and sit on it as you indulge in their well-curated DC-inspired dishes.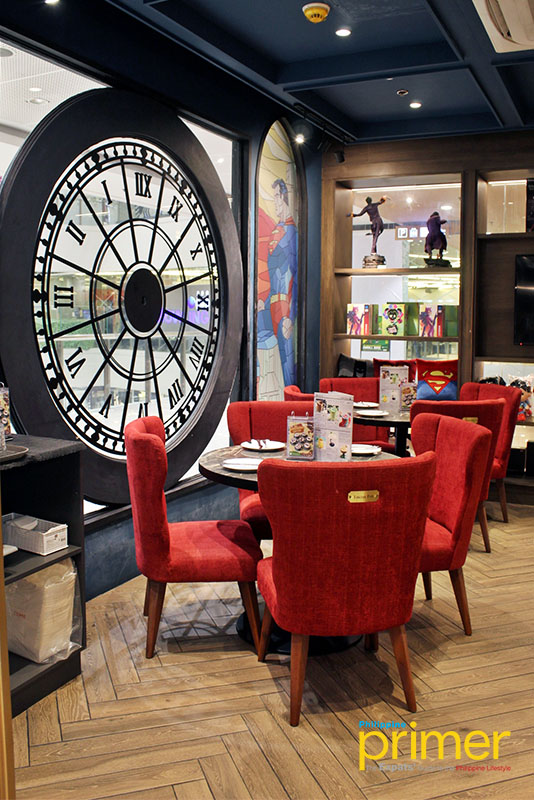 Gotham-inspired VIP area
Food of the supers!
Adding a flare of creativity in your whole dining experience is their menu devised to look like a comic book. They also have the latest Shazam Menu, which includes the chef's select dishes like ribs, chicken, and steaks inspired by Shazam's powers. Their Lunch specials (Php 280) is a customizable menu with three parts: base, protein, and sauce.
For their dishes, they teamed up with some of the top chefs in the country like Locavore's Chef Mikel Zaguirre, to curate an over the top menu embodying your favorite superheroes and villains.
Also read: Locavore Kitchen & Drinks in Pasig: Loving Local Flavors and Fusions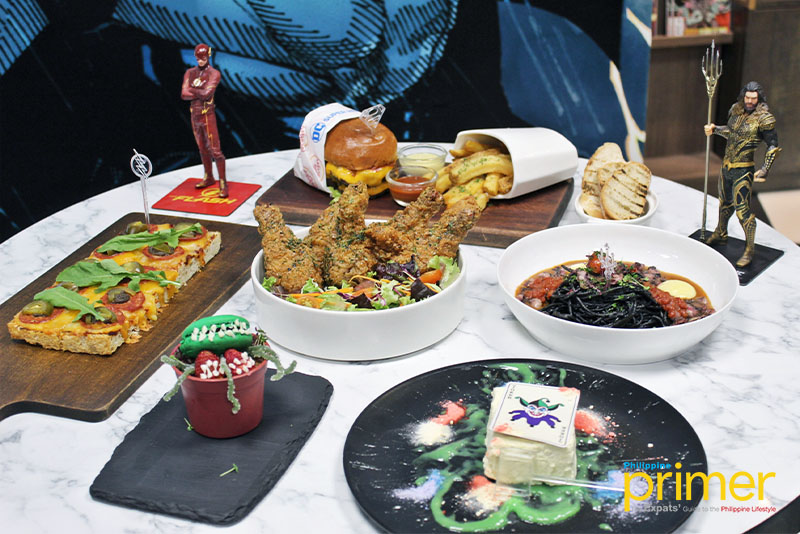 Start off your DC dining journey with their own version of DC's most famous fast food chain, Big Belly Burger.
The Belly Bloater (Php 480) is made with two layers of 1/3 pound burger patties inside the special brioche bread with cheddar cheese and lettuce. It also has thick-cut fries with two house-made dips, including fresh tomato ketchup.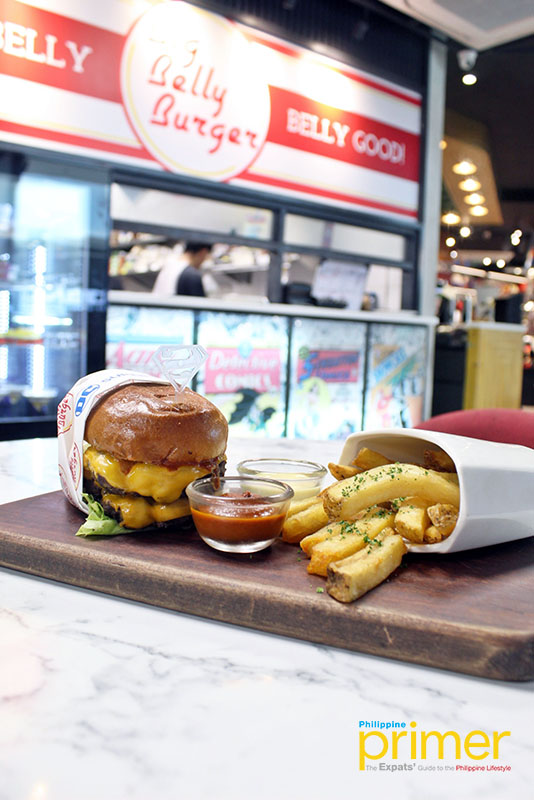 The Belly Bloater (Php 480)
One of their best-selling pasta is the Shrimp Bisque & Noodles (Php 390), a squid ink pasta with baby squid, aioli, and shrimp bisque inspired by Aquaman's villain, Black Manta.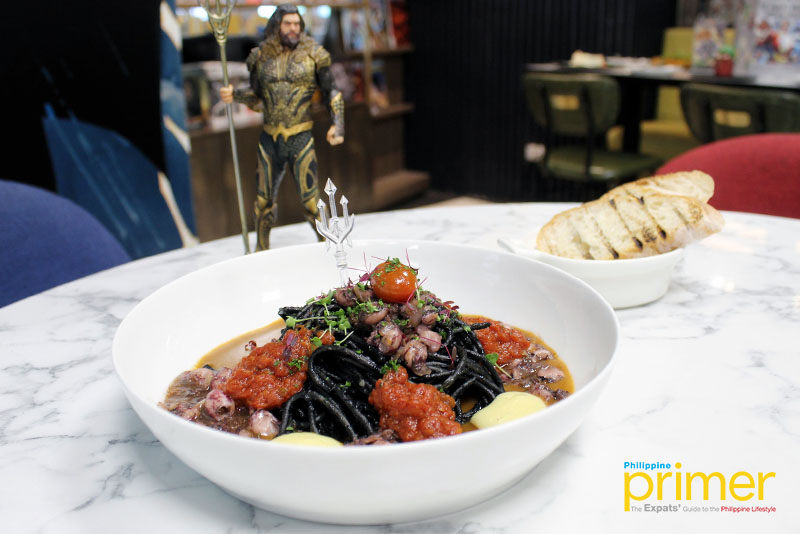 Shrimp Bisque & Noodles (Php 390)
Heads up because the fastest man alive's favorite pizza is here! Their Pepperoni Focaccia Pizza (Php 480) is a thick crust house-made pizza topped with oozing cheese, pepperoni, olive paste, and jalapeno.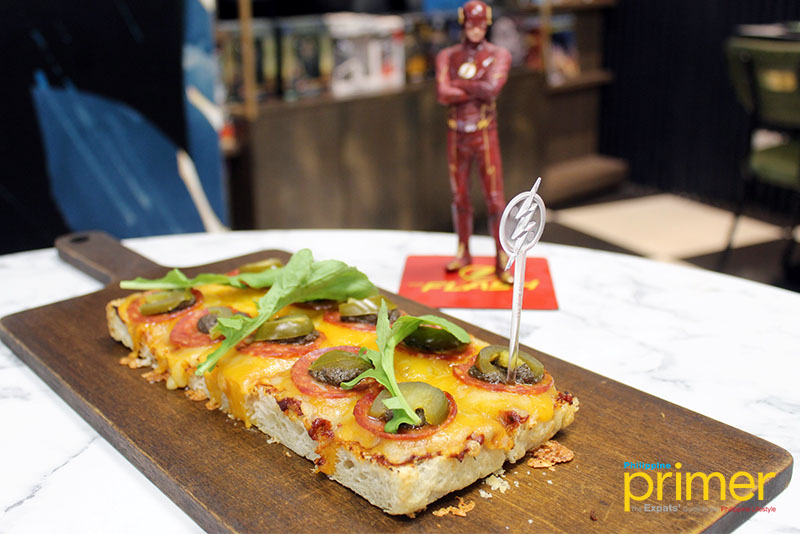 Pepperoni Focaccia Pizza (Php 480)
A little trivia for Flash fans out there: most of the carbs in their menu is curated after The Flash because of his genetic metahuman ability to burn carbs faster than normal people—all thanks to the Speed Force.
From the Shazam menu, the Honey Butter Drumstick (Php 490) dubbed as the 'Courage of Achilles' is a Korean-style chicken made from tender chicken legs. It's coated with crunchy honey butter glaze, which gives off a bit of sweetness to the chicken.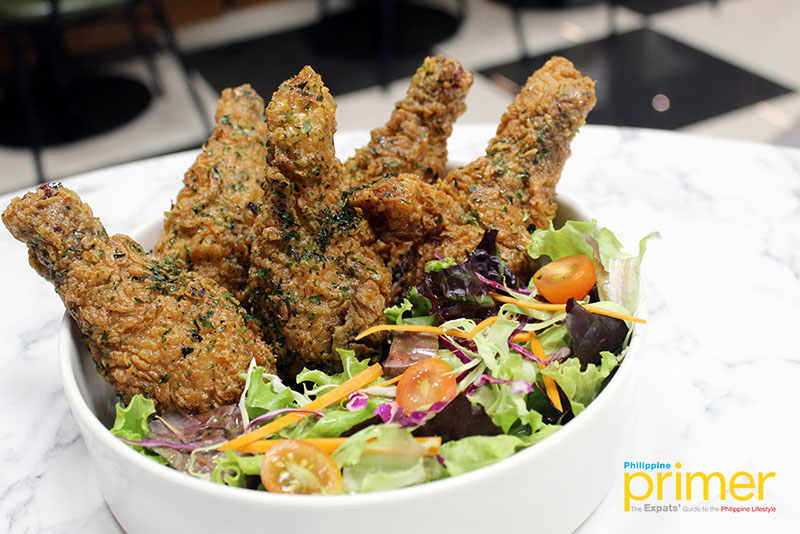 Honey Butter Drumstick (Php 490)
Moving on to the dessert, their Deck of Cards (Php 210) is obviously patterned from DC's most loved villain, The Joker. This vanilla cake is filled with lime curd and vanilla buttercream with strawberry and milk powder.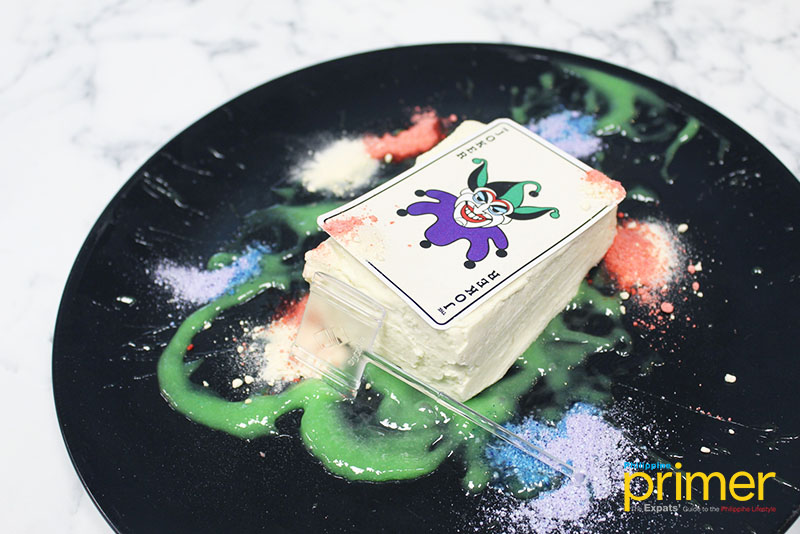 Deck of Cards (Php 210)
The main surprise here is the piece of joker card on top of the cake, which you can keep for yourself as a souvenir! Speaking of freebies, make sure to also bring home and collect the food picks that come with every dish.
For those who do not like sharing their desserts, they have the Pretty Poison (Php 240), a layer of vanilla cake, strawberry jam, and whipped cream topped with strawberry, green macaroon, and sour vines. These layers are put together in a small pot that looks like an evil plant (but no need to worry because this dessert won't bite!).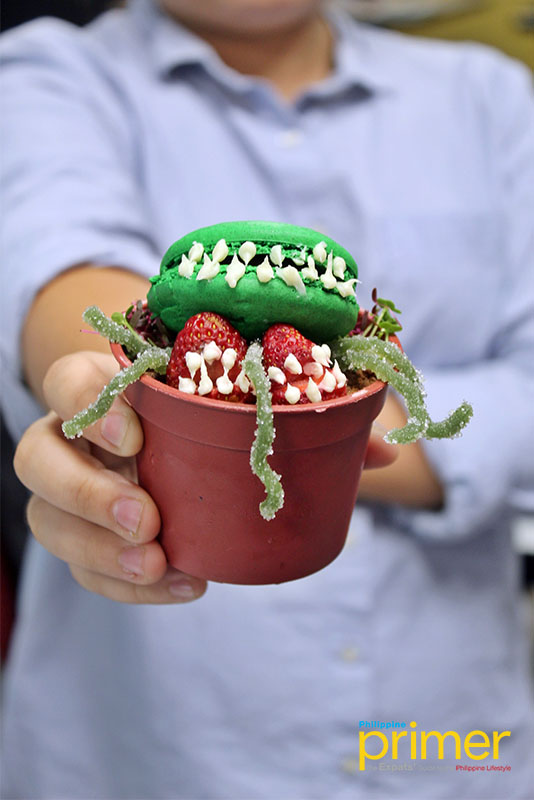 Pretty Poison (Php 240)
Another exciting entree from their Shazam Menu is the Mango Float (Php 180). This sweet medley of mango, cream, Graham, and nuts will surely bring you heaven on earth as every spoonful bite melts perfectly in your mouth.
Mango Float (Php 180)
Of course, everybody's favorite superhero gets his own appearance. Their Double Nut White Choco Frappe (Php 190) is the perfect drink to feel the power of Kryptonite. It's comprised of a DC Espresso base concocted with blue and red velvet choco, toffee nut, and hazelnut. Plus, it is served with their signature whipped cream, and a cute Superman cape decoration!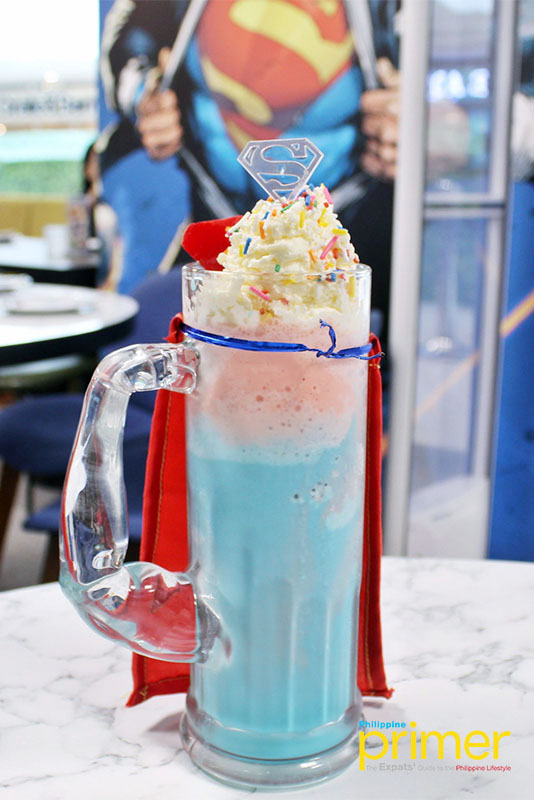 Double Nut White Choco Frappe (Php 190)
With the new Joker movie hitting the cinemas soon, you should definitely try DC Cafe's Joker-inspired espresso, The Jokes On You (Php 160).
Don't be fooled by this drink because as much as it looks like an ordinary espresso with a grand foam art of the well-loved Heath Ledger Joker, you are in for a surprise with its Taro, purple yam, and steamed milk flavor.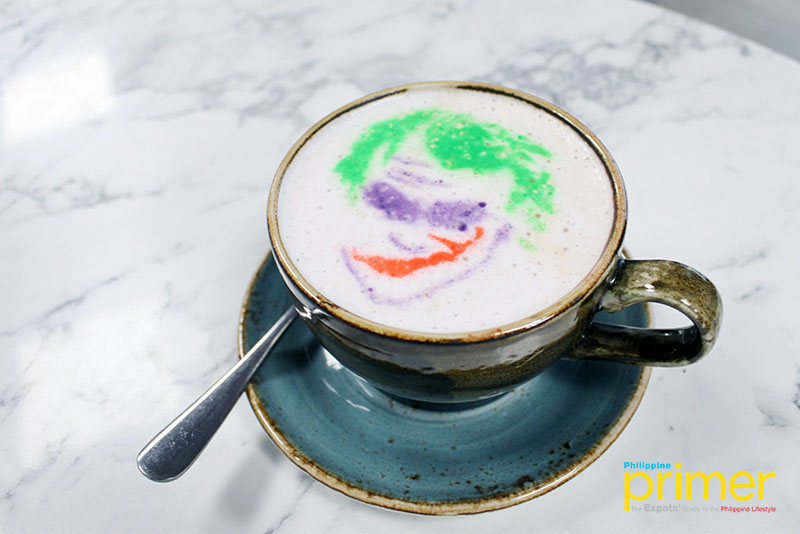 The Jokes On You (Php 160)
Beyond food
Aside from the enticing and delicious food they offer, take time to appreciate the displayed comics, action figures, and plushies around the cafe.
All the DC merchandise you can see is officially licensed and is on sale starting from Php 150. Limited edition collectibles are also available for as much as Php 100,000 or more!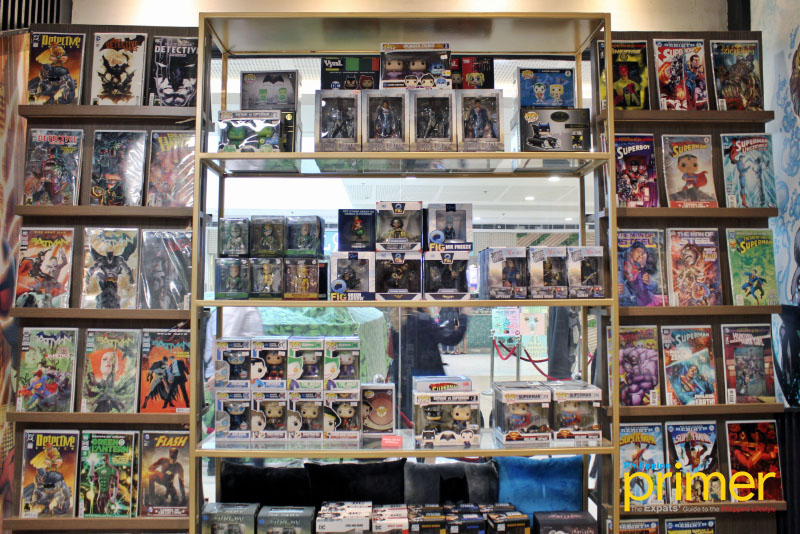 Official Licensed merchandise
At the far right area of the cafe, you'll find a small merch store for keychains, t-shirts, bags, accessories, Funko Pop, and DC Super Heroes Cafe's own line of merchandise like headphones and power banks.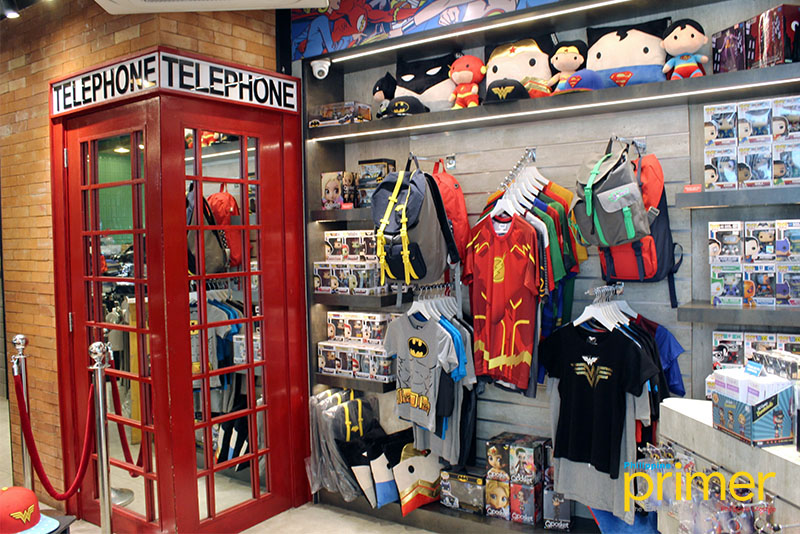 DC Super Heroes Cafe's merchandise store
Headphones and power banks
So put your cape on and go to DC Super Heroes Cafe to eat like a true superhero!
How to get here
From EDSA, turn right onto Doña Julia Vargas Ave. to enter the SM Megamall parking entrance. DC Super Heroes Cafe is located on the 4th Floor of SM Mega Fashion Hall across Vikings.
---
Words and photos by Deneca Ordinanza
General Information
4th Level, Mega Fashion Hall, SM Megamall, Mandaluyong City
02-477-5673
10 am to 10 pm
Restaurant Menu
You can scroll the image left and right.