Locavore Kitchen & Drinks in Pasig: Loving Local Flavors and Fusions
Locavore Kitchen & Drinks is undoubtedly one of Manila's hottest and hippest local restaurants serving exquisite and contemporary Filipino fare with a trendy twist. This popular restaurant in Kapitolyo, Pasig prides itself on using locally sourced, grown and produced ingredients that are mostly organic.
Locavore got its unique name from local + vore, which means 'a person who makes an effort to eat locally grown, locally made, locally produced food.'
Locavore Kitchen & Drinks in Pasig
Ensuring the distinctive flavors of the restaurant's signature culinary masterpieces is renowned celebrity chef, educator and restaurateur, Chef Mikel "Kel" Zaguirre, who's also the former head chef of La Regalade.
Locavore is straightforward and casual with a cool modern vibe. This resto bar has a stylish industrial ambiance, an open bar with ample beverage selections, and an open kitchen where diners can catch a preview of the dishes to be served.
There is also an al fresco dining to accommodate more guests converting the restaurant into a hip night-out spot after the sun sets. By day, Locavore is frequented by casual walk-in diners who pack the area especially during peak hours and so having a reservation (maximum of 15-minute waiting period) is recommended.
Locavore Kitchen & Drinks features Filipino comfort food redefined with the chef's creative fusions and a hint of French flair. The servings are big and the selections are wide that include festive appetizers and sandwiches, meaty mains, and luscious local desserts and beverages.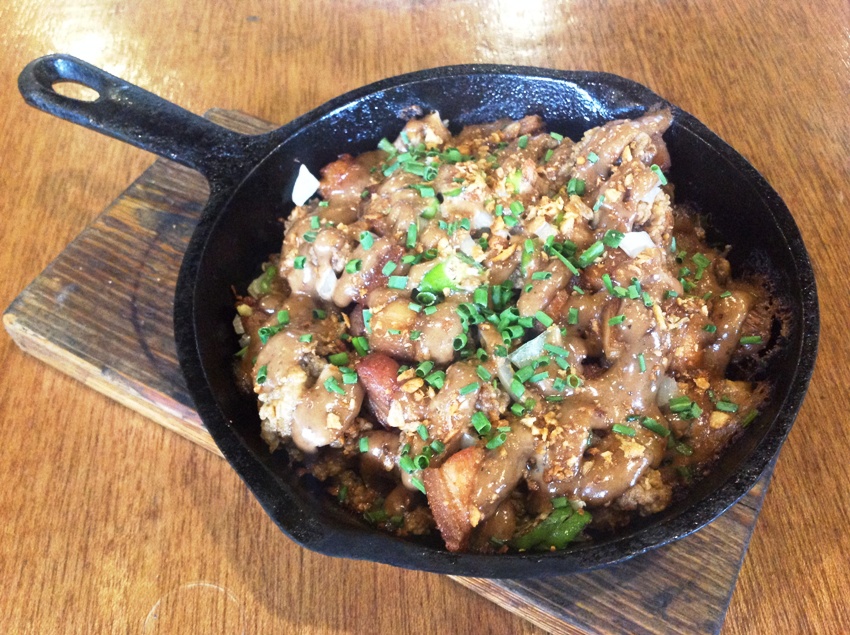 Lechon Oyster Sisig (Php 360)
A top-rater at Locavore is the Lechon Oyster Sisig (Php 360) which consists of fresh oyster cuts and lechon (roasted pork) bits topped with chicken liver mayonnaise. This interesting fusion is a crowd favorite and is perfect with beer.
Sizzling Sinigang (Php 475)
Another famous local dish reinvented is the Sizzling Sinigang (Php 475). This creative dish is not your typical sour soup, meat and veggies menu as it's made even more pleasant to eat with the sour sampaloc (tamarind) gravy riveted by the tender beef short ribs with sautéed French beans and garlic confit.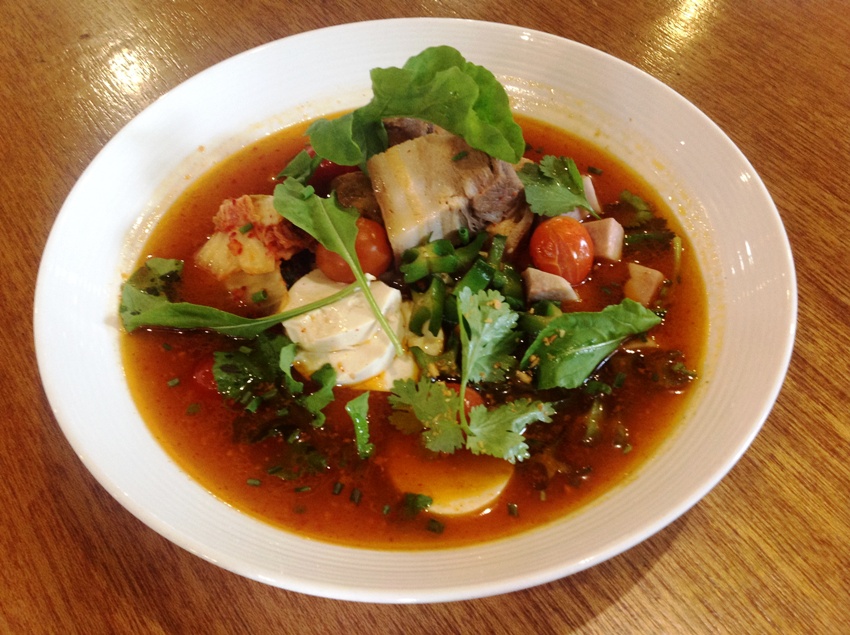 Kimchinigang (Php 475)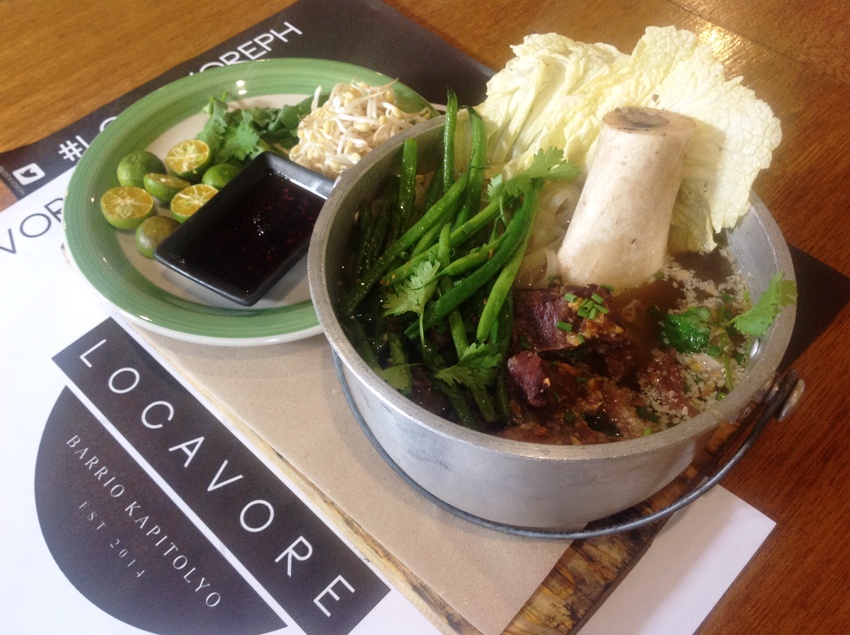 Pho Lalo (Php 670)
Another surprising dish you can enjoy is the Kimchinigang (Php 495), which is a marriage of the Korean staple kimchi and the Filipino classic sinigang made with the 3-hour slow cooked pork belly, silken tofu, taro, sigarilyas, arugula and kimchi-tamarind broth.
Meanwhile, the Pho Lalo (Php 670) is a savory and aromatic hot dish that combines the flavors of bulalo, a Filipino favorite beef soup, and Vietnamese pho or Vietnamese noodle. This merging of flavors results to a rich and hearty noodle soup that contains bone marrow, beef shank, pho noodles, cilantro, bean sprouts and drizzled calamansi, perfect on a cold night, or any hour you feel like craving for something warm and savory.
Turon Con Leche (Php 200)
Locavore also serves traditional and classic sweets with unique interpretations like the well-loved dessert specialty–the puff pastry Turon Con Leche (Php 200) with rich filling of leche flan and salted egg, dulce de gatas (milk) and caramel dipping sauce on the side.
At Locavore, dining makes you discover the fineness of local dishes and the many possibilities of their flavors, making you turn into the locavore kind of foodie.
Also read: El Corazon in BGC Serves Timeless Filipino-Hispanic Dishes
Visit Locavore Kitchen & Drinks at 10 Brixton Street, Barrio Kapitolyo, Pasig City. It opens Mondays to Sundays, from 11:30 am to 2:00 pm (Lunch) ; 5:00 pm to 10:00 pm (Dinner). For reservations, call 0917-684-2014, +632 632-9600, or you may send an email to locavoreph@gmail.com. For more information, visit their website and follow them on Facebook and Instagram. 
---
Article and photos by Adrian Pempena
Edited by Ingrid Soriano

10 Brixton Street, Barrio Kapitolyo, Pasig City

0917-684-2014 or 0915-579-5250

11:30 am to 2:00 pm (Lunch) ; 5:00 pm to 10:00 pm (Dinner) (Mondays to Sundays)